Cultural sustainability has become a growing priority within sustainable development agendas. There is more recognition that culture is of equal importance as social, economic, and environmental concerns in a sustainable society. In 1995 at UNESCO it was acknowledged that culture influences people's behavior, their contribution to the process of economic development, their social development, and their well-being (UNESCO 2005). The inclusion of culture within sustainable development agendas was a central focus of the United Nations' post 2015 sustainability goals (IFACCA 2013), the preservation of cultural heritage and the promotion of cultural vitality having been identified as key to enabling cultural sustainability.
Cultural sustainability, originally considered by many as a component of social sustainability, is now often depicted in many sustainable development models as the fourth pillar, situated alongside social, economic, and environmental concerns (Hawkes 2001; Figure 1). The four-pillar model of sustainability incorporates four interlinked dimensions: economic health, ecological responsibility, social equity, and cultural vitality. Jon Hawkes (2001), the introducer of the 4th pillar, claims that cultural vitality is to be understood as the sense of well-being, creativity, diversity, and innovation, which should be treated as one of the basic requirements of a healthy society. Culture therefore also provides a kind of cultural lens in evaluating the impacts of the other three initiatives being implemented in cities and communities. According to Hawkes (2001), culture is not the decoration added after a society has dealt with its basic needs. Culture is the basic need – it is the bedrock of society.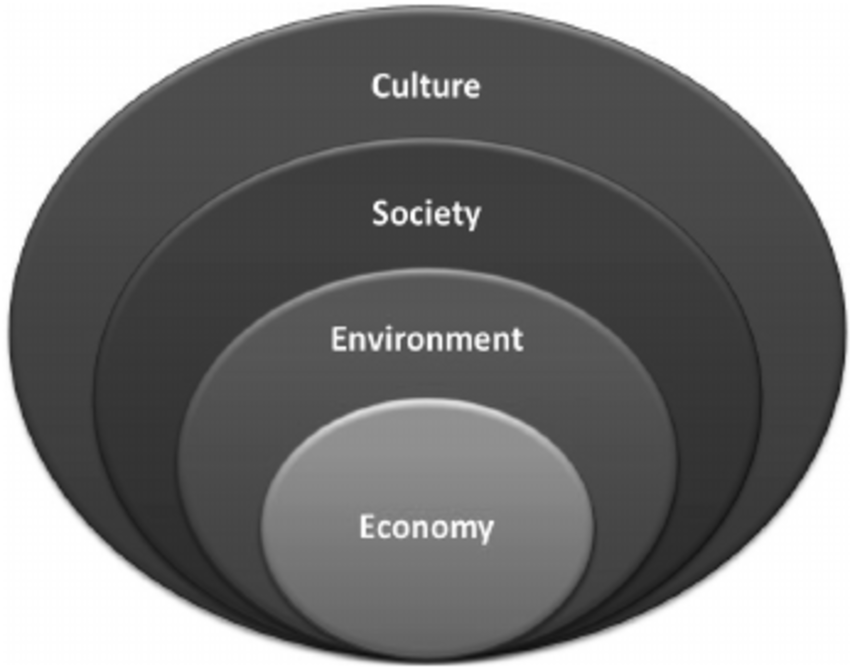 In Hawkes' view (2001), culture contributes in many ways to the social as well as cultural capital of a community. How can then one define the differences between social sustainability and cultural sustainability? Both can be seen improving the quality of life, the sense of place and well-being, so what separates them and why is culture needed as the 4th dimension? Cultural and social sustainability are closely intertwined, but cultural sustainability can be defined as the ability to create cultural content, also actual cultural products, which underscore a local sense of identity, particularly in the face of globalizing and homogenizing forces. What is clearly missing from the social dimension are notions of creativity and innovation.
Hawkes states (2001) that citizens of an innovative society are comfortable with applying their creative imaginations to new and changing situations. He continues by saying that support for professional artists is a laudable policy, but far more important is to offer all citizens the opportunity to actively participate in arts practice – to create their own culture. Artists according to Hawkes, may have an important role as facilitators in liberating the creativity of the community.
Author

Minna Liski is a Research, Development and Innovation Manager at LAB Institute of Design and Fine Arts and is interested in culture's role in society.
References
Hawkes, J. 2001. The Fourth Pillar of Sustainability: Culture's essential role in public planning.
IFACCA .2013. Culture as a Goal in the post-2015 Development Agenda. International Federation of Arts Councils and Culture Agencies. [Cited 28.12.2021]. Available at: http://www.ifacca.org/publications/2013/10/24/culture-goal-post-2015-development-agenda/
UNESCO. 2005. Convention on the Protection and Promotion of the Diversity of Cultural Expressions.
Figures
Figure 1. Makrakis, V., Gkotzos, D. & Larios, N. 2013. ICT-Enabled Climate Change Education and Children Rights (Figure 1). Journal of Teacher Education for Sustainability. 14. [Cited 28.12.2021]. Available at: 10.2478/v10099-012-0011-y