The Interreg Europe program helps practitioners of regional development policies to increase their professional skills (Interreg Europe 2020a). This is achieved mainly thanks to the exchange of experience activities carried out within interregional projects. During 2017-2019 LAB University of Applied Sciences lead the active cooperation phase of the Interreg Europe project BIOREGIO (Interreg Europe 2020b). During 2020-2021 the outcomes will be followed up. BIOREGIO boosts the bio-based circular economy by improving related regional policies through a transfer of expertise between eight partners in six European partner regions (Interreg Europe 2020b).
In order to measure the learning process, a survey measuring the 'number of people with increased professional capacity due to project activities', was carried out at the end of the 1st phase of the project (11-12/2019). Increased professional capacity means that people have gained new knowledge in their field of expertise, knowledge that helps them to better perform in their job. The survey was directed to persons actively involved in the exchange of experience process of BIOREGIO, e.g. staff members of partner organisations and active members of the stakeholder group.The template of the survey was prepared by the Interreg Europe programme to ensure a consistent approach across all projects.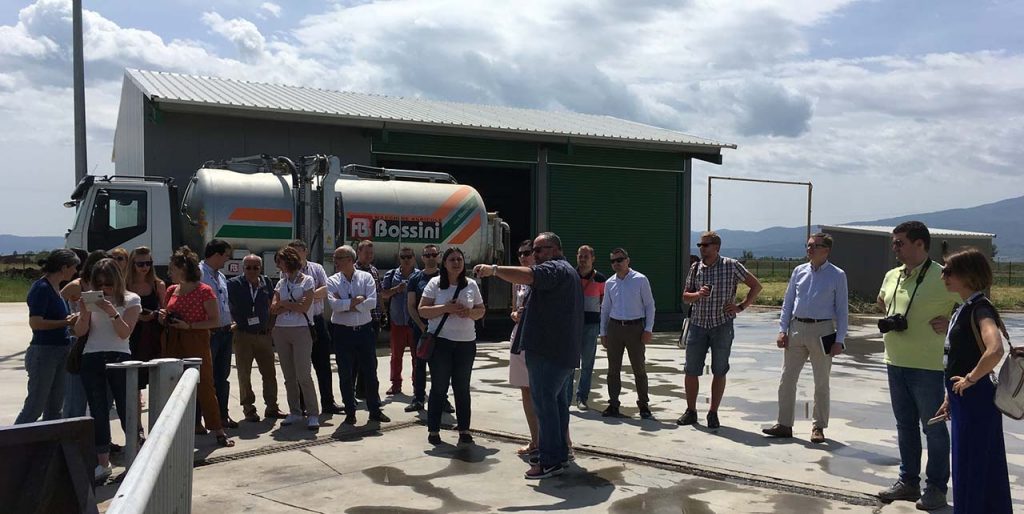 Study visits and stakeholder group meetings rated in the top
The survey collected 84 respondents in total divided relatively even between all six participating countries: Finland, France, Greece, Romania, Slovakia and Spain. All respondents agreed that during the project activities they came across interesting practices and ideas from other regions. Figure 1 shows that study visits and thematic seminars (interregional) were rated as the most fruitful project activity among respondents. On the other hand, also stakeholder group meetings occurring in each region were seen important.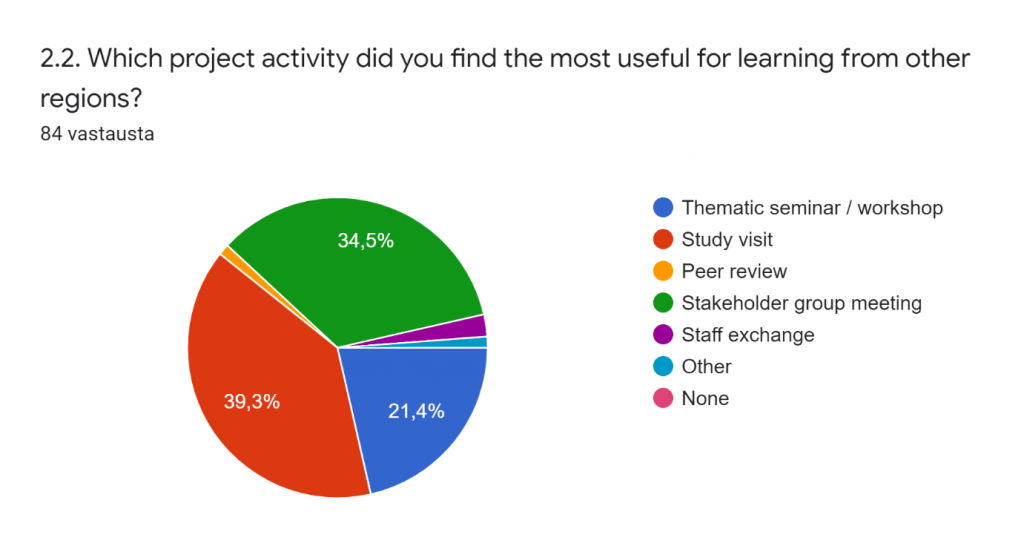 "In general, having the opportunity to learn from colleagues in other countries and see how some of their good examples work has been enormously inspiring in how to solve or improve challenges in our region. The active discussions and workshops brought many ideas and new angles to approach local challenges." Partner, Greece.
Successful outcomes
All respondents agreed that BIOREGIO had increased their professional competence. Out of 84 respondents, 70 answered 'to a large degree' and 14 'to a small degree'. The project increased understanding of the importance of circular bioeconomy, improved environmental awareness, presented good practices and gave good possibility to exchange different challenges within the regions.
"It is very clear that my professional skills have increased and developed in many ways thanks to BIOREGIO and Interreg Europe in many directions. It is easier to understand the complexity and connections. It has been an amazing, educative and enjoyable journey." Partner, Finland
One of Interreg Europe's aims is to transfer expertise and improve professional competence. Based on the survey's outcome it is clear that BIOREGIO reached its aim and increased the professional knowhow of bio-based circular economy among the project participants.
Written by Aino Huuskonen, environmental engineering student of LAB university of Applied Sciences and Susanna Vanhamäki, RDI manager at LAB University of Applied Sciences and the project manager of BIOREGIO.
Links:
Interreg Europe. 2020a. What is Interreg Europe? [Cited 17 Mar 2020]. Available at: https://www.interregeurope.eu/about-us/what-is-interreg-europe/
Interreg Europe. 2020b. Project Summary. BIOREGIO. [Cited 17 Mar 2020]. Available at: https://www.interregeurope.eu/bioregio/