Are you planning to participate in an intensive study week with international students? Many students say "Go!" from their own experience. You will get new perspective for your studies and make international friends in the process. 
The NICCoLLa (www.niccolla.eu) project offered LAB's social and health care students the opportunity to gain international experience by participating in an international intensive study program. The international intensive study week was hosted by Avans in Breda, the Netherlands. The focus of the studies was on new technological solutions for health and well-being. The week consisted of multidisciplinary studies with technology students from Universitat Politècnica de València from Spain and social work and healthcare students from LAB and Avans. In the workshops and group assignments, students applied technological innovations to real-life cases to find solutions and solve ethical dilemmas by reflecting on our personal experiences and ideas. This program provided an opportunity to explore multiple perspectives of technology. 
New technology in healthcare

A good example of new technology was virtual reality (VR). It can be used to create realistic trainings, even with scents. VR technology gives an opportunity for education e.g., to train young surgeons to carry out surgeries and nurses to be ready for the operating room (University of Toronto Libraries 2021). Another example was smart glasses, which allow the doctor to see the patient remotely and give instructions to the nurse caring the patient. Students were also impressed with interactive pets, voice-assisted robots, a smart medicine distributor, a talking photo book, pillows with function of gaming controller, etc. A variety of innovative solutions!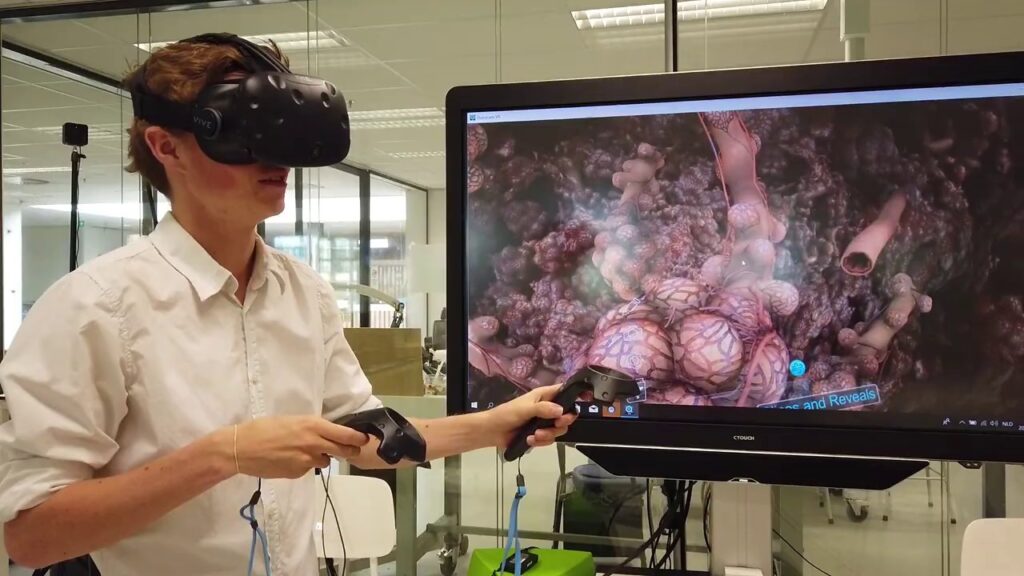 Technology is not only helping in healthcare, but it will soon be essential due to an aging population. Technology enables more efficient nursing care and helps older people live longer independently (Bouronikos 2020; Clark 2020). During ISP2, as students worked on technological solutions for healthcare, they also discovered and discussed the legal and moral dilemmas associated with them. Trust and privacy issues, as well as security risks in collecting and downloading patient data, can lead to a variety of ethical issues and compromise user interests.
Education for future professionals
In the future, the increasing use of technology in healthcare needs to be taken into account in the education of the health sector employees. They must be competent to use technology, interpret and apply information to effective clinical decision-making, provide ongoing support to patients to improve technological acceptability, and maintain patient privacy and confidentiality.
Therefore, the work of the NICCoLLa project to develop social and healthcare curriculum and courses focusing on the teaching the use of technology, various technological solutions, and ICT in healthcare settings, is extremely important and up-to-date.
Due to the future skills needs of social and health care workers, it is highly recommended that healthcare students become familiar with and explore the world of technology.  
Even advanced technologies are simple to use and make the work much easier. You don't have to be an engineer to use new technological inventions.
Authors
Tatiana Kuisma is a nursing student at LAB University of Applied Sciences. She participated in the International Intensive Study program (ISP) at Avans University of Applied Sciences, the Netherlands. The ISP was part of the Erasmus+ funded NICCoLLa project.
Pirjo Tuusjärvi is a RDI expert at LAB University of Applied Sciences, in the Health Care Unit and Project manager for the NICCoLLa project.
References
Bouronikos, V. 2020. Importance of Technology in Healthcare. The Institute of Entrepreneurship Development. [Cited 16 Nov 2021]. Available at: https: https://ied.eu/blog/importance-of-technology-in-healthcare/
Clark, A. 2020. Smart Technology Enables Independent Living for Seniors. The Senior List. [Cited 16 Nov 2021]. Available at: https://www.theseniorlist.com/blog/smart-technology-enable-independent-living-for-seniors/
University of Toronto Libraries. 2021. Virtual Reality in the Classroom. [Cited 16Nov 2021]. Available at: https://guides.library.utoronto.ca/c.php?g=607624&p=4938314
Links
NiCCoLLa. Network for Innovative Care Competence Learning through Labs. [Cited 16 Nov 2021]. Available at: http://niccolla.eu
Images
Image 1. Avans Hogeschool. 2021. Surgical training with virtual reality. Project GET-LAB. [Cited 16 Nov 2021]. Available at: https://www.avans.nl/onderzoek/projecten/detail/get-lab/introductie
---