You don't identify as vegetarian or vegan, and life without a good steak or angus burger is something you can't do without. However, if it looks good, tastes good, you will try it, regardless of if it is intended for vegetarians.
How we see food physically, such as appearance, colour, texture, and temperature, have a psychological impact on our sensory experience with food (Phillips 2022). Note that plant-based products often attempt to replicate meat in this regard.
While some consciously choose a certain kind of lifestyle, or may need to, for health reasons, there is no reason these plant-based dishes shouldn't be a choice on everyone's table. Plant-based can be an attractive option for all.
This blog is written as part of LAB's study course Sustainable Innovation Ecosystems in Circular Economy.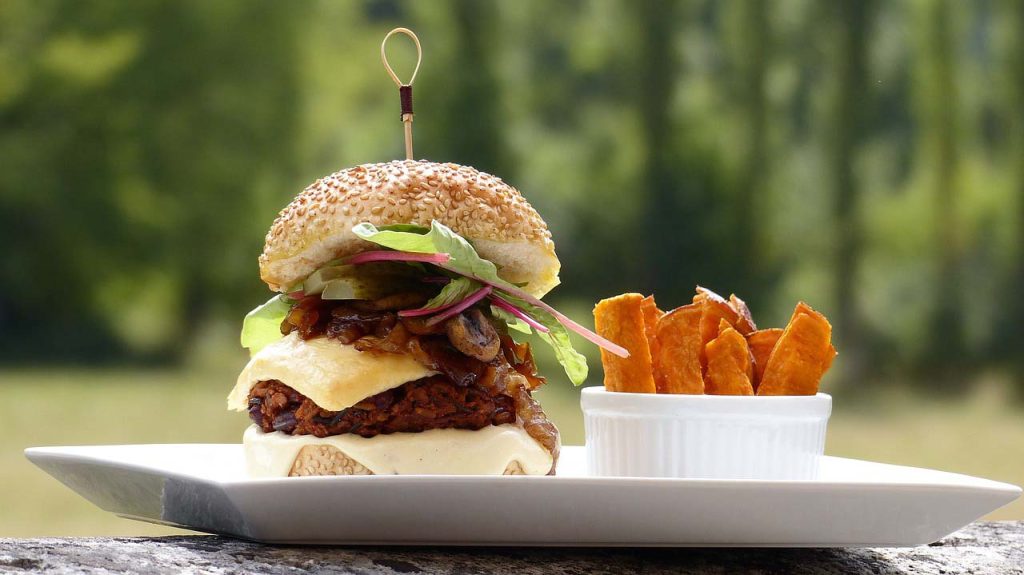 You can have your meat and eat plants too
Meat consumption is growing, and it raises issues of sustainability, as our world population increases. Reducing our meat consumption is a tricky proposition, as those who enjoy a meaty meal can attest to. It is deeply rooted into our traditional meals and is also necessary for good nutrition is it not?
Studies have shown that historically, meat consumption wasn't always as high as it is assumed. The consumption of meat isn't as strongly connected to economic, nutritional, or environmental utility as is insisted according to contemporary argument. Meat consumption has been utilised as more of a status symbol, displaying superiority, as rituals, habits, traditions, and desires have led to increased demand (Chiles & Fitzgerald 2018).
The perception that meat is a natural nutritional necessity, is flawed. What was once a status symbol, has now become commonplace in our diet, putting into perspective the luxury that it is. Rather than "combat" the consumption of meat, more should be done to change the perception around the tradition of meat consumption and address the lack of information on plant-based products.
Understand the consumer
A yale national survey revealed motivators and barriers for consumers when it comes to plant-based products include, health, taste, convenience, and cost. Roughly half of the respondents of said survey claimed, if they had more information on the environmental affect their choices of food had, they would be more motivated to eat plant-based foods (Morrison 2020). On the other hand, the survey of the researchers Marcus, Klink-Lehmann and Hartman showed another interesting aspect that animal welfare and health aspect motivate to choose plant-based products but environmental aspects don´t play any role (Klink-Lehmann 2022).
Drastic lifestyle changes aren't necessary. If everyone were to make even small differences to their individual diets, by incorporating more plant-based products into their weekly rotation, this could make a positive difference on both a personal and societal level. Education and transparency are key to changing perception.
Authors
Karl Osborne is a Bachelor of Business Administration student at LAB University of Applied Sciences.
Sari Jokimies works as a senior lecturer at LAB University of Applied Sciences.
References
Chiles, R.M., & Fitzgerald, A.J. 2018. Why is meat so important in Western history and culture? A genealogical critique of biophysical and political-economic explanations. Agric Hum Values 35, 1–17. Cited 20 Apr 2023. Available at https://doi.org/10.1007/s10460-017-9787-7
Comidacomafeto. 2018. Burger, hamburger, veggie, vegetarian. Pixabay. Cited 17 May 2023. Available at https://pixabay.com/photos/burger-hamburger-veggie-vegetarian-3746476/
Klink-Lehmann, J. 2022. Meat substitutes: Environment does not motivate consumption. Animal welfare and health aspects, on the other hand, promote the use of meat alternatives. Universität Bonn. Cited 25 May 2023. Available at https://www.uni-bonn.de/en/news/085-2022?set_language=en
Morrison, K. 2020. New Study Reveals Plant-Based Food Perceptions and Their Influences on Consumer Purchases. Food Industry Executive. Cited 17 May 2023. Available at https://foodindustryexecutive.com/2020/02/new-study-reveals-plant-based-food-perceptions-and-their-influences-on-consumer-purchases/
Philips, K. 2022. Effect Color Has on Food Perception, Flavour and Quality. Hunter Lab. Blog post. Cited 17 May 2023. Available at https://www.hunterlab.com/blog/effect-color-has-on-food-perception-flavor-and-quality/