Sharing information, networking and connecting various actors play a key role in successful project implementation. Such meetings then offer food for thought, enable new ideas to concertize, and launch cooperation. Exchanging and disseminating already existing examples provide the needed support in a mindset and behavioral transition towards a more sustainable society.
CECI – Citizen Involvement in Circular Economy Implementation project connects partners from Finland, France, Czech Republic, Spain, Bulgaria, and Belgium to work together on improving regional circular economy policies with a focus on citizens. The CECI partners identify successful examples of projects or practices in their regions to be promoted to other partners across Europe, where they can be replicated.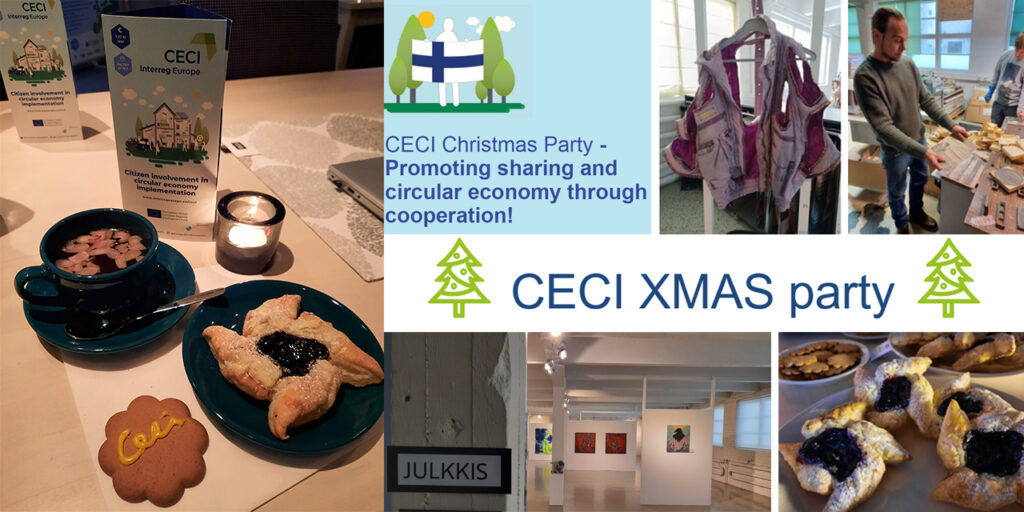 CECI regional dissemination event
In December 2021, two CECI partners, LAB University of Applied Sciences and the Regional Council of Päijät-Häme, Finland, organized a regional dissemination event in the Creation HQ Lahti premises. The Christmas celebration of the CECI project brought together people interested in the circular economy and the involvement of residents.
The location of the Creation HQ was selected on purpose. In the past, the former ski factory building was used for furniture making. Now, it acts as an ecosocial circular economy headquarters of Finland supporting creative industries and bringing together like-minded actors. The facility is evolving and currently houses a carpentry shop, a seamstress workshop, a program service company, a traditional papermaker who is using recycled material to create artistic paper products, and an exhibition and event space.
Showcasing Local Projects
This session started with sharing information on a variety of local circular economy solutions from CECI's interregional meeting and site visits in Mechelen, Belgium in November 2021. The city of Mechelen works strongly with third sector actors, enabling various experiments and funding the circular economy activities of both residents and associations, especially related to sharing.
Several speakers representing related projects were invited to share their insights. First, the Askel – Co-developing services for the sustainable living project presented its goals and end project results. Utilizing service design, three sustainable service concepts were created: 1) Delivering vegetables directly to your door with recipes 2) Monitoring heating and water consumption at home 3) Digital lending platform of shared goods. Link to Good practice: Developing sustainable housing services
The Textiles in Circulation in Päijät-Häme project investigates the complexity of separate textiles collection. The project explores the regional organizing of the separate textiles collection, gathers a network of partners, and develops their activities, as well as employment opportunities in textile collection and sorting. Informing citizens on textiles recycling is one of the aims. Link to Textiles in Circulation project
The Hiukka and Hiukka 2.0 projects research the possibilities of organic fibres in substituting plastic-based materials. The projects experiment with hair and hair fibres for landscaping and oil spills control. Link to Good practice: The HIUKKA practice involves citizens in circular economy by repurposing and recycling hair waste
Authors

Johanna Snell works as a Project Coordinator at the Regional Council of Päijät-Häme in the CECI project.

Katerina Medkova works as an RDI Specialist at LAB University of Applied Sciences and is CECI Communication Manager. CECI – Citizen Involvement in Circular Economy Implementation is an Interreg Europe co-funded project led by LAB University of Applied Sciences, Finland. Link to CECI project
Links
Link 1. Interreg Europe. 2022b. Good practice: Developing sustainable housing services. Policy Learning Platform. [Cited 13 Jan 2022]. Available at: https://www.interregeurope.eu/policylearning/good-practices/item/4909/developing-sustainable-housing-services/
Link 2. LAB. 2022. Project. Textiles into circulation. [Cited 14 Jan 2022]. Available at: https://lab.fi/en/project/textiles-circulation
Link 3. Interreg Europe. 2022c. Good practice: The HIUKKA practice involves citizens in circular economy by repurposing and recycling hair waste. Policy Learning Platform. [Cited 13 Jan 2022]. Available at: https://www.interregeurope.eu/policylearning/good-practices/item/5703/the-hiukka-practice-involves-citizens-in-circular-economy-by-repurposing-and-recycling-hair-waste/
Link 4. Interreg Europe. 2022a. Project Summary. CECI. [Cited 13 Jan 2022]. Available at: https://www.interregeurope.eu/ceci/