Renewable energy plays more and more significant role now and in the future. Circular economy aims to close the biological and technical loops to let the resources cycle in the system with minimum losses (Ellen MacArthur Foundation 2017). For production, use, maintenance as well as returning products and materials to circulation, a lot of energy is needed. Energy, that is clean and renewable to power the comprehensive and restorative circular economy.
According to the European Environmental Agency (2020), industry accounts for 25% of the EU total energy consumption. Due to energy-intensive industry in Finland, nearly half of the energy is consumed in industry. In 2018, the final energy consumption by industry was 48%. (Motiva 2019) The wider introduction of renewable energy sources (RES) for heat and electricity production in the industry sector is fundamental for the transition towards the low-carbon economy.
Interregional Cooperation Focusing on RES
Seven partners from Czech Republic (Lead partner), Finland (LAB University of Applied Sciences), Spain, Estonia, Poland, Austria and Malta have created a partnership in an Interreg Europe funded project RESINDUSTRY. The project aims to increase the integration of renewable energy in the industry by developing regional policies.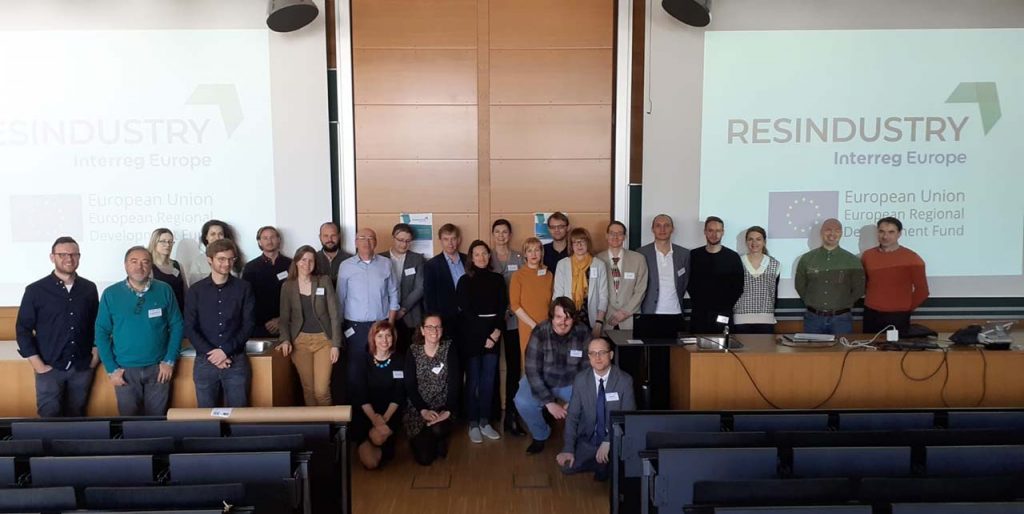 The RESINDUSTRY project 2nd interregional workshop was held in Dornbirn, Austria on 3-4th March 2020 and was hosted by the FH Vorarlberg University of Applied Sciences.
The first day of the meeting was dedicated to the Steering Committee meeting, where project management and communication issues and expected activities were discussed. Further discussions focused on a common understanding of identifying good practices and measuring their contribution of RES integration in industry.
The second day started with stakeholder's presentations related to the topic of the energy sector and RES implementation and synergies of RES policies and circular economy models in the region. Also, both local and international partners and stakeholders learned about policy instruments adressed in the project. The day was concluded by a study visit to the Digital Factory Vorarlberg, and representing how its performance supports and influences the implementation of RES in the region.

Policy Instrument Comparison
Ahead of the meeting, all partners sent information about related policy instruments (PI). Michal Tobiáš from the University Centre for Energy-Efficient Buildings of the Czech Technical University in Prague compared the seven PIs.
European Regional Development Funds (ERDF) are the funding sources supporting growth and jobs in all countries except Malta. The majority of PIs offers grants to beneficiaries, with an exception of Finland and the Czech Republic, where various financial instruments, such as loans are used instead. The funding rate provided varies from 30-85% depending on the country, size of the enterprise or type RES installed.
Supporting activities in all PIs included (1) Energy and material efficiency, (2) Renewable energy and (3) Low-carbon strategies. Interesting addition of soft measures support comes from Estonia. It includes activities to raise awareness and training of energy and resource management, and resource audit.
Written by Katerina Medkova who works as an RDI specialist at LAB University of Applied Sciences and is the RESINDUSTRY Project & Communication Manager.
References
Ellen MacArthur Foundation. 2017. Concept. Ellen MacArthur Foundation. [Cited 19 Mar 2020]. Available at: https://www.ellenmacarthurfoundation.org/circular-economy/concept
European Environment Agency. 2020. Final energy consumption by sector and fuel in Europe. [Cited 18 Mar 2020]. Available at: https://www.eea.europa.eu/data-and-maps/indicators/final-energy-consumption-by-sector-10/assessment
Motiva. 2019. Final Consumption of Energy. [Cited 18 Mar 2020]. Available at: https://www.motiva.fi/en/solutions/energy_use_in_finland/final_consumption_of_energy
Links
Digital Factory Vorarlberg. 2020. [Cited 19 Mar 2020]. Available at: https://www.fhv.at/en/research/digital-factory-vorarlberg/
Interreg Europe. 2020a. Good practices from Interreg projects and beyond. [Cited 19 Mar 2020]. Available at: https://www.interregeurope.eu/policylearning/good-practices/
Interreg Europe. 2020b. Project Summary. RESINDUSTRY. [Cited 18 Mar 2020]. Available at: https://www.interregeurope.eu/resindustry/
Interreg Europe. 2020c. What is Interreg Europe?. [Cited 19 Mar 2020]. Available at: https://www.interregeurope.eu/about-us/what-is-interreg-europe/
Pictures:
Picture 1. Štěpánka Holečková: The RESINDUSTRY partners and stakeholders in Dornbirn, Austria. [Cited 04 Mar 2020].