The initial thought about establishing a reuse centre was born in 2018 by the Ostrava city Mayor, who approached OZO, the city-owned waste management company. Aleš Staniczek, the Head of the OZO Ostrava facility, could be called the father of the REUSE Centre Ostrava, being responsible for its development and realization, which took nearly two years. He explored existing examples, realizing that each reuse centre is specific concerning the local legislation and conditions. He visited a reuse centre in Wien, Austria for inspiration. Although that place differs from the present Ostrava centre, the fundamental influence lies in the importance of such a place to fulfil the environmental, educational, and social role. (Staniczek 2022.)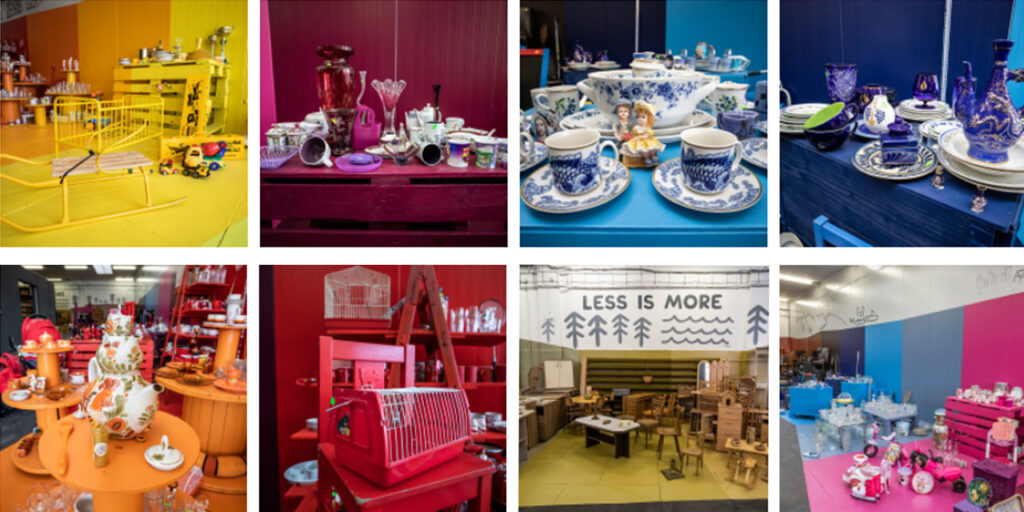 As Staniczek (2022) stated, the planning phase included various processes, from the collection, sales, and pricing, including infrastructure as well as to solving challenges related to waste legislation. Recently, also white goods were added to their portfolio.
According to Staniczek (2022), the aim of the REUSE Centre was not to create a general bazaar or a second-hand style place but rather a social, environmental, and educational centre with spirit. A place, where people could donate and buy used items, repair goods, educate, relax, and meet. For that reason, a zone for relaxation has been designed as a part of the REUSE Centre. The Centre also promotes waste prevention and reuse activities by organizing lectures, workshops, or swaps. Also, they closely cooperate with Čtyřlístek, a centre for people with disabilities, e.g., producing elevated flowerbeds from discarded wooden pallets (Ostrava 2021).
The Centre is unique in its colourful design as well as item sorting. Goods are grouped by their colour, not their purpose. The vision is also translated by drawings on the interior walls as a story starting with the city of Ostrava and its citizens donating goods, which are reused by other people (not only) in Ostrava, thus closing the loop.
Altogether 11 collection points across the City of Ostrava receive donations from the citizens. The REUSE Centre then sorts, cleans, and repairs those items. The vision evolved further after it was decided to pass all earnings to the Public Greenery collection of the City of Ostrava, e.g., for planting trees, flowers, and grass. The price range for goods is rather symbolic, between 0,40-8€. (Staniczek 2022.) The average contribution to the above mentioned public collection for one item is around 0,80€. (Ostrava 2021.)
Achievements in numbers – exceeding expectations
The first reuse centre in the Moravian-Silesian region opened its door in September 2020. In the first month, 1 350 people visited the REUSE Centre Ostrava and bought 6 297 items for nearly 5 000€ in total. The Centre has gained great popularity and in 2021, it gave a new life to more than 43 000 items. In 2021, over 33 000€ was deposited into the Public Greenery collection, in comparison with the initial expectation of 4 000 – 8 000€. In October 2021, the REUSE Centre Ostrava won the Construction of the Year 2021 award for an extraordinary societal contribution. (Ostrava 2021.)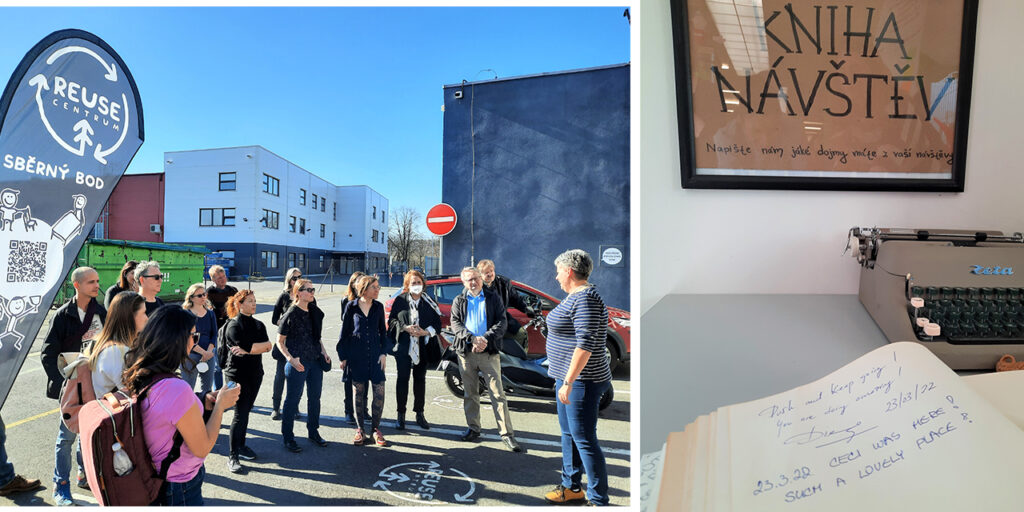 Sharing and Inspiring Others
Following the example of Ostrava, similar centres are now being set up in other cities as well. Furthermore, as a part of the Furniture Banks and Reuse Centres Federation, the Centre supports other similar thinkers by sharing knowledge, experience, and challenges, to speed up the born of similar centres in the Czech Republic. This REUSE Centre serves as an example for other cities and regions. It was also identified by Moravskoslezské inovační centrum Ostrava, as one of the inspiring good practices of the CECI – Citizen Involvement in Circular Economy Implementation -project. Link to CECI good practice: REUSE Centre Ostrava
Author

Katerina Medkova works as an RDI Specialist at LAB University of Applied Sciences and is CECI Communication Manager. CECI – Citizen Involvement in Circular Economy Implementation is an Interreg Europe co-funded project led by LAB University of Applied Sciences, Finland. Link to the CECI project.
References
Moravskoslezské inovační centrum. 2021. Škoda vyhodit. Vyřazené věci mohou dělat radost i nadále | REUSE Centrum. CECI. YouTube. Cited 14 May 2022. Available at https://www.youtube.com/watch?v=1LIeqF8iDrI&list=PLtbOrywM-BA__4z-2GHRE3UCF_eaUnTgV&index=4
Ostrava. 2021. Reuse Centrum Ostrava má za sebou úspěšný premiérový rok. Cited 14 May 2022. Available at https://www.ostrava.cz/cs/o-meste/aktualne/reuse-centrum-ostrava-ma-za-sebou-uspesny-premierovy-rok
REUSE centrum Ostrava. 2020. Fotogalerie. Cited 14 May 2022. Available at https://reuse.ozoostrava.cz/fotogalerie
Staniczek, A. 2022. Head of OZO Ostrava facility. OZO Ostrava. Interview 12.4.2022.
Links
Link 1. Interreg Europe. 2021. REUSE Centre Ostrava. CECI. Cited 13 May 2022. Available at https://www.interregeurope.eu/good-practices/reuse-centre-ostrava
Link 2. Interreg Europe. 2022. Project Summary. CECI. Cited 24 Apr 2022. Available at https://projects2014-2020.interregeurope.eu/ceci/