The last RESINDUSTRY interregional meeting gathered project partners and their stakeholders on the beautiful island of Gozo, Malta in April 2022. RESINDUSTRY – Policies for Renewable Energy Sources in Industry – project aims to increase the proportion of renewables in industrial applications by improving regional policies.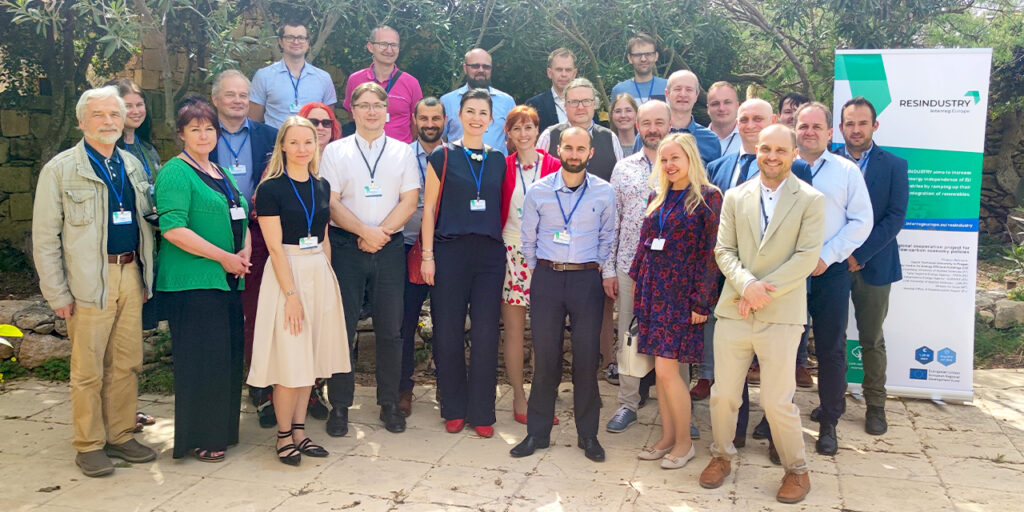 In Finland, people are used to having plenty of pure and high-quality groundwater, so it might be easy to forget global issues related to this topic. In Malta, the source of drinking water is limited, as it has no lakes or rivers and thus relies on finite groundwater or desalinated seawater. Besides curbed groundwater sources, the island of Gozo also uses a submarine water pipeline from Malta. According to Sydänmaa, who works as a Business Development Manager of Circular Economy at Lahti Region Development LADEC, it was insightful to learn about the Czech Technical University's (CTU) Solar Air Water Earth Resource (S.A.W.E.R.) system, which uses solar energy to produce water from the air! The autonomous S.A.W.E.R. system can extract up to 200l of water from desert air per day to be used for drinking and irrigation. The unique system was developed by the University Centre for Energy-Efficient Buildings of CTU (UCEEB) and the Faculty of Mechanical Engineering of the CTU in Prague. UCEEB acts as the RESINDUSTRY's lead partner. (Czech Technical University in Prague 2021.) In April 2022, S.A.W.E.R. was awarded as the best innovation at the World Expo 2020 in Dubai (SAWER 2022).
Renewable energy in the food industry
A local Gozitan company, Magro Brothers, is known for processing tomatoes, cheese, and dairy products. Though a regenerative cycle, which recovers some of the exhaust heat, is implemented to increase the plant's energy efficiency, the production remains energy intensive. The company installed 1 600 Photovoltaic (PV) panels on the roof, generating around 600 MWh and covering over 30% of the energy demand. The investment's payback time is around seven years. The company considers expanding PV panels in the future, pondering e.g., double-sided or flexible solar panels. This PV installation has been recognized as one of the RESINDUSTRY good practices. Link to Good Practice: Solar Photovoltaic System at Magro Food Village
Renewable Energy Sources – limitations & challenges
During the site visit, potential renewable energy sources to be employed were discussed. In Gozo, the limitations of the island were obvious; the amount of population and companies give boundaries to the choices companies could make when investing in renewable energy. Food factories would have been interested in biogas production but there are just too little of companies on the whole island that could provide enough waste for a biogas plant.
Also, the local regulations entail some limitations. When investing in renewable energy production, the company needs to upgrade the energy infrastructure at own costs, yet the company does not own the grid.
Authors

Katerina Medkova works as an RDI specialist at LAB University of Applied Sciences and is a Project & Communication Manager in the RESINDUSTRY project. RESINDUSTRY is supported by the Interreg Europe Programme funded by the European Regional Development Fund (ERDF) and co-financed by the participants.

Piia Sydänmaa works as a Business Development Manager of Circular Economy at Lahti Region Development LADEC Ltd.
References
Czech Technical University in Prague. 2021. S.A.W.E.R.: Czech Technology for Extracting Water from the Air Using Solar Energy Is In Full Swing In Dubai. Cited 15 May 2022. Available at https://aktualne.cvut.cz/en/media-screenings/20211014-sawer-czech-technology-for-extracting-water-from-the-air-using-solar-0
SAWER. 2022. Technology S.A.W.E.R. won the award for the Best Innovation at the EXPO 2020. Cited 15 May 2022. Available at https://www.sawer.cz/2022/04/04/technology-s-a-w-e-r-won-the-award-for-the-best-innovation-at-the-expo-2020/
Links
Link 1. Interreg Europe. 2021. Solar Photovoltaic System at Magro Food Village. Cited 15 May 2022. Available at https://www.interregeurope.eu/good-practices/solar-photovoltaic-system-at-magro-food-village
Link 2. Interreg Europe. 2022. Project Summary. RESINDUSTRY. Cited 15 May 2022. Available at https://projects2014-2020.interregeurope.eu/resindustry/