The scalding sun is beating down to the ground and the atmospheric humidity is close to 90 %, as we are conducting a questionnaire with Open Defecation Free 2030 (ODF2030) – project in Aklamakpetoe community, in Ghana (Picture 1). A local artisan, Mr Awunyo is speaking Ewe, the local language. Awunyo, has just expressed his wish for gaining some help from us for receiving a certificate he was promised years ago for being taught the building technics of the Urine Diverting Dry Toilet (UDDT).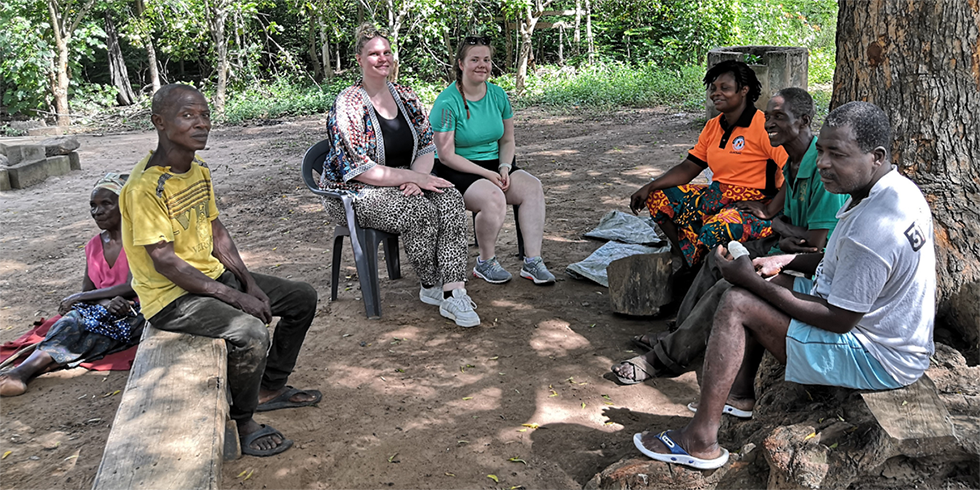 The co-operation with LAB University of Applied Sciences and Ghana has lasted for years. Last summer two LAB´s teachers visited in Ghana and two students worked in summer 2022 for ODF2030 – Sustainable Sanitation for Ho Municipality, Ghana – project, funded by the Ministry of Foreign Affairs of Finland and implemented by the Global Dry Toilet Association of Finland, Jyväskylä and LAB Universities of Applied Sciences, Ho Municipal Assembly (HMA) and Ho Technical University (HTU). The project's aim is to achieve total sanitation in Ho Municipality by the year 2030 (JAMK 2022).
Education is fundamental for a nation to develop
Awunyo is part of the 16 artisans' group which have been taught how to build the UDDT facility. Teaching the locals, in this case to build the facility and its special technology, is the key for getting all the benefits out of the development projects. Also, the Ministry of Foreign Affairs of Finland´s development policy highlights the cooperation to reinforce the nations own carrying capacity (The Ministry of Foreign Affairs of Finland). Educating and involving the locals in the ODF2030 – project does not only benefit achieving the goals of the project, but it also benefits families and communities, and in a longer term the whole nation. As only 10.3 % of Ghanaians have continued their studies after finishing Senior High School (Ghana Statistical Service 2019, 19), it is quite clear, that any work – preparatory teaching is an essential part of development cooperation.
In Aklamakpetoe, like in most of the Ghanaian villages, the main source of income is farming. Mr Awunyo, the artisan, is also a farmer. Awunyo has been so thrilled about all the benefits the UDDT facilities have offered for his community, that he has even built the facilities for others. However, without a certificate his possibilities to build new ones is hindered, preventing also expected extra income.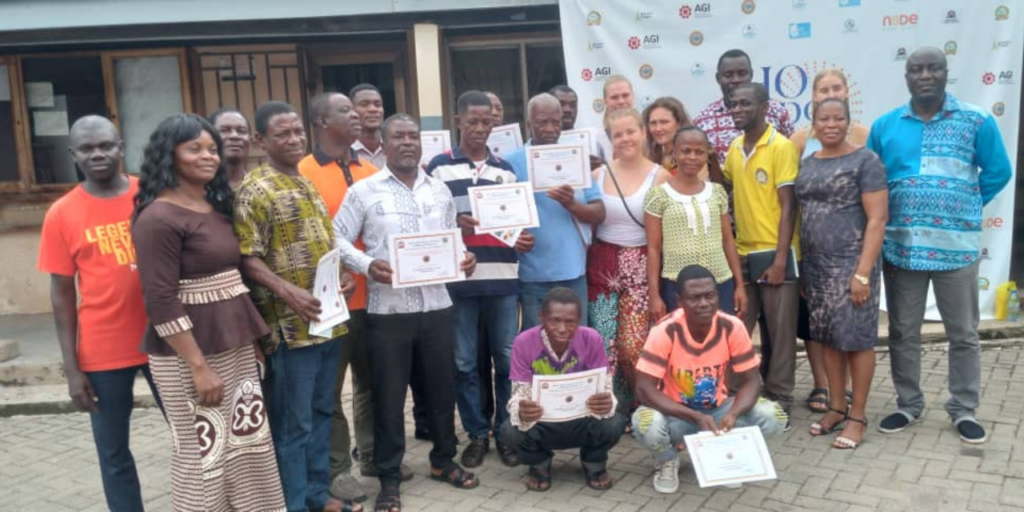 Co-operation continues
"Next in line is Francis Awunyo from Aklamakpetoe". Few weeks later Awunyo walks in front of the audience in the HMA Hall and accepts the certificate while the crowd applauds. It is a privilege to be a part of the project and witness its steps towards development (Picture 2). Small steps take time, luckily the development cooperation will continue as the ODF2030 – project got new grant for 2023-2026 by the Ministry of Foreign Affairs of Finland (Ministry of Foreign Affairs of Finland 2022). Hopefully the educational co-operation with LAB and HTU will continue, in a form or another. This will also give great opportunities for Ghanaian and Finnish students and teachers to learn from each other cultures and to develop together more sustainable future.
Authors

Pia Haapea is a Principal Lecturer of Energy and environmental engineering, in LAB University of Applied Sciences and has been involved in co-operative projects in Ghana for several years.

Paula Schroderus is a second-year energy and environmental engineering student at LAB University of Applied Sciences. She carried out her internship in Ho, Ghana, with the ODF2030 – project in the summer 2022.
References
Ghana Statistical Service. 2019. Ghana Living Standards Survey. Report. Cited 30 Aug 2022. Available at https://www.statsghana.gov.gh/gssmain/fileUpload/pressrelease/GLSS7%20MAIN%20REPORT_FINAL.pdf
JAMK. 2022. ODF2030 – Sustainable Sanitation for Ho Municipality, Ghana. Project. Cited 24 Aug 2022. Available at https://www.jamk.fi/fi/tutkimus-ja-kehitys/tki-projektit/odf2030-sustainable-sanitation-for-ho-municipality-ghana
Kuleke, C. 2022. Social Dry Toilet. From article by GNA. Artisans undergo training in 'urine divert dry toilet' technology certificates. Cited 30 Aug 2022. Available at https://newsghana.com.gh/artisans-undergo-training-in-urine-divert-dry-toilet-technology/
The Ministry of Foreign Affairs of Finland. 2022. Application round for project support in 2022, list of the projects to which the support was granted for 2023–2026. Announcement. Cited 30 Aug 2022. Available at https://um.fi/ajankohtaista/-/asset_publisher/gc654PySnjTX/content/suomalaisille-kansalaisjarjestoille-kehitysyhteistyorahoitusta-haavoittuvimmassa-asemassa-olevien-oikeuksien-vahvistamiseen
The Ministry of Foreign Affairs of Finland. Goals and principles of Finland's development policy. Cited 24 Aug 2022. Available at https://um.fi/goals-and-principles-of-finland-s-development-policy