Tiera project was a two-year joint project with LUT University funded by Business Finland. Main aim of the project was to identify commercial opportunities around the novel generic robotics to machine communication concept. Link to Tiera-project homepage.
To prepare the commercialization of the novel Tiera concept, project team (at peak 8 members) had a joint project plan, two packages (Picture 1.) for the market research and business model analysis and third package for Proof-of-Concept development. Team worked jointly by exchanging information frequently and sometimes quite intensively which produced great results. Work packages in these projects are constantly being developed, sometimes by trial and error and usually by experienced business experts inside the organizations. Focus of the project was to prove that the concept works both technically and commercially.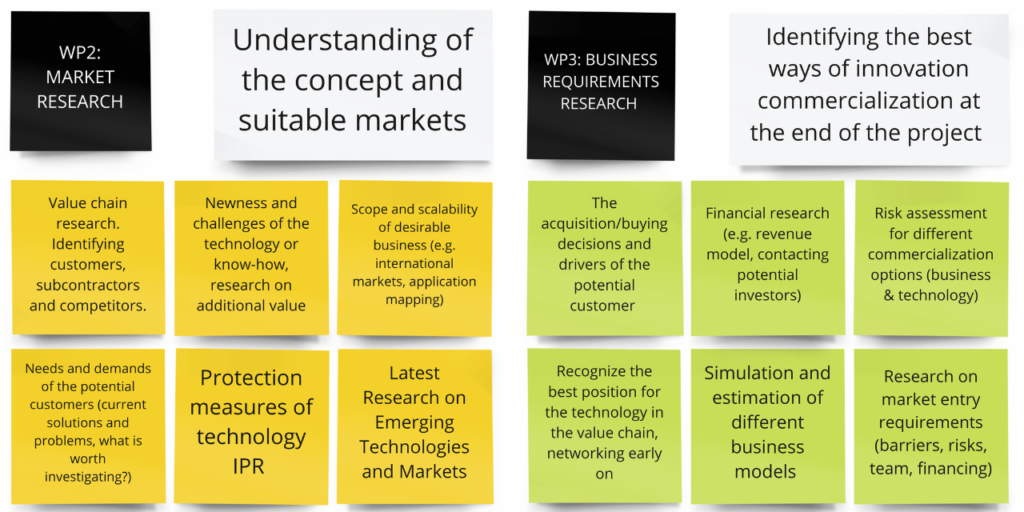 Commercialization research project
LAB is constantly testing new methods for developing the commercialization research within varied projects. What was interesting, was the high amount combination of different experiences from multiple industries and getting to know different opinions about the idea. During the project, team collected feedback from dozens of industry experts and had multiple talks with potential customers, investors, and startup entrepreneurs to boost the commercialization research with new and novel robotics solution. Workshops (live & remote) always had decades of both commercial and technological support and the open-minded ideation process supported by facts from tech and market intelligence was very lucrative. For example, Proof of Concept had to prove something to gain interest and the market data was collected to find most suitable market area for the invention or where competitive edge would be maximal. In this case, there was lack of communication protocols for older generation machines which was quite successfully proven to function with Tiera concept and was possible to demonstrate within campus area due to variety of machines and robots available for testing.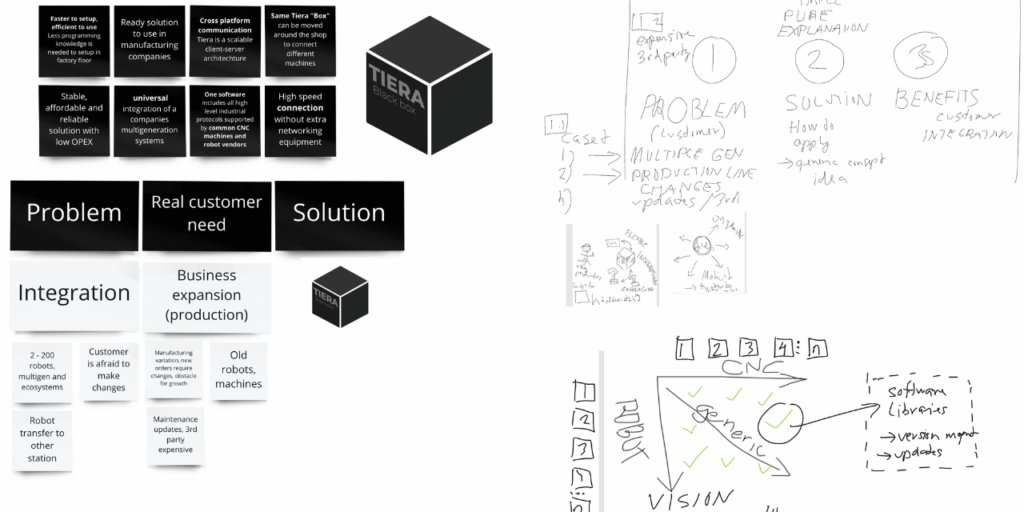 Tiera concept generated lots of interest within robotics industry and main partners for potential commercialization were identified and contacted. For organizational level Tiera was also connected to many existing entrepreneurial networks and programs. Main application areas for the Tiera were seen in use of machine combinations. In the area of old & new generation machine communications business potential might be very high. Many of the early hypothesizes were validated during the project and understanding of the commercial possibilities increased greatly during the project. Project had established steering group which gave good grades for the whole project. Results were good contribution to research and next stages in development are expected to increase the impact due to promising results. Lots of relevant knowhow was created during the two-year project. Business activities are now possible after the research to business (R2B) project.
Author

Alexander Matrosov works as an RDI Specialist at LAB University of Applied Sciences and was the Tiera Project Manager.
Links
LAB. 2022. Tiera – state-of-the-art robot-machine generic communication platform. Cited 25 Aug 2022. Available at https://lab.fi/en/project/tiera