In the age of digitalization, remote work has become the new norm for many businesses around the world. Virtual teams are rapidly gaining popularity, allowing organizations to collaborate effectively while breaking down geographical barriers.
How to acquire the skills needed for effective remote working and managing virtual teams? How to educate virtual team working skills in higher education? To address these challenges, VIBES project has created an online open educational resources platform. The platform offers a Master Class on virtual multicultural team working for the use of educational institutions, and a digital learning hub on virtual skills, acting as a collaborative space for anyone interested in advancement of virtual skills development and exchange of learning resources.
A comprehensive course addressing virtual team working skill
The VIBES Master Class on virtual team working is a comprehensive course designed and tested during the VIBES project. Now this Master Class is offered for the use of all educators. Link to the VIBES Master Class. (Link 1)
The course covers all aspects of virtual team creation and management in multicultural virtual environment. The course includes a combination of learning modules from variety of topics with individual and group exercises, and it is designed for both high school and higher education level and can be adjusted to remote, hybrid or traditional classroom teaching.
The course is organized as four loops: 1) Introduction, 2) Communications and team dynamics, 3) Culture, ways of working and management, and 4) Reflection. Each loop focuses on different topic and comes with individual learning outcomes.
Loops are structured in similar way starting with onboarding activities, continuing with covering of the main topics, and ending with landing exercises and homework. Each loop builds on the knowledge and skills acquired in the previous one, creating a seamless learning path.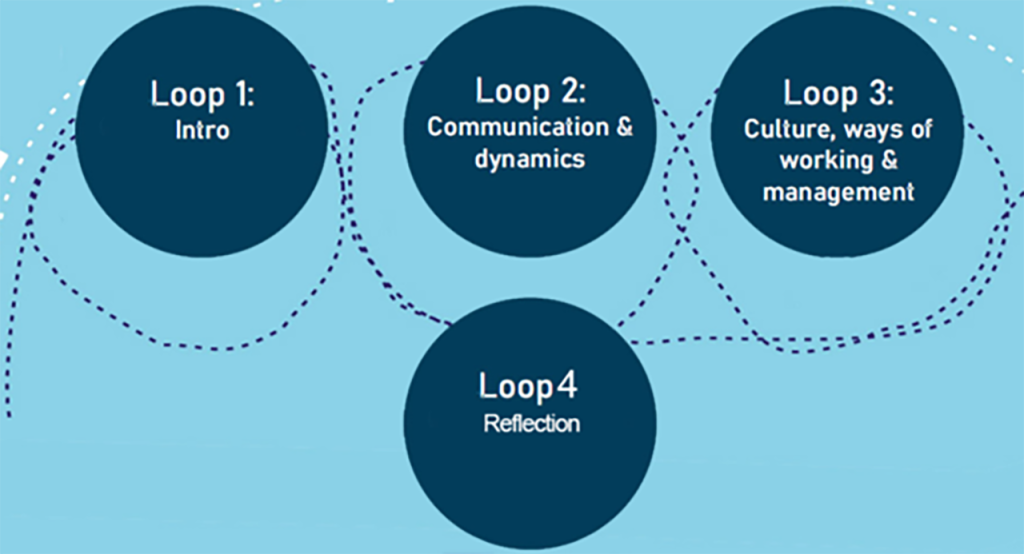 One of the unique aspects of the virtual Master Course on virtual team working is its focus on experiential learning. Participants apply the concepts they learn in actual teamworking setting through group exercises. This approach helps learners to develop practical skills that they can use in their work immediately. The course is designed to be highly interactive, with opportunities for learners to connect with each other and their instructors throughout the course. The learners are also encouraged to take in consideration the work-life-balance, and the course itself is also structured with the needed breaks in between learning.
VIBES Forum for exchange of education resources on virtual team working
In addition to Master Class, VIBES has created a forum for educators. This is a platform designed to facilitate the exchange of educational resources on virtual team working between teachers and educators worldwide. Link to the VIBES forum. (Link 2)
We hope to create a space where whether one is looking for new teaching materials, ideas on getting the students activated on classes, or anything else, one could find it through one click on a VIBES forum. Join us and discover the power of collaboration and shared knowledge in education.
The project Virtual Business Skills Empowerment – VIBES (2021‒2023) creates and produces a distinctive educational and training content that equips students with skills relevant for work in virtual and multicultural teams. VIBES is co-funded by the Erasmus Plus Program of the European Commission and it brings together seven partners from five countries (Belgium, Croatia, Estonia, Finland, Switzerland). Link to the project. (Link 3)
Author
Niina Sallinen is RDI Specialist at LAB University of Applied Sciences and LAB Project Manager for Virtual Business Skills Empowerment ‒ VIBES.

References
VIBES. 2023. Ready to use Virtual Course. Cited 27 Feb 2023. Available at https://virtualskills.unidu.hr/
Links
Link 1. VIBES. 2023. Ready to use Virtual Course. Cited 27 Feb 2023. Available at https://virtualskills.unidu.hr/
Link 2. VIBES. 2023. Forums. Cited 27 Feb 2023. Available at https://vibesforum.unidu.hr/
Link 3. VIBES. 2023. Virtual Business Skills Empowerment. Cited 27 Feb 2023. Available at https://www.virtualskills.eu/