Both concepts of bioeconomy (long tradition) and circular economy (rather a new concept) are well-known in the EU though the latter one more on paper than in practice (Carus & Dammer 2018). Bioeconomy is steered by environmental challenges and resource scarcity, circular economy (CE) is driven by innovation. Despite their different origin, both complement each other. As the circular economy has huge potential, the synergies of both concepts are arising. (European Environmental Agency 2018.)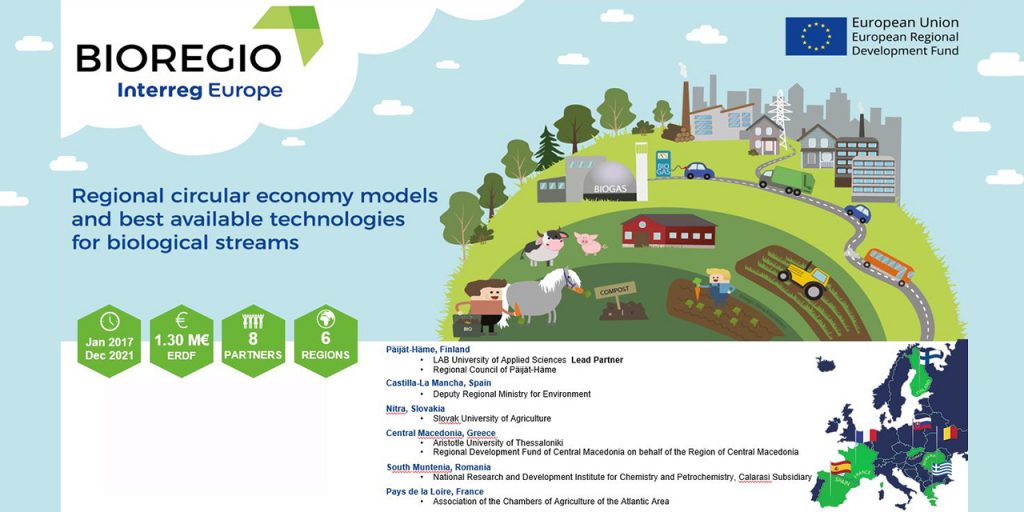 BIOREGIO story
The Interreg Europe project BIOREGIO – Regional circular economy models and best available technologies for biological streams has been developing bio-based circular economy in six European regions. As the project is approaching its final stage, a final dissemination event was organized in May 2021. The event was acknowledged as a partner event of the EU Green Week 2021. You can read more about the event from BIOREGIO High-level Dissemination Event article.
In 2017, when BIOREGIO cooperation started, the first focus was on defining the term of bio-based CE as several synonyms exist, e.g. circular bioeconomy, bio circular economy. The Butterfly diagram of Ellen MacArthur depicts the biological or technical materials flows. BIOREGIO has focused on biological materials (Picture 1). (Medkova 2021.)
Bioeconomy and circular economy share some targets and these concepts are overlapping, but neither are fully part of the other. Therefore, the bio-based circular economy can be explained as an intersection between bioeconomy and CE, i.e., bioeconomy with integrated CE principles (Picture 2). (Carus & Dammer 2018.)
A comprehensive circular economy is not possible without the bioeconomy and vice versa. BIOREGIO took the opportunity to take part in the public consultation on Europe's 2012 Bioeconomy strategy update in 2018 and supported the need for the bioeconomy to have sustainability and circularity at its heart. Bioeconomy is not always circular by nature, therefore, there is a need for designing the bioeconomy in a circular way. (Medkova 2021.)
BIOREGIO aimed to enhance the development of bio-based CE through increased expertise and improved regional policies. That has been achieved thanks to interregional cooperation and through a transfer of knowledge, expertise, and good practices. The main goal was to develop regional policies, therefore, to reach a policy change related to bio-based CE. For that, many activities have been performed, both on the regional and interregional level (Picture 3):
identifying regional good practices (altogether 47)
establishing stakeholder groups (6) in all regions representing public authorities, academia, companies, and associations
sharing and exchanging knowledge and expertise related to bio-based CE through interregional cooperation
organizing various policy learning events (49), such as regional dissemination events to a wider audience to raise public awareness.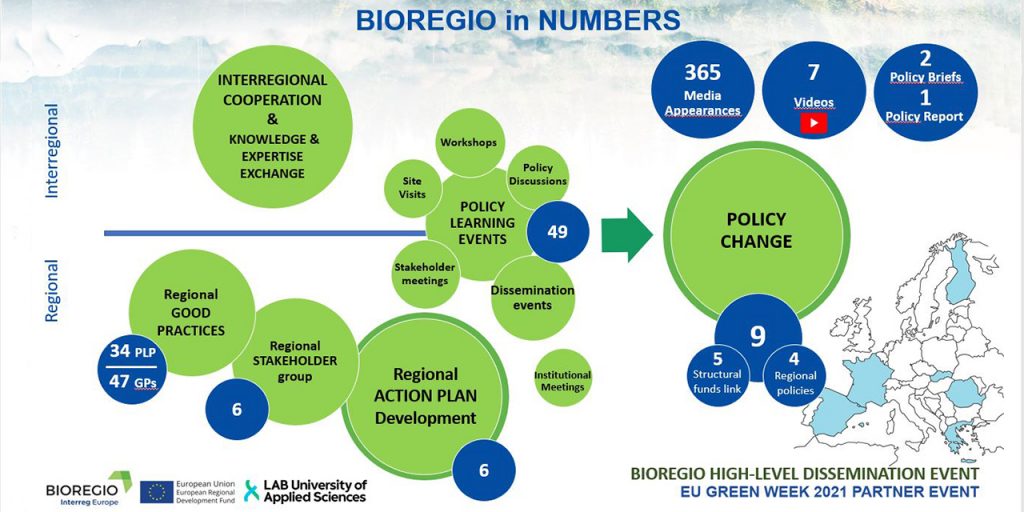 The main outcome was to design action plans (6) for the development of the policy instrument to better support the regions' bio-based circular economy in the future, therefore, to achieve a policy change. BIOREGIO has achieved nine policy changes, five of them related to structural funds and four to regional policies. Communication has played a vital role; BIOREGIO has appeared 356 times in media and has produced seven videos.
Author

Katerina Medkova works as an RDI specialist at LAB University of Applied Sciences and is the BIOREGIO Project and Communication Manager. BIOREGIO is an Interreg Europe funded project, which started in January 2017 and lasts until December 2021. LAB University of Applied Sciences acts as BIOREGIO lead partner.
References
Carus, M & Dammer, L. 2018. The "Circular Bioeconomy" – Concepts, Opportunities and Limitations. nova-Institut. [Cited 22 May 2021]. Available at: http://bio-based.eu/downloads/nova-paper-9-the-circular-bioeconomy-concepts-opportunities-and-limitations/
European Environment Agency. 2018. The circular economy and the bioeconomy – Partners in sustainability. [Cited 22 May 2021]. Available at: https://www.eea.europa.eu/publications/circular-economy-and-bioeconomy
Medkova, K. 2021. BIOREGIO boosting bio-based circular economy. Presentation given at BIOREGIO high-level dissemination event on 11 May 2021. [Cited 22 May 2021]. Available at: https://www.interregeurope.eu/bioregio/library/#folder=2964
Links
Link 1. Interreg Europe. 2021a. Project Summary. BIOREGIO. [Cited 20 May 2021]. Available at: https://www.interregeurope.eu/bioregio/
Link 2. European Commission. 2021. EU Green Week 2021. European Union. [Cited 20 May 2021]. Available at: https://www.eugreenweek.eu/
Link 3. LAB Focus. 2021. BIOREGIO High-level Dissemination Event. [Cited 2 June 2021]. Available at: https://blogit.lab.fi/labfocus/en/bioregio-high-level-dissemination-event/
Link 4. Interreg Europe. 2021b. Action Plans. BIOREGIO. [Cited 18 Mar 2021]. Available at: https://www.interregeurope.eu/bioregio/action-plans/
Link 5. LAMK Green. 2019. BIOREGIO Playlist. BIOREGIO. Videos. (YouTube). [Cited 20 May 2021]. Available at: https://www.youtube.com/playlist?list=PLar9YWNRDiueENvBIPGpgXPOphOXnT3Nq