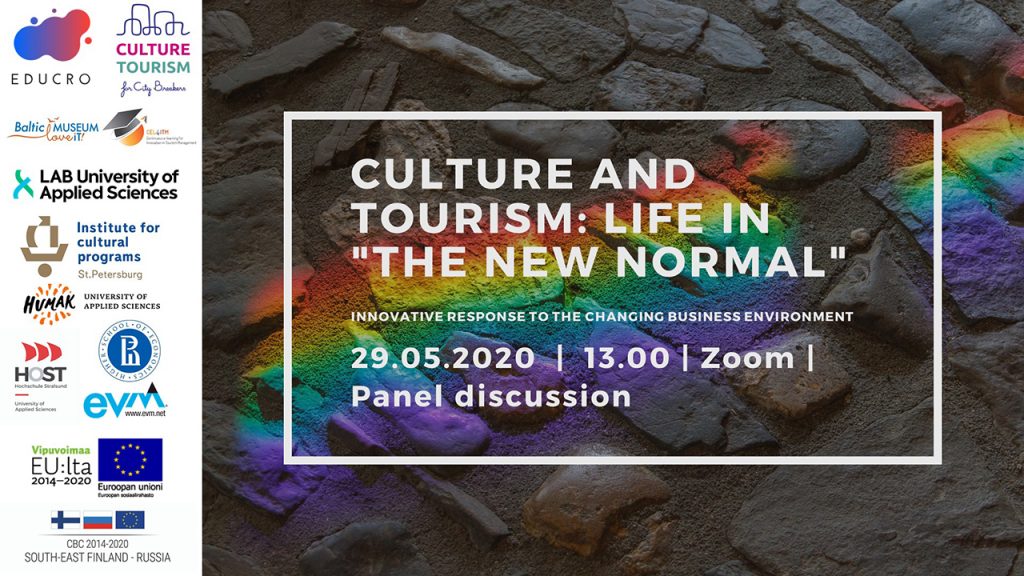 Need for the dialogue
There has been a continuous discourse about life in the New Normal since the beginning of the Coronavirus outbreak. The culture and tourism turned out to be one of those vulnerable sectors that suffered the most from the pandemic. In some countries, like Finland, this sector received governmental support, and at the same time, some companies were quite successful in adapting to this crisis, and their innovative response to this rapidly changing environment has become a focus of the researchers and practitioners. To discuss different viewpoints on this hot topic, the EDUCRO project organized an online panel discussion, Culture and Tourism: Life in "The New Normal" which was held on 29.05.2020.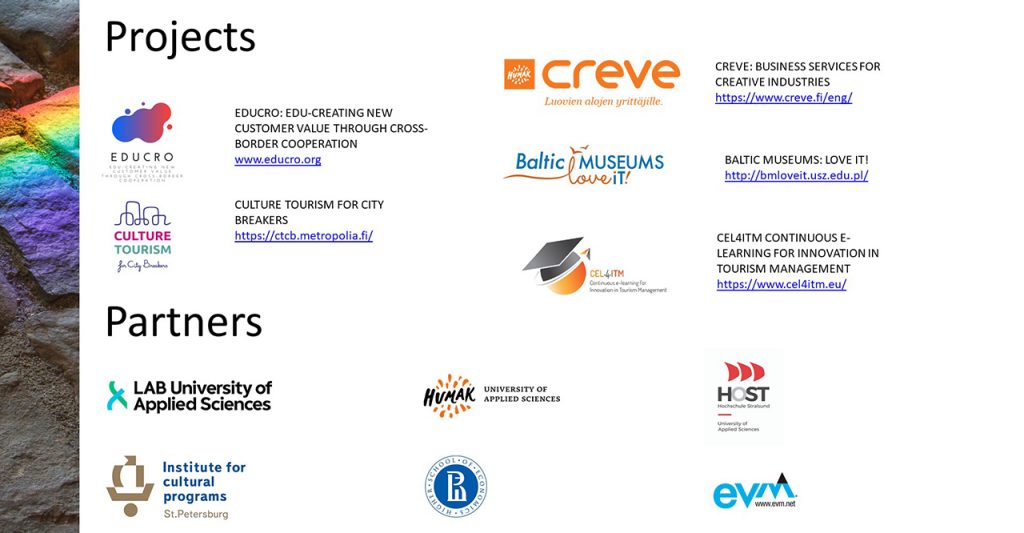 People, projects and partners behind the event
To bring more value to the participants, the event was organized in cooperation with the other LAB projects, related to culture and tourism: Culture Tourism for City Breakers and CEL4ITM, and involved representatives from six educational institutions. Cooperation made it possible to hear the perspectives from Finland , Russia, Germany, and the UK across sectors and exchange the practical solutions for the "survival" from the cooperating companies. Bright speakers and extensive support by cooperating projects and universities raised quite a big audience that actively participated in the chat.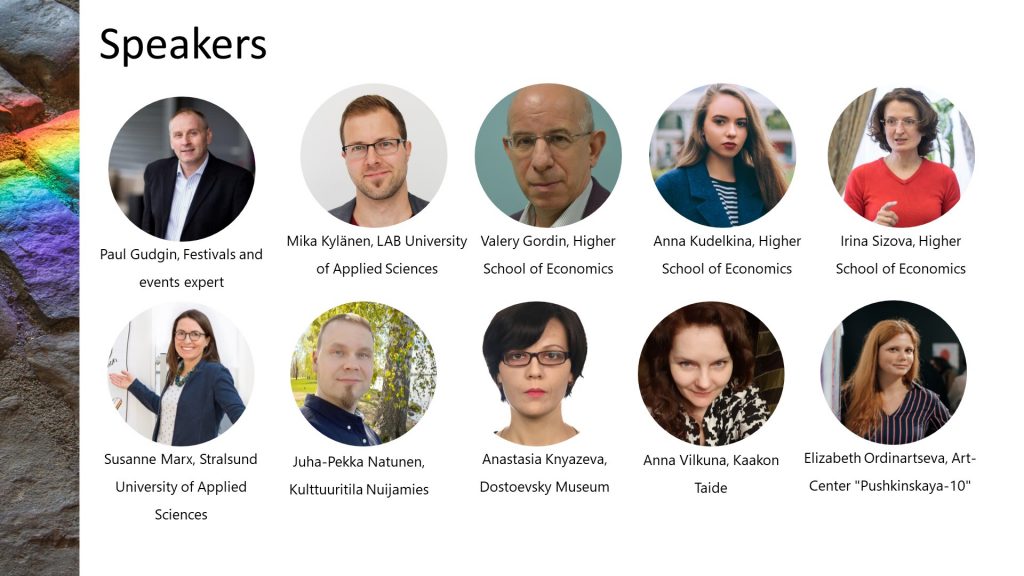 The representatives of the educational institutions and scientific community presented the interim results of their work: companies' responses to the crisis, the attitude of the audiences to the online products, future trends, good practices and recommendations. These theses were supported by the experiences of the practitioners from the culture sector in Saint-Petersburg and South Karelia who showcased their ways of combating the crisis.
Some valuable takeaways from event
As moderator of the event, Mika Kylänen from LAB university of Applied Sciences noted that the health crisis revealed the hidden challenges of traditional business models and advised companies to have the courage to adapt and create a new future today. For some companies, this crisis became a catalyst for the development of new products, such as an online concert by Kulttuuritila Nuijamies, a project of digitalization of the services by the Dostoevsky Museum, online exhibition tour by Kaakon Taide, and Art Residence, a platform for collaboration between artists by Pushkinskaya-10. Juha-Pekka Natunen from the Kulttuuritila Nuijamies noted that leveraging networks and adapting business models was the key to success. Paul Gudgin, a recognized expert in festival management, suggested that the crisis made the festivals more creative in using online technologies, and this trend will continue after COVID – we will face more hybrid events in the future. At the same time, going digital requires a new skill set – which the EDCURO project promises to deliver via training programme, and creative accelerator aimed at developing new international products.
Author

Olga Bogdanova, MBA, works at LAB University of Applied Sciences as a Project Manager at EDUCRO project.
Links
Link 1. EDUCRO. 2020. EDU – Creating New Customer Value Through Cross-Border Cooperation. [Cited 15 June 2020]. Available at: https://educro.org/
Link 2. EDUCRO. 2020. Events. Culture and Tourism: Life in "The New Normal". [Cited 15 June 2020]. Available at: https://educro.org/culture-and-tourism-life-in-the-new-normal/
Link 3. Culture Tourism for City Breakers. 2020. Culture Tourism for City Breakers. [Cited 15.6.2020]. Available at: https://ctcb.metropolia.fi/
Link 4. CEL4ITM. 2020. Continuous e-learning for Innovation in Tourism Management. [Cited 15.6.2020]. Available: https://www.cel4itm.eu/