Situated in Päijät-Häme in southern Finland, Salpausselkä Geopark is an aspiring UNESCO Global Geopark, applying for the official UNESCO designation. The region, which consists of six municipalities (Asikkala, Heinola, Hollola, Lahti, Padasjoki and Sysmä) gets its name from its unique ice-marginal formations, Salpausselkä I and II, laid down by the last Ice Age some 12 000 years ago. These formations reach across the entirety of southern Finland but are at their most spectacular in the area of Salpausselkä Geopark, where they are joined to feeder eskers of international value. (Komulainen 2019).
A development project by LAB University of Applied Sciences, Visibility for Salpausselkä Geopark (linkki tähän), focuses at increasing the visibility of the aspiring UNESCO Global Geopark. The project has produced a Guide to Geosites which introduces the best destinations for geotourism in the area. The key attraction of the area is Päijänne national Park, which collected around 28 900 visits in 2020 (Metsähallitus 2021). In addition to this, the Salpausselkä Geopark area offers scenic views, interesting forest trails, impressive caves and gorges and valuable cultural heritage.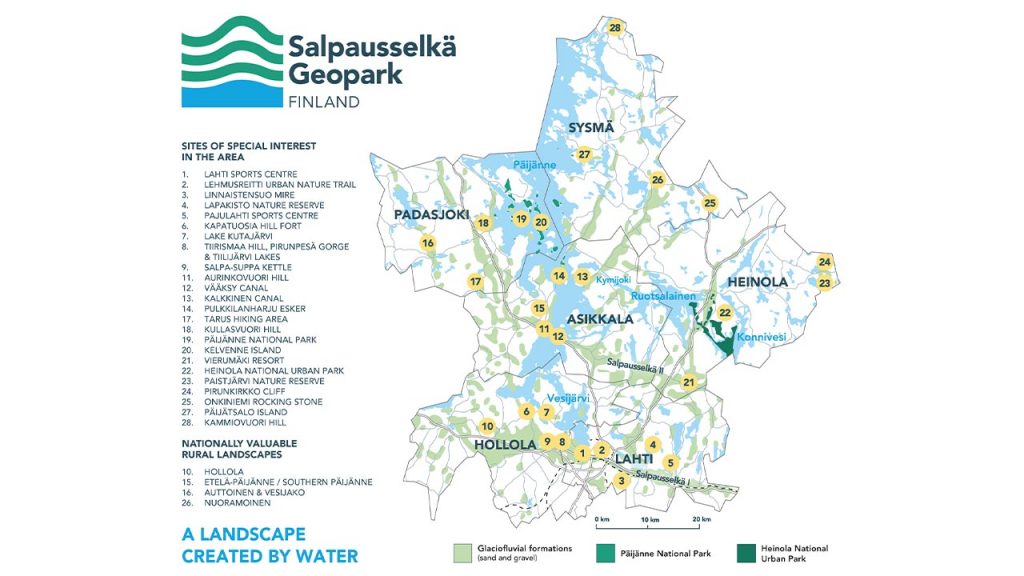 Short day trips for the whole family
Many of the destinations in Salpausselkä Geopark are easily reachable with your own car or by public traffic. Linnaistensuo mire is only a 10 minute drive away from the city centre of Lahti, and climbing Aurinkovuori Hill can be started from the centre of Vääksy.
Even though many choose to visit the best known landscape destination of the area, Pulkkilanharju, briefly driving through on a car trip, the esker offers a lot more than that if you out try the local nature trail. In addition to Pulkkilanharju, also some other destinations of Salpausselkä Geopark can be excellent additions to a car trip in the area. The stairs of Salpa-Suppa in Hollola can provide an arena for a short sports session, as well as an easy expedition to one of the most distinctive types of ice-age formations of the area, a kettle hole. Climbing the Aurinkovuori Hill in Asikkala takes a little more effort but rewards the visitor with a breathtaking view over Lake Päijänne.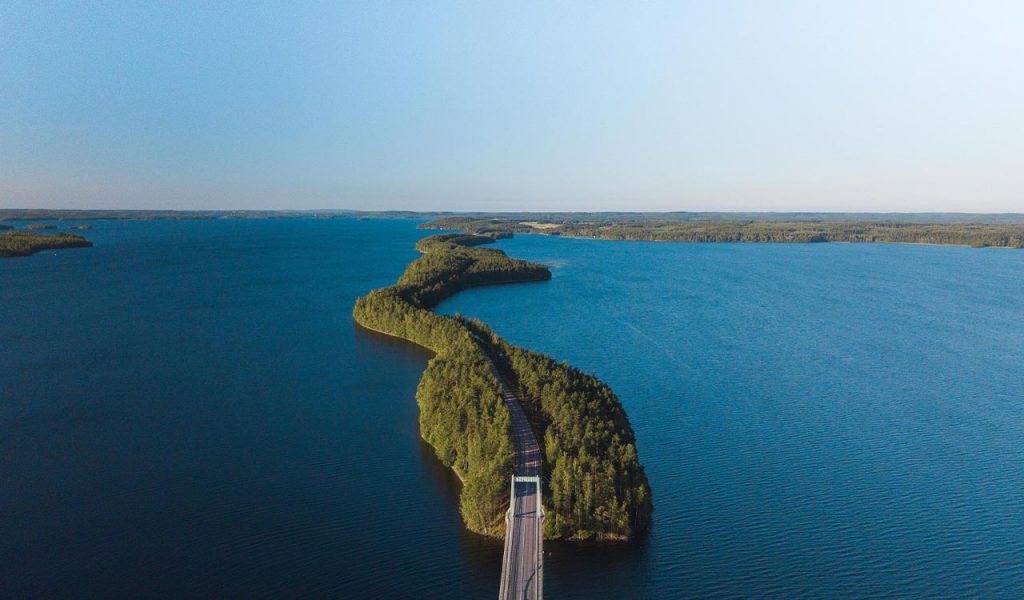 Choices for active people
If you want to explore the area more thoroughly and wish to combine this with some physical exercise, why not try mountain biking or trail running on one of the long hiking routes of the area. Aurinko-Ilves and Päijänne-Ilves trails are a connection to Evo Hiking area, the first one from Vääksy and the second from Padasjoki. The old market trail Juustopolku between Heinola and Vuolenkoski introduces you to forest wilderness, rocky hills and a touch of cultural landscape.
If you prefer less adrenaline-rush activities, fishing in Hammonjoki River or sup-boarding on Vesijärvi might be your thing. For the water sports loving, the pristine waters and the island chains of Päijänne National Park can be irresistible, and also diving might be an option for you.
Author
Päivi Tommola, M. Sc., works as an RDI-Specialist and as the project manager of Visibility Salpausselkä Geopark -project in LAB University of Applied Sciences.
References
Business Finland. 2020. Hyvinvointimatkailu -luonnon luksusta ja harmoniaa [viitattu 24.42020]. Saatavissa: https://www.businessfinland.fi/suomalaisille-asiakkaille/palvelut/matkailun-edistaminen/tuotekehitys-ja-teemat/hyvinvointimatkailu/
Komulainen, K. 2019. Salpausselkä Geopark Project: Developing a geopark to promote the geological heritage of the Päijät-Häme region. In: Peltonen, K. & Tommola, P. (ed.) LAMK Well-being and Regenerative Growth -Annual Review 2019. 16-23. [Cited 07.04.2021]. Available at: https://www.theseus.fi/bitstream/handle/10024/265343/LAMK_2019_55.pdf?sequence=2&isAllowed=y
Metsähallitus. 2021. https://www.nationalparks.fi/paijannenp
Metsähallitus. 2021. Käyntimäärät maastossa. [Cited on 15.04.2021].
Available at: https://www.metsa.fi/vapaa-aika-luonnossa/kayntimaarat/kayntimaarat-maastossa/
Linkit
LAB. 2020. Salpausselkä Geopark näkyväksi -hanke. [Cited on 14.04.2021]. Available at: https://lab.fi/fi/projekti/salpausselka-geopark-nakyvaksi-elinvoimaa-paijat-hameeseen
LAB. 2020. Salpausselkä Geopark -kohdeopas. Retkivinkkejä geokohteisiin. [Cited on 14.04.2021]. Available at: https://lab.fi/sites/default/files/2020-11/Salpausselka%20Geopark%20kohdeopas%20WEB%20v1%2011%202020.pdf