Cities Lahti and Lappeenranta in Finland launched an international litter picking campaign, in May 2021. With the purpose to encourage people to act against local pollution. The #zeropollution campaign encouraged everyone to pick litter for one hour in May. With the help of social media, the #zeropollutionhour engaged citizens virtually with a mindset change and encouraging others to the action and to post pictures using the hashtag #zeropollutionhour or in Finnish #tuntitoukokuussa. Citizens were further advised to document the litter picking via Maptionnaire, a graphical map with information of which streets citizens have cleaned. (Greenreality 2021.)
The challenge took part in May 2021 as part of the European Union's Green Week. The theme of the Green Week in 2021 focused on zero-pollution targets. Lahti and Lappeenranta are two green cities awarded and acknowledged by the EU this year as Lahti is the European Green Capital 2021 and, Lappeenranta named the European Green Leaf 2021 city. (EU Green Week 2021.)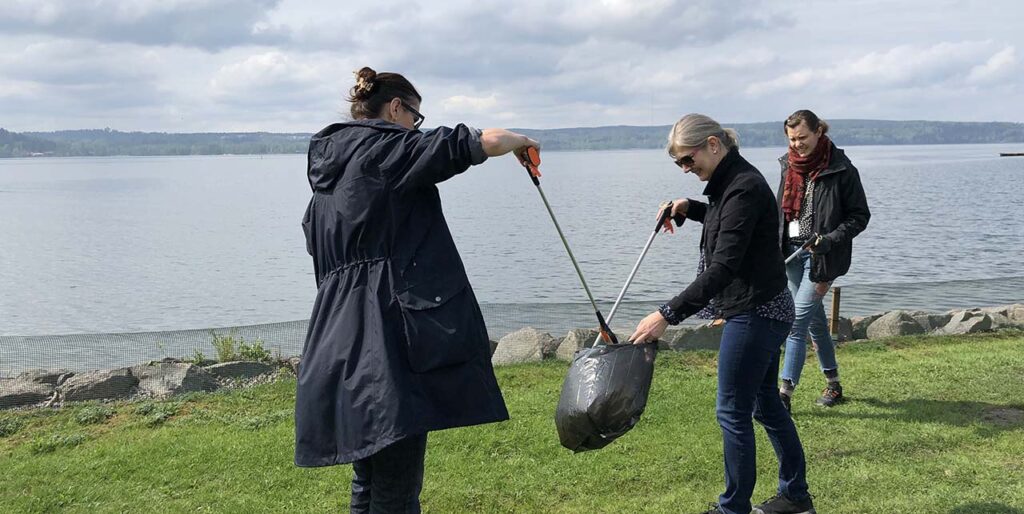 Taking part in the #zeropollution hour challenge
The CECI project (Citizen involvement in circular economy implementation) lead partner LAB University of Applied Sciences (Interreg Europe 2020a). Together with the LAB lead project Maallemuuttajat 2030 participated in the #zeropollution hour challenge, by borrowing three trash pickers for an hour. During that time approximately one 20-litre plastic bag was filled with mainly cigarette buds and larger plastic debris.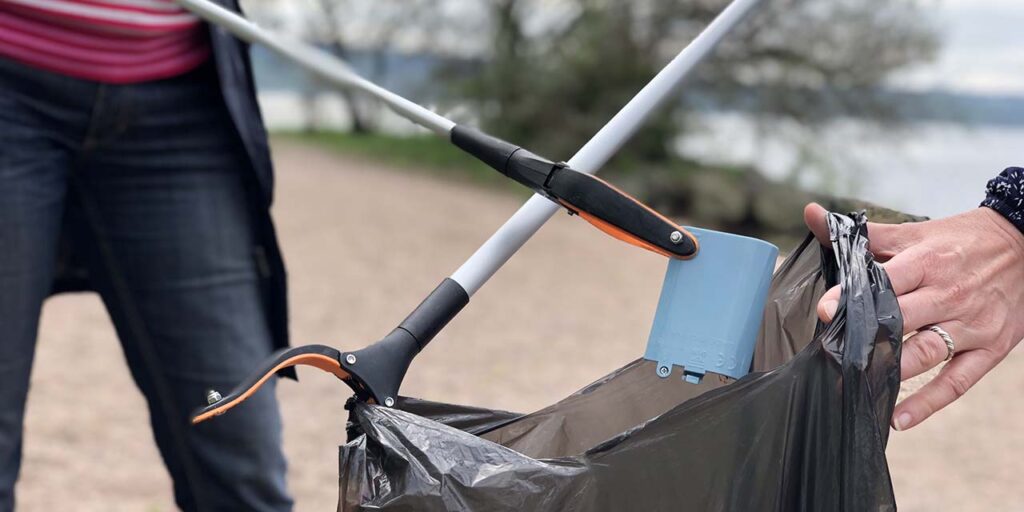 Local good practice from citizen initiative
CECI project reports of good practices of citizens involvement in sharing and circular economy practices (Interreg Europe 2020b). One of the good practices is the litter picking stand that provided litter picking sticks free of charge in the Lahti bay area (Interreg Europe, 2020c).
Lahti Green Capital 2021 Project granted in May 2020 a grant to Anchor residents association (Ankkurin asukasyhdistys) for the litter collecting project and sharing economy service of loaning free of charge litter picking sticks. That led to an infographic stand with litter pickers. Citizens can borrow sticks in two sizes, fitting for children and adults. The practice is run by citizens on a voluntary basis with help from the local resident association that fill trash bags on the dispenser. Furthermore, on one side of the infographic stand is a background suitable for selfie images. Citizens are encouraged to use the hashtag #greencapital2021. (Interreg Europe 2021c.) Thus, in Lahti, litter picking is made into an everyday activity and sharing economy practice.
Author

Anna Svartström works at LAB University of Applied Sciences as a RDI specialist and a project developer for the CECI project. CECI is an Interreg Europe funded project which is led by LAB University of Applied Sciences. CECI promotes citizen involvement in circular economy.
References
EU Green Week. 2021. Zeropollutionhour event. [Cited 14.7.2021] Available at:
https://www.eugreenweek.eu/partner-events/zeropollutionhour
Greenreality. 2021. zeropollution hour event. [Cited 14 July 2021] Available at: https://www.greenreality.fi/en/acts/zeropollutionhour
Interreg Europe. 2020a. Project Summary. CECI. [Cited 14 July 2021] Available at: https://www.interregeurope.eu/ceci/  
Interreg Europe. 2020b. Project good practices. CECI. [Cited 14 July 2021] Available at: https://www.interregeurope.eu/ceci/good-practices/
Interreg Europe. 2021c. Good Practice: Cleaning up the environment in Lahti with the help of sharing economy. [Cited 14 July 2021] Available at: https://www.interregeurope.eu/policylearning/good-practices/item/5570/cleaning-up-the-environment-in-lahti-with-the-help-of-sharing-economy/