The European Green Deal includes concrete steps to reach the EU's commitment to becoming the first climate-neutral continent by 2050. Through the 'Fit for 55' package, the EU seeks to reduce greenhouse gas emissions by at least 55% by 2030 compared to 1990 levels (European Commission 2021a; European Parliament 2021). That is supported by the European Climate Law, which sets both the 2030 and 2050 targets towards carbon neutrality as legally binding for the EU states (European Commission 2021b).
Energy production and use account for more than 75% of EU greenhouse gas emissions. Clean energy is one of the eight policy areas the Green Deal focuses on. The deal aims to achieve net-zero emissions by looking at actions to increase energy efficiency and the share of renewable energy in the EU (Figure 1). (European Commission 2021c; World Economic Forum 2021.)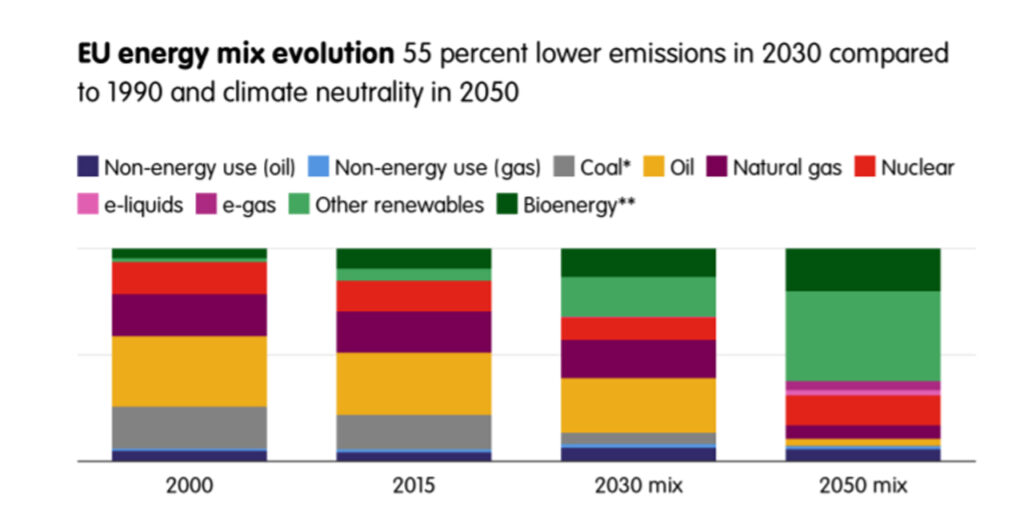 Joint Effort on Energy Issues
In Päijät-Häme, Finland, two Interreg Europe projects, RESINDUSTRY – Policies for Renewable Energy Sources in Industry and SME POWER – SMEs Powering a Low Carbon Future work together on energy issues. The regional cooperation is emphasised by a joint Regional Energy Stakeholder (RES) group. In Finland, RESINDUSTRY is managed by LAB University of Applied Sciences and SME POWER is run by Heinola City.
On 13 October 2021, 14 members of the joint RES group met online to share updates on energy development both on the EU level as well as regionally. First, the focus was on wind energy, more specifically on two wind studies, followed by an introduction of the regional energy cluster. After that, the Heinola Climate Action Roadmap process was presented. Later, an overview of both projects' activities and outcomes of interregional workshops and other upcoming events were summarized. Both projects will also organize in-depth meetings, so-called expert missions and staff exchanges on selected topics and good practices. These meetings will enable intensive knowledge exchange and bring inspiration for possible adoption in Finland. The meeting ended with a presentation and discussion of the action plans of SME POWER and RESINDUSTRY that are currently drafted and will be reviewed later also with international partners of the projects.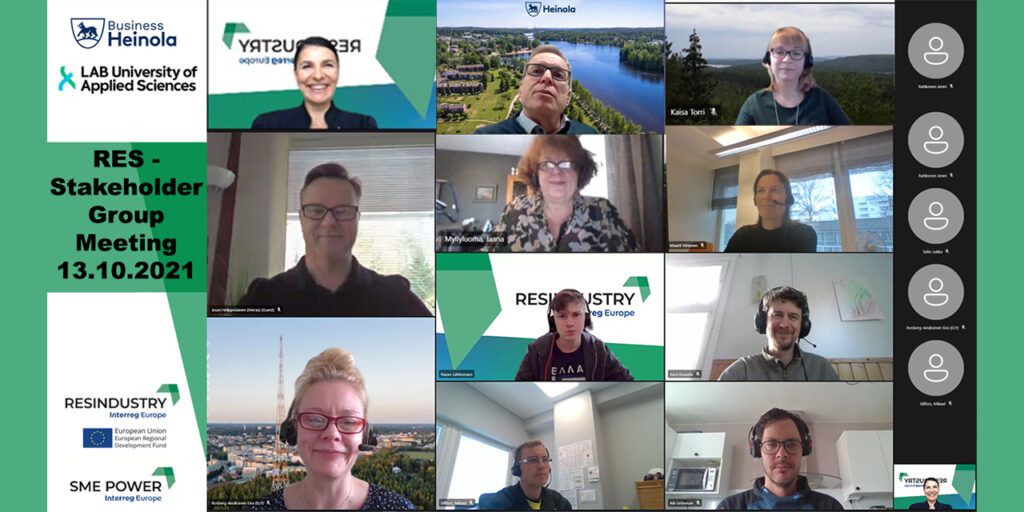 Regional Energy Cluster
The city of Lahti has made a pledge to become carbon neutral by 2025. Furthermore, the city aims to be a zero-waste city and curb over-consumption by 2040. (Smart & Clean Lahti 2021.) As part of that, Lahti Smart Energy Cluster aims to create a comprehensive renewable energy concept and bring that to export markets. Besides the city and its wholly-owned energy provider Lahti Energia, the cluster includes local companies, research centres and universities (Picture 2). The cluster supports the environmental aims of the city of Lahti, which was awarded the European Green Capital 2021. (Helppolainen 2021.)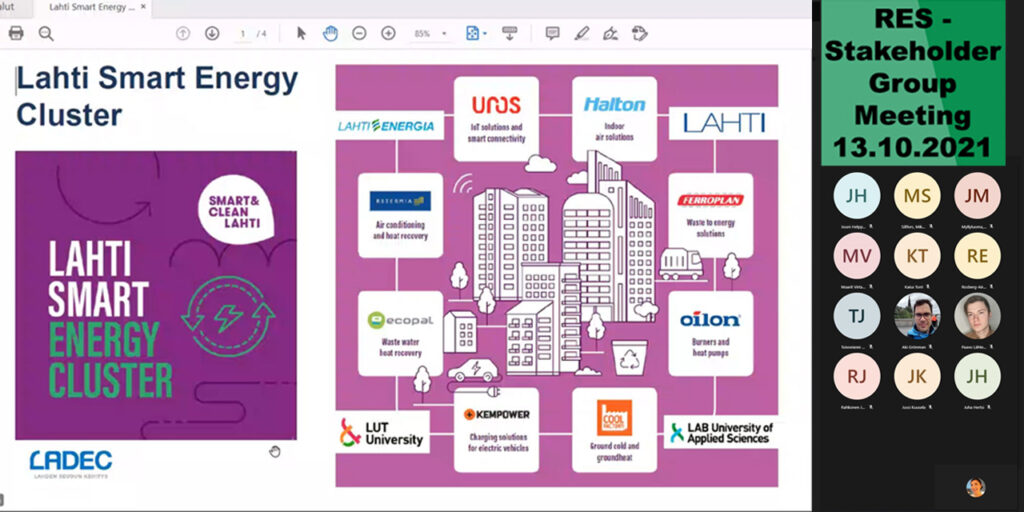 Authors

Katerina Medkova works as an RDI specialist at LAB University of Applied Sciences and acts as a Project & Communication Manager in the RESINDUSTRY project.

Jaana Myllyluoma acts as a Senior Adviser in FCG Finnish Consulting Group and coordinates the SME POWER activities on behalf of Heinola City.
References
European Commission. 2021a. Delivering the European Green Deal. [Cited 18 Oct 2021]. Available at: https://ec.europa.eu/info/strategy/priorities-2019-2024/european-green-deal/delivering-european-green-deal_en
European Commission. 2021b. European Climate Law. Climate Action. [Cited 18 Oct 2021]. Available at: https://ec.europa.eu/clima/eu-action/european-green-deal/european-climate-law_en
European Commission. 2021c. 2030 climate & energy framework. Climate Action. [Cited 18 Oct 2021]. Available at: https://ec.europa.eu/clima/eu-action/climate-strategies-targets/2030-climate-energy-framework_en
European Parliament. 2021. Legislative Train Schedule States Navigation Menu. Fit for 55 Package Under the European Green Deal. [Cited 18 Oct 2021]. Available at: https://www.europarl.europa.eu/legislative-train/theme-a-european-green-deal/package-fit-for-55
Helppolainen, J. 2021. Lahti Smart Energy Cluster. Presentation given at RES stakeholder group webmeeting on 13 October 2021.
Smart & Clean Lahti. 2021. Towards a carbon neutral and zero waste city. [Cited 19 Oct 2021]. Available at: https://www.smartlahti.fi/smart-city-long-intro/
World Economic Forum. 2021. What you need to know about the European Green Deal – and what comes next. [Cited 18 Oct 2021]. Available at: https://www.weforum.org/agenda/2021/07/what-you-need-to-know-about-the-european-green-deal-and-what-comes-next/
Links
Link 1. Interreg Europe. 2021a. Project Summary. RESINDUSTRY. [Cited 18 Oct 2021]. Available at: https://www.interregeurope.eu/resindustry/
Link 2. Interreg Europe. 2021b. Project Summary. SME POWER. [Cited 18 Oct 2021]. Available at: https://www.interregeurope.eu/smepower/
Figure
Figure 1. European Council on Foreign Relations & Bruegel. 2021. The Geopolitics of the European Green Deal. Policy Brief. p. 5. [Cited 21 Apr 2021]. Available at: https://ecfr.eu/wp-content/uploads/The-geopolitics-of-the-European-Green-Deal.pdf