LAB University of Applied Sciences was invited to present at the Finnish-Russian Cultural Forum which took place online on 24.09.2021. Kristiina Brusila-Meltovaara, a Principal lecturer and co-ordinator of Master programme in Tourism and Event Management discussed good practices of international project management, case EDUCRO project.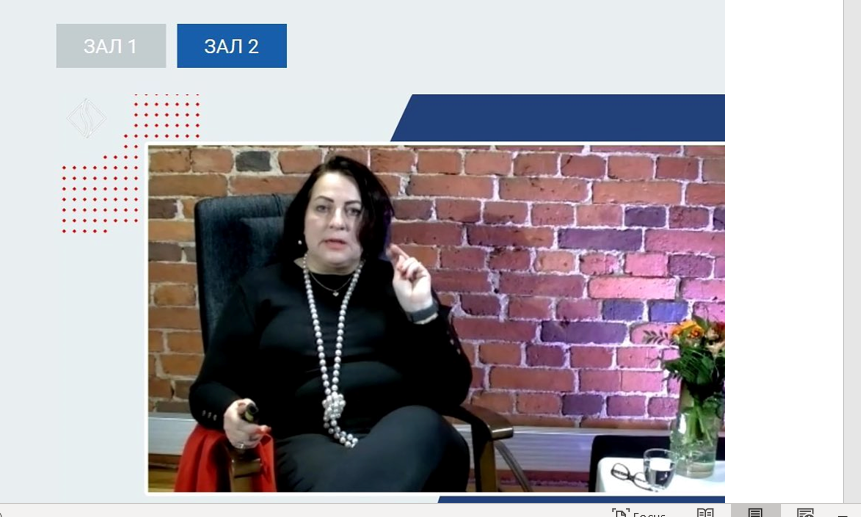 Case: EDUCRO project
The idea of the EDUCRO project (EDU-Creating New Customer Value Through Cross-Border Cooperation) was initiated in 2016 by educational institutions as a result of the Finnish-Russian Cultural Forum participation. The project consortium consists of Higher education institutions (HEI) both in Finland and Russia, namely LAB University of Applied Sciences and Humak University of Applied Sciences in Finland and the Institute for Cultural Programs in Russia.
The aim of the project is to enhance the cross-border interaction and cooperation between the HEI and local SMEs in the culture and tourism sectors, to develop and provide international life-long learning training and assist companies in creating new products and services. The role of the HEIs in this project is in creating an innovation ecosystem that supports SMEs in South-East Finland and North-Western Russia in internationalization, sustainable development, and growth.
Over 20 companies and in the culture and tourism sector have so far received support from the project from the project. Online educational training programme was implemented by Finnish partners in English during academic year of 2020−2021 and completed in September 2021, with the total number of participants over 380 people. The programme consisted of 6 educational modules, which included 23 webinars & workshops and 17 individual sessions with experts and was open for participants from both sides of the border. A series of face-to-face seminars, study visits and webinars were held in St. Petersburg with some of events open for Finnish participants. In addition to the training programme, the participating companies received support in new service development and international collaboration by organizing hackathons with students, monthly networking sessions and individual service design workshops (Bogdanova et al. 2021; Vuorela et al. 2021; Meltovaara et al. 2021).
Tips for international project planning and implementation
The project was presented at 6 international conferences with 5 articles published. The process of writing articles together with all partners allowed to analyse the results of the project and good practices and lessons learned objectively. The most important takeaways from the project planning and implementation were identified.
In the beginning of the project, it is important to create an environment and set the objectives that would make it possible to enjoy the project benefits across participants. Learn about the motivation of all the stakeholders, partners, target audience, local authorities to build their commitment. Understand the cultural context through open communication and mutual respect of values. Define leadership structure and roles, consider potential variety of interactions between all players, and take into account resources of each partner: experiences, expertise, networks, access to funding, and time resources.
The target audience is a central element in educational projects. Learn about your target audience and their needs by conducting regular interviews and feedback assessment. Create trust with the partners and target audience by delivering promises. Collaborate with other projects and like-minded organizations and people to leverage the impact of the project the project. Also set a time in the beginning to find a way to collaborate online. There might be differences in online collaboration customs as well as in differences in software. Communicate your project to your team and to all the to all the stakeholders. Define target groups and develop an individual approach to them, also think about what may go wrong and take proactive steps to mitigate the risks. These tips might be helpful for project managers running international projects and can become a foundation for checklists and tasks related to project management.
Authors
Kristiina Brusila-Meltovaara works as a principal lecturer at LAB University of Applied Sciences and participates in the EDUCRO project.
Olga Bogdanova is the project manager of the EDUCRO project and works as an RDI specialist at LAB University of Applied Sciences.
References
Bogdanova, O., Brusila-Meltovaara, K., Vuorela, T., Janhila, L., & Iso-Aho, J.  2021. Cross-border experimental E-learning experiences. EDULEARN21 Proceedings, p. 7346. [Cited 23 Nov 2021]. Available at: https://library.iated.org/view/BOGDANOVA2021CRO
Meltovaara, K., Bogdanova, O., & Vuorela, T. 2021. A cross-border collaboration involving SMEs and Universities of Applied Sciences. Cross Cultural Conference 2021 Proceedings, p. 138. [Cited 23 Nov 2021]. Available at: https://www.shaker.de/de/content/catalogue/index.asp?lang=de&ID=8&ISBN=978-3-8440-8032-2
Vuorela, T., Brusila-Meltovaara, K., Bogdanova, O., & Tuominen, U. 2021. Developing sustainable business management education in the cultural sector. INTED2021 Conference Proceedings. 15th International Technology, Education and Development Conference. Online Conference. 8-9 March, 2, p. 5467. [Cited 23 Nov 2021]. Available at: https://library.iated.org/view/VUORELA2021DEV 
Links
Finnish-Russian Cultural Forum. 2021. [Cited 23 Nov 2021]. Available at: https://www.kultforum.org/fi/finnish-russian-cultural-forum
EDUCRO. 2021. Project. [Cited 23 Nov 2021]. Available at: https://educro.org/