The Interreg Europe community's "Policy learning platform" organizes different types of support for regional authorities in policy development. It boosts EU-wide policy learning and capitalization on practices from regional development policies. One of the support measures is offering to facilitate peer reviews where regions or cities that face specific policy challenges related to regional or local policy can request support.
The peer review is a professionally organized process between the host region and European experts. First, suitable experts in other regions that can help address this challenge are searched and identified. Then, based on pre-work by both the host region and the peers, an intensive two-day peer-to-peer online meeting is organized in the specific region in focus, or as in COVID times, online.
Exchange and discussions online
At 12-13 January 2022 an online peer review was organized for the benefit of the Municipality of Maribor in Slovenia. The peer review focused on the strategy for the transition to a circular economy and citizen involvement in the process. Link to the peer review event site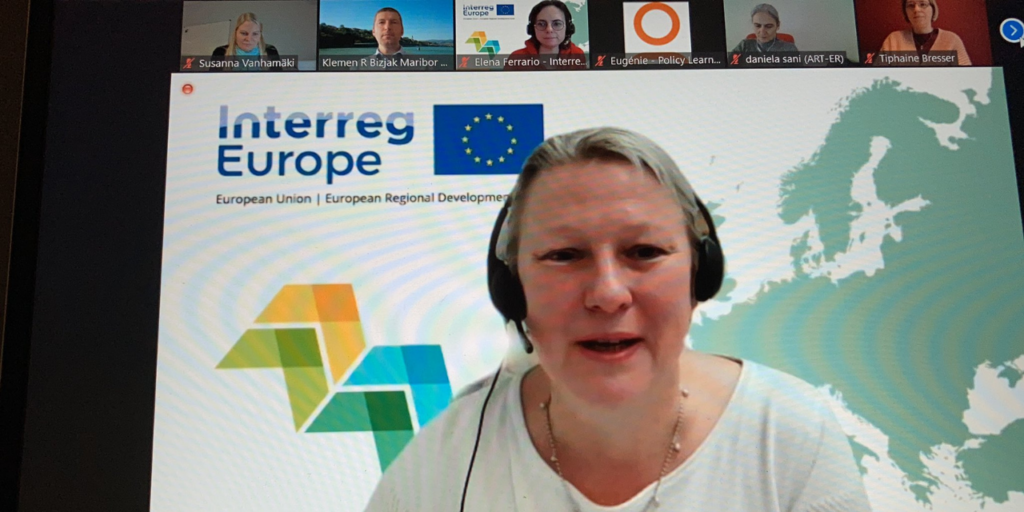 The panel of peers consisted of representatives from RREUSE- Reuse and Recycling European Union Social Enterprises, Belgium; ART-ER – Attractiveness Research Territory, Italy; Costa Nostrum – sustainable beaches, Crete, Greece; Municipality of Apeldoorn, The Netherlands and LAB University of Applied Sciences (LAB), Finland.
Examples from Päijät-Häme
LAB was represented by Susanna Vanhamäki who shared good practices from Päijät-Häme region. Päijät-Häme and the City of Lahti hosts several examples to share, both from the view of strategic development in circular economy, that is the regional circular economy roadmap including its delivery process, and regarding concrete cases of citizen involvement implemented. For example, LAB's "Co-developing services for sustainable living" project in Lahti was presented as an example of including citizens in the development of eco-efficient services. In the project, circular and sharing economy service concepts were co-designed and piloted with two diverse residential area associations and three companies: a lending platform, a vegetable bag including transport and recipe, as well as indoor conditions monitoring for buildings were tested with the Anttilanmäki-Kittelä Residents' Association and a housing cooperative in Lahti. Link to Co-developing services for sustainable living project
Cooperating in the activities of the Policy learning platform, such as this peer review, is a win-win situation for all attendees. Through the exchange, experiences from various perspectives in Europe are shared and at the same time new contacts and networks are born.
Author

Susanna Vanhamäki works as Chief Specialist at LAB University of Applied Sciences.
Links
Link 1. Interreg Europe. 2022. Peer review: citizen engagement in Maribor. Cited 2 Feb 2022. Available at https://www.interregeurope.eu/policylearning/event/4946/peer-review-citizen-engagement-in-maribor/?no_cache=1&cHash=7e4091d9ec4105eb0fcb7a85b5b825a3
Link 2. LAB University of Applied Sciences. Co-developing services for sustainable living. Project. Cited 8 Feb 2022. Available at https://www.lab.fi/en/project/askel