Finnish Game Jam (#FGJ) is an annual multi-location game development event organized by Finnish Game Jam ry (FGJ). The event has been organized since 2010 in every January and it is part of the Global Game Jam (GGJ). The Finnish Game Jam is an event where all kind of game developers from professionals to students innovate and produce new games in a single weekend. (Global Game Jam 2022; Finnish Game Jam 2022.)
Game Jams are an excellent way to improve game development skills and network with other game developers or strength existing teams current team spirit. Making a game in one weekend also helps with time planning and estimating are the features worth implementing in games. Game Jams are casual events, so it is easier to try new things and see if they work. It is not uncommon, that people continue to develop their games after Game Jam. (Korotaev 2015.)
Lahti had its own FGJ22 Online event
Lahti was one of the Finnish Game Jam locations in 2022. Due to the COVID-19 pandemic, the event was organized fully online. 40 jammers registered for the event, and they made in groups or alone total of 14 games in 48 hours. There were many first-time jammers, but also few Game Jam veterans and skill level was from professional game developers to students. Game industry an entrepreneur Joonas Muhonen acted as a facilitator and helped at team forming and how to work to get the game done on time. He also held short briefings on game development every day and was ready for mentoring teams if needed.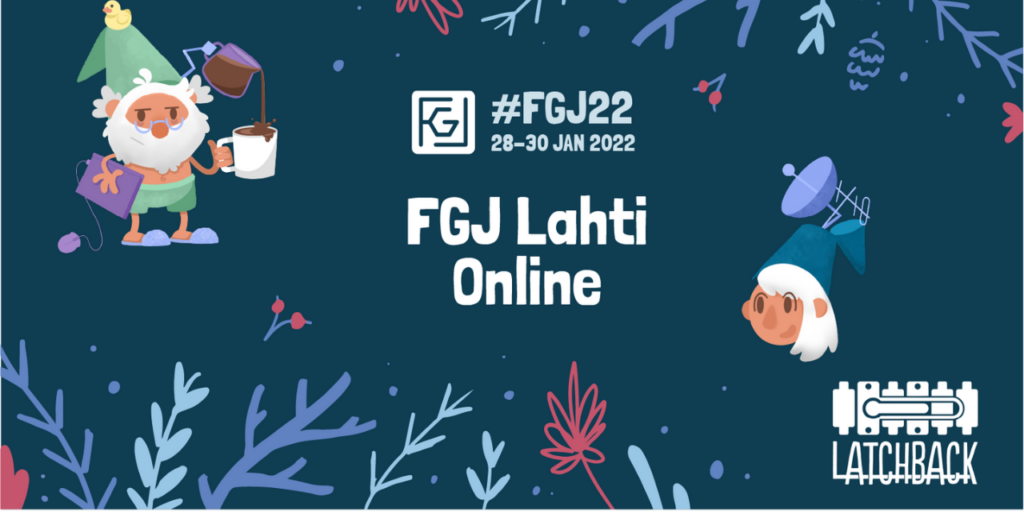 Some teams were physically in the same place with each other, but some teams worked together remotely. During the event, there were common discussions online, where jammers could show their game, get feedback from others and network, so there was also something else, than working alone at home all the time.
Baltic Explorers supporting local events
Baltic Explorers is an EU funded project which aims to support game development teams and companies from Central Baltic Region for success South-East Asian and North American game markets. The project provides mentorship, advisory services and trips to large game industry events but also organizes local events in four project countries: Finland, Sweden, Estonia and Latvia.
Baltic Explorers sponsored the Finnish Game Jam event in Lahti to support local game developers to improve their skills, try something new, meet new people or talk with old friends and having fun weekend. One of the game development teams in Baltic Explorers project from Lahti joined the event also, and they shared their own experiences of game development and working in a game development team with others.
Authors

Katri Putkonen works as a Project Expert in the Baltic Explorers game industry project at the LAB University of Applied Sciences. She is also Board Member of IGDA Finland Lahti Hub.

Sources
Finnish Game Jam. 2022. About. Cited 17 Feb 2022. Available at https://www.finnishgamejam.com/about/
Global Game Jam. 2022. About. Cited 17 Feb 2022. Available at https://globalgamejam.org/about
Korotaev, S. 2015. Game Developer. Cited 6 Jun 2022. Available at https://www.gamedeveloper.com/programming/why-should-you-participate-in-game-jams
Holahan, M., Kim, A., Lassheikki, C. & Park, S. FGJ22_StyleGuide. Finnish Game Jam ry. Unpublished.
Links
Link 1. Baltic Explorers. 2020. Project. Cited 15 Dec 2021. Available at https://balticexplorers.eu/
Link 2. IGDA Finland. 2021. About us. Cited 15 Dec 2021. Available at https://www.igda.fi/about-us