Over 150 people visited the Lahti Circular Economy Day organised by the CECI project, the Regional Council of Päijät-Häme and the City of Lahti. The event served for CECI regional dissemination to share project achievements and tried and tested solutions from other partner regions. There was a great atmosphere, sunny day, good music, and pop-up restaurants offering sustainable meals.
The venue Takoja5 is an interesting building located in Sopenkorpi, Lahti. As a former ski factory and furniture store, the premises now house Painovoima ry, an organization that connects local artists, graphic designers, paper and wood craftsmen and many other actors in the creative industries. Painovoima ry implements the circular economy through art by producing new kind of projects and workshops.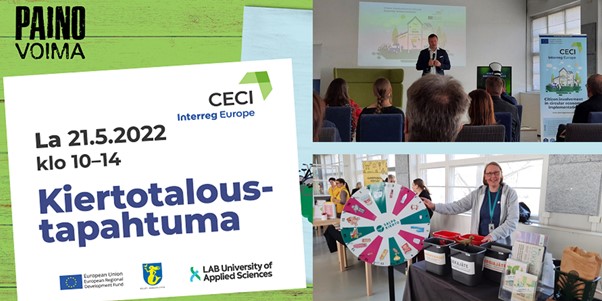 Interesting circular economy speeches and perspectives
The opening speech of the event was given by Ville Skinnari, the Minister for Development Cooperation and Foreign Trade. He highlighted the importance of circular economy and the work that still needs to be done.
Elina Ojala, the Environmental Director of City of Lahti explained how the European Green Capital 2021 continues in the Lahti region. She discussed what the environmental work means in practice and how citizen can participate in it. One good example she mentioned are the municipal libraries, that besides their original purpose to borrow books also act as sharing economy centres. People can, for example, borrow sport equipment's, rent meeting rooms and studios.
The keynote speaker, Kimmo Rönkä, a future housing expert, reviewed the megatrends of housing. In the future, nearby life and experiences will be sought in neighbourhoods, while housing will become more diverse. The circular economy and community bring the village to the city.
Hands-on
In addition, there were 15 stands where participants had a chance to explore and learn in practice about various circular economy activities. Several organisations provided guidance on e.g., waste separation, recycling, and reuse.
D-mat's Climate Puzzle is a fun and illustrative way to direct people to more sustainable lifestyle.
Salpakierto, the waste management organisation owned by municipalities, provided recycling coaching for a whole family to reduce the amount of waste and sort waste efficiently at the place of origin. At the Lahti Environmental Advice Point, people got acquainted with items that can be borrowed free of charge, such as a thermal camera, a hiking backpack, and an electric box bike.
The Textiles into circulation project raised awareness of disposable textiles and offered possibility to feel and test different fibres. The Hiukka 2.0 project develops solutions from organic fibres, such as hair, to replace plastic-based materials. They organised participatory workshop on growing plants in Kokedama organic ball.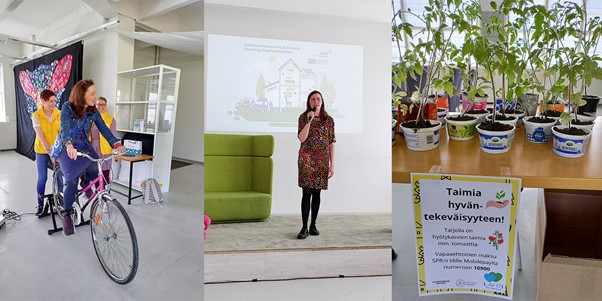 Other stands offered many interesting products and services e.g., shared wardrobe, shop reselling goods from the 60s and 70s, handicraft centre recycling textiles into rag rugs, and Niipala Farm offering new operating model for local sustainable food production. Also, the Lahti city Kumppanuuspöydät, a model to promote residents' participation on local issues, enabled participants to test how much muscle power is needed to charge a mobile phone (picture 2). Children were especially excited about the worm composter introduced by LALAPETE project.
Authors

Katerina Medkova works as an RDI Specialist at LAB University of Applied Sciences and is CECI Communication Manager. CECI – Citizen Involvement in Circular Economy Implementation is an Interreg Europe co-funded project led by LAB University of Applied Sciences, Finland.

Marjut Villanen works as an RDI Specialist in LAB University of Applied Sciences and is CECI Project Manager.
Links
Link 1. Interreg Europe. 2022a. Project Summary. CECI. Cited 6 June 2022. Available at https://www.interregeurope.eu/ceci/