Baltic Explorers, collaboration project between five partner institutions from Finland, Sweden, Estonia and Latvia is ending in November 2022. Aim of the project has been to support game companies to explorer business possibilities outside Europe. One element of the support was to organize events to provide new information, training and networking to the participant game companies. Two different types of events where organized by all five project partners: National Accelerator Events and Transnational Accelerator Events.
National Accelerator Events
The National Accelerator Events were local meetups, everything between one-hour workshops to full day events. Each event had a theme and expert talks. Events were targeted to support local and national game dev ecosystem, providing opportunities to enter the project, meet new contacts and hear what was happening during the Baltic Explorers journey. Both onsite and online events were organized.
The events boost 3 crucial elements of a sustainable game dev ecosystem targeting new markets: talent acquisition, capacity building and opportunity recognition. Events provided participants with new knowledge, place to showcase their games and opportunity to find new projects and meet new people.
Transnational Accelerator Events
Transnational Accelerator Events were more international by their nature. During the project, four of these were organized by each partner country.
Transnational 2-day game industry events were planned to be 2-day events that emulate game industry conferences with several tracks with expert talks, pitching and mentoring opportunities. These events gathered over 400 people together.
Results include a new game industry festival
The aim of Accelerator Events in general was to support the participating game development teams and companies to grow their skills and knowledge, meet their peers and ease the difficult process of recruiting new talents and team members and to train their game product and business pitches.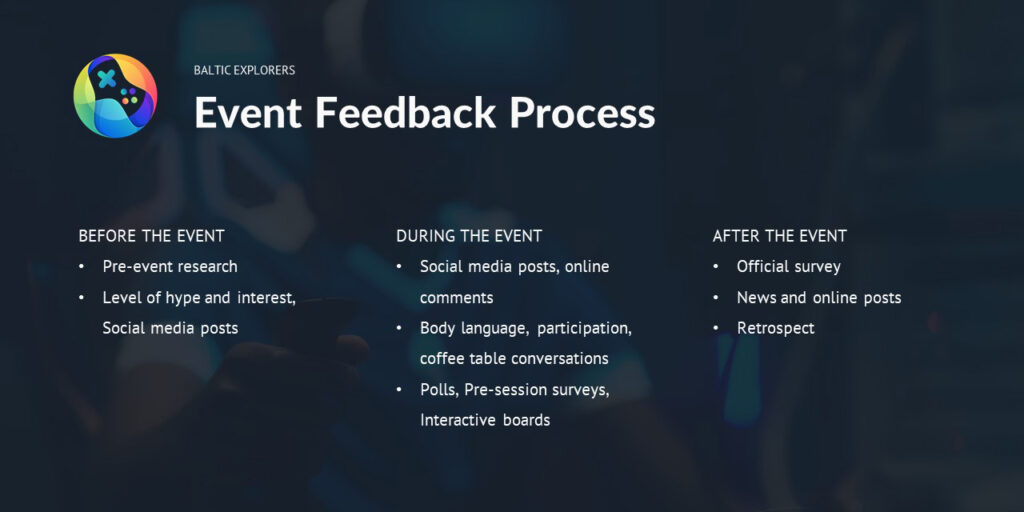 The special feature of Accelerator Events was also to support the local game development clusters and ecosystems to grow and to provide more specific training sessions and targeted support towards the needs of participant game development teams and companies.
For partner organizations (Dataspelsbranschen, Latvian Technological Center, LAB University of Applied Sciences, Tartu Science Park, South-Eastern Finland University of Applied Sciences) the Accelerator Events provided knowledge and internal work model (picture 1) to continue transnational event organizing outside the current partnership. The events also have provided support in both national and international collaboration between partner organizations and local game development ecosystems.
One of the long lasting results is the Game Wave Festival (video 2). The conference and expo was first organized from 24th to 26th of September 2021 in Jurmala, Latvia. Game Wave was free, on-site 3 day games industry festival with focus on XR and board games. Parts of the program was also streamed and recorded. Game Wave Festival 2021 was organized in collaboration between game companies, Baltic Explorers and Latvian Technological Center.
The second edition of Game Wave Festival is taking place at the end of November 2022, this time in Talllin, Estonia. Event for 2023 is being planned.
Author

Ria Gynther works as a RDI Specialist at the LAB University of Applied Sciences and worked as a Project Manager in the Baltic Explorers Project. Baltic Explorers was a collaboration project (2020-2022) between five partner institutions from Finland, Sweden, Estonia and Latvia. Baltic Explorers was co-financed by Interreg Central Baltic 2014-2020 -program.

Sources
APT GameGenerator. 2021. Game Design Workshop: How to stop locking the door behind you AKA how to re-design games and survive. YouTube. Cited 24 Nov 2022. Available at https://www.youtube.com/watch?v=5q8eRTxiWKc
Game Wave Festival. 2022. Game Wave Festival 2021 Trailer. YouTube. Cited 24 Nov 2022. Available at https://www.youtube.com/watch?v=cGbtphS6OvA
Links
Baltic Explorers. 2022. Project. Cited 25 Nov 2022. Available at https://balticexplorers.eu/