LAB University of Applied Sciences is a partner in Interreg Central Baltic project, Baltic Explorers. The aim of the project is to help game companies from Finland, Sweden, Estonia and Latvia reach global markets outside Europe, especially in US and Asian markets.
During the 2022 the project has already executed a trade mission to US. Project partners and 22 game companies participated in the biggest event aimed to game industry professionals, The Game Developers Conference (GDC) and it's fringe events. GDC 2022 was organized in San Francisco from March 21 through March 25 and had 12 000 on-site visitors. Baltic Explorers, with the accompanying companies, were one of the 200+ exhibitors at the GDC Expo. (Informa PLC 2022.)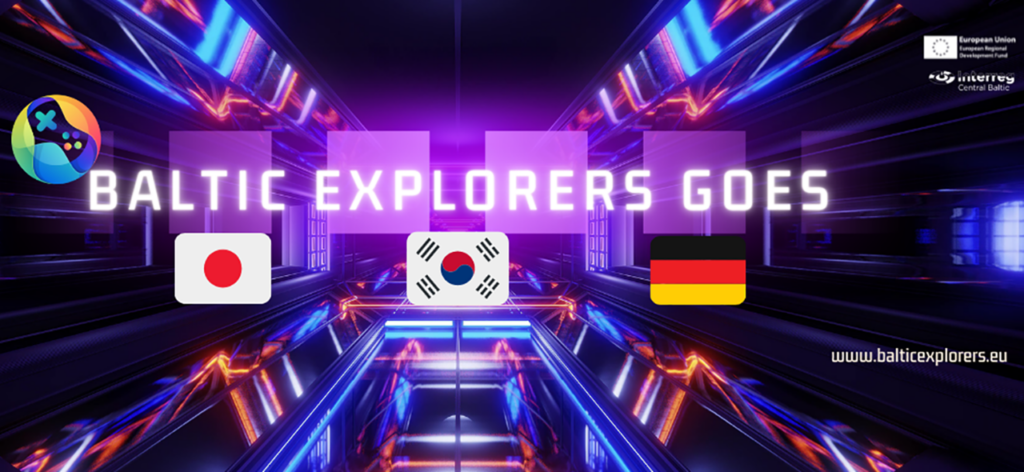 Next up ASIA
During the autumn 2022 Baltic Explorers has the focus on Asia. During August and September, the project will organize two trade missions, one to South Korea and one to Japan. LAB is responsible for organizing the South Korean mission.
But why South Korea? This small country of 51,78 million is not as well-known as Japan but it also has a huge game revenue, at least compared to Finland (The World Bank 2020). In 2021 Game revenue in South Korea (Picture 2) was estimated to be around $8,26 billion (Newzoo 2021). In Finland the same figure was $435 million in 2020 (Elliot 2021).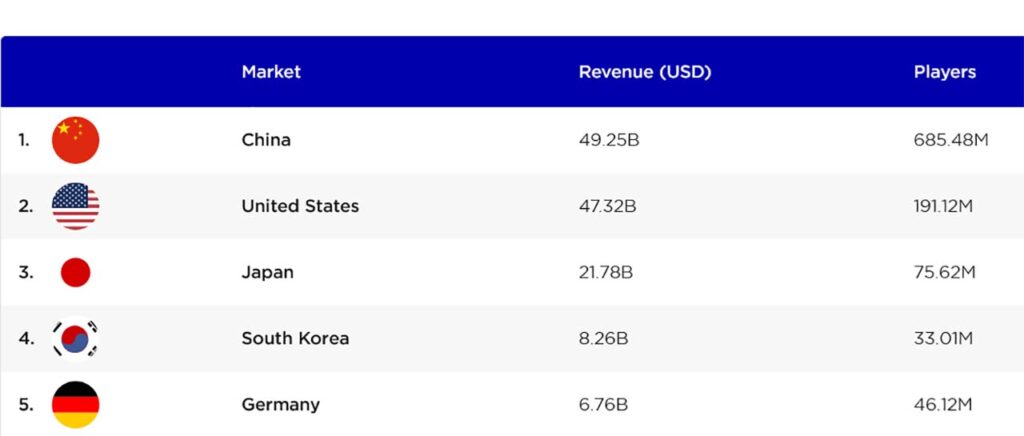 South Korea has been promoted as a gateway to China, the biggest game market in the world. Regulation in South Korea is not as strict as in China, where publishing a game without a local publisher is currently impossible and even with a suitable partner, takes minimum of eight months (Allcorrect Group 2021). They both have similar restrictions considering game content, but the process of publishing a game, or testing the viability of a game product, is a bit easier in South Korea. The legislation in South Korea is evolving, mostly to ensure the rights of Korean players are met as well as to support local game companies (Niko Partners 2020, 4-5).
Having Korean contacts seems to grow it's meaning. For example, if foreign game companies don't have Korean subsidiaries, they need to have at least a Korean representative in case of players' personal information-related grievances and complaints (Niko Partners 2020, 4). This might seem a bit difficult but not compared to China. Currently getting your game to the Chinese market is impossible without local publisher, as only a Chinese company can get the mandatory registration number (ISBN) for a game. Having a local office or a branch is not enough. Overall, the application process is long and requires multiple steps. (Allcorrect Group 2021.)
South Korea supporting the Game Industry
The South Korean government is very supportive towards the game industry and games as part of culture. The government has directly supported the country's game industry for the past 20 years and is doing so also in the future. In 2020 a five-year plan was presented to further support and grow the industry. In the future, Korean public-school textbooks will include examples of the positive values of gaming, support towards game schools will increase and a new game culture museum will be opened. (Niko Partners 2020, 2; 6.)
Seoul, capital region (Gyeonggi-do) and Busan are the two main game development hubs in South Korea, along with regional cultural industry centers in almost every major cities. Both Busan and capital region will be covered during the Baltic Explorers trade mission in August-September 2022.
Author

Ria Gynther works as a RDI Specialist at the LAB University of Applied Sciences and as a Project Manager in the Baltic Explorers Project.

Sources
Allcorrect Group. 2021. The Chinese Gaming Market. Cited 2 May 2022. Available at https://allcorrectgames.com/insights/mobile-game-market-index/china/
Baltic Explorers. 2022. Baltic Explorers goes. Facebook. Cited 2 May 2022. Available at https://scontent-hel3-1.xx.fbcdn.net/v/t39.30808-6/279598837_501818458310337_717511811318496988_n.jpg?_nc_cat=102&ccb=1-7&_nc_sid=730e14&_nc_ohc=D9PN0tu0neYAX-lWkH7&_nc_ht=scontent-hel3-1.xx&oh=00_AT__PNNz8rXN2GoNx_MDxQMRvn99BGDTHQtMYV8GhOGZPg&oe=62ABEFCE
Elliot, R. 2021. Data and Insights on Finland's Games Market & Its Gamers. Newzoo. Cited 28 Apr 2022. Available at https://newzoo.com/insights/articles/data-and-insights-on-finlands-games-market-its-gamers/
Informa PLC. 2022. GDC 2022 Welcomed Over 17,000 Attendees to the In-Person and Virtual Event. Cited 28 Apr 2022. Available at https://gdconf.com/news/gdc-2022-welcomed-over-17000-attendees-person-and-virtual-event
Newzoo. 2021. Top 10 Countries/Markets by Game Revenues. Cited 28 Apr 2022. Available at https://newzoo.com/insights/rankings/top-10-countries-by-game-revenues/
Niko Partners. 2020. South Korea's New Regulations on the Games and Esports Industry. Shanghai: Niko Partners. June 2020. Cited 2 May 2022. Available at https://nikopartners.com/koreas-new-regulations-on-games-and-esports/?lang=en-
The World Bank. 2020. Korea, Rep. Cited 28 Apr 2022. Available at https://data.worldbank.org/country/korea-rep?view=chart
Links
Link 1. Baltic Explorers. 2020. Project. Cited 14 Jun 2022. Available at https://balticexplorers.eu/