Due to different reasons, there is an increased number of immigrants in Finland (Vartiainen et al. 2016; Flinkman et al. 2013). This also changes the Finnish health care system to be multicultural. With the increase shortages of nurses, the need for international nursing staff is increasing. This can be seen in degree programmes in nursing as well as in recruiting nursing staff from other countries (Ministry of economic affairs and employment 2016).
Working in a multicultural environment
According to Tobah and Ndayishimiye (2021), there are some challenges that are encountered by health personnel when working in a multicultural setting. Such challenges include communication, the use of interpreters, the organizational settings, family orientation, religious beliefs, and norms. These can also lead to frustration and conflicts amongst the health care personnel if not taken into consideration.
Although it is always challenging to work with clients from a different culture, some clients prefer to have health care personnel from a different cultural background. Despite the fact that nursing is considered to be universal, multicultural staff enriches the work environment and health care personnel find it fulfilling to work with personnel from different cultural backgrounds (Munkejord 2019).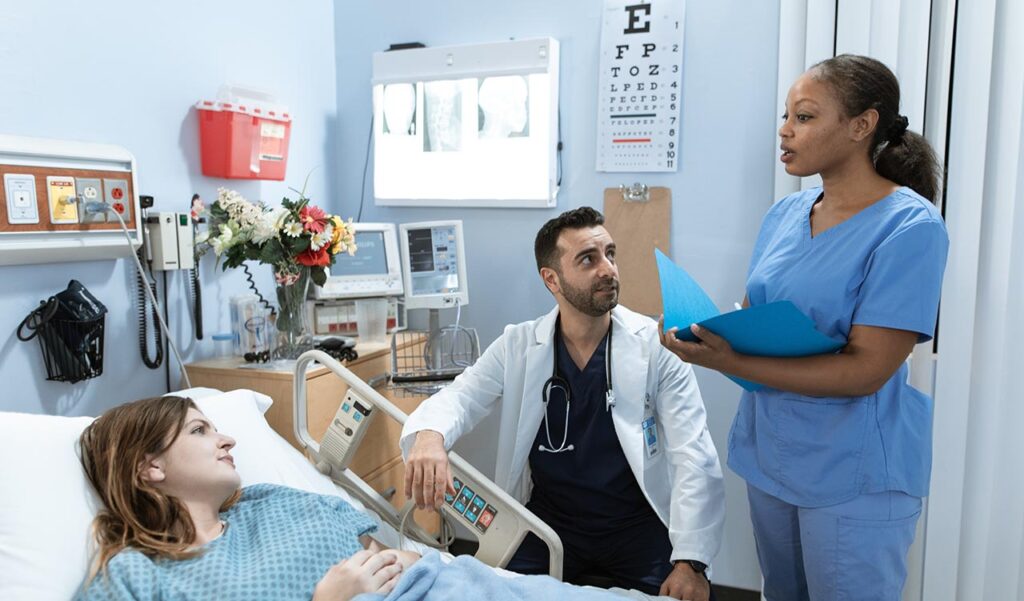 Coping with multiculturalism
When two persons from different cultural preferences meet, there can be prejudices and lack of mutual trust because of different reasons. Therefore, in health care, the better understanding the health care personnel has about their client's culture, the less cultural clash or misunderstanding there is (Dellenborg et al. 2012). It is beneficial for health care staff to try to learn about their client's different cultural heritage and take it into consideration to the extent possible (Plaza de Pino 2017).
Health care personnel is supposed to care for their client with respect and dignity despite of their or their client's background. Therefore, they should evaluate their own cultural beliefs in order to understand their own feelings and actions when encountering new cultural preferences (Merilyn et al. 2011). Nurses should also have broader information about different cultures in different levels in order to take cultural sensitivity into consideration in their work. The working environment should have more staff of different cultural heritage (Merilyn et al 2011). All in all, Finland needs healthcare workers, both Finnish and international, and the work environment has to be prepared for increasing multiculturalism in our society.
Authors
Kevin Waingi Tobah and Eric Ndayishimiye are graduating nursing students at LAB University of Applied Sciences.
Sini Hämäläinen works as a Senior Lecturer in LAB University of Applied Sciences.
References
Dellenborg, L., Skott, C. & Jakobsson, E. 2012. Transcultural encounters in a medical ward in Sweden: Experience of health care practitioners. [Cited 20 May 2021]. Available at: https://journals.sagepub.com/doi/abs/10.1177/1043659612451258 
Flinkman, M., Isopahkala-Bouret, U. & Salanterä, S. 2013. Young registered nurses´ intention to leave the profession and professional turnover in early career: A qualitative case study. [Cited 6 May 2021]. Available at: https://downloads.hindawi.com/archive/2013/916061.pdf
Merilyn, K., Rosenkoetter, M., Hattar-Pollara, M., Lauderdale, J., Milstead, J. &Punrnell, L., Callister, L.C., Nardi, D. & Pacquiao, D. 2011. Standards of practice for culturally competent nursing care. [Cited 20 Aug 2021]. Available at: https://www.torrossa.com/gs/resourceProxy?an=2917198&publisher=FM0520
Munkejord, M.C. & Tingvold, L. 2019. Staff perceptions of competence in a multicultural nursing home in Norway. [Cited 15 Jun 2021]. Available at: https://www.sciencedirect.com/science/article/pii/S0277953619302230
Plaza del Pino, J.F. 2017. Nurses and Muslim patients: two perspectives on Islamic culture in the hospital. 7th international conference on intercultural education "education, health and ICT for transcultural world". [Cited 17 Jul 2021]. Available at: https://www.sciencedirect.com/science/article/pii/S1877042817301672 
Tobah, W.K. & Ndayishimiye, E. 2021. Multiculturalism in healthcare. Bachelor's thesis. LAB University of Applied Sciences. [Cited 15 Nov 2021].  Available at: https://urn.fi/URN:NBN:fi:amk-2021111320194
Vartiainen, P., Pitkänen, P., Maruja, M.B.A., Raunio, P. & Koskela, M. 2016. From Philippines to Finland: Nurses 'expectations and Finnish realities. [Cited 15 Jul 2021]. Available at: https://so03.tci-thaijo.org/index.php/jpss/article/download/102301/79172
Images
Image 1. RODNAE Productions. 2020. Man in white scrub suit. Pexels. [Cited 15 Nov 2021]. Available at: https://www.pexels.com/photo/man-in-white-scrub-suit-massaging-man-in-blue-scrub-suit-6129681/