Nutrition plays an important role in the growth and development of young children and in the prevention of many diseases. Young children must eat four to six meals a day regularly by following the plate model. The plate model contains half a plate of vegetables, one fourth a side dish containing carbohydrates and, one fourth a source of protein. (THL 2020.)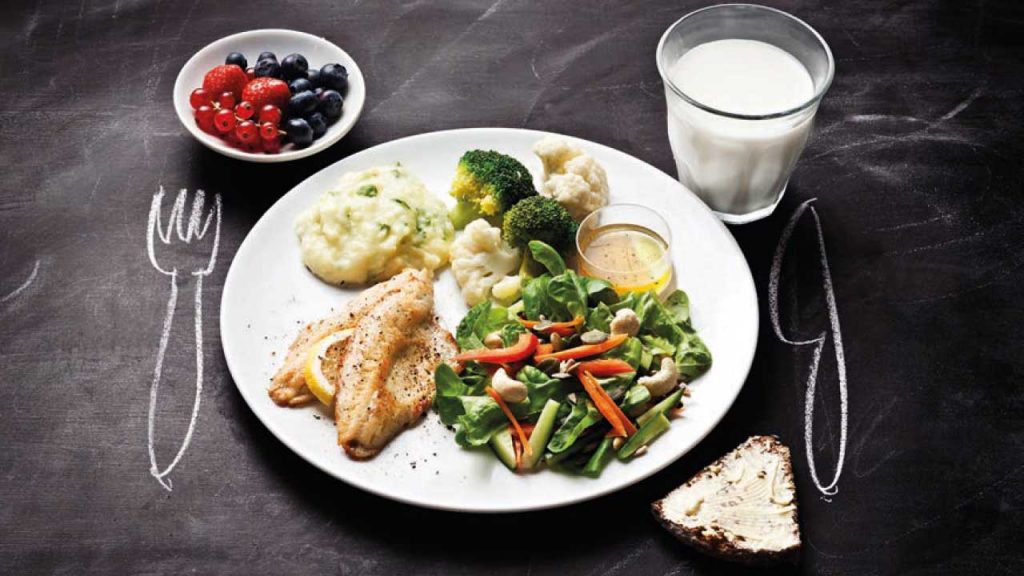 Breastfeeding
Until the infant is four to six months old, active breastfeeding is recommended. Breastfeeding is the main nutrient of an infant and therefore it is essential to continue breastfeeding until the child is four to six months old. Children born with complete pregnancy period and normal weight breast milk is enough until the age of six months. Small amount of solid food can already be given at the age of four to six months, but not before the age of four months. Solid food can be given from the age of six months onwards. (THL 2020.) 
The importance of vitamins
About 30 per cent of world population is facing iron deficiency. Iodine has an important role in the production of thyroid hormones, and thyroid hormones has the key role in cellular metabolism and growth of organs as well as the brain. Folic acid is the most important vitamin  for brain development. (Benton 2010.) [A7] 
Vitamin B12 insufficiency has a negative impact in children. If children do not have enough Vitamin B12 they become passive and frustrated. Vitamin D is an important nutrient that has an impact on calcium management, maintaining healthy bones as well as brain development. Vitamin D impacts proteins including in motoric control, memory and learning and even social and maternal behaviour. The attendance of vitamin D receptors has been identified in the hippocampus, sites with DNA binding capability. Vitamins, minerals, and fatty acid have a key role in reducing aggressive behaviour in children. (Benton 2010.)
Nurses can guide parents
Children and their families need early support for child's healthy growth, development, and a quality of life. Studies show that different nurses such as pediatric nurses, health visitors and community health nurses, provide professional help to families with children.
Nurses can help families by supporting breastfeeding and providing guidelines on young children's nutrition and diet plan but also educating parents about childcare and child's growth and development. The role of nurses includes also measuring length and weight, evaluating values and if needed, providing further support. (Cheng et al. 2020; Sharma & Sapkota 2021.)
Authors
Puspa Sapkota and Laxmi Sharma are student of bachelor's degree of nursing from LAB University of Applied Sciences. This article is based on their bachelor thesis.
Anna Romakkaniemi works as a senior lecturer in LAB University of Applied Sciences. She has guided the thesis.
References
Benton, D. 2010. The influence of dietary status on the cognitive performance of children. [Cited on 31 December 2020.] Available at https://onlinelibrary.wiley.com/doi/full/10.1002/mnfr.200900158
Cheng, H., Eames-Brown, R., Tutt, A., Laws, R., Blight, V., Mckenzie, A., Rossiter, C., Campbell, K., Sim, K., Fowler, C., Seabury, R. & Denney-Wilson, E. 2020. Promoting healthy weight foe all young children: a mixed methods study of child and family health nurses 'perceptions of barriers and how to overcome them. BMC nursing 19, 84. [Cited on 31 December 2020.] Available at: https://bmcnurs.biomedcentral.com/articles/10.1186/s12912-020-00477-z#Sec20
Sharma, L. & Sapkota, P. 2021. Role of nutrition among children six years of age and younger and role of nurses towards their nutrition : Literature review. Bachelor thesis. LAB University of Applied Sciences. [Cited on 14th May 2021.] Available: http://urn.fi/URN:NBN:fi:amk-202101151292
THL. Terveyden ja hyvinvoinnin laitos. 2020. Lifestyles and nutrition. [Accessed 01 Jan 2021]. Available at: https://thl.fi/en/web/lifestyles-and-nutrition/nutrition
Image
Image 1. Ruokavirasto 2014. Kuva-arkisto, Lautasmallit 2014. [Cited on 01 Dec 20216]. Available at: https://www.ruokavirasto.fi/teemat/terveytta-edistava-ruokavalio/kuluttaja–ja-ammattilaismateriaali/kuva-arkisto/
---