As the global population ages, ensuring the mental well-being of elderly individuals becomes increasingly essential. Good mental health enables individuals to function effectively, maintain positive relationships, and experience a sense of fulfilment also in a high age. Good mental health is an essential aspect of overall well-being and involves finding a balance in emotions, thoughts, and behaviours. Technology can provide tools to strengthen mental health systems and to support elderly people's well-being. (World Health Organization 2017; 2022.) Social robots are interactive machines that possess human-like interaction, adaptability, emotional intelligence, sensory perception, and connectivity, making them valuable tools in supporting individuals' well-being. (Seifert et al. 2022.)
The dynamic roles of social robots
Bhandari and Baral-Sapkota (2023) have reported in their literature review thesis work the dynamic roles of social robots in elderly care. Social robots are capable to provide companionship to alleviate loneliness, connect elderly persons with their close ones, offer emotional support and help in stressful situations and provide virtual comfort for elderly persons, for that reason they impact positively on elderly persons' overall well-being (Pirhonen et al. 2020).
Social robots engage in conversations, stimulate mental and cognitive functions, and help to combat cognitive decline. These robots can also serve as reminders for medication and daily tasks, promoting independence and reducing stress. The human-like interaction and empathetic qualities of social robots create a sense of connection and reduce feelings of isolation. (Rabbitt et al. 2015.)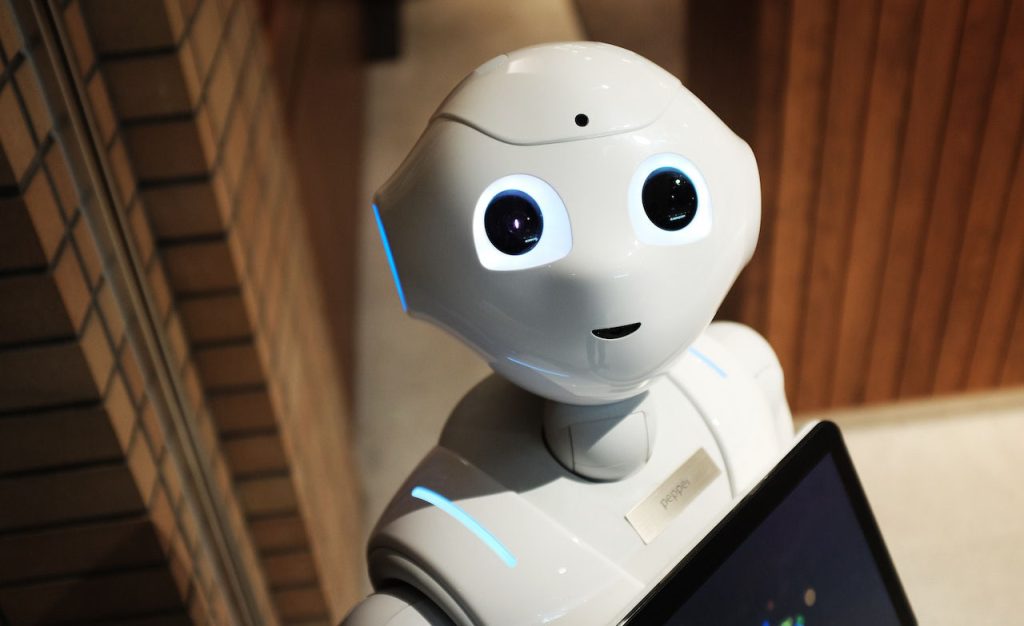 As social robots have such advanced features that they can communicate, recognize faces, offer educational information, and assist with in different tasks they have become utmost useful in healthcare. These robots demonstrate the potential to improve healthcare outcomes and support healthcare professionals. (Yu et al. 2022.)
Implementation of social robots
Technology in the field of robots is developing fast and the implementation of social robots in elderly care is becoming more common. However, there are still challenges in their application in elderly care. Facilitators supporting the implementation are for example robots' pleasant appearance and their ability to provide a sense of presence, the possibility to customize their interactivity or functions, ease of use and maintenance-free functions and their relatively cost-effective use advantage. Important facilitator is the positive attitudes and gained experiences of care workers and elderly people when using the social robots. However, there are still doubts and fears of using the robots especially among care workers that are limiting their use. Implementation of social robots in elderly care still needs a lot of support and encouragement for the care workers, and discussion of successful implementation of the robots. (Koh et al. 2021.)
In addition, to design social robots for elderlies' use, the most important is the engagement of elderly persons themselves as end-users to the designing process and their expectations for the robots as it is crucial for social robots' successful implementation (Søraa et al. 2023).
Authors
Samikshya Bhandari is a graduating Bachelor's degree nursing student at LAB University of Applied Sciences.
Hannele Tiittanen is a principal lecturer at LAB University of Applied sciences.
References
Bhandari, S. & Baral-Sapkota, R. 2023. The Role of Social Robots to Support Elderly People's Mental Health. A Literature Review. Bachelor Thesis. LAB University of Applied Sciences. Cited 22 May 2023. Available at https://urn.fi/URN:NBN:fi:amk-2023052413881
Knight, A. 2019. High angle photo of robot. Pexels. Cited 22 May 2023. Available at https://www.pexels.com/photo/high-angle-photo-of-robot-2599244/
Koh, W.Q., Felding, S.A., Budak, K.B., Toomey, E., Casey, D. 2021. Barriers and facilitators to the implementation of social robots for older adults and people with dementia: a scoping review. BMC Geriatr 21, 351. Cited 17 May 2023. Available at https://doi.org/10.1186/s12877-021-02277-9
Pirhonen, J., Tiilikainen, E., Pekkarinen, S., Lemivaara, M., Melkas, H. 2020. Can robots tackle late-life loneliness? Scanning of future opportunities and challenges in assisted living facilities. Futures 124:102640. Cited 18 May 2023. Available at https://doi: 10.1016/j.futures.2020.102640
Rabbitt, S. M., Kazdin, A. E., Scassellati, B. 2015. Integrating socially assistive robotics into mental healthcare interventions: applications and recommendations for expanded use. Clinical Psychological Review, Vol. 35, 35-46. Cited 07 May 2023. Available at https://doi:10.1016/j.cpr.2014.07.001
Seifert, J., Friedrich, O., Schleidgen, S. 2022. Imitating the Human. New Human–Machine Interactions in Social Robots. Nanoethics, 181–192. Cited 16 May 2023. Available at https://doi.org/10.1007/s11569-022-00418-x
Søraa, R.A., Tøndel, G., Kharas, M. & Serrano, J.A. 2023. What do Older Adults Want from Social Robots? A Qualitative Research Approach to Human-Robot Interaction (HRI) Studies. International Journal of Social Robotics 15, 411–424. Cited 17 May 2023. Available at https://doi.org/10.1007/s12369-022-00914-w
World Health Organization. 2017. Mental health of older adults. Cited 18 May 2023. Available at https://www.who.int/news-room/fact-sheets/detail/mental-health-of-older-adults
World Health Organization. 2022. World mental health report. Transforming mental health for all. Cited 18 May 2023. Available at https://www.who.int/publications/i/item/9789240049338
Yu, C., Sommerlad, A., Sakure, L. & Livingston, G. 2022. Socially assistive robots for people with dementia: Systematic review and meta-analysis of feasibility, acceptability and the effect on cognition, neuropsychiatric symptoms and quality of life. Ageing research reviews, Vol. (78). Cited 17 May 2023. Available at https://doi.org/10.1016/j.arr.2022.101633