In Lahti, citizens were already sorting waste in the 1990s. Sadly other countries are not as advanced or ambitious as their waste management ambitions. This article looks at waste management in Europe and Lahti.
European Union produced more than 2000 million tons of waste in 2018. Only 38% of waste in the EU was recycled (Green Lahti 2021a). Shockingly household waste might end up in landfills in some countries and thus waste ends up in nature and waterways. Which contributes to the wicked environmental problem that proper waste management could solve. How to improve waste management and encourage innovation in recycling was discussed in the webinar series called European Dialogue for Sustainable Cities. With at least seven speakers from various institutions and research groups. Lahti Green Capital 2021 is the organizer of the European Dialogue for Sustainable Cities -webinar series. That consist of eight different episodes. In the sixth episode, different experts around Europe discuss waste management (Lahden kaupunki 2021).
Contributing to a circular economy by sorting household waste
For Finnish households in Lahti, separating, sorting, and recycling waste is an everyday routine. Currently, overall waste recovery in Lahti is 99 % out of 46 % is recycled as materials, only 1 % is landfilled (Green Lahti 2021b).
Citizen involvement in circular economy implementation (CECI) is an Interreg Europe funded project which is led by LAB University of Applied Sciences. CECI promotes citizen involvement in circular economy by promoting good practices and encourages citizens to reduce and reuse generated waste before recycling and thus reserve natural resources. The latest CECI video showcases how citizens of Lahti participate in sorting and recycling municipal waste. Lahti is a pioneer in the circular economy, and this can be seen as enthusiastic sorting in the everyday life of the Lahti people.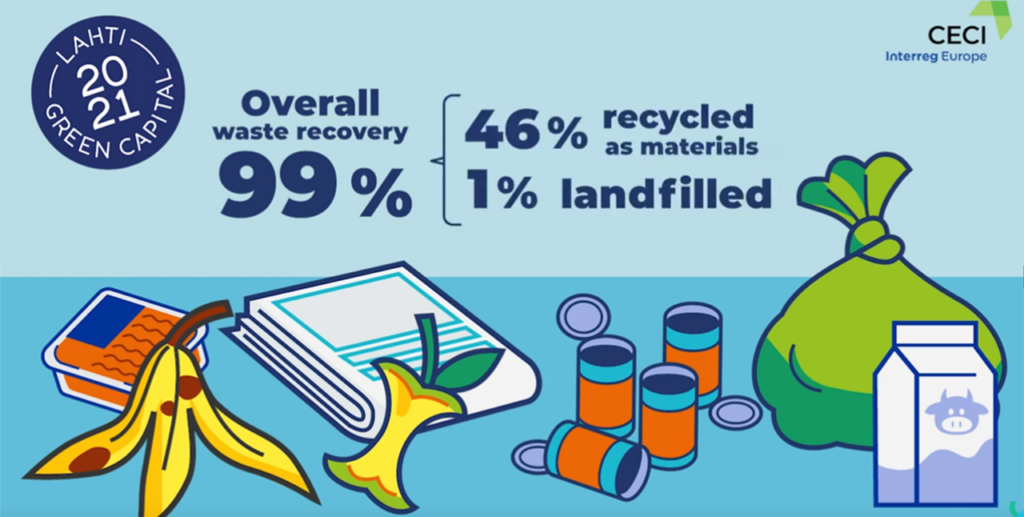 The CECI video explains that waste separation starts in the home. In Lahti flats with 10 households must have separate bins for biowaste, paper, cardboard, glass metal energy waste and mixed waste. In smaller households, citizens are obligated to separate at least energy waste and mixed waste. Furthermore, there are 60 communal recycling points in the Päijät-Häme region. Possibilities to recycle cardboard, batteries, plastic, glass and metal packaging. The recycling posts are often located nearby.
Textile waste must be separately collected in all EU countries starting 2025. In Lahti good conditioned items can be donated for reuse and resell purposes in the recycling centres or donated to the salvation army or in the communal recycling posts. Unrecyclable textile waste and mixed waste is usually energy waste and burned in a waste-to-energy plant, turned into heat and electricity. In Lahti, 52 % of households waste is utilized as energy (Green Lahtic, 2021.)
Author

Anna Svartström works at LAB University of Applied Sciences as a RDI specialist and a project developer for the CECI project.

References
Green Lahti. 2021a. European Dialogue for Sustainable Cities. [Cited 14 July 2021] Available at: https://greenlahti.fi/en/europeandialogue
Green Lahti. 2021b. Municipal waste recovery rate in green capital Lahti verges on hundred percent. [Cited 14 July 2021] Available at: https://greenlahti.fi/en/municipal-waste-recovery-rate-in-green-capital-lahti-verges-on-hundred-percent
Lahden kaupunki. 2021. European Dialogue for Sustainable Cities. Youtube. [Cited 14 July 2021] Available at: https://youtube.com/watch?v=ikyTOF_3rrI
Links
Svartström, A, & Medkova, K. 2021. CECI – Citizens sorting waste and contributing to circular economy in Lahti. LAB Focus. [Cited 17 Nov 2021] Available at: https://www.youtube.com/watch?v=uU2lwY_Z_bA
Video
Video 1. Lahden kaupunki. 2021. European Dialogue for Sustainable Cities: Waste. YouTube. [Cited 2 Aug 2021]. Available at: https://www.youtube.com/watch?v=ikyTOF_3rrI
Picture
Picture 1. Rouhiainen, O. 2021 LAB. Citizens sorting waste and contributing to circular economy in Lahti. [Cited 14 July 2021] Available at: https://www.youtube.com/watch?v=uU2lwY_Z_bA