Over 500 experts, policymakers, and other stakeholders registered for the 13th Annual Forum of the Strategy for the Baltic Sea Region (EUSBSR). The event was held in the city of Lappeenranta, Southeast Finland, during 28.–29.9.2022. Lappeenranta, the climate capital of Finland, is the European Green Leaf Award 2021 winner. The Award, launched by the European Commission, recognizes the environmental endeavours of smaller cities (20 000 – 99 999 inhabitants). Link to the Annual Forum of The EUSBSR event page.
The theme of the forum refers to "Putting plans into practice – a prosperous, connected and green Baltic Sea Region". At the forum, the implementation of the new EUSBSR action plan in practice was discussed. The importance of engaging a variety of stakeholders, especially the residents and youth was stressed throughout all sessions of the two-day programme.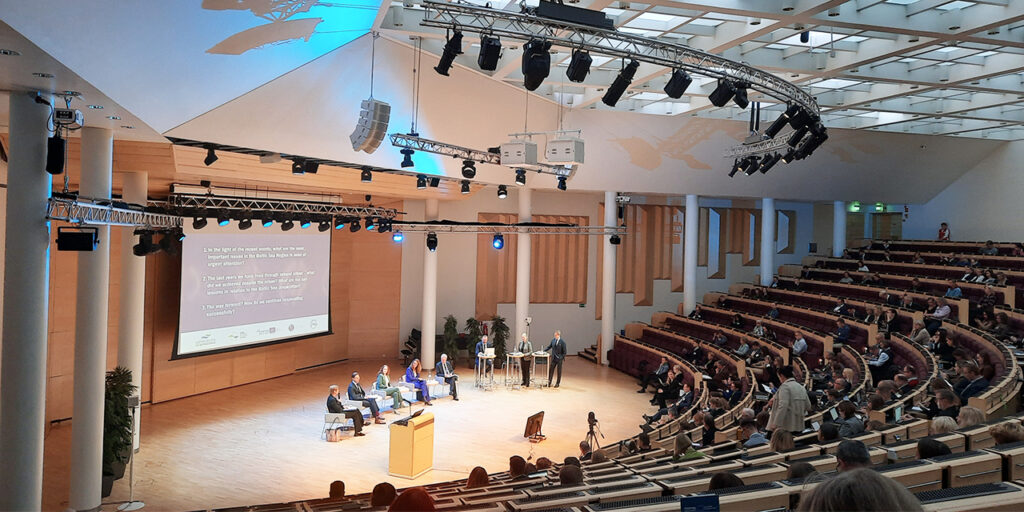 European Union Strategy for the Baltic Sea Region
The European Union Strategy for the Baltic Sea Region was established in 2009 and became the first macro-regional strategy of the EU. It is also the second largest macro-regional strategy, connecting 12 countries in the Baltic Sea basin to tackle common environmental, economic, and social needs and challenges. The strategy is accompanied by a regularly updated action plan, the most recent one in 2021, to accelerate the implementation and boost transnational cooperation in the Baltic region. (European Commission 2021.)
EUSBSR is divided into three objectives: Saving the Sea, Connecting the Region, and Increasing Prosperity, followed by several sub-objectives (EUSBSR 2022). These objectives were covered in the sessions of the Annual Forum.
Sharing examples of combating climate change
In the session "Contribution of EUSBSR cities and regions to combating climate change", experts and regional authority representatives presented examples of impacts and solutions of climate change mitigation and adaptation in the Baltic Sea region.
Cases of Finnish forerunners were presented by Ilkka Räsanen, the Environment Director of Lappeenranta Municipality and Niina Pautola-Mol, the Regional Mayor of Päijät-Häme Region. The city of Lappeenranta has worked systematically for climate change mitigation over the years. Pautola-Mol presented the effective climate work done in the Päijät-Häme region and the City of Lahti. She pointed out the importance of cooperation between stakeholders to reach success: both universities, companies and authorities are central contributors.
A solution for raising awareness of the importance of climate change was presented by Lene Bonde, Dissemination Officer from the Climate and Coastal Protection, Danish Coastal Authority. She pointed out that opening data increases climate change adaptation awareness among citizens and presented examples from Danish coast protection.
Collaboration and cooperation can support the joint climate work in the Baltic Sea region. All stakeholders' participation in climate change mitigation is fundamental.
Authors

Katerina Medkova works as an RDI specialist at LAB University of Applied Sciences.

Susanna Vanhamäki works at LAB as a Chief Specialist in Sustainable Communities.
References
European Commission. 2021. New Action plan of the EUSBSR macro-regional strategy for boosting resilience and recovery in the Baltic Sea Region. Cited 28.9.2022. Available https://ec.europa.eu/regional_policy/en/newsroom/news/2021/02/17-02-2021-new-action-plan-of-the-eusbsr-macro-regional-strategy-for-boosting-resilience-and-recovery-in-the-baltic-sea-region
EUSBSR. 2022. Implementation. Cited 28.9.2022. Available https://www.balticsea-region-strategy.eu/about/implementation
Links:
Link 1. Interreg Baltic Sea Region. 2022. Welcome to the 13th Annual Forum of the EUSBSR. Cited 28.9.2022. Available at https://annualforum2022.eu/