In August‒September 2022 the Baltic Explorers project organized a weeklong trade mission for game companies to South Korea. Before the trip would start the teams were prepared to the specific aspects of South Korean game and gaming market as well as the business culture and etiquette. During the "Preparing for South Korean Trade mission" mini seminar Korean game industry experts Solip Park and Chris Hong shared their learnings to the participants.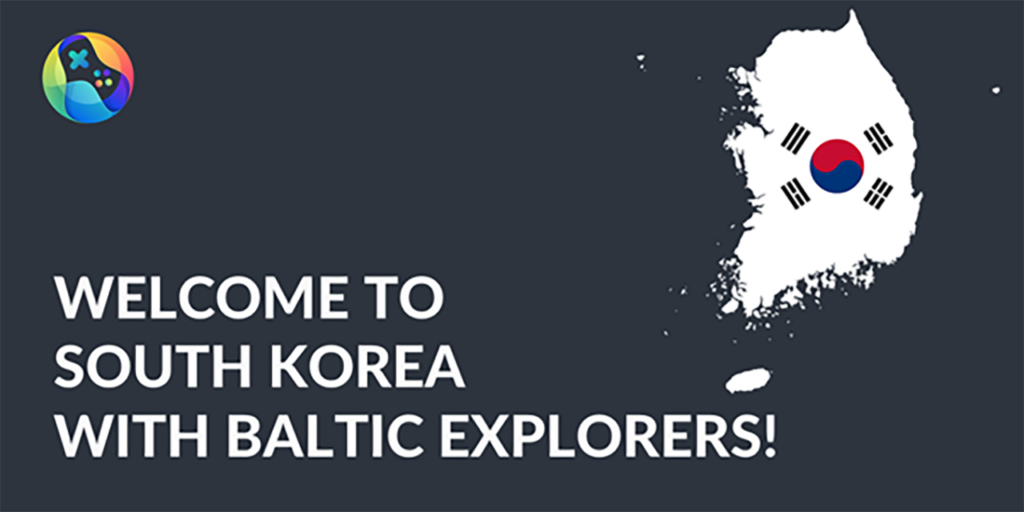 Korean gamers and game market
A typical South Korean gamer is usually between 22-40 years old. Younger than that your time is filled with school and education and older than that your days are filled with work and family responsibilities. Gender demography is almost 50/50. Motivations why games are played vary a lot, so hit games tend to tap into multiple motivation categories and have different attractions in them. (Hong 2022; Newzoo 2022.)
The most popular platform in South Korea is mobile games, it holds 57,4% of the domestic market (Kocca 2021, 4). The most popular mobile game genre is RPG, Role Playing Game; 8 of the top 10 mobile games belong to this category. 38% of players are ready to make in app purchases or payments that give them advantage in the game, exclusive content or more customization possibilities. Korean gamers don't just play the games, 48% of them also watch game related content and gameplay videos. (Hong 2022; Newzoo 2022.)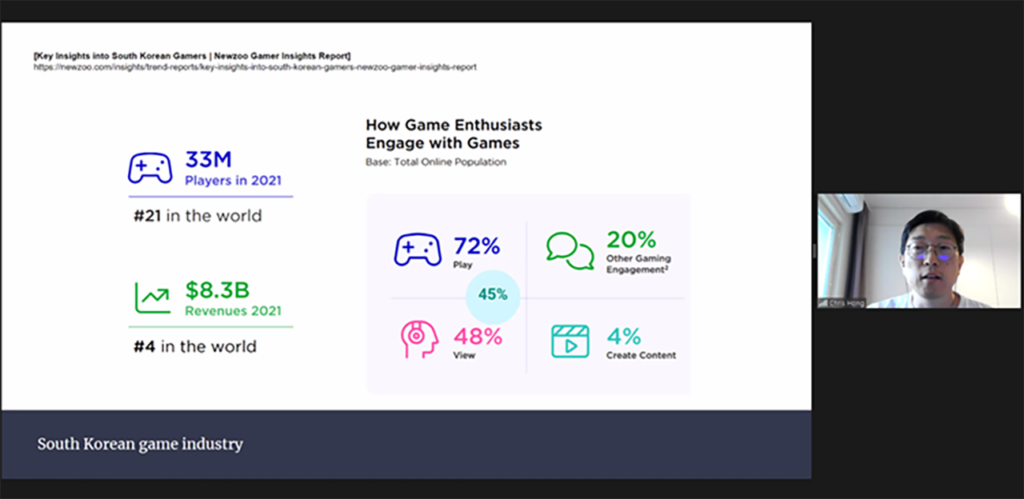 PC bang – the special feature of South Korean game market
In the second part of the seminar Solip Park dived in to the (game) business culture in South Korea. Social dynamics and hierarchy play an important role in business communication, the status and age are more respected than what we might have accustomed to. In the beginning of meeting business cards are usually exchanged, this helps all the participants to understand the roles they have in the social hierarchy. Business card is handed and received with respect, and it is expected to be studied for a while after exchanging them. Hierarchy and culture might prolong the decision making, so be patient. Big decision demand multiple meetings and trust building. Do not expect clear yes or no answers, instead learning to read between the lines is an important skill. (Asialink Business 2022; Park 2022.)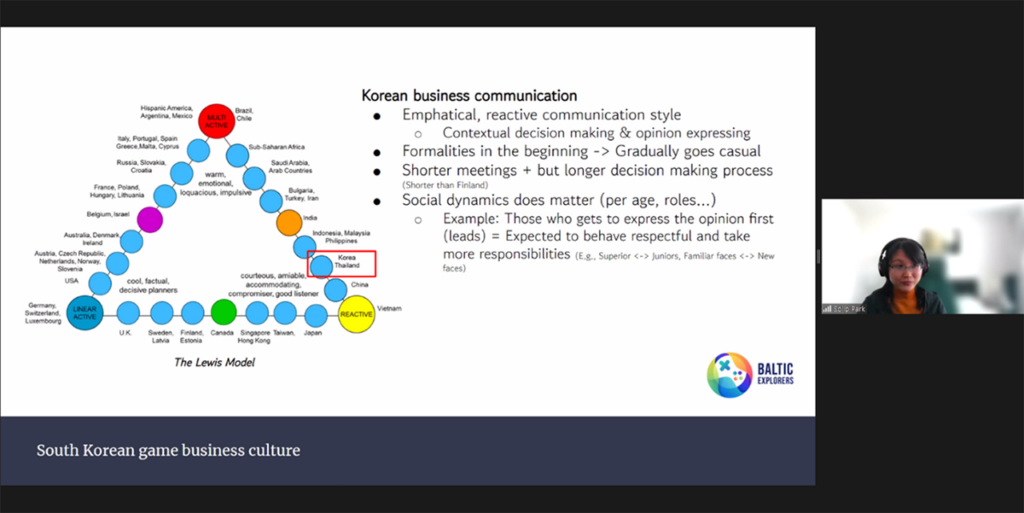 After the formal part of introductions and first meetings are done, the important phase of building trust and relationship starts. Korean business negotiations usually include eating and drinking in informal style. Usually, the business attire in South Korea tends to be very formal, but this does not apply to the game business. Company hoodies and fun t-shirts are accepted but be mindful not to accidentally insult anyone with wrongly chosen picture or text. (Park 2022.)
Author

Ria Gynther works as a RDI Specialist at the LAB University of Applied Sciences and as a Project Manager in the Baltic Explorers Project.

References
Asialink Business. 2022. Korean business culture and etiquette. Cited 4 Oct 2022. Available at https://asialinkbusiness.com.au/republic-of-korea/conducting-business-in-korea/korean-business-culture-and-etiquette
Bradley, H. 2022. The Korean PC Bang: Everything To Know Before You Go! Cited 4 Oct 2022. Available at https://thesoulofseoul.net/2022/07/26/korean-pc-bang/#pcbang
Hong, C. 2022. South Korean game industry. Talk at Preparing for South Korean Trade mission event 9.8.2022.
Kocca. 2021.2021 White Paper on Korean Games. Summary. Cited 4 Oct 2022. Available at https://welcon.kocca.kr/cmm/fms/CrawlingFileDown.do?atchFileId=FILE_573eeddc-9abe-4bfc-8377-a5614989a5b8&fileSn=1
Newzoo. 2022. Key Insights into South Korean Gamers. Newzoo Gamer Insights Report. Cited 4 Oct 2022. Available at https://newzoo.com/insights/trend-reports/key-insights-into-south-korean-gamers-newzoo-gamer-insights-report
Park, S. 2022. South Korean game business culture. Talk at Preparing for South Korean Trade mission event 9.8.2022.
Links
Link 1. Baltic Explorers. 2020. Project. Cited 14 Jun 2022. Available at https://balticexplorers.eu/