Casting of small plastic using 3D printed molds opens the opportunity to manufacture prototypes easily and to test if it is possible to produce the desired shape by casting. In a project
with LAB University of Applied Sciences and LUT University a new type of electromagnetic position sensor was developed, where the casting was applied. In one of the key components of the sensor, it was required to add an isolative layer around a steel part, which in this case was made of electrical steel. This paper describes our experiments on casting plastic parts using 3D printed molds.
Experiments on using 3D printed mold for plastic casting
Workflow in the experiment was firstly to model the part and mold geometries in a 3D CAD software and then to print the necessary molds. Finally, the casting was completed, and results were evaluated. Picture 1 depicts the part and mold geometry as designed in 3D CAD software.
The molds were printed with Stratasys Objet30 Prime 3D printer, which uses PolyJet technology and produces dimensional accuracy and surface finish high enough to be applied in molds, jigs, and fixtures (Stratasys 2022). After consultation with sales representatives of casting materials, it was decided to use SikaBiresin® F180 two component resin, which is suitable for small and detailed castings due to low viscosity of the resin (Sika Services AG).
Additionally, the low process temperature was handy because this enabled opportunity to 3D print the mold. In doing so the mold can be easily reprinted for improvements. For instance, at the first few tries, air was trapped in the mold, which led to hollow sections in the final cast part. Air channels were redesigned a few times to allow air to escape better. 3D printing made it comfortable to rebuild the mold and it enabled ease for designing. More risky designs could be conducted because if it doesn't work out, a new part could be printed easily. This enabled creativity and experimental approaches. Figure 2 shows one of the failed castings right after the part has cured.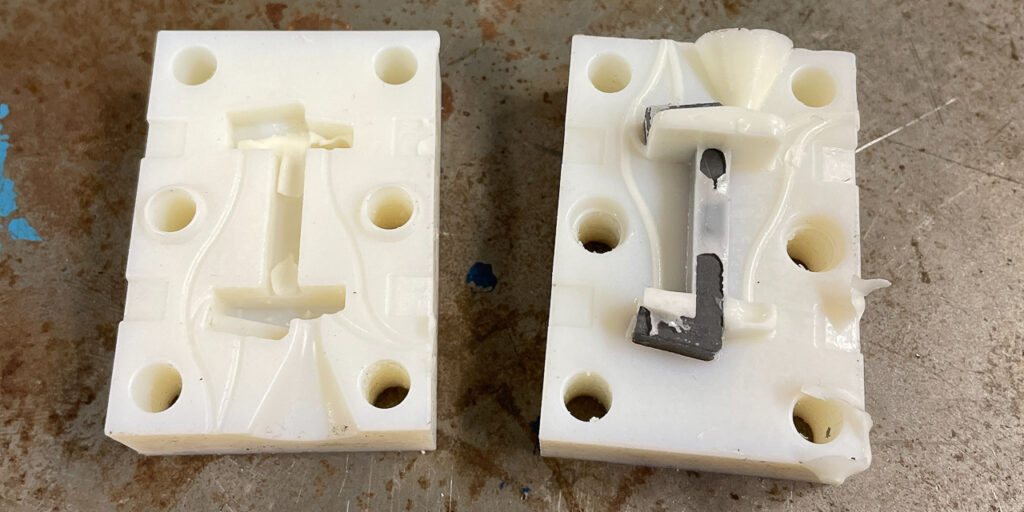 Conclusions from the experiment
After many tries with different mold designs and for example using vacuum chamber to get any air entrapped in the mixed resin and in the mold it can be concluded that 3D printed molds can be used to cast small plastic parts. However, our experiments suggest that mold design must accommodate large enough material flow and air channels to allow the mold to easily fill. Additionally, the dimensional tolerance of the mold and its surface roughness determines the quality of the cast part. In our experiments, we achieved accuracy of satisfactory level as well as the surface roughness of the part was good enough. However, the main problem in this case was an uneven cross section of the cast part, which led to difficult filling of the mold. One possible solution to improve filling of the mold would be to create gate system that would fill the mold in two directions instead of only filling mold from a single point as in the experiments conducted so far.
The experiments were completed in project RESOLVO with LAB UAS and LUT University by mechanical engineering bachelor student and staff. For the student the project was advantageous since the theoretical knowledge about casting was tested and applied in practice and at the same time valuable information for the project was gathered. Link to RESOLVO -project webpage.
Authors

Hannes Badura is a mechanical engineering student at LAB University of Applied Sciences and contributed to the university's project of developing a novel resolver.

Eero Scherman is senior lecturer at LAB University of Applied Sciences in mechanical engineering. His research interests are research focusing on mechanical engineering with special interest in manufacturing aspects of rotating electrical machines.
References
Sika Services AG. SikaBiresin® F180. Cited 8 Sep 2022. Available at https://industry.sika.com/en/home/advanced-resins/epoxy-and-polyurethanecasting/fastcast-resins/unfilled-fastcastresins/sikabiresin-f180.html
Stratasys. 2022. PolyJet Technology. Cited 8 Sep 2022. Available at https://www.stratasys.com/en/guide-to-3d-printing/technologies-and-materials/polyjet-technology/
Links
Link 1. LAB 2022. Resolvo- Innovaation kaupallistaminen. Cited 10 Sep 2022. Available at https://lab.fi/en/project/resolvo-innovaation-kaupallistaminen