The sharing economy has gained significant attention over the last few years. The concept and practice of a sharing economy focus on the use of digital technologies and platforms to enable users to share or borrow goods, services, assets, or time. This can be beneficial for the clients, as shared options are often more economically viable for the users. Shared use is also more optimized for sustainability, as strain on environments and resources can be reduced significantly. (Daglis 2022, 1.)
What are Urban Living Labs?
Every city has its challenges it must face when trying to design a more sustainable city. There is no "one-size-fits-all" solution. That is why cities need to analyze and experiment with their circumstances. For creating a functioning sharing economy, shared values from all stakeholders should be accounted for.
"Urban living labs" try to do that, by engaging local communities, universities, businesses, and administrations, to work together (Steen & van Bueren 2017, 11). The work is carried out as experiments, that begin by defining the current problems and possible targets. Then methods are discussed to tackle the challenges and trialed through experiments. During the experiment, constant attention is focused on the methods used and changes can be made, whenever necessary. This is a less academic approach to scientific experimentation, but the flexibility of the experiments can make them more effective. After the experiment is carried out proper analysis is done and possible ways of using the results, to carry out another experiment or adaptation, are discussed.
The urban living labs' approach to sustainability is a more experimental form of experimentation. By involving all stakeholders, from beginning to end, the goal is to create solutions by the people, for the people. (Steen & van Bueren 2017, 33.)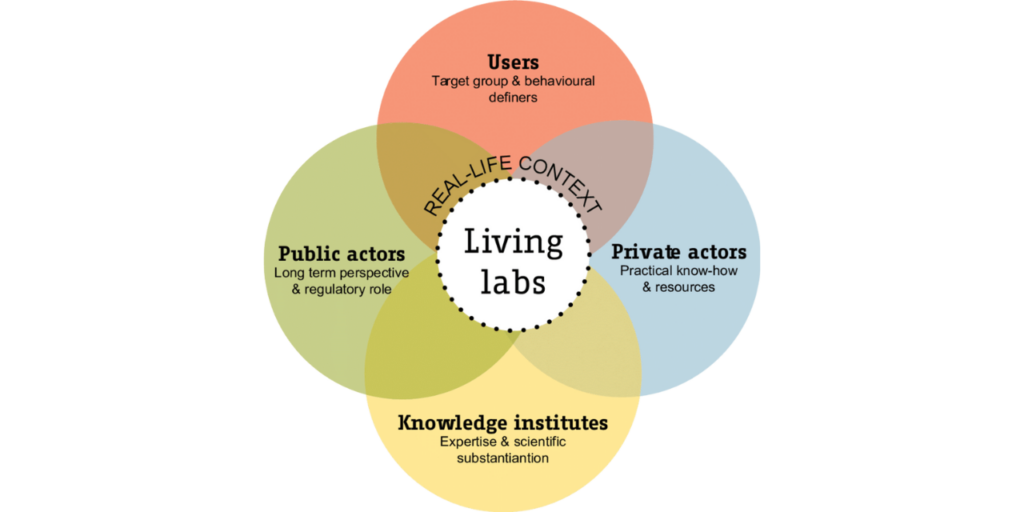 Possible uses for flexible experimenting
Adaption of the sharing economy faces many hurdles. Bringing forth a product that manages to win over users, with already-formed habits is hard, especially if it has to challenge consumer comfort.
For example, many prefer to have personal cars, but in our current fight with climate change, we must look for ways we can organize city transport with less greenhouse gas emissions. In some cities, peer-to-peer carsharing, carpooling, and city cars are adopted alongside public transport to offer residents alternatives to personal car ownership. Sometimes these ideas catch on quickly, in other cases not. (Ting 2021, 2.)
Urban living labs can help understand the specifics of each sustainable transformative approach. Experiences and results can also be shared between cities. This allows various hubs of experimentation to work together to find more novel methods and increase effectiveness and influence. All thanks to the power of sharing.
A project aiming at promoting the participation of residents in the circular economy in South Karelia has been prepared at LAB University of Applied Sciences. Among other things, the project aims to support sharing economy solutions.
Authors

Johannes Kaldalu is a Bachelors student of Sustainable Systems Engineering at LAB University of Applied Sciences. As a part of his studies, he got familiar with sharing economy solutions.

Susanna Vanhamäki is working as a chief specialist at LAB University of Applied Sciences.
Refrences
Daglis, T., 2022. Sharing Economy. MDPI Encyclopedia. Vol. 2(3), 1322-1332. Cited 19 September 2022. Available at https://doi.org/10.3390/encyclopedia2030088
Maastricht University. 2019. Smarter Living Labs: New ways to address urban challenges. Youtube. Cited 19 Sep. 2022 Available at https://www.youtube.com/watch?v=XkDRgQf5QVo
Steen, K. & van Bueren, E. 2017. Urban Living Labs: A Living Lab Way of Working. Amsterdam, Holland: AMS Institute. Cited 19 September 2022. Available at https://www.researchgate.net/publication/318109901_Urban_Living_Labs_A_Living_Lab_Way_of_Working
Ting, K.H., Lee, L.S., Pickl, S. & Seow, H.-V. 2021. Shared Mobility Problems: A Systematic Review on Types, Variants, Characteristics, and Solution Approaches. Applied Sciences. Vol 11(17), 7996-8038. Cited 19 September 2022. Available at https://www.mdpi.com/2076-3417/11/17/7996/htm