The regular workshop meetings where all project participants can follow the most recent progress and discuss ongoing activities are an important part of the CB-Safe project. The aim of the CB-Safe workshop held on 14 March 2022 in Lahti was to show to the representatives of the Rescue Departments in Finland the current state of the Virtual Reality simulation. Link to the Cross-border safety, accident prevention and management -project website.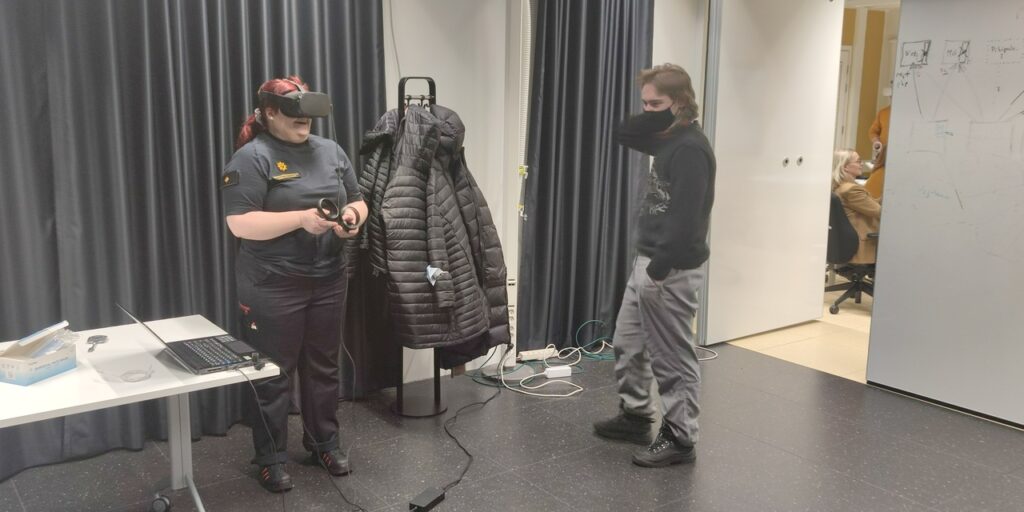 The Virtual Reality simulation is a part of the Virtual Training Platform currently developed by the LAB University Of Applied Sciences (LAB 2022). It has several risk simulation cases (for example ship and passenger related accidents) where personnel from different rescue departments can cooperate and train together. The target area of the simulation is Saimaa Canal and its surroundings. Link to the Virtual training platform.
Rescue Department personnel were introduced to the Virtual Training Platform
The meeting was held with representatives from the Kymenlaakso and South Karelia Rescue Departments and LAB University Of Applied Sciences project team members at the LAB Campus in Lahti. Workshop started with lunch, after which the LAB team gave a concise overview about the structure and the workflow of the Virtual Reality simulation.
After brief instruction, the Rescue Department representatives were provided with their own set of Virtual Reality equipment and asked to try the virtual environments for the first time. The demo version that was presented in this workshop included three main scenes: Main Menu, Lobby Room, and the Simulation Scenario. The participants were able to freely try each scene, switch between scenes and test different simulation aspects such as multiplayer, voice communication and rescue unit control.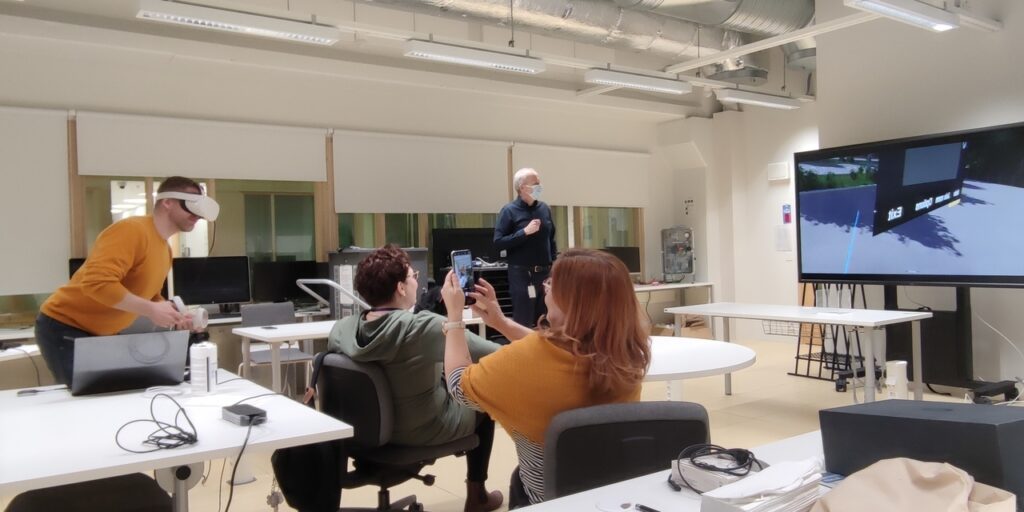 After the simulation test was successfully conducted all workshop participants discussed the results and shared their own thoughts on how the development could be continued. The overall feedback on the technical side of the simulation was positive. It was decided that LAB developers will now focus their efforts on improving its playability. The four hour workshop was concluded with coffee break.
Author

Jevgeni Anttonen works as a LAB Digital Team staff member at LAB University of Applied Sciences. Participates in the CB-Safe and EKKIRA projects.
References
LAB. 2022. Cross-border safety, accident prevention and management. Cited 24 Mar 2022. Available at: https://lab.fi/en/project/cross-border-safety-accident-prevention-and-management
Links
Link 1. LAB. 2022. Cross-border safety, accident prevention and management. Cited 24 Mar 2022. Available at: https://lab.fi/en/project/cross-border-safety-accident-prevention-and-management
Link 2. CB-Safe. 2022. Virtual Training Platform. Cited 24 March 2022. Available at https://cb-safe.info/virtual-training/