You have probably heard that Finland is called the land of a thousand lakes. As you might also know it is located in the northernmost part of Europe and has one of the coldest climates in the EU countries, with lots of snow in the wintertime. These three things do not sound like a very promising combination when biking is concerned. So, a cycling trip to Finland in the winter might be a sign of madness rather than a good choice. Right?
Exotic experiences and challenges
First thoughts on spending a winter holiday cycling in Finland might suggest it's not a good idea. Why choose a small northern country famous only for Santa Claus when valued cycling destinations like Mallorca, the Italian Riviera or the eastern coast of Spain are available? On the other hand, tourists seem to seek exotic experiences, and that is exactly what Finland has to offer cyclists. We have dozens of days of sub-zero temperature and also in the southern parts of the country the snow often rises up to half a metre in midwinter.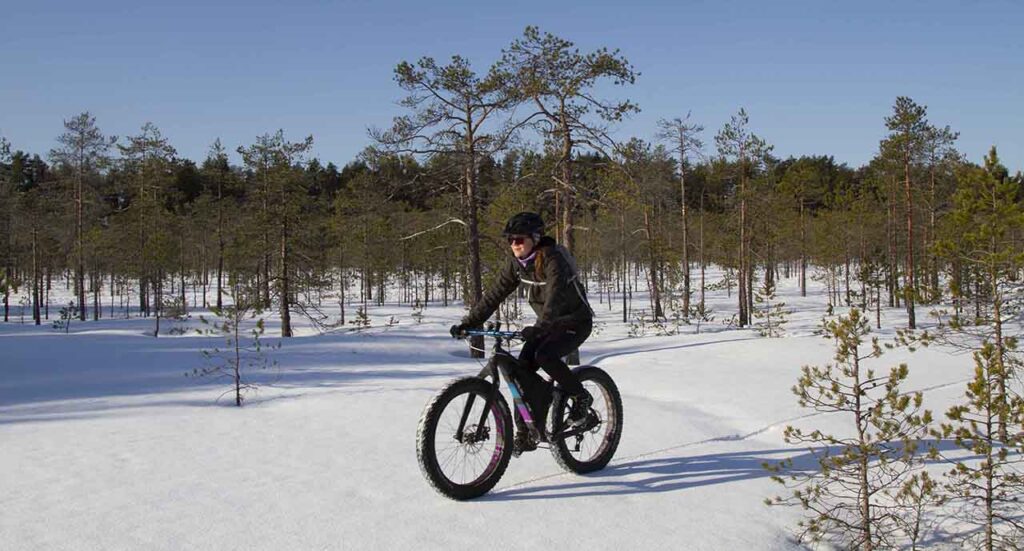 On the other hand, biking on snow is great fun. Especially in the spring, when the night temperatures in Southern Finland can still drop to ‒10⁰C, the snow is sometimes hard enough to carry a fatbiker off the tracks. For a short period of time, this makes it possible to bike almost anywhere. The Finnish everyman's rights allow everyone living in or visiting Finland the freedom to roam the countryside and enjoy the recreational use of natural areas. This includes also cycling, although you should still do this respectfully, of course.
Improving the infrastructure for cycling
For some years, the ski resorts of Lapland have recognised the potential of cycling tourism in Finland.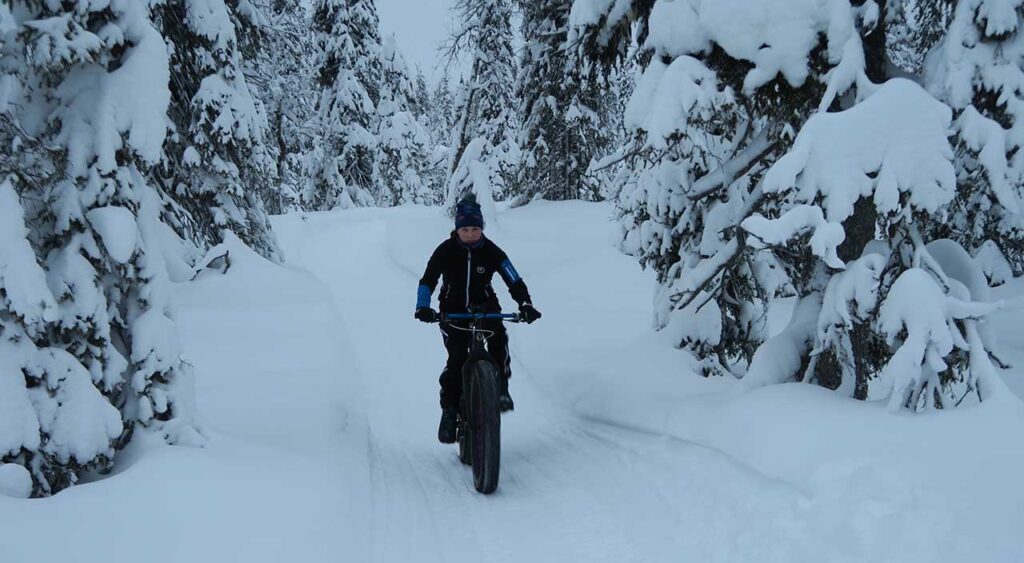 Some of them have invested millions to improve the specially built infrastructure and services for cycling tourists. Ylläs, Levi and Ruka have a good amount of rental bikes (mostly fatbikes) and marked routes built for wintertime mountain biking.
Link to Ylläs activities: https://www.yllas.fi/en/activities/winter-biking.html
Link to Levi: https://levi.fi/en/biking/winter-biking
Link to Ruka: https://www.ruka.fi/en/cycling/winter-fat-biking
All three are also good destinations for summer biking and have a bike park with gondolas and an impressive route network for wilderness mountain biking. Southern Finland, where Päijät-Häme is located, is also improving its services for cycling tourists. As a winter sports city, Lahti is a good choice and an easily accessible destination for a sporty winter holiday with a cultural beat. The city of Lahti has recently built a good network of tracks for winter cycling, the Salpausselkä Trails. Link to Salpausselkä Trails: https://www.lahti.fi/en/leisure-and-sports/sports-services/trails-for-walking-biking-and-skiing/
The trail network is located near the famous ski tracks of Salpausselkä, and together these two make a good combination for sport-loving holiday-makers.
Author
Päivi Tommola works as an RDI specialist at the LAB University of Applied science and as a project manager for the cycling tourism project of Päijät-Häme, link here: https://lab.fi/fi/projekti/pyoramatkailijan-paijat-hame One of the goals of the project is to increase the visibility of services and infrastructure developed for cycling tourists.

Links
Link 1. Ylläs. 2022. Winter biking. Cited 1 Apr 2022. Available at https://www.yllas.fi/en/activities/winter-biking.html
Link 2. Levi. 2022. Winter biking. Cited 1 Apr 2022. Available at https://levi.fi/en/biking/winter-biking
Link 3. Ruka-Kuusamo. 2022. Winter biking. Cited 1 Apr 2022. Available at https://www.ruka.fi/en/cycling/winter-fat-biking
Link 4. City of Lahti. 2022. Salpausselkä Trails. Cited 1 Apr 2022. Available at https://www.lahti.fi/en/leisure-and-sports/sports-services/trails-for-walking-biking-and-skiing/
Link 5. LAB. 2022. Pyörämatkailijan Päijät-Häme. Project. Cited 1 Apr 2022. Available at https://lab.fi/fi/projekti/pyoramatkailijan-paijat-hame