Students from Spain, Universitat Politecnica De Valencia, Netherlands, Avans University of Applied Sciences, and from Finland LAB University of Applied Sciences were solving the working-life challenges during the two-weeks' international intensive on-line programme in March 2021. The Intensive programme was a part of the NICCoLLa project, which aims at to develop competencies for a future where technology and ICT-solutions play an increasingly important role in delivering client and patient-centered, efficient, and accessible care and counseling services​.
Students were working in six multidisciplinary teams, each team had eight students from ICT, engineering and from nursing and/or social work. Each team got a project challenge from real life/ co-operation company or project to develop an innovative solution that enables professionals to strengthen and support the well-being and health of clients, or a solution that promotes independent living at home. Groups needed not just to describe the final technological solution, but also to describe used co-creation methods and consider the ethical, data security and safety issues relating to the solution as well as the benefits and risks for the users.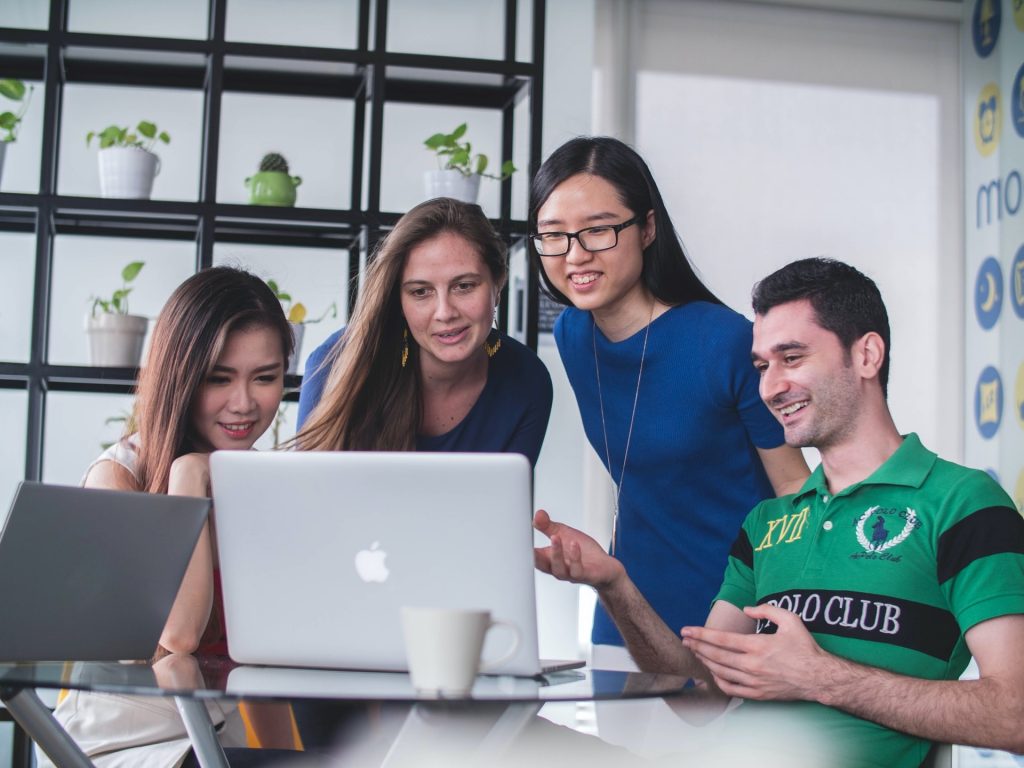 Project solutions
The solutions students produced were targeted for the elderly although that was not a requirement. Two solutions were focused on reminding and supporting the elderly persons' medication taking.
Also, the elderly persons' rehabilitation at home and the chatbots and voice assistants to help with the independent living at home were solutions serving the elderly persons and caregivers. In addition, the glucose monitoring solution for elderly persons and smartwatch application that can track different health parameters on elderly were created. All the project solutions were reported with further plans.
Through collaborative team working students work together so that they share their field of knowledge, combining different points of view which enables novelty solutions to the working life problems (Image 1).
Besides substance knowledge the students have a possibility to learn customer-centred thinking, creativity, interaction skills, tolerance to uncertainty and difference when solving working life problems together in teams. All these skills and competences are needed in continuously evolving working life. (Konst 2016.)
Students gave good feedback especially working in multidisciplinary teams, which is still not common in many of the universities. Students were very committed to co-creative working in online teams and coaching from multidisciplinary teacher team. They also received coaching from e-health company supervisors from Instituto Pedro Nunes, Portugal.
Authors
Hannele Tiittanen, Principal lecturer at LAB University of Applied Sciences. Interested in future learning possibilities and wellbeing technology.
Annamaija Id-Korhonen, Senior lecturer at LAB University of Applied Sciences. She is interested in health promotion and possibilities of digital learning and health services.
Both authors are experts in NiCColla-project. The main focusof the NICCoLLa project is the development of curricula, course content and training in the field of technology and ICT for healthcare and wellbeing. ​
References
Konst T. 2016. Developing Educational Organizations with Innovation Pedagogy. IJAEDU International E-Journal of Advances in Education, 2(5). [Retrieved 12.4.2021.] Available at: https://www.researchgate.net/publication/306924907_DEVELOPING_EDUCATIONAL_ORGANIZATIONS_WITH_INNOVATION_PEDAGOGY
Links
NICCoLLa. Network for Innovative Care Competence Learning through Labs: http://niccolla.eu/
Image
Image 1. Thian. Mimi Thian. Unsplash. [Cited on 12.4.2021.] Available at: https://unsplash.com/photos/vdXMSiX-n6M
---