Citizenzs of Lahti were introduced to a modern way of having their say in municipal spending in 2020. The city ran their first city wide participatory budgeting PB "OmaLahti Osbu" where ordinary citizens can give ideas on how to improve their city, co-create with city officials and later vote on their favorites. The city then implements the winning ideas − hence for example the new cherry park planted in the southern neighborhood of Laune. (City of Lahti 2021a; Link 1.)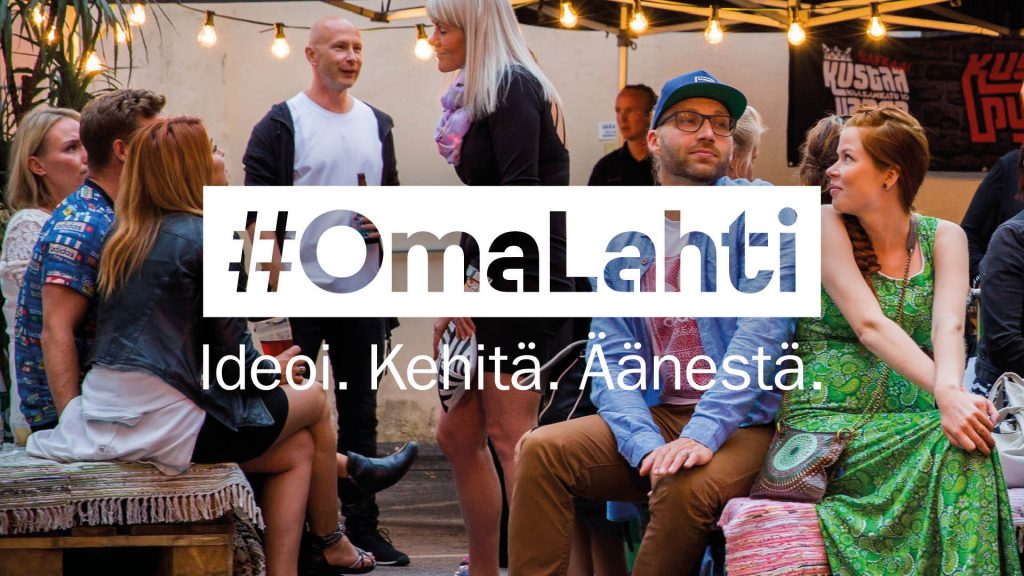 EmPaci − Empowering Participatory Budgeting in the Baltic Sea Region Partners LAB University of Applied Sciences (LAB) and Tampere University (TUNI) supported the process − a first Finnish EmPaci pilot − by sparring those implementing the PB and providing data through research and networks. LAB and TUNI conducted a citizen survey before the process to map out citizens' wants and needs, as well as a process evaluation after the first round in spring 2021 (EmPaci 2021).
Data for the process analysis was gathered from citizens, city officials and political decision makers. Surveys and interviews were used to get a multifaceted understanding of the process. The results highlighted development ideas for Lahti to consider in the following rounds. For example, the four original areas the city was divided into; southern, eastern, northern and the entire city, raised questions and feedback as for example the city center was teamed up with the more rural eastern Nastola region to make up equal citizen amount per area. Also, the amount to be spent – 100 000 € was talked about.
Focusing the city center
The city has taken note and improved the second round which is currently underway by for example adding a fifth area – the city center and raised the amount to 200 000 €. Also, improvements have been made to communications efforts to boost awareness amongst citizens. As the Covid 19 -situation has improved it has also been possible for the city PB staff to take to the streets and go meet citizens in their everyday lives at live pop-up events.
To take part 23.8. – 17.9.2021 visit the city PB-site and participate (City of Lahti 2021b). Everyone has a voice − use it! 
For more information on the OmaLahti PB and participatory budgeting in general, have a quick look at some new videos: The city of Lahti has published a video in plain language (selkokieli) Finnish that highlights their process (Link 1).
EmPaci -project has made a number of short info videos on what PB is, what citizens can do with it etc. as a part of their Train the Trainer -material (Link 2).
Author

Annukka Heinonen, Master of Business Administration, works as an RDI-specialist at LAB University of Applied Sciences, and as a project manager in the EU Interreg funded EmPaci – Empowering Participatory Budgeting in the Baltic Sea Region -project. There are altogether 17 partners working on improving PB at EmPaci. LAB University of Applied Sciences and Tampere University are supported by Association of Finnish Municipalities.
References
City of Lahti. 2021a. OmaLahti webpage. [Cited 2 Sep 2021]. Available at: https://www.lahti.fi/kaupunki-ja-paatoksenteko/osbu/
City of Lahti. 2021b. Participatory budgeting. [Cited 3 Sep 2021]. Available at: https://www.lahti.fi/en/city-and-decision-making/osbu/
EmPaci. 2021. EmPaci-project homepage / results. [Cited 3 Sep 2021]. Available at: http://www.empaci.eu/index.php?id=49
Links
Link 1. City of Lahti. 2021. Ideoi, kehitä, äänestä! [Cited 2 Sep 2021]. Available at: https://www.lahti.fi/en/city-and-decision-making/osbu/
Link 2. PBbase Network. 2021. YouTube. [Cited 2 Sep 2021]. Available at: https://www.youtube.com/channel/UCt2ZkHe2stxHppX0DI0ViwQ?app=desktop