Sharing and exchange of international experiences in regular Regional Energy Stakeholder (RES) group meetings are key for the successful implementation of RESINDUSTRY – Policies for Renewable Energy Sources in Industry and SME POWER – SMEs Powering a Low Carbon Future projects in Päijät-Häme, Finland. Since both projects focus on energy issues, either renewable energy or energy efficiency, they have formed a joint RES group already in 2019. In April 2022, the RES group gathered online to discuss and share insights on energy development and the progress of the two projects' action plans. In Finland, RESINDUSTRY is coordinated by LAB University of Applied Sciences and SME POWER by Heinola City.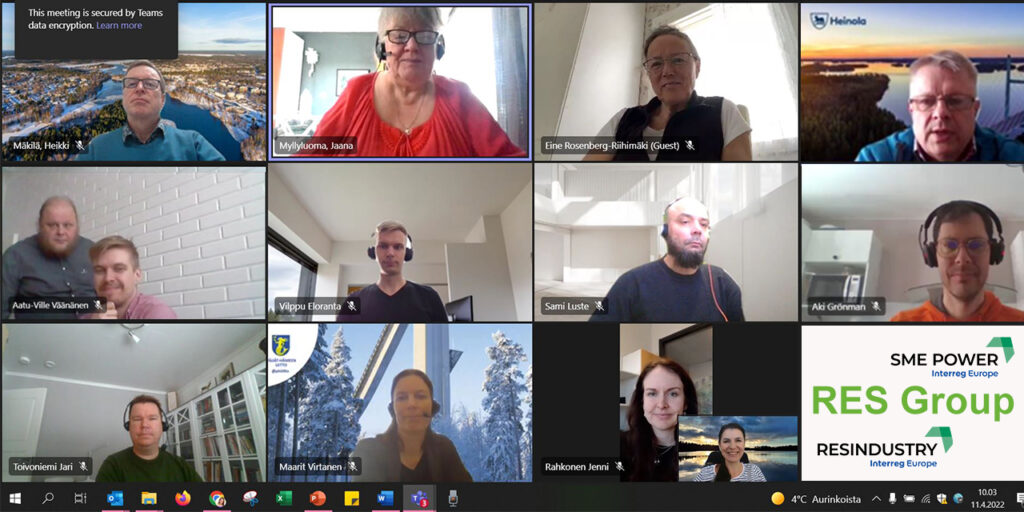 Expert Mission – Stakeholders' view
Inspired by the recent RESINDUSTRY study visit to Malfini, a.s. in Ostrava, the Czech Republic, Janne Ekholm from Sauter Biogas Finland sees new opportunities in their offering portfolio. At the RES meeting, Ekholm noted that he likes innovations based on re-thinking of existing solutions instead of untested new technology development with no guarantee. He also mentioned that Malfini's innovative system can be applied as such and will or has already been offered to their customers. As an example, Ekholm mentioned two cases; a bakery in Lieksa and a horse stable in South Finland to be the first customers to hear about this innovation. (Ekholm & Väänänen 2022.)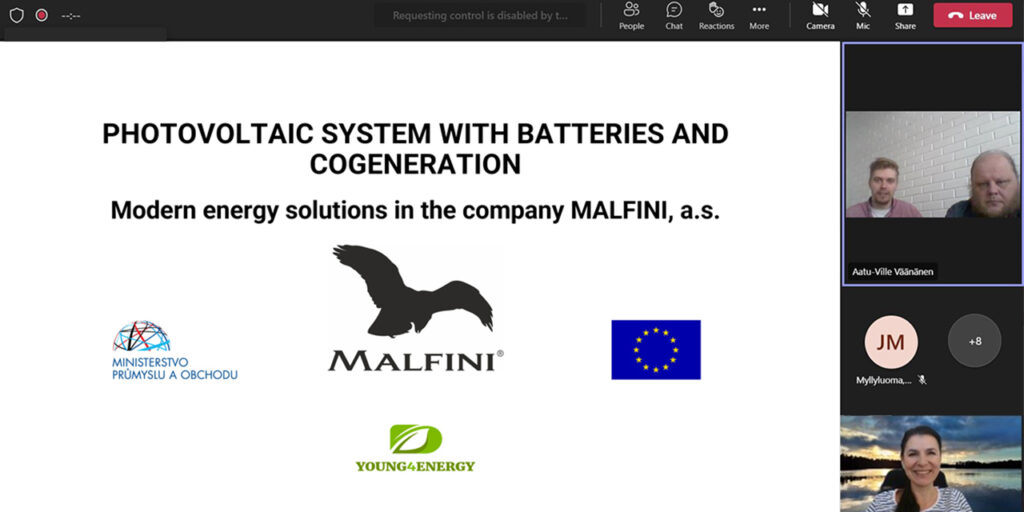 Complementing the above, Aatu-Ville Väänänen, One 1 Oy, presented the technology and technical details of MALFINI's concept. According to Väänänen, he learned a lot during the study visit and foresees the possibility to utilise the gained knowledge as an added value to their offerings. (Ekholm, & Väänänen 2022.) The study visit was summarized in the Expert Mission on Decentralized Renewable Energy Solution blog. Link to Expert Mission on Decentralized Renewable Energy Solution -blog post.
Action Plans Development
Action plans (AP) are the main outcomes of both projects. In RESINDUSTRY, the AP draft consists of four actions dedicated to (1) renewables on the strategy level, (2) energy from biomass, (3) wind energy, and (4) energy storage. The final AP version is expected to be approved in April/May 2022.
The AP of SME POWER addresses the Climate Roadmap of Heinola City, currently under elaboration. It facilitates a strategic shift towards stronger inclusion of energy-efficiency and low-carbon development of SMEs, accompanied by the development of a climate and energy support concept for local companies. The Joint Secretariat of Interreg Europe approved the AP on 21 April 2022.
Environmental Manager of Heinola City, Keijo Houhala, explained the strategic linkages and themes of Heinola's Roadmap, where one of the main goals is to create green business possibilities for local enterprises. Jaana Myllyluoma from FCG complemented the big picture and pointed out that energy efficiency is now a more urgent topic than ever. The European Green Deal and the Fit for 55 climate package with revision of the Energy Efficiency Directive set the main guidelines, not forgetting about the EU Taxonomy for sustainable financing and its significance for businesses. Recently, the Ukraine war has forced us to totally rethink the self-sufficiency and security of our energy supply and adapt comprehensive energy efficiency measures even faster.
Authors

Katerina Medkova works as an RDI specialist at LAB University of Applied Sciences and acts as a Project & Communication Manager in the RESINDUSTRY project.

Jaana Myllyluoma acts as a Senior Adviser in FCG Finnish Consulting Group and coordinates the SME POWER activities on behalf of Heinola City.
References
Ekholm, J. & Väänänen, A.V. 2022. Expert Mission. Presentation given at the 6th RES Group webmeeting on 11.4.2022. Not published.
Links
Link 1. Medkova, K. 2022. Expert Mission on Decentralized Renewable Energy Solution. LAB Focus. Cited 18 Apr 2022. Available at https://blogit.lab.fi/labfocus/en/expert-mission-on-decentralized-renewable-energy-solution/
Link 2. Interreg Europe. 2022a. Project Summary. RESINDUSTRY. Cited 17 Apr 2022. Available at https://projects2014-2020.interregeurope.eu/resindustry/
Link 3. Interreg Europe. 2022b. Project Summary. SME POWER. Cited 17 Apr 2022. Available at https://projects2014-2020.interregeurope.eu/smepower/