The changes in our world and the society are overwhelming. We need innovative solutions to develop more resilient and sustainable economies. All regions in Europe are facing the same type of challenges. Thus, the European Union (EU) provides several types of funding to boost the transition. In order to enable regional actors to better utilize the provided funding regions are encouraged to work together. As part of the European agenda on supporting regions in smart specialization and green, digital and energy transition, 'Partnerships for Regional Innovation' (PRI) initiative has been launched to boost new ways of place-based innovation and cooperation (European Commission 2023a). PRI will support states, regions or groups of regions in their own ambition to design and implement a policy framework dealing with innovation, industrial development and sustainability transitions.
On the 28th March 2023 the European Commission the European Committee of the Regions organized a high level event on PRI as a bridge between smart specialization and other EU policies to promote innovation-driven territorial transformation (European Commission, 2023b). The focus of the day was to open up the way 'From playbook to implementation', from theory to practice.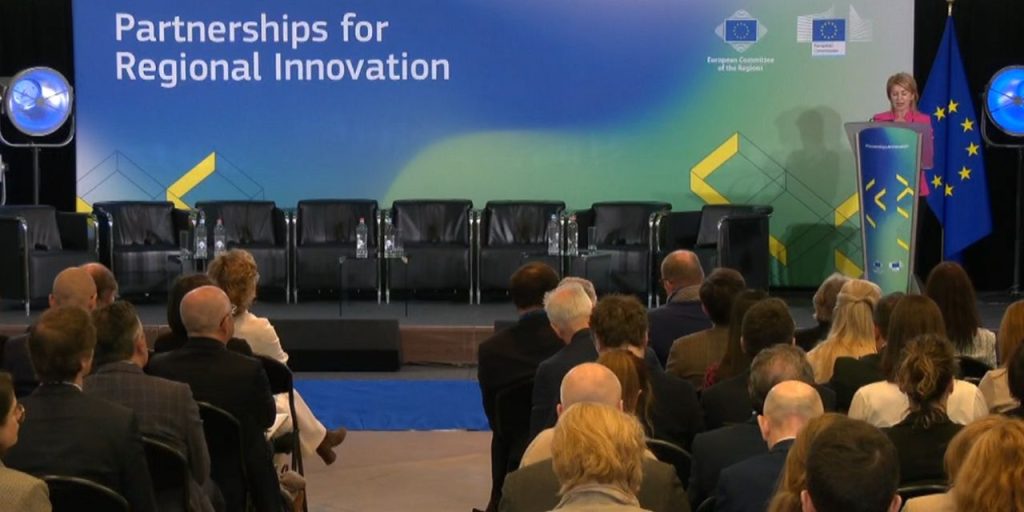 Combining Horizon funding and regional cohesion policy
Elisa Ferreira, Commissioner for Cohesion and Reforms, highlighted that today more than ever, regions need a strong innovation system. Through the PRI initiative the Commission wants to offer opportunities to support this through joint development, enabling joint actions for Horizon Europe and regional cohesion policy. A set of PRI pilots has been launched to lead the way. To further strengthen regional innovation systems the PRI will be widened, and regional actors are offered help to find partners. A call for expression of interest for regional matchmaking and developing regional innovation valleys will be open in April 2023.
Regions should be open to develop innovative strategies to support implementation of the European Green Deal. By connecting more innovative and not so innovative regions the Commission wants to enable a growth and wellbeing throughout Europe. In several regions, the key might lay in successfully combining a bottom-up with a top-down approach. The regional and local organizations and companies are crucial actors, the energy rising from the bottom-up approach should be utilized. Several speakers of the event reminded that even if regions focus on competitive advantages and enabling benefits for business, in the end, all development efforts are made to ensure the quality of life for the citizens.
Universities and universities of applied sciences are active drivers and cooperators in supporting and enabling regional innovations. The quadruple helix collaboration between science, policy, industry, and society forms an innovation ecosystem, which in many cases is the key to successful regions. While working towards joint goals, through addressing different funding instruments, a wider understanding and overall cooperation capabilities develop. The joint journey and path are as important as the final destination.
Author
Susanna Vanhamäki is working at LAB as a Chief Specialist in the field of Circular Economy.
References
European Commission. 2023a. Smart Specialisation Platform. Partnerships for Regional Innovation. Cited 28 Mar 2023. Available at https://s3platform.jrc.ec.europa.eu/Pri
European Commission. 2023b. Smart Specialisation Platform. Partnerships for Regional innovation as a bridge between smart specialisation and other EU policies to promote innovation-driven territorial transformation. Cited 28 Mar 2023. Available at https://s3platform.jrc.ec.europa.eu/w/partnerships-for-regional-innovation-as-a-bridge-between-smart-specialisation-and-other-eu-policies-to-promote-innovation-driven-territorial-transformation#general-information