June 2016, our second ever Vehicle Design graduation show will arrive.  STANCE16 will follow a similar format to STANCE15, with a public exhibition on June 2nd, following a VIP invitation only night on June 1st. We try to invite all of you who contribute to the automotive and vehicle design business here in Finland and across the world. Apologies in advance if we leave you out- let us know as our contact list needs to expand! First we have to prepare though, and even more importantly our students must complete their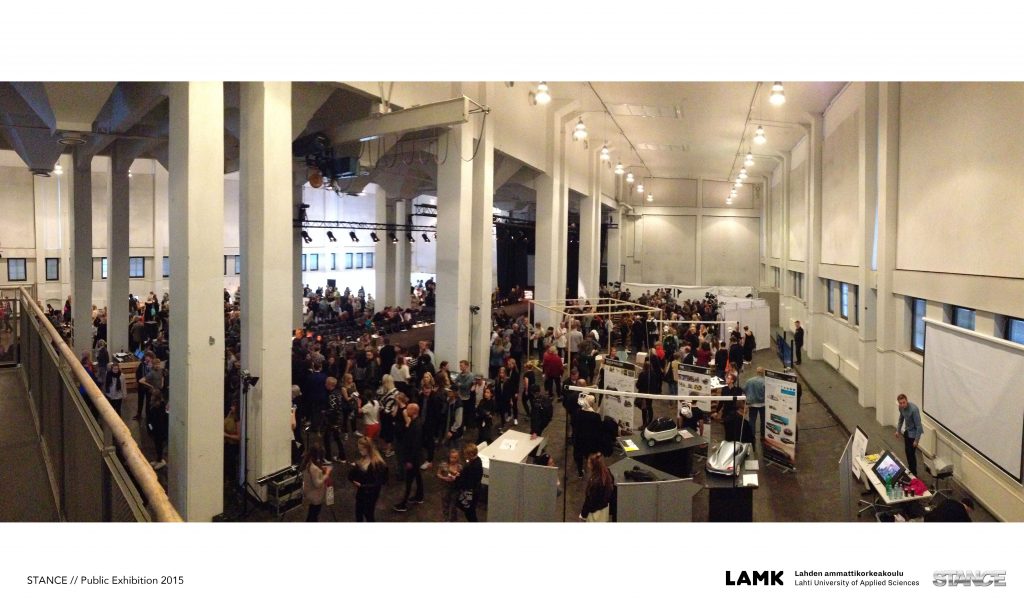 studies by creating a final thesis and design project. This year we will have a diverse range of projects and vehicles (no spoilers, unless they have aerodynamic function!) and we hope they will prove interesting to any visitors and our followers. 2015 gained us some great press coverage, for which we are very thankful. We bring you this blog post, to show what went into the show preparations last year and to showcase some of the projects once again. Please watch this space for news of this years show, and check your inboxes for those VIP invites!
Last year, students produced a couple of traditional 1:4 scale clay/hard models, another 3D digitally printed vehicle at 1:8 scale, and impressive digitally realised designs. Here is some information from our 2015 graduates.
Graduation works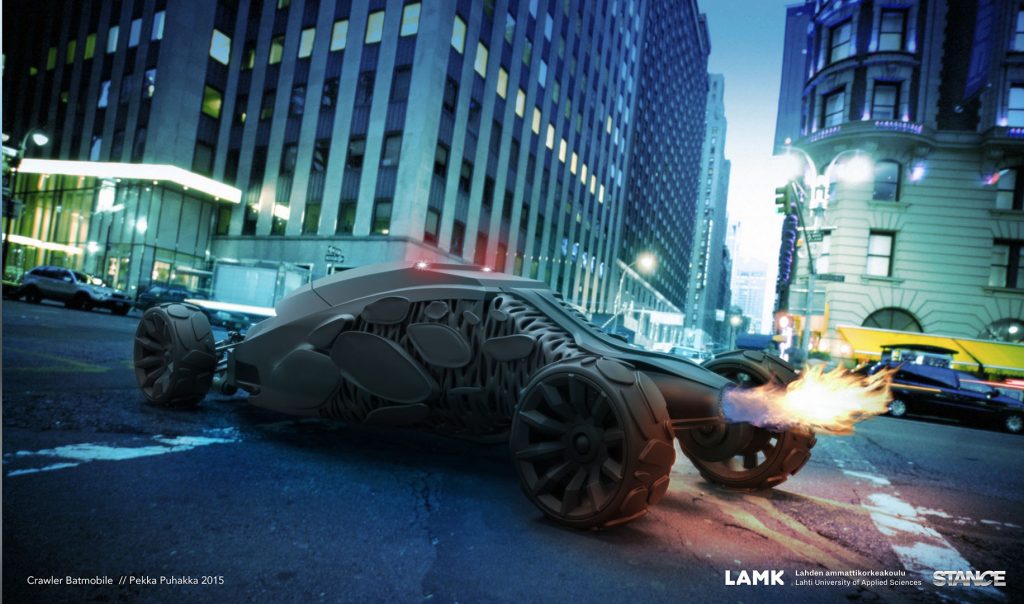 Pekka Puhakka / Crawler – Batmobile
The goal of my graduation project is to study Batman as a hero and the phenomenon and history behind the character. Based on my background studies my aim is to design my own visual concept of the legendary hero-car called Batmobile. The end result will be a written graduation project, finished 3Dmodel and renderings of the model in an environment that is representing Gotham City. After the final seminar the aim is to produce 3D-printed plastic scale-model car to be used in all the possible presentations that are going to be held later on. The work represents my own vision of Batmobile. It has nothing to do with DC-Comics that owns all the copyrights to Batman and Batmobile. This is a student project and it will not going to be used in any kind of commercial purposes in future.
Pekka is now working for Wärtsilä.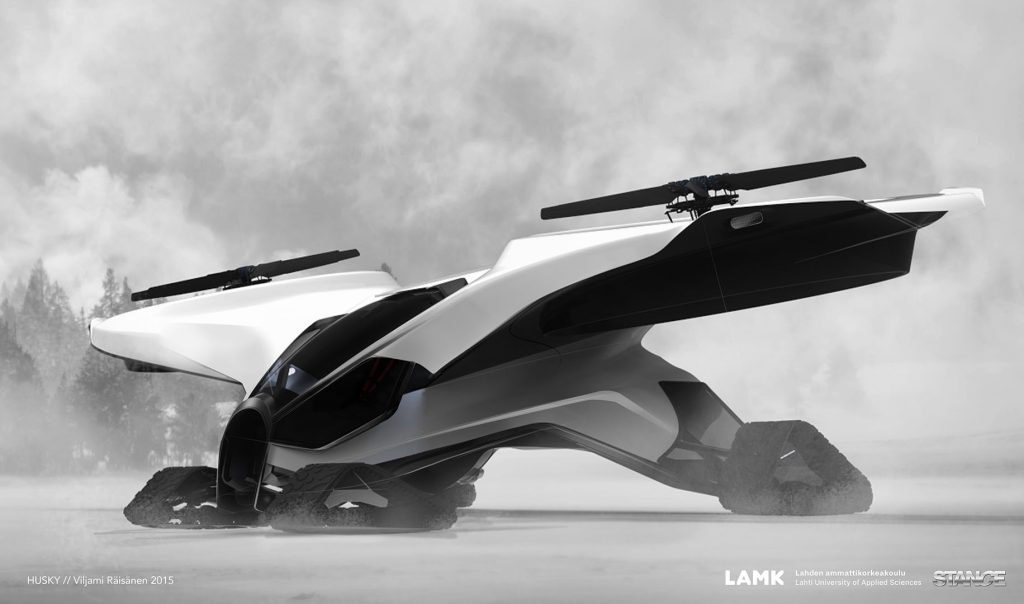 Viljami Räisänen / Husky Hybrid Rescue Vehicle
This is the graduation project of Vehicle Design course made in Lahti Institute of design (Lahti University of Applied Sciences) The subject of the project is a futuristic vision of a "search & rescue" vehicle for arctic regions operating both on land and in the air. In this project one concentrates on search and rescue work in certain areas, rescue methods used in arctic conditions and technology that is used in rescue vehicles operating on snowy conditions. The character of the project is meant to be a conceptual vision of future needs of search & rescue vehicle in arctic regions for a year 2035.
Viljami is now studying Transport Design Masters program at Umea University.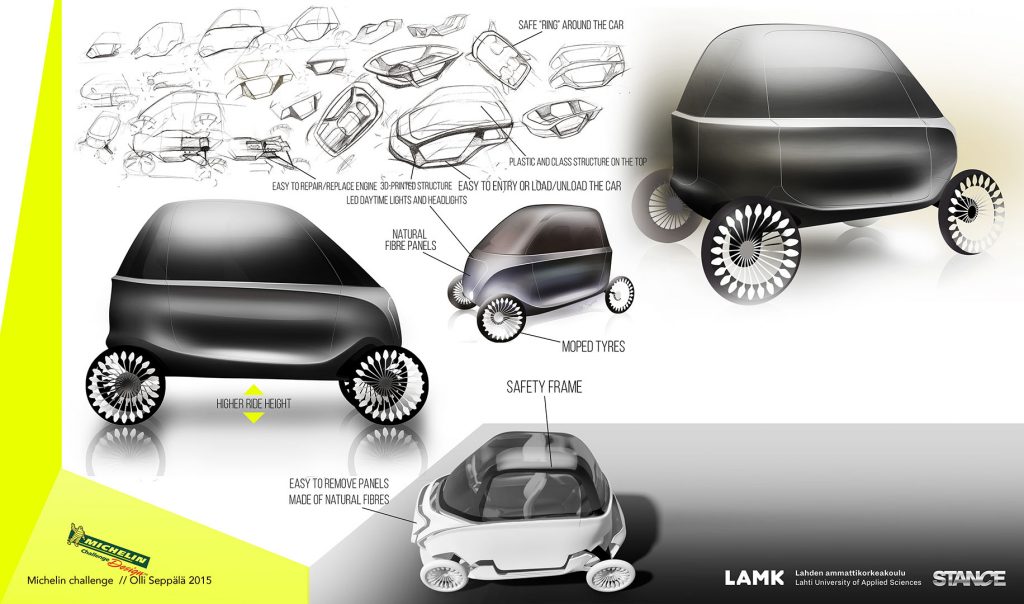 Olli Seppälä / Michelin Challenge
The topic of this graduation project is a competition work to an international automotive design challenge named Michelin Challenge. The Challenge has been organized almost every year and this time the brief is to design a people's car for an already defined or self-defined market sector. I designed an electric or hybrid powered car and its market sector is South-Asia. In this project I have studied the conditions, roads, traffic and culture that affects the final design. I made a study of old car icons which have reached the people's car-title in their own time. My concept is meant to be a very light weight and environmental friendly car and in its design process I have focused on the manufacturing. This car's structure is 3d printed and the manufacturing is meant to happen locally close to the consumers. In this thesis I focused mostly to the car's basic appearance, exterior and functionality but I designed also the interior to the car. This project includes a 3d-model, clay model and hard model.
Olli is currently teaching at LAMK and working freelance.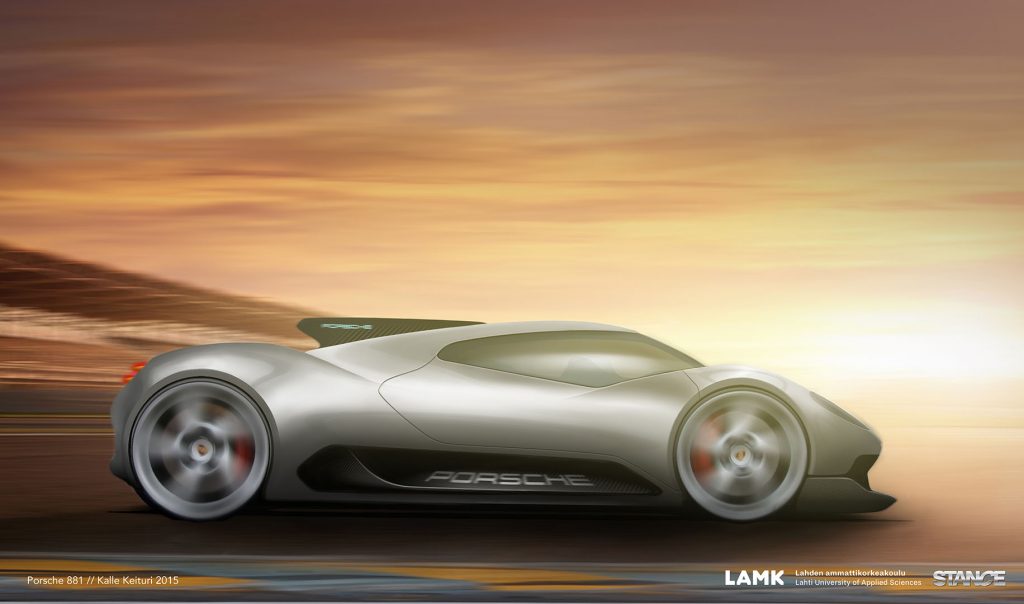 Kalle Keituri / Porsche 881
Chemistry and nature offer a lot of sustainable solutions to be used. Inspired by reactioms, forms and adaptability of advanced sciences, a conceptional idea for my graduation project was formed. By exploring the history of different car brands, Porsche was fullfilling the needs of my concept perfectly. My aim was to create a connection between Porsche design philosophy and chemistry. The concept idea is to make a bold and pure interpretation of a future Porsche sports car. My project concentrates on exterior design. Together with chemistry inspired innovative technological, material and aerodynamic solutions, the aim is to give Porsche design language another expression. The main focus in this project is the design process from early ideation sketches to an 1:4 sized scale model of the exterior and by this to develop my skills as a designer.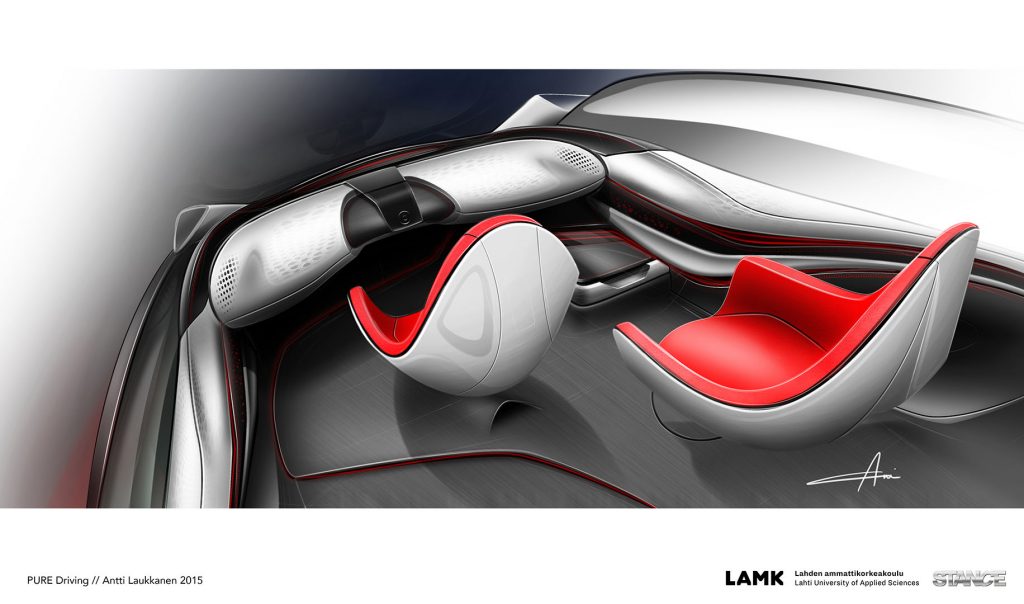 Antti Laukkanen / Pure Driving
Pure driving is a design study of an autonomous car interior. As it is a study of design, it is also a study of the core idea of driving and driving experience. My concept PURE differs from classic autonomous car interiors as my goal was to cherish the very original purpose of driving. Autonomous car interior concepts are almost without exception closer to normal livingrooms than what we consider automotive interiors. So in my research I focused on finding out what makes a good driving experience and how can I maintain the best possible experience, when we get rid off the steering wheel as it is essential in a contemporary car. I needed to find out what other senses and factors are activated in good driving experience. This concept is made for public use so it should show that it is accessible for wide range of users.
My research incldues the history and evolution of the car industry, its technical solutions from materials to powersources and also a new possibilities that autonomous cars bring along themselves. However, I didn't want to go too deep in to technical solutions and manufacturability, but concentrate on materials and possible experiences and scenarios.
Big part of the research was the future and user research method, that I used to get ideas what is pure driving and which objects are essential inside the car. With this method I also wanted to show a new approach into future research and show that maybe we have to change our way of thinking about future users.
My first intention was not to brand my product for any brand but as I was doing my research I realized that it fits well in to values of Google. Google also launched their autonomous car concept little while ago so I thought that I have a good chance to show my own perspective of Google's autonmous car interior.
The final product is presented in 2D renderings and pictures. In my design process I used also physical and computer model mockups as a design tool.
Antti is now studying Transport Design Masters program at Umea University.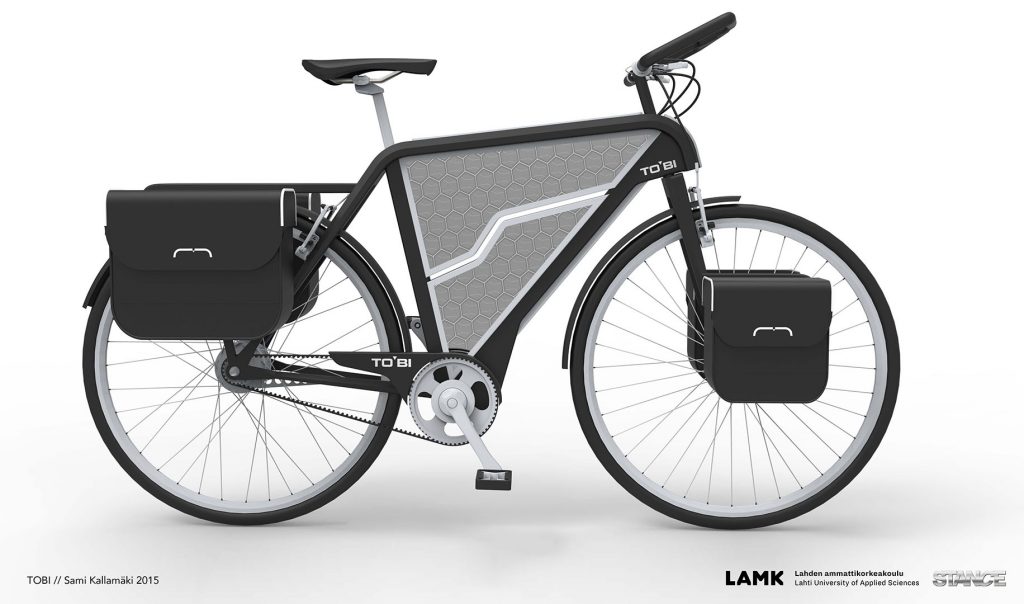 Sami Kallamäki / TOBI –electric assisted trekkind bike concept
Topic of this thesis is electric assisted trekking bike concept. Design target is aesthetic trekking bike for longer distances using todays technology and tomorrows innovations. Design drivers are credibility and clearness.
Sami is still to decide on his next adventure… contact us if you would like to make him an offer!
I would now like to share these exclusive images, which were not released to the press. These are rough images from behind the scenes during the 6 months of 2015 leading to our show. Images from our workshops, our design classrooms and finally setting up and running of our public exhibition in conjunction with the entire Lahti Design Institute in 2015.
Another gallery is needed to show the actual VIP event, and also the public exhibition. Most of these images were published by other news blogs at the time, but now we add some of our own packing up images. We had no idea we would be back at the same place 2016!