STANCE 2020
June 2020​ – This year we celebrated the graduation of students that started their studies in the autumn of 2016. Because of the global COVID-19 pandemic the Institute of Design Degree Show could be organised this time only on social media platforms. The Institute of Design Degree Show was titled SPECTRUM. The STANCE20 show was held side-by-side with the MI Degree Show on STANCE social media channels.
All graduating students of 2020 were invited to display their graduation projects on the virtual STANCE2020 show. The show drew some valuable attention, although without an actual exhibition display, reaching a local audience turned out more difficult than usual. Some of the Vehicle Design projects were on display at the MI Degree Show, but the STANCE2020 show exhibited a total of 9 different vehicle design graduation projects. We were proud to show a large variety on the graduation projects; from entry-level super cars and specialised vehicles to production-ready trailers and service design concepts. These are the projects in our student's own words.
Matias Pekkonen
KORG MEW/40
KORG MEW/40 is a shared mobile workspace for electronic music. It provides tools for extensive music and sound creation as well as sharing and streaming. The vehicle is targeted at a niche demographics of professional and amateur musicians.
MEW/40 uses visionary technology such as haptic hologram touch-control and a generative music tool. The concept emphasizes KORG's impact on sound technology over the last 40 years and envisions the brand's future identity, while assessing the possibility of a vehicle concept.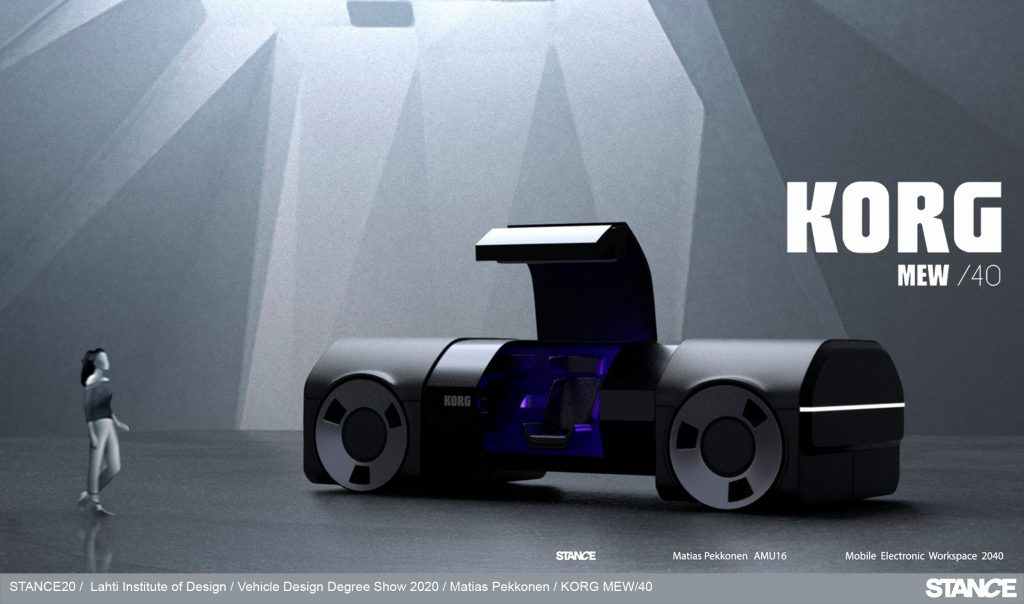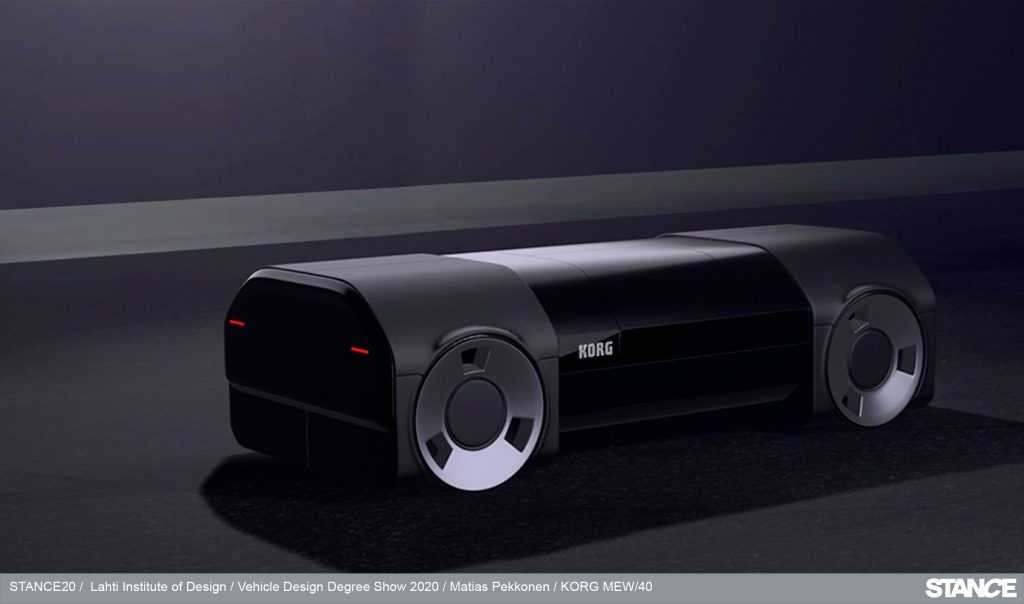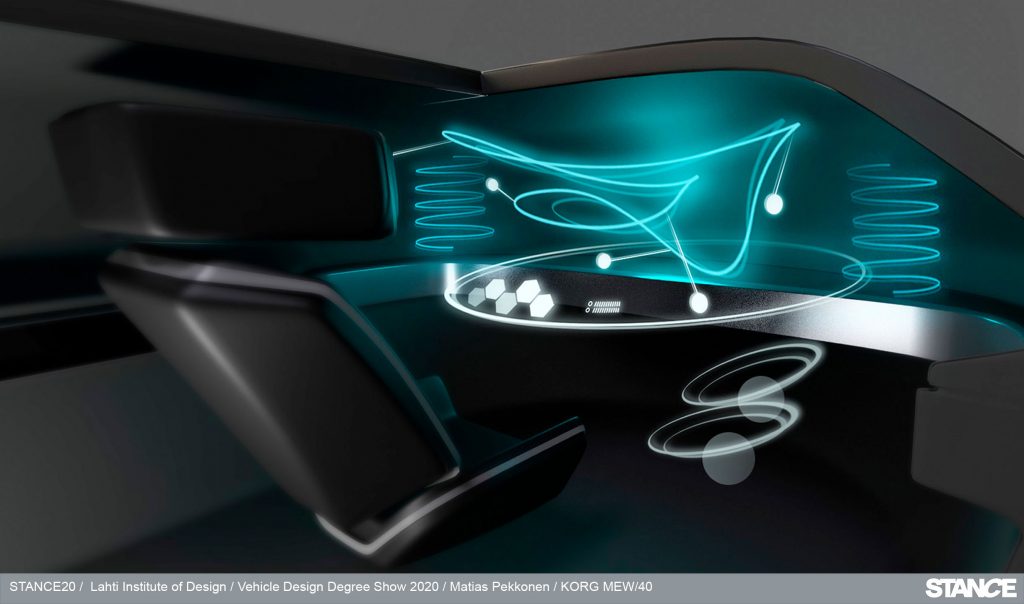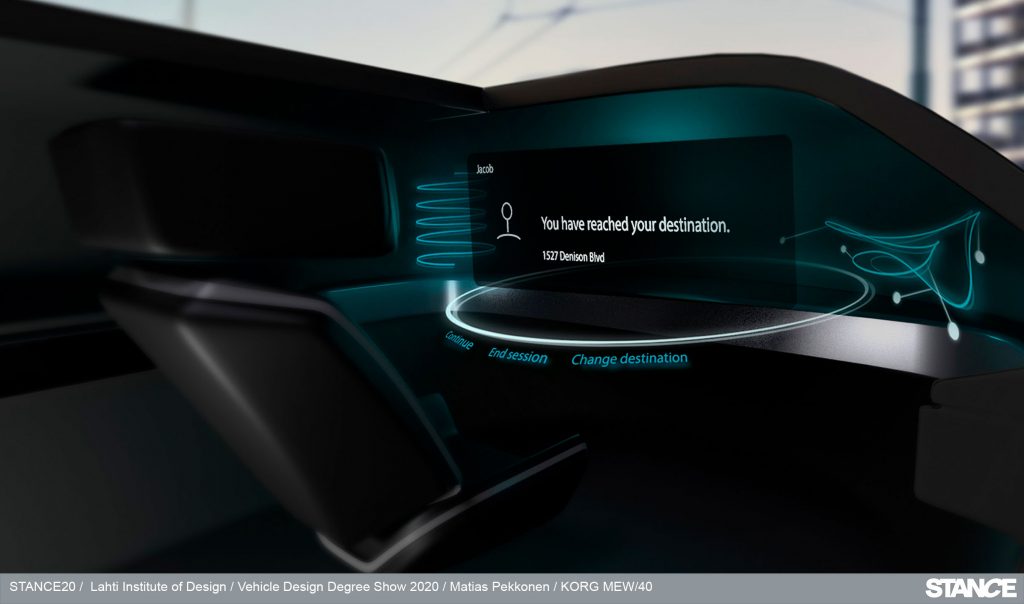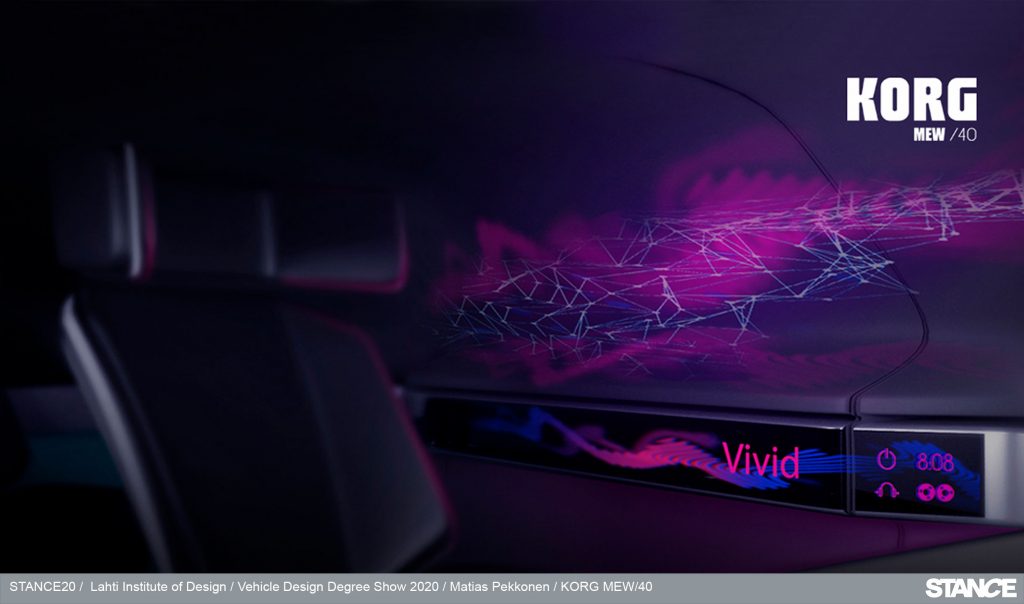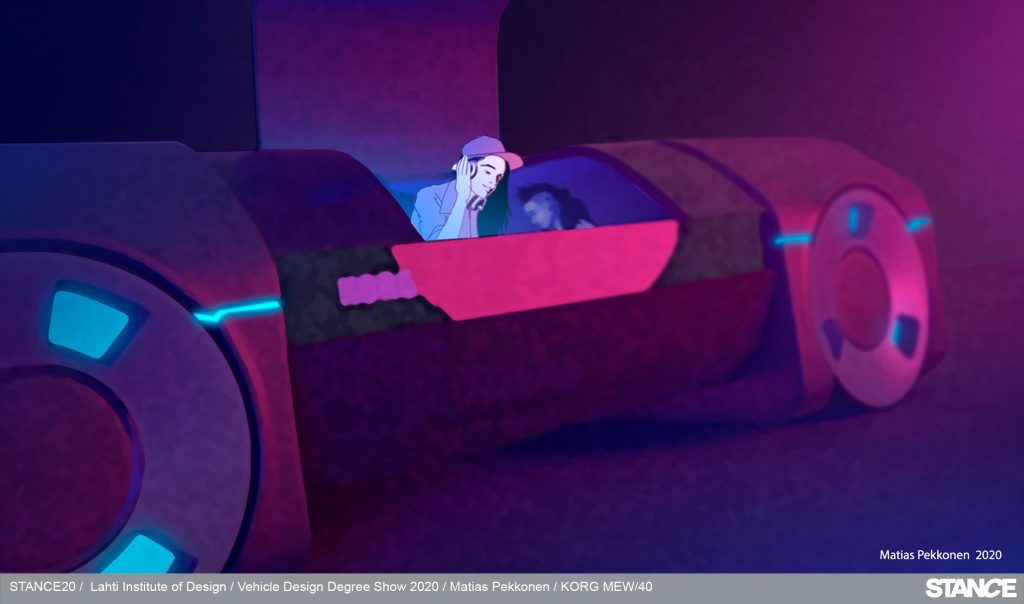 Antti Tirri
Yoga Balasana
Yoga Balasana is a vehicle concept for a city in 2040. This project goes through current and upcoming trends in our society. The concept is visually based on slow living and yoga. The final product is a 3D model and renders of an autonomous vehicle, where one can practise yoga inside.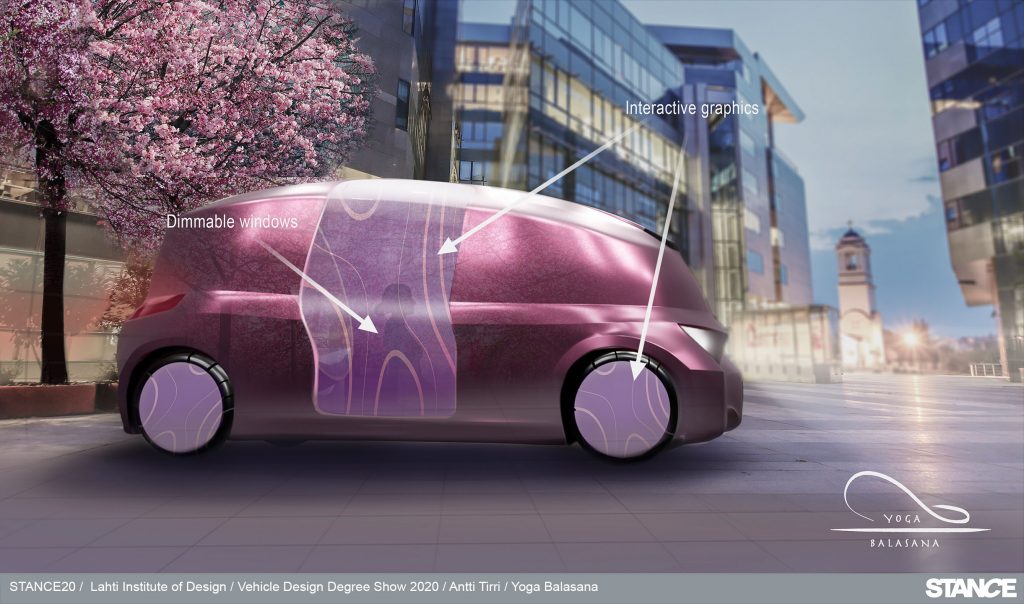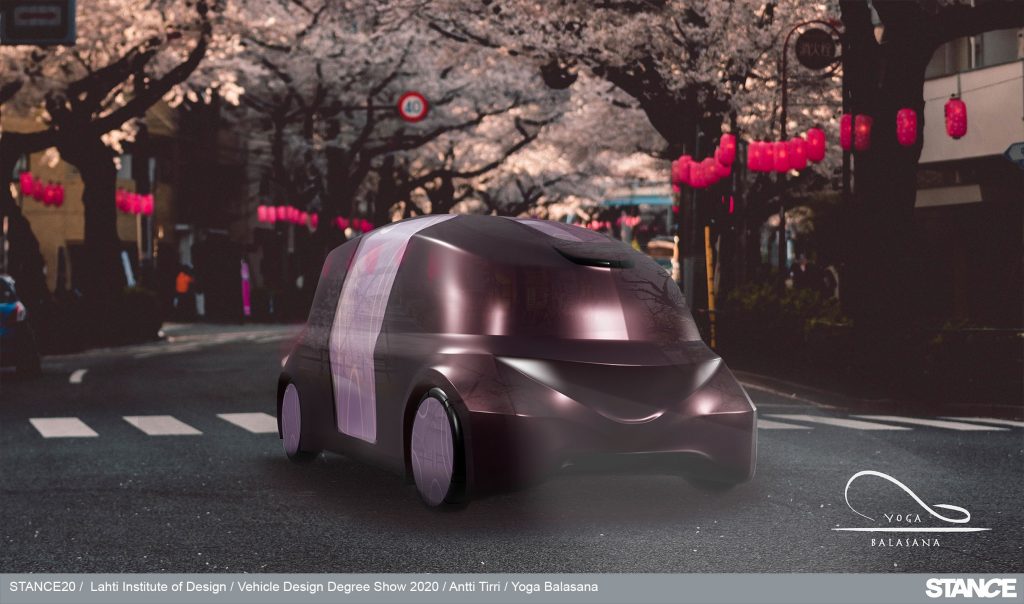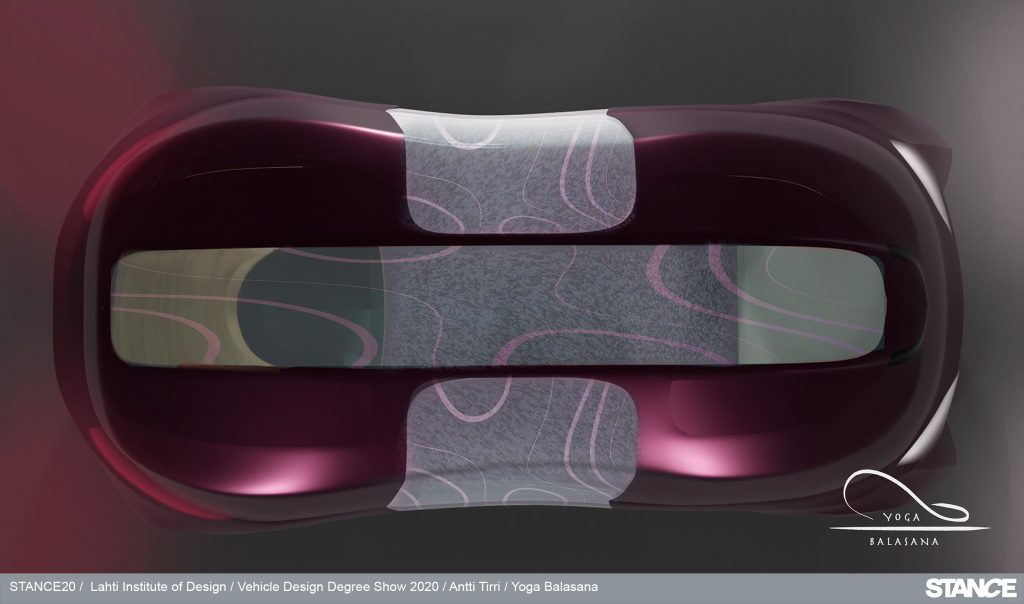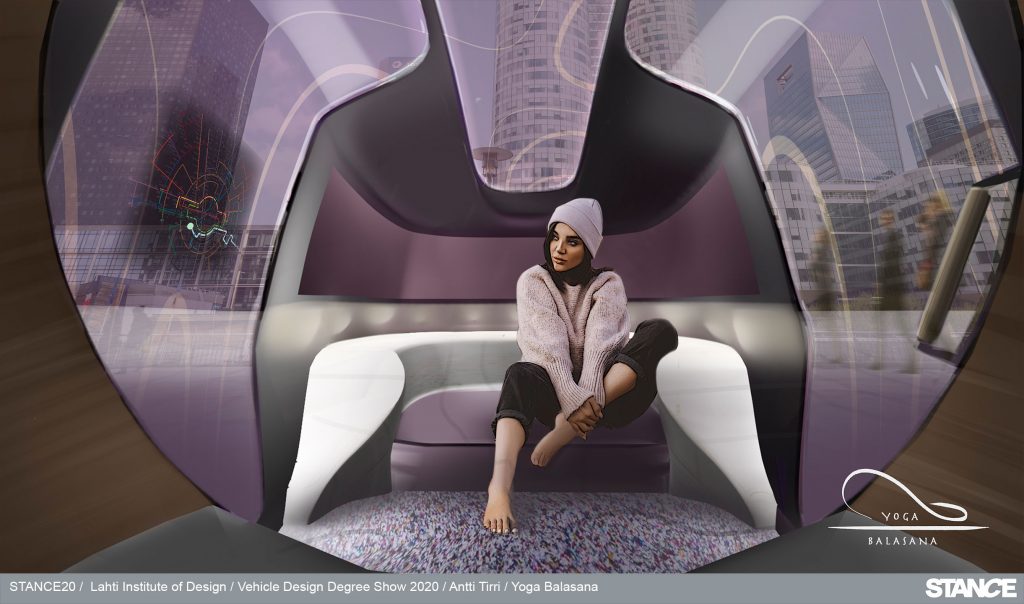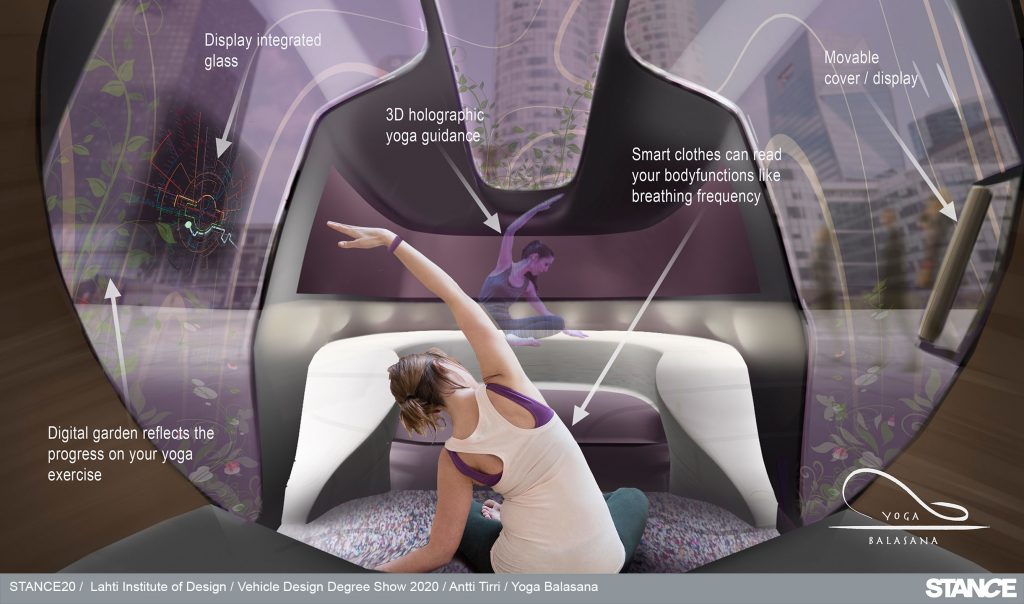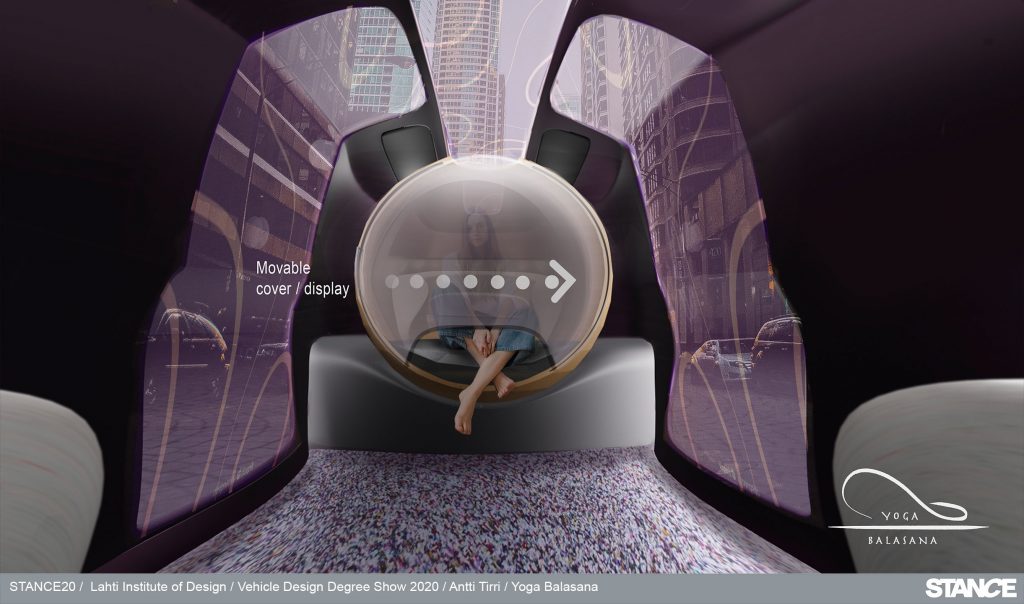 Jarkko Salonen
Polestar Prebike
Polestar Prebike is an all-electric motorcycle concept for the year 2025. The electric car manufacturer Polestar was chosen as the brand for the project. Polestar is a pioneer in technology and sustainability in its field.
In this scenario, Polestar wants to expand into the motorcycle market by creating new innovative solutions and developing already existing technology into a smaller and more efficient form. In the project, I study how Polestar's values, technology and new design language can be brought to motorcycles.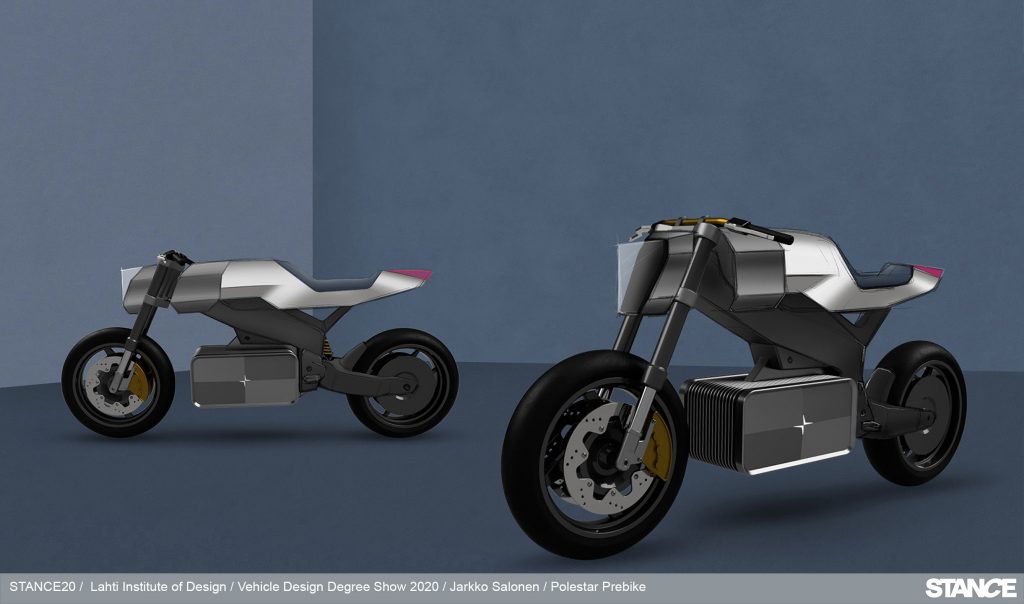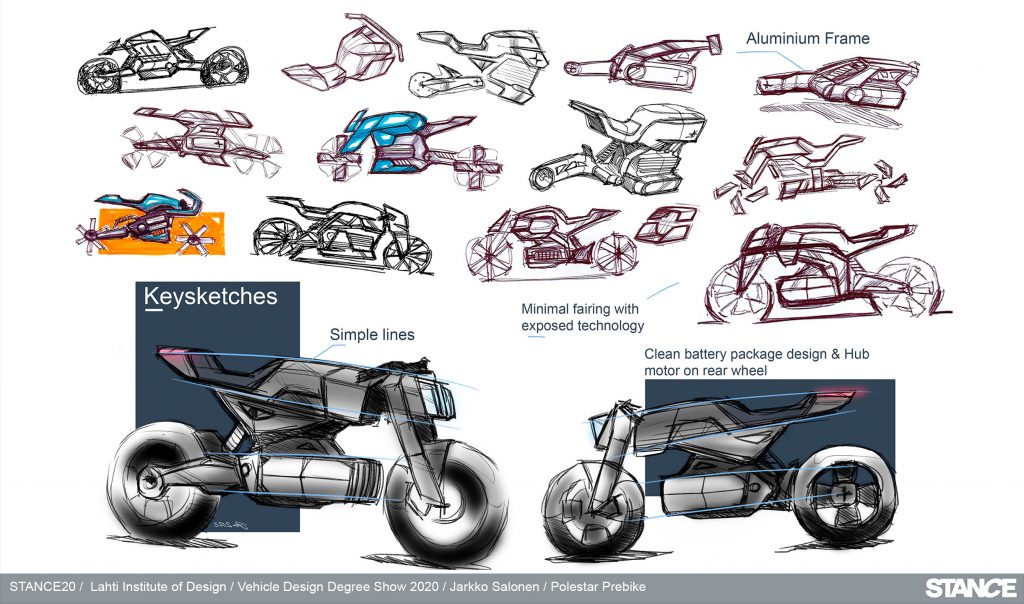 Julius Ranta
2030 MITSUBISHI Urban EV Concept
2030 Mitsubishi Urban EV Concept is an urban car concept for the year 2030. The concept car shows what a small urban vehicle could look like in the future and what new possibilities future technologies bring.
Mitsubishi Urban EV Concept is a four-seater electric vehicle powered by two electric hub motors inside the rear wheels. The hub motors free up space from the front which gives more space for the interior. The objective was to have as large an interior as possible in the smallest exterior dimensions.
The design of Mitsubishi Urban EV Concept emphasises functionality and user-friendliness. It prioritises interior space and comfort, which is made possible by an intelligent layout, large smart window surfaces and a partial autonomous driving system. The concept has an advanced driving assist system for driving in urban streets, and on rural roads it can drive completely autonomously. The steering wheel can be folded behind the dashboard and the front seats can be rotated 180 degrees when the vehicle is driving autonomously. The large smart windows can display information for the passengers as well as change the tint and cloudiness of its surface. During parking, the windows can be made opaque to block the visibility inside the vehicle.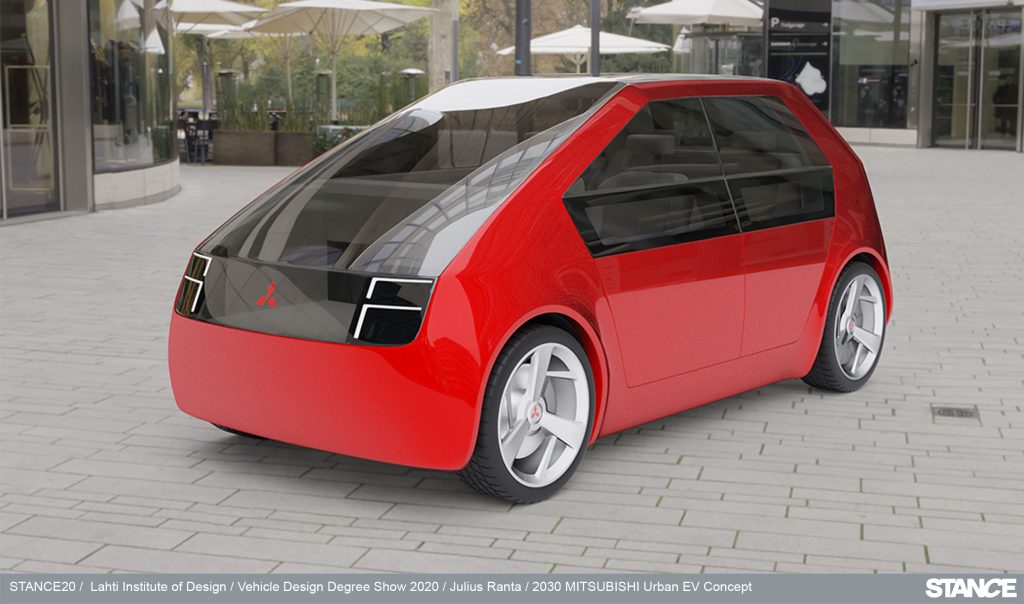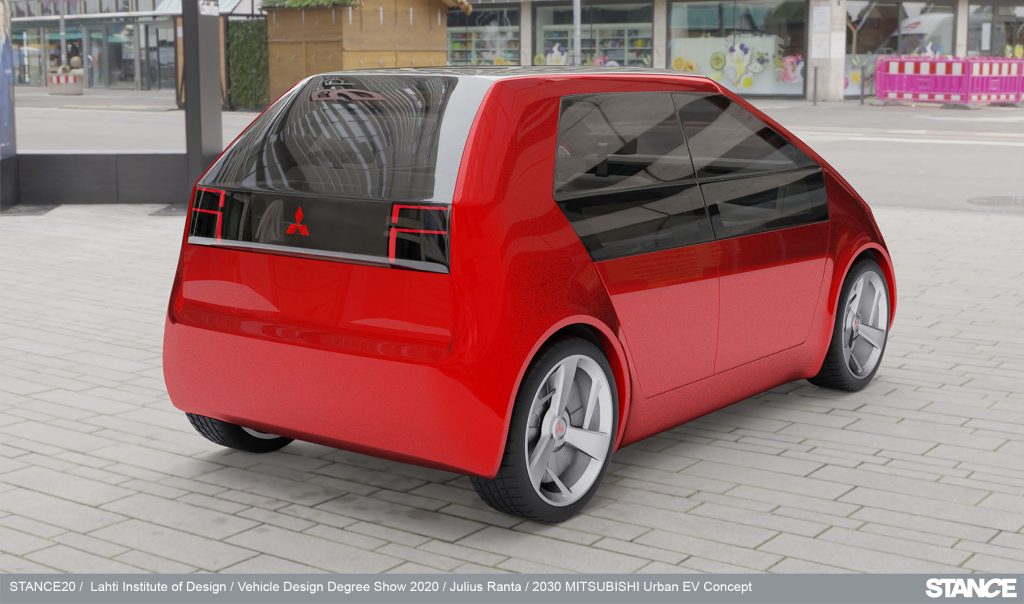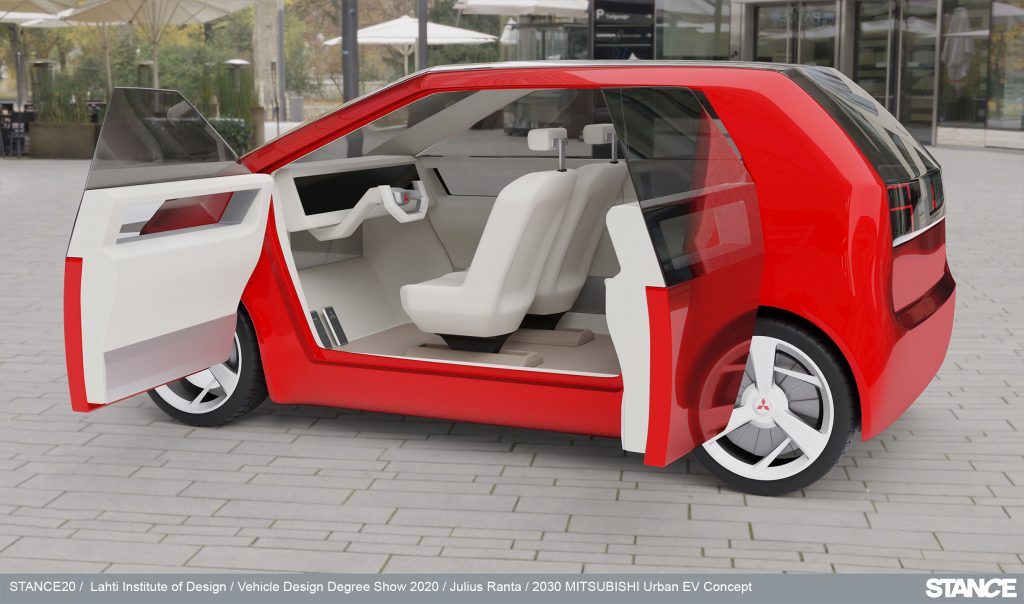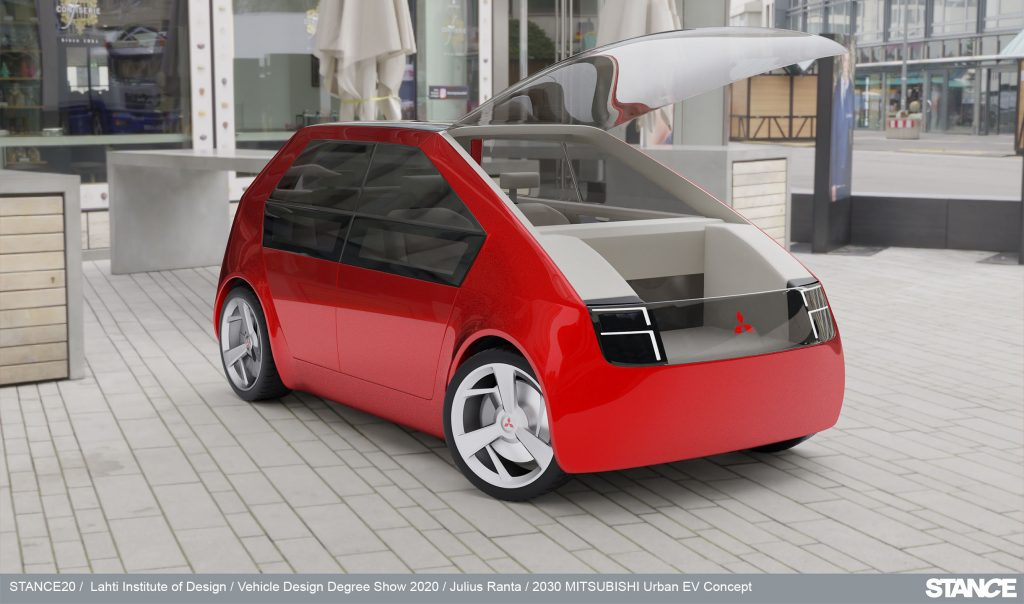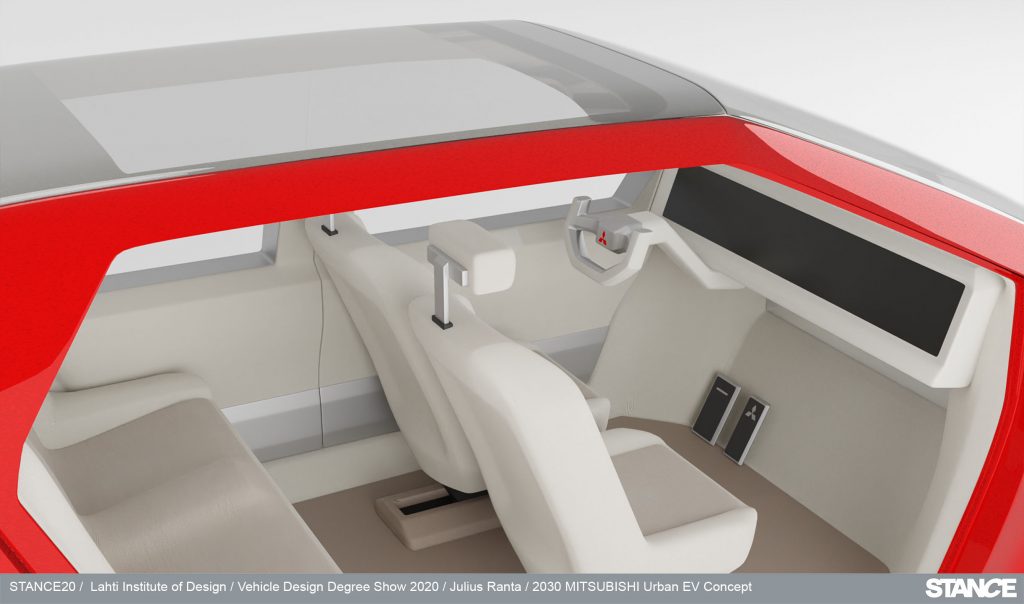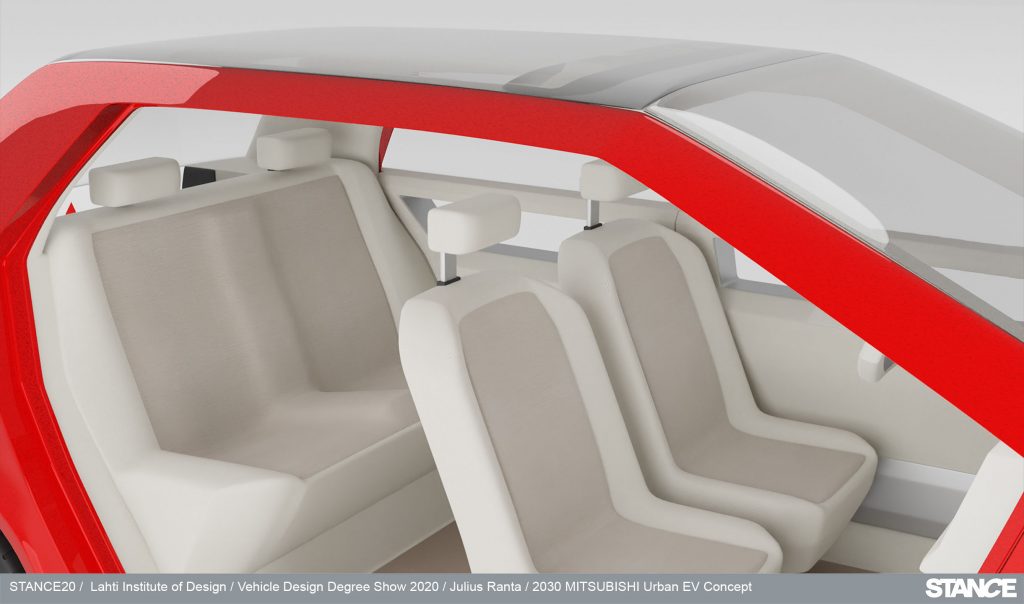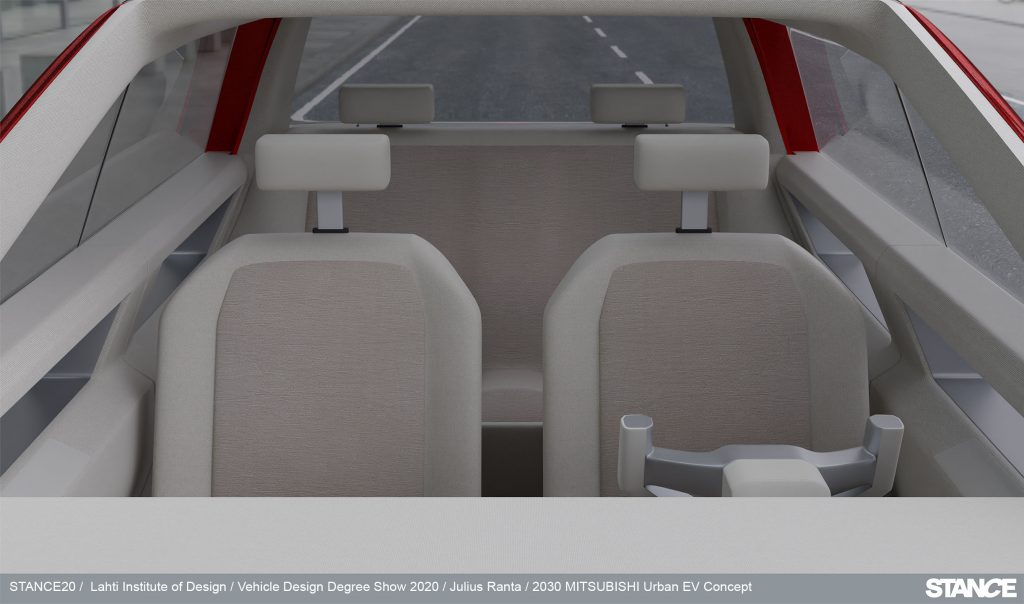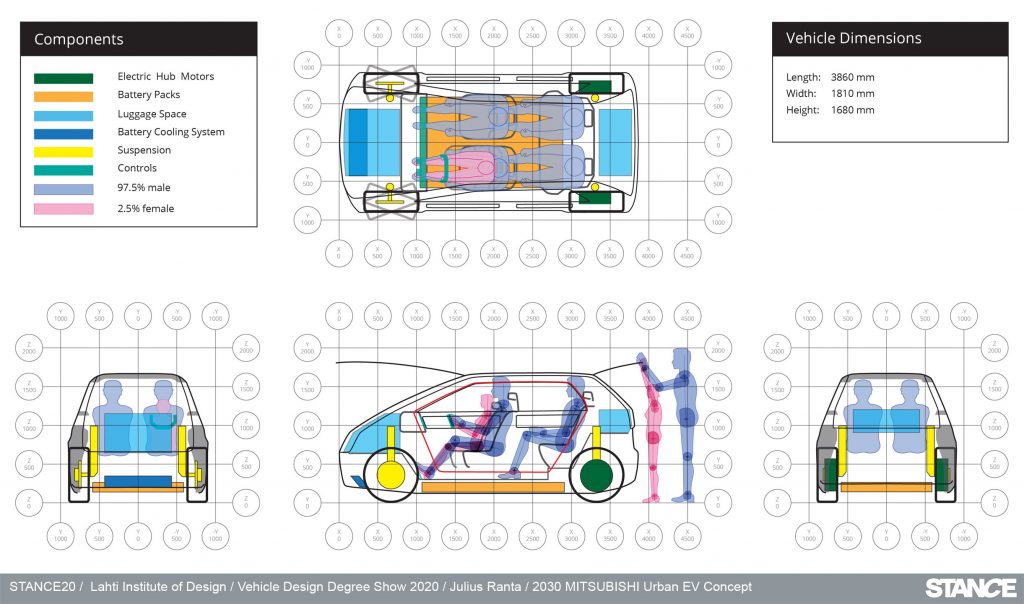 Tuomas Tolonen
DÆRK DRAGON
The task of DÆRK DRAGON project was to design an autonomous luxury vehicle for the Chinese market. The goal was to create a symphony of new technology in a luxurious environment. It includes new features such as hybrid hydrogen fuel cell drivetrain and hologram & gesture control. As a result of this project, a 3D model was made.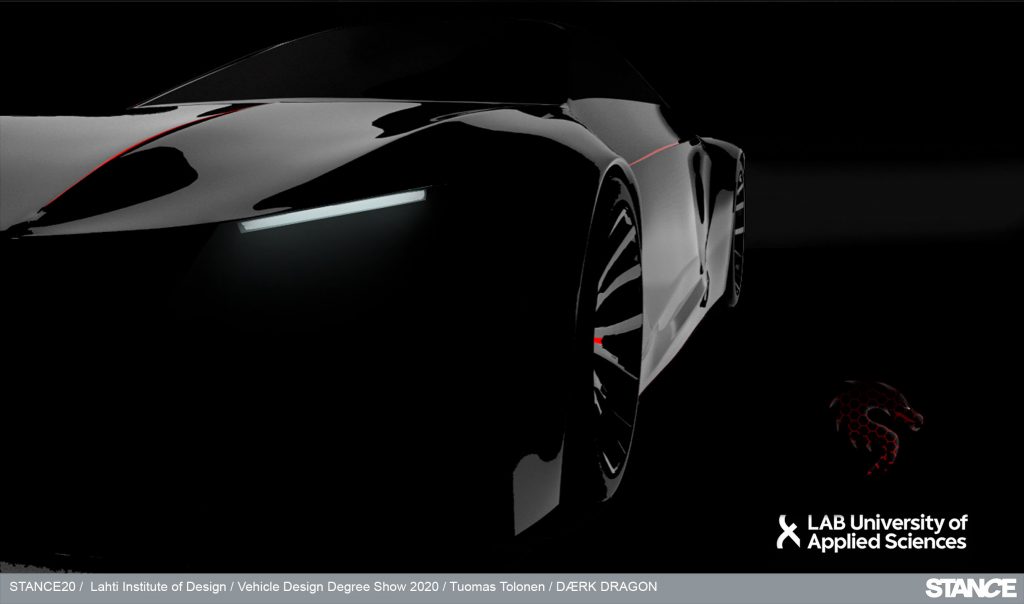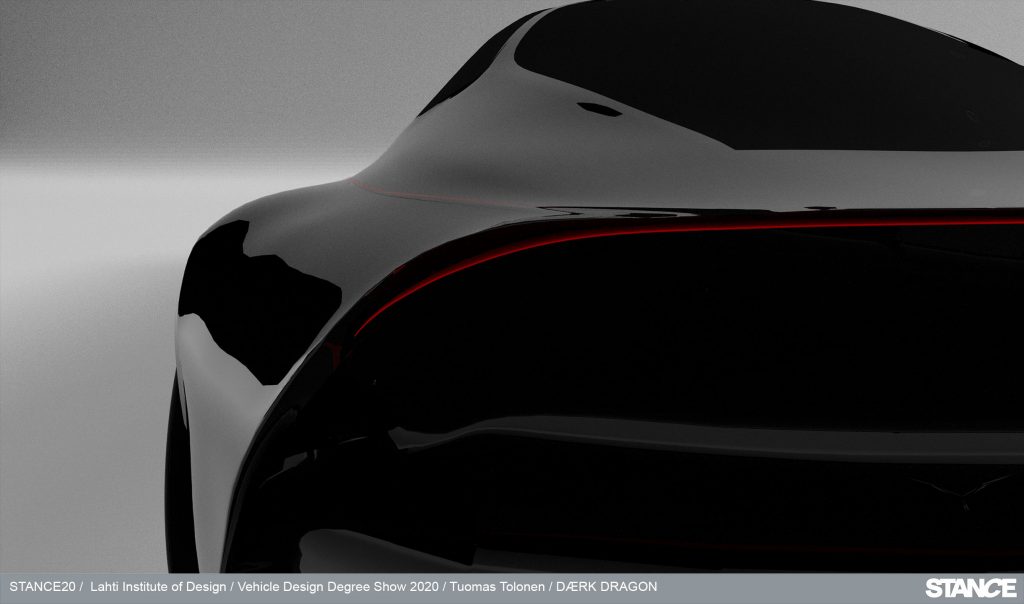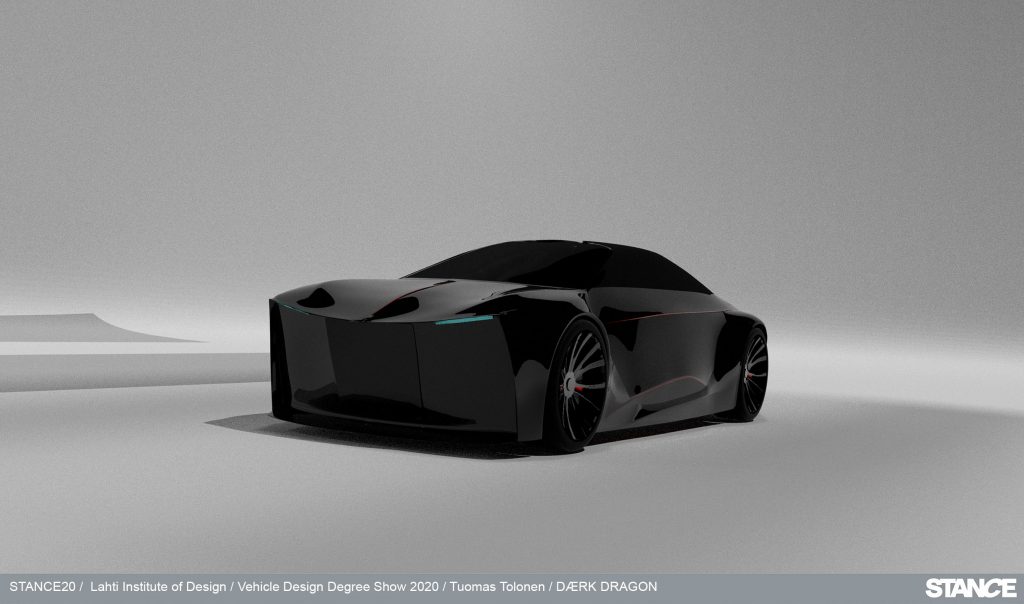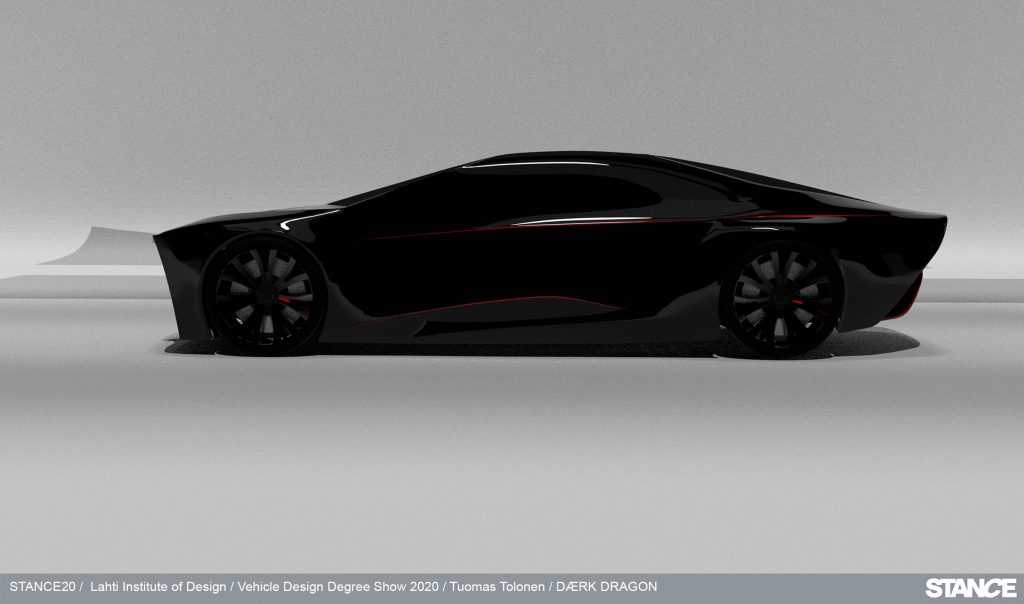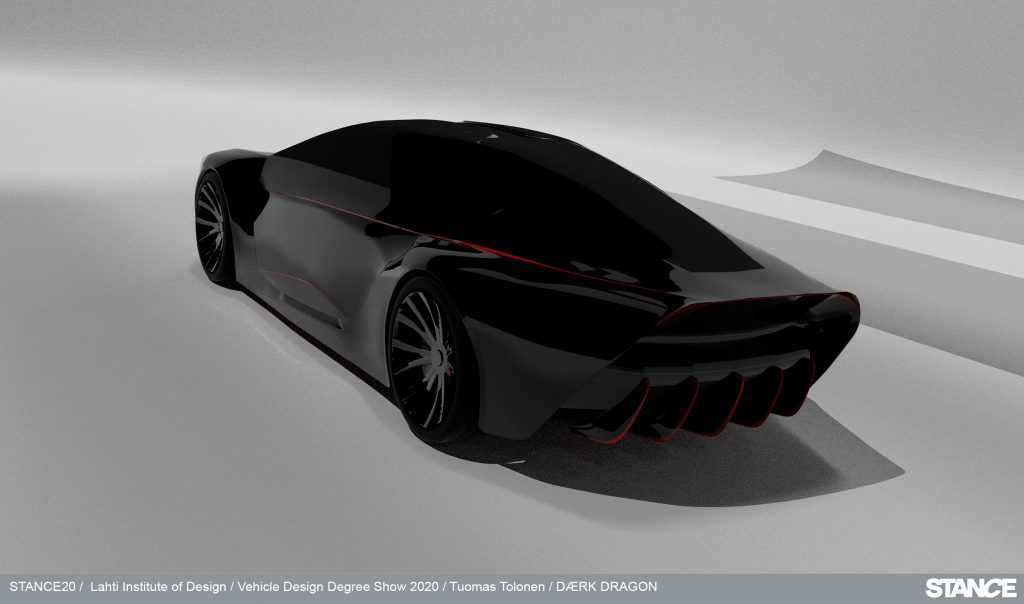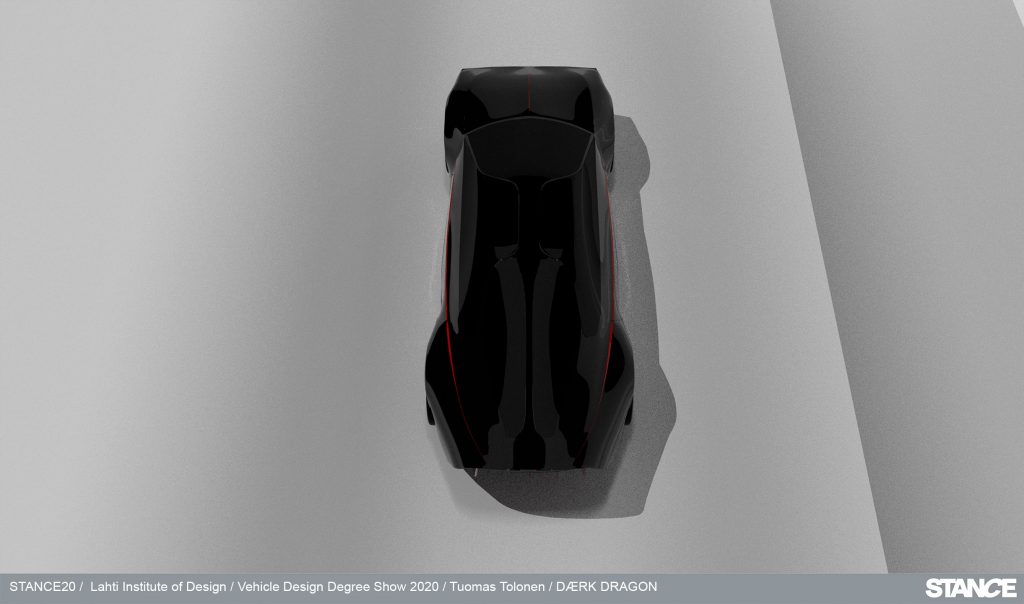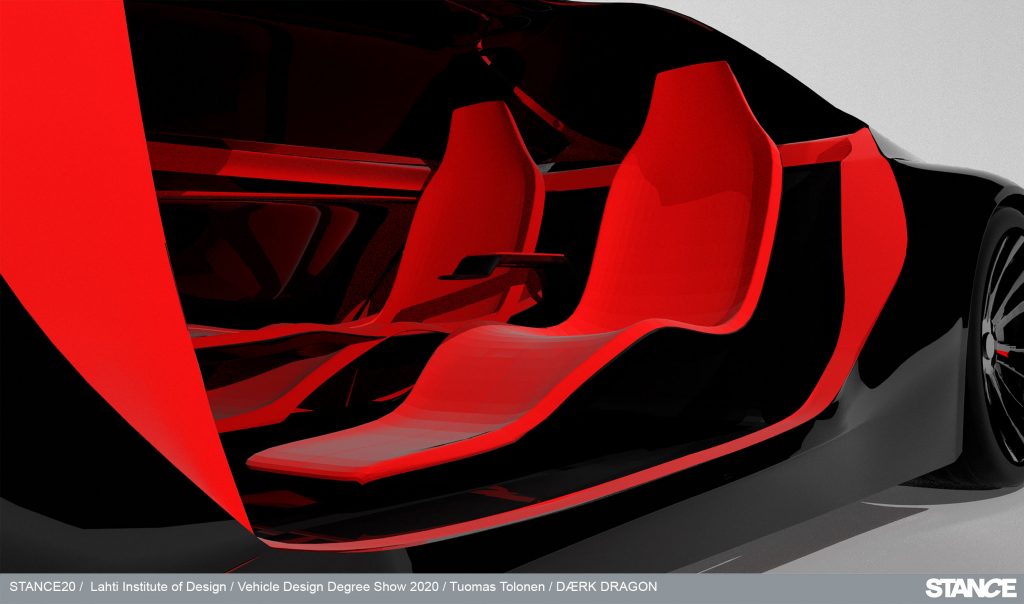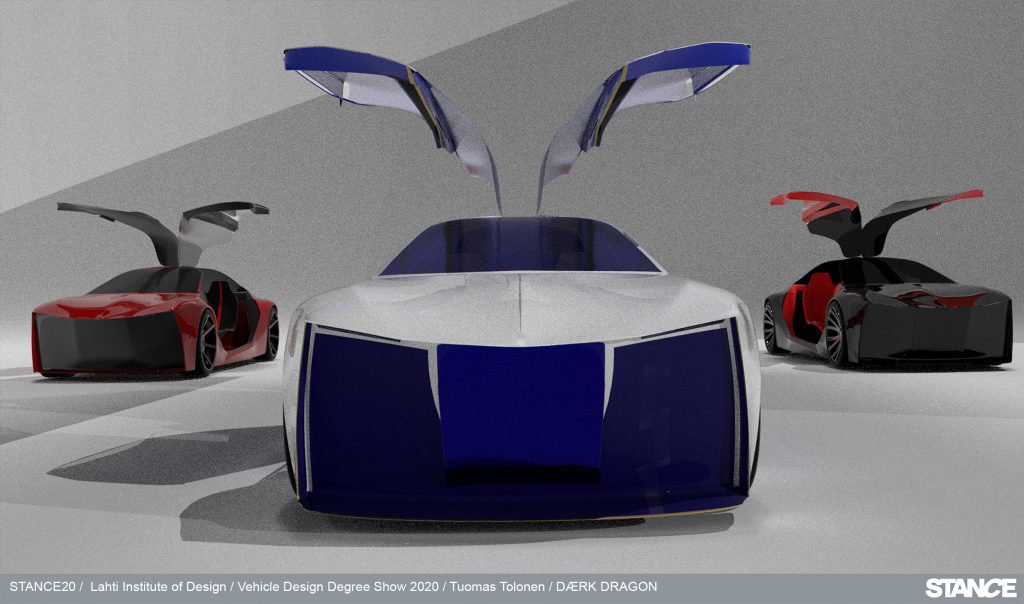 Matias Laaksonen
Lunaliner Concept Car 2030
I did my Graduation Project for Oy Lunawood Ltd which is a global marketing leader in Thermowood manufacturing. In this project I studied the suitability of Lunawood materials for a car and especially for its interior while implementing the best possible concept car to market Lunawood's products.
The concept car to be implemented is set for 2030 when increased population growth will significantly increase traffic jams. At the same time, the concept is a solution for replacing time lost in traffic jams and utilize it with the benefits of the concept car. In this project, I testified that making a car is more environmentally friendly with the help of right materials and design.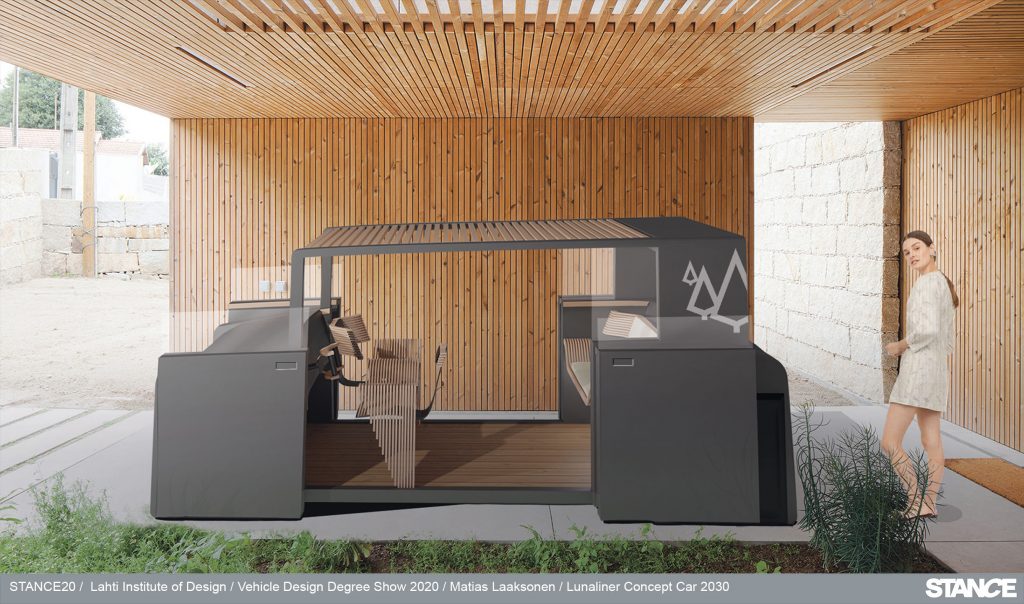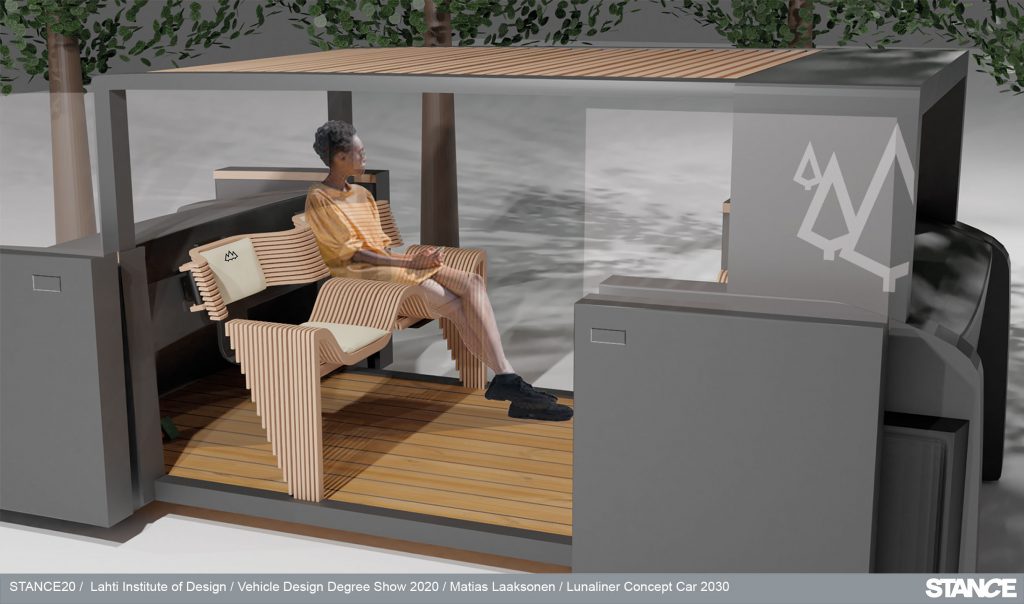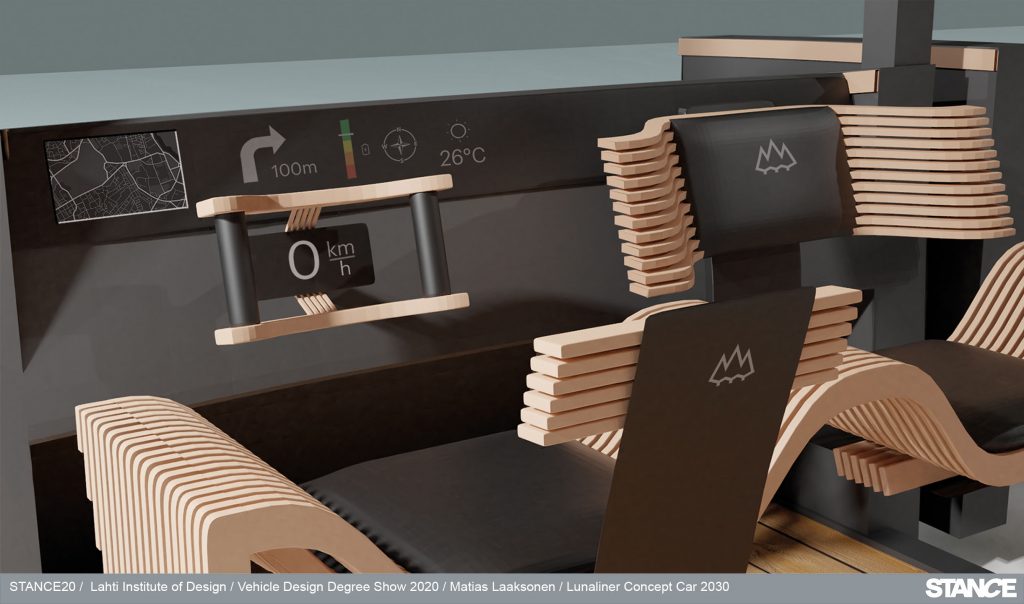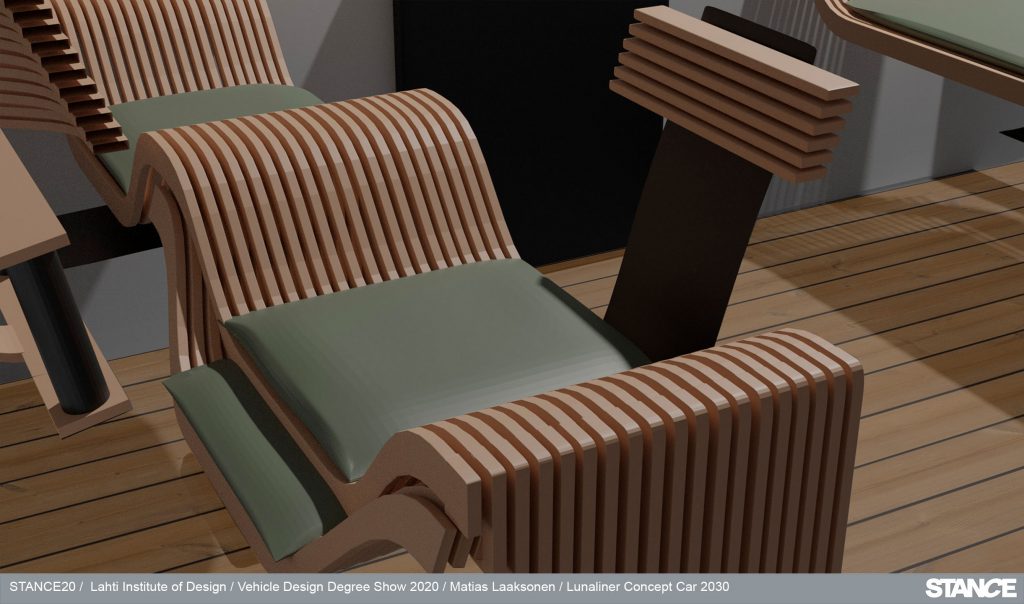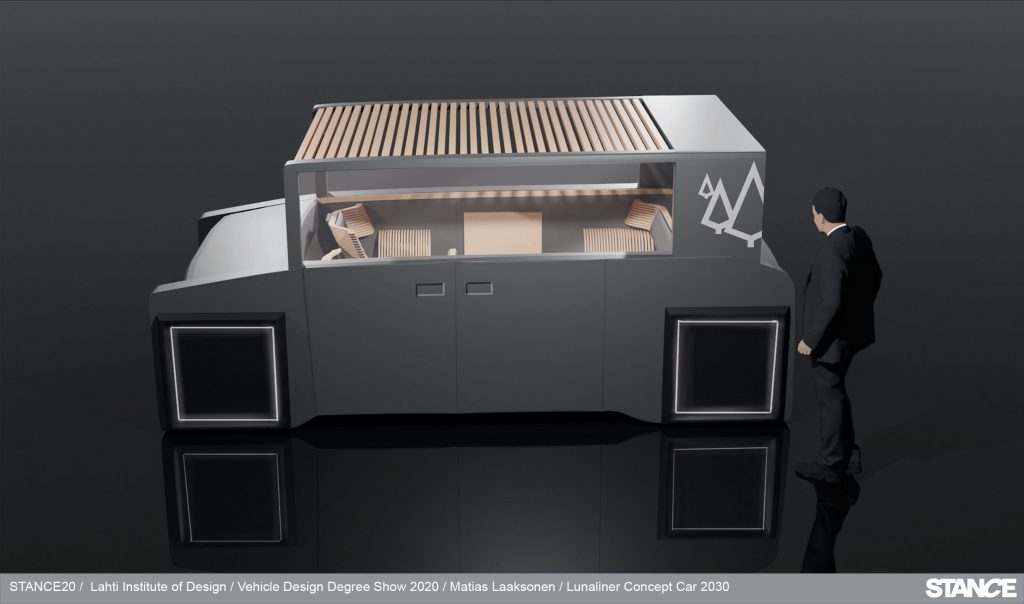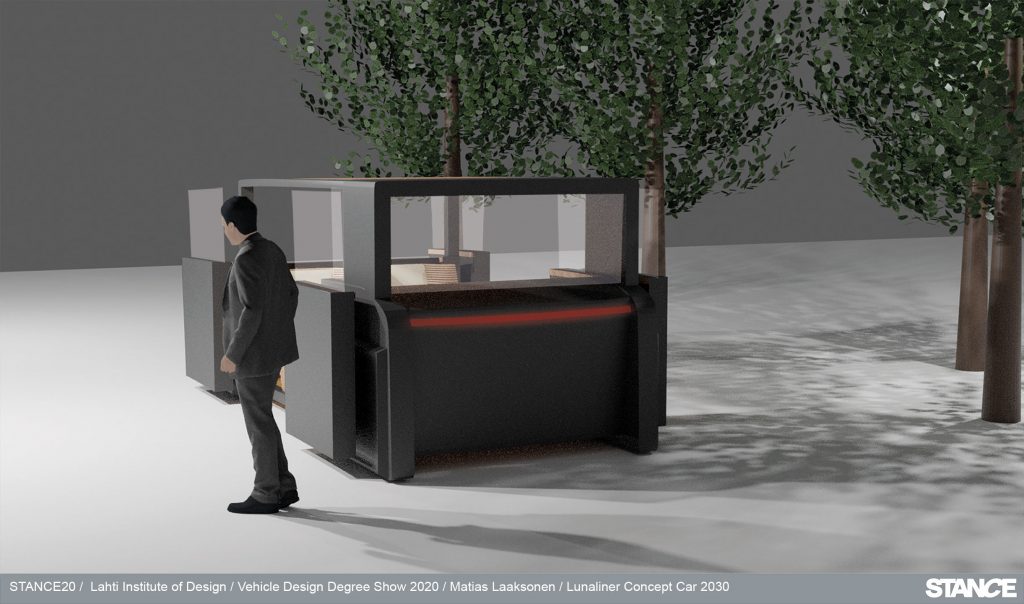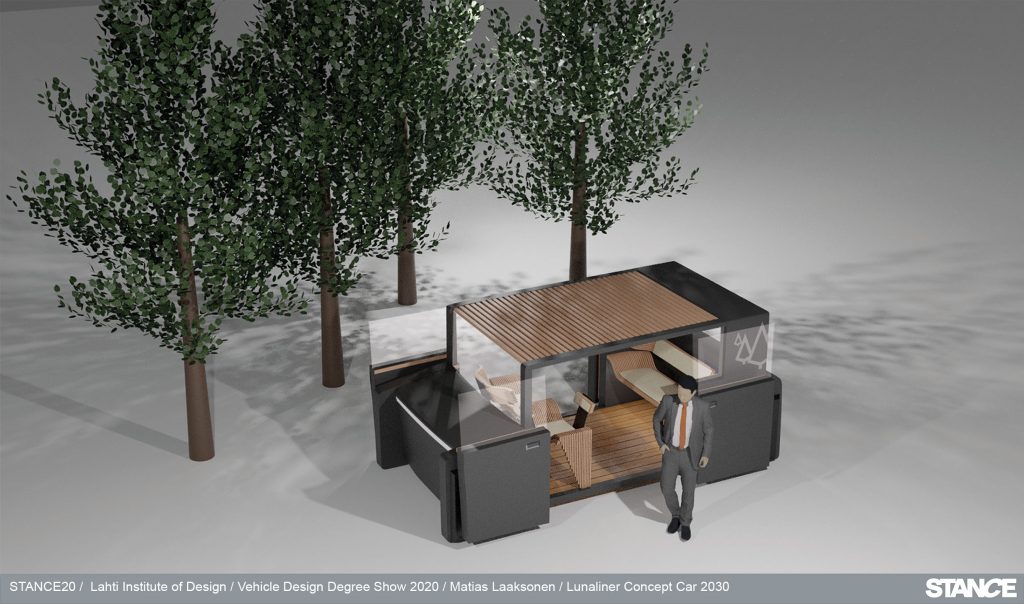 Nicklas Sundvall
Weckmann WS90M
In this graduation project I deal with the re-design of Weckman Steel Oy's M-model series WS90M trailer. The purpose was to improve the overall appearance of the trailer by visually modernizing the look with new components, colors and graphics. In addition to the above, the trailer should be kept as cost-effective and easy to manufacture as possible, in order to be competitive in price. As a result, a 3D model was made that can be used to make a prototype of a trailer.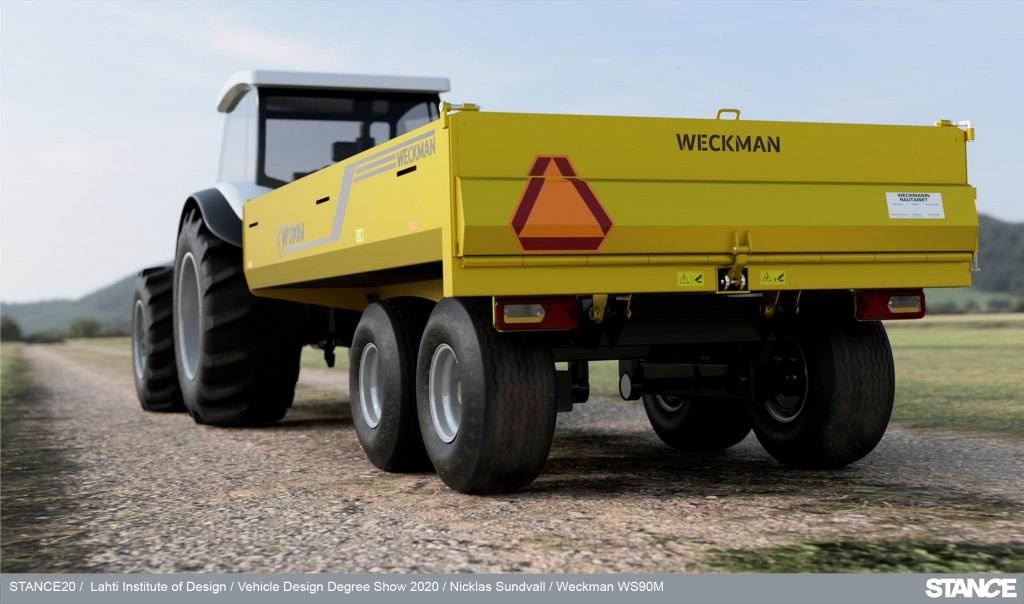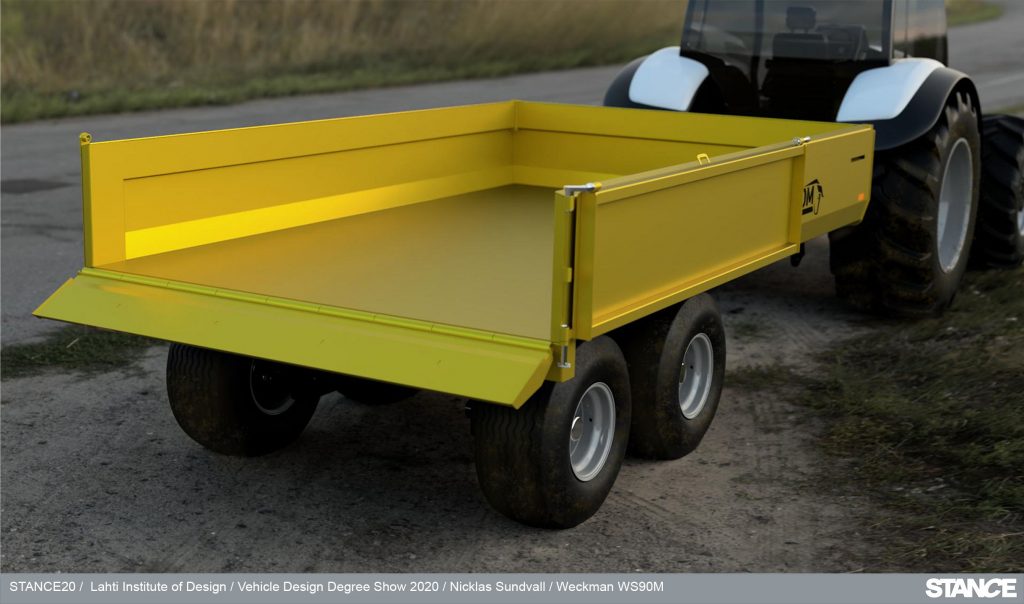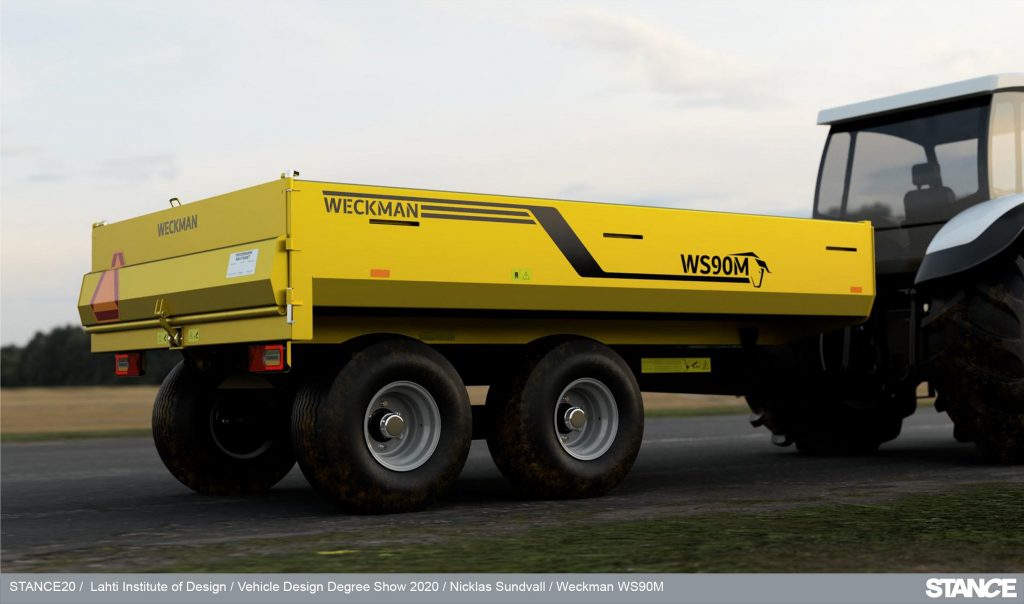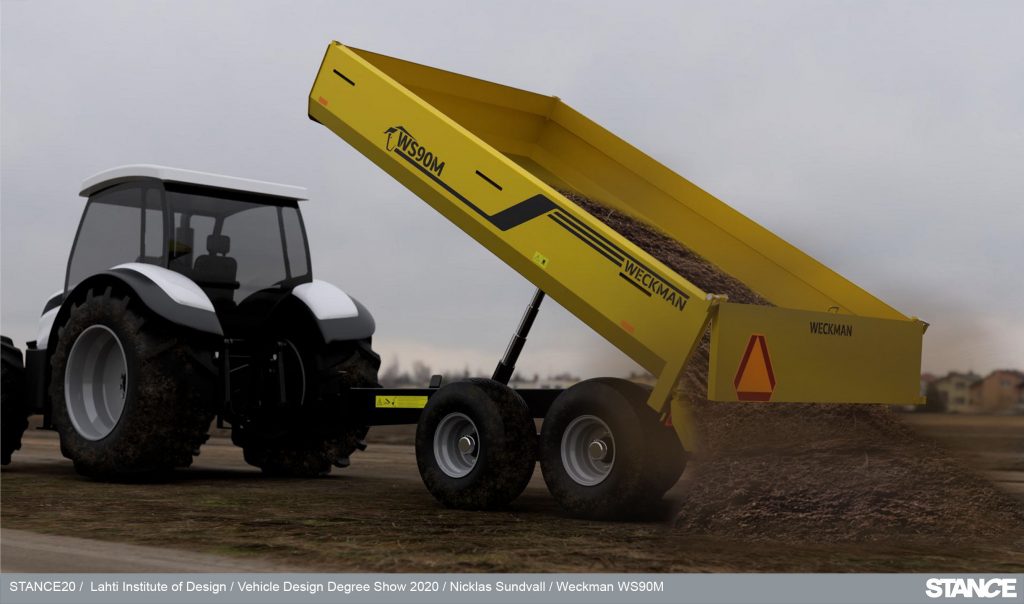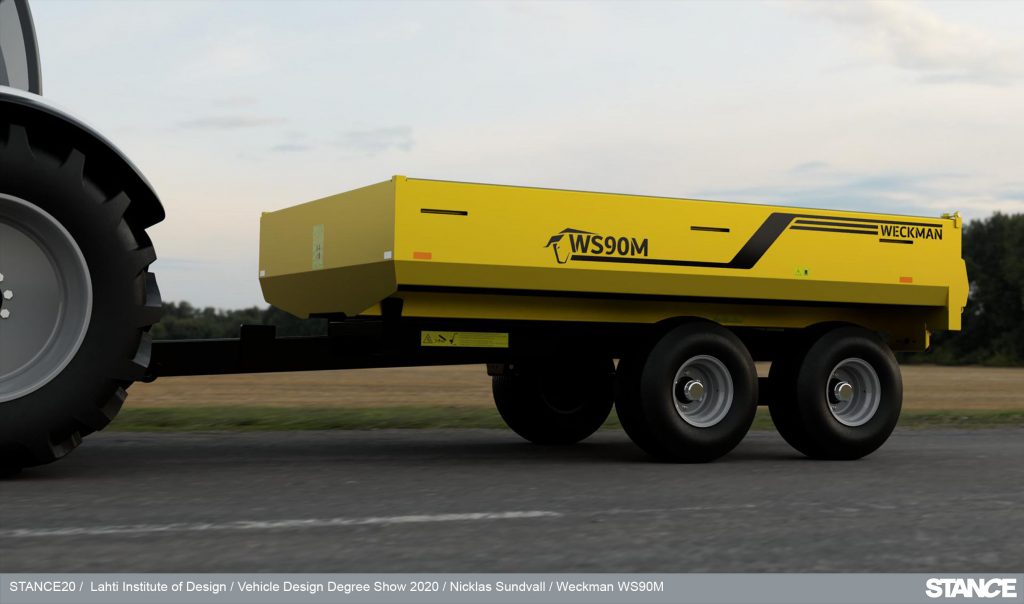 Jaakko Järvinen
GACHA Robot Bus Service Design Concept
The main goal of this thesis was to produce a service design concept for Sensible 4 and Nokia to visualize scenarios that the GACHA robot bus could face in the area of Karamalmi Espoo. The scenarios were dedicated evenly between Sensible 4 and Nokia.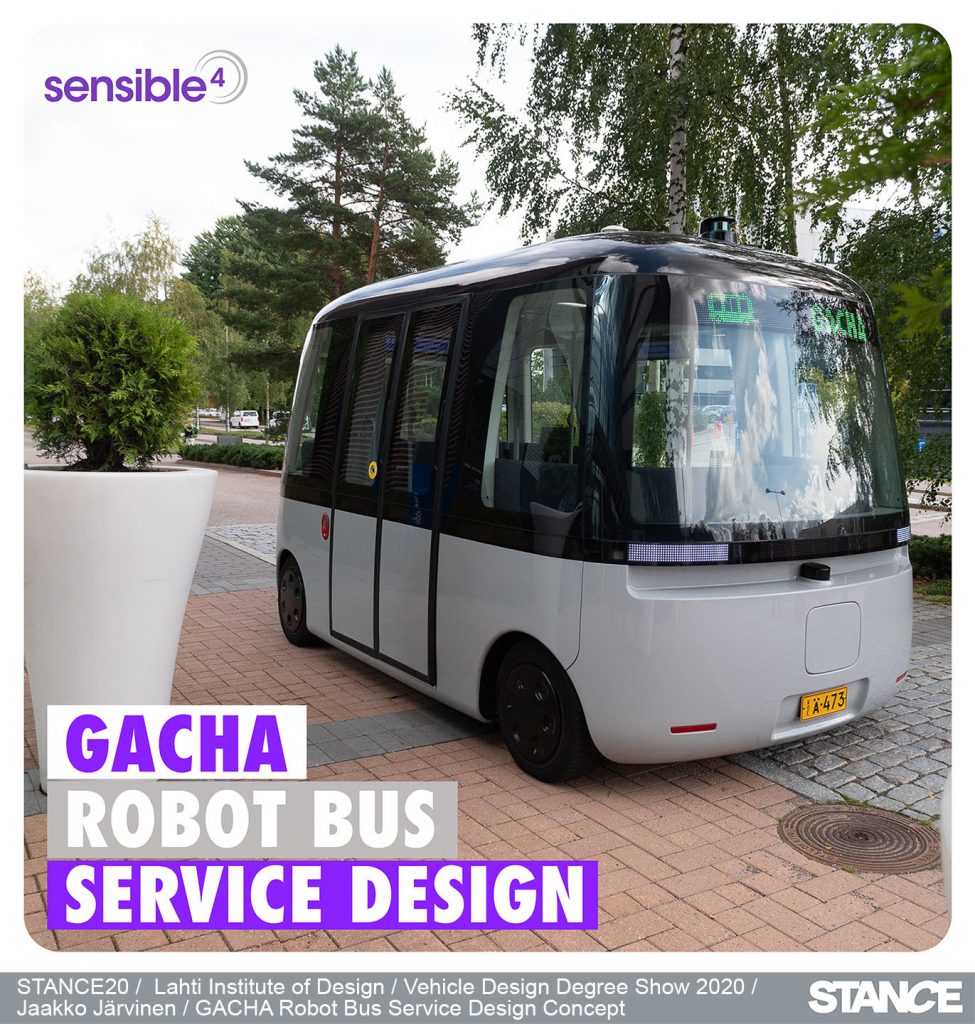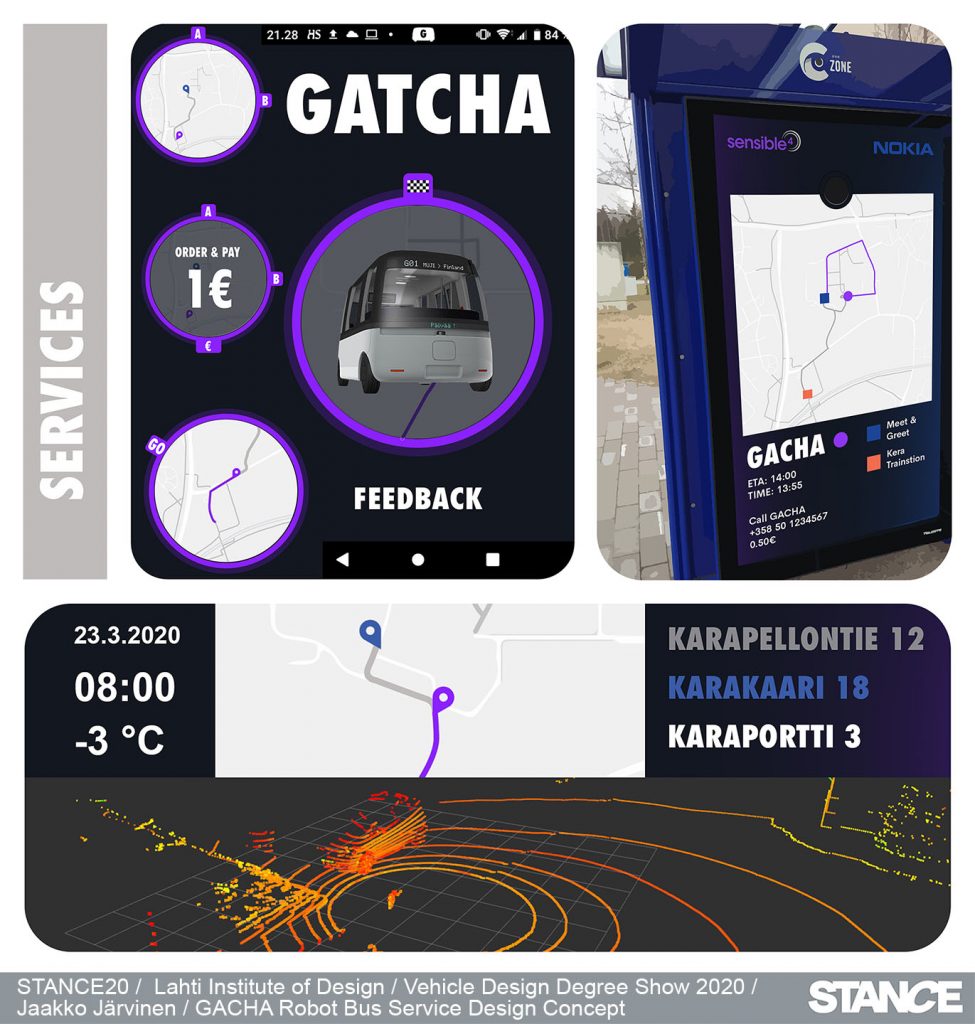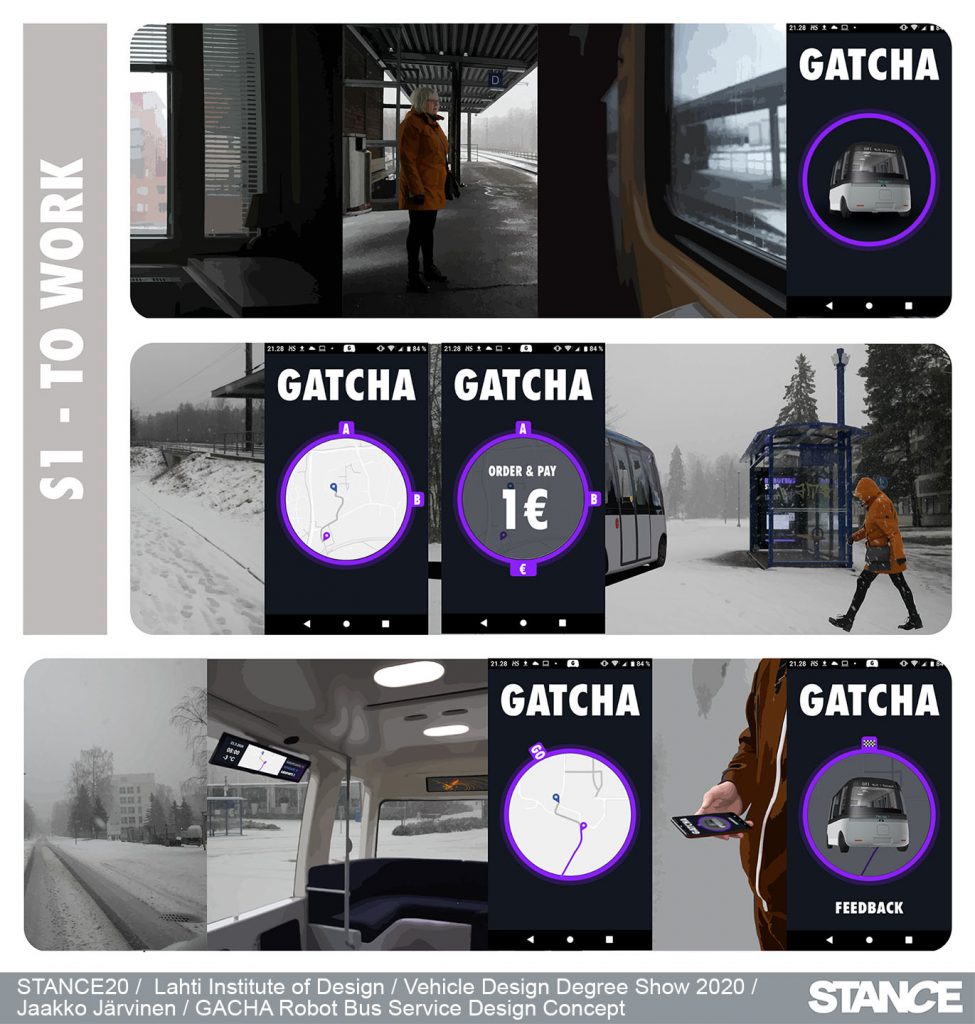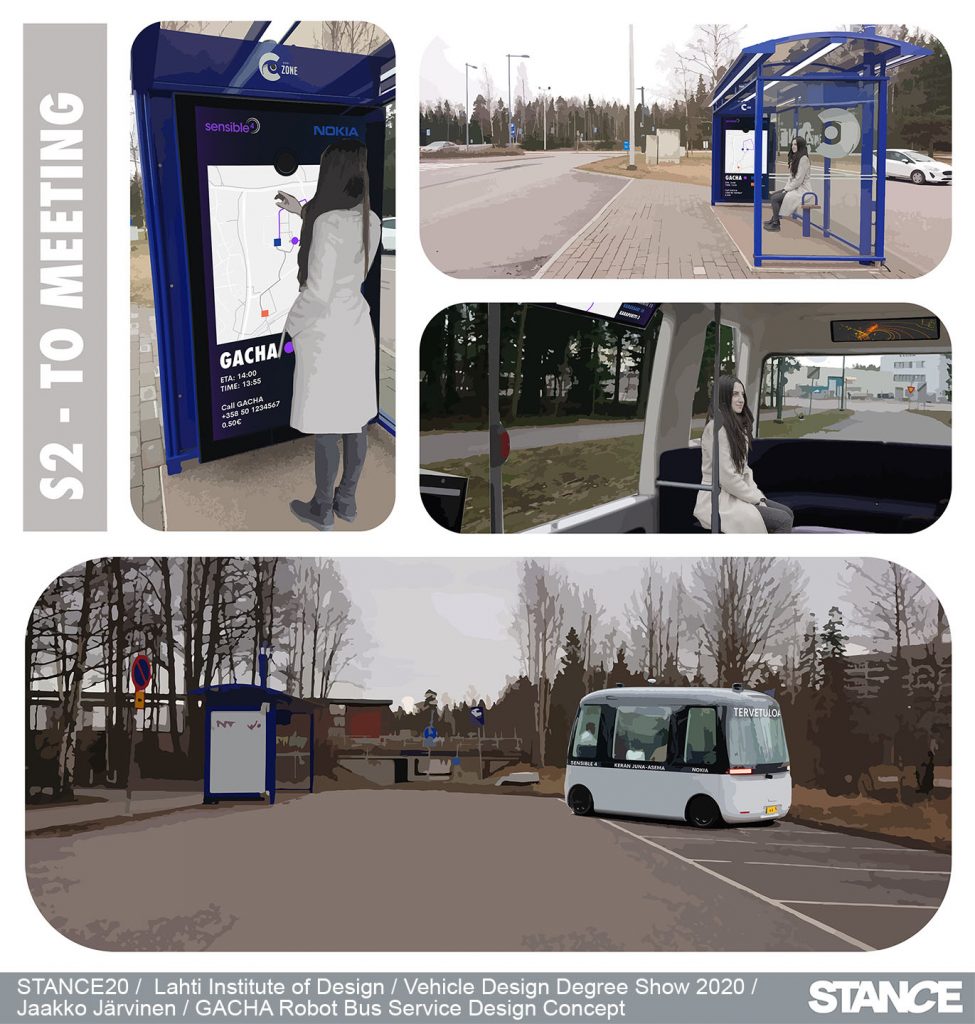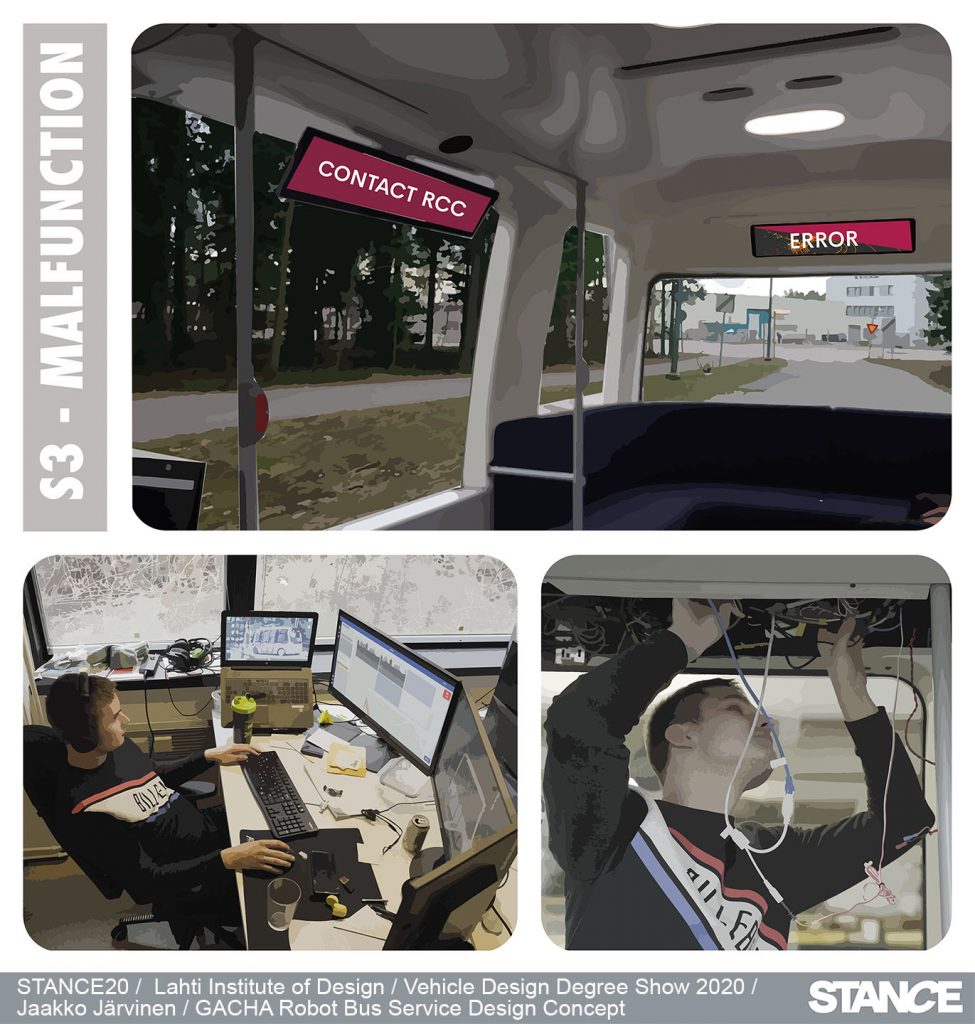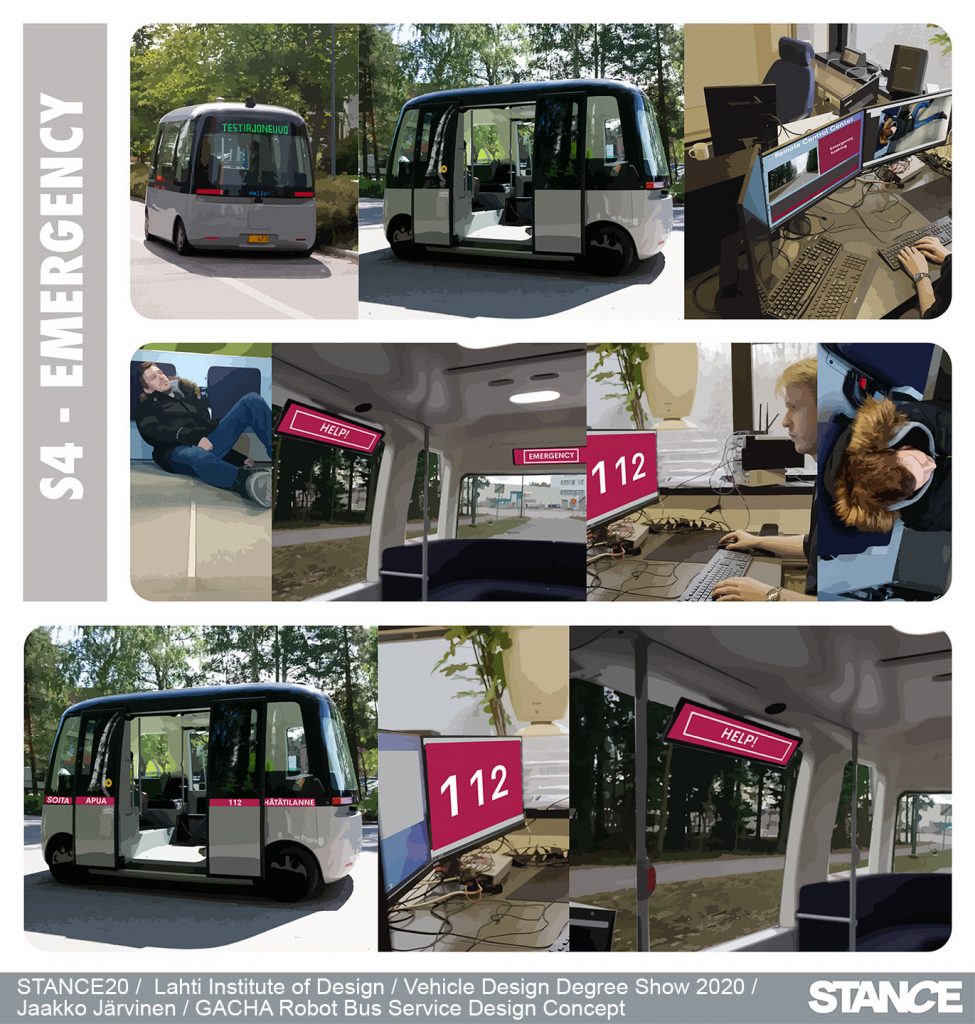 Esa Mustonen
RAW by Koeniggsegg
RAW by Koenigsegg is a digital concept car created by Esa Mustonen for RAW Design House as his Graduation Thesis. The work was carried out under supervision and support of Christian von Koenigsegg and Sasha Selipanov. The concept car envisions a futuristic entry-level hyper car under an imagined "RAW by Koenigsegg" sub-brand.

RAW by Koenigsegg makes use of the world famous Koenigsegg technologies and know-hows. Mounted behind the innovative 3 seat carbon fiber occupant cell is the 3 cylinder Freevalve TFG engine which was first shown to the world in the Koenigsegg Gemera. Our ambition was to use Koenigsegg Automotive's vast composite and light-weighting experience to aim for an unprecedented 700hp and 700kg, a new interpretation for the 1:1 power to weight ratio. On top of this, RAW by Koenigsegg has a strong focus on innovative aerodynamics with its flow-through architecture and jet fighter afterburner inspired articulated rear diffuser.

RAW by Koenigsegg offers a new type of user experience as it can be used in both the real and the virtual world. The car allows its user an opportunity to experience its performance and influence its setup in either real life or digital states using already existing highly correlative racing simulators.

RAW by Koenigsegg is an exciting vision of what a light weight entry-level hyper car of the future could look like.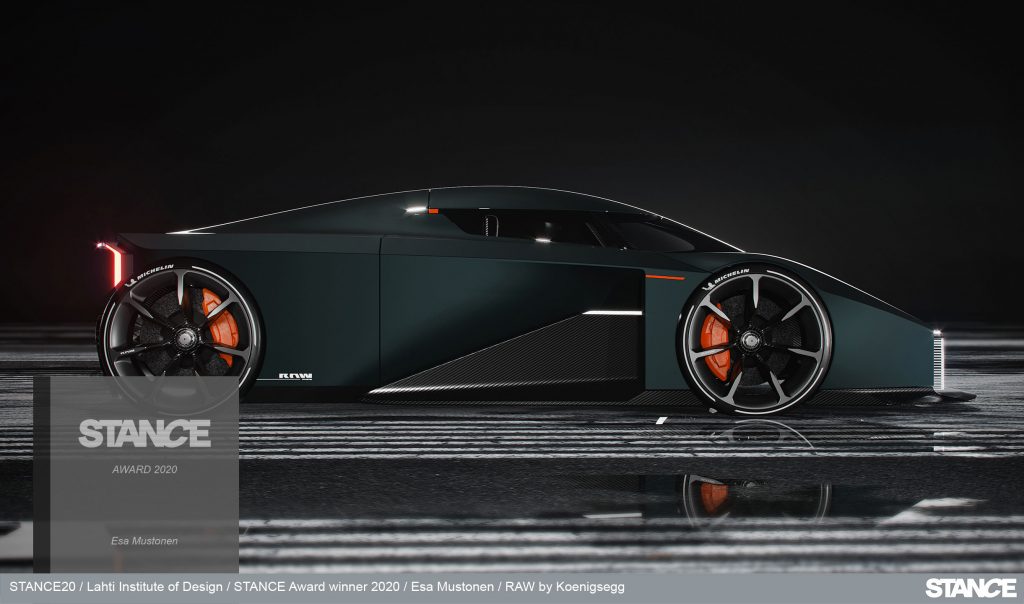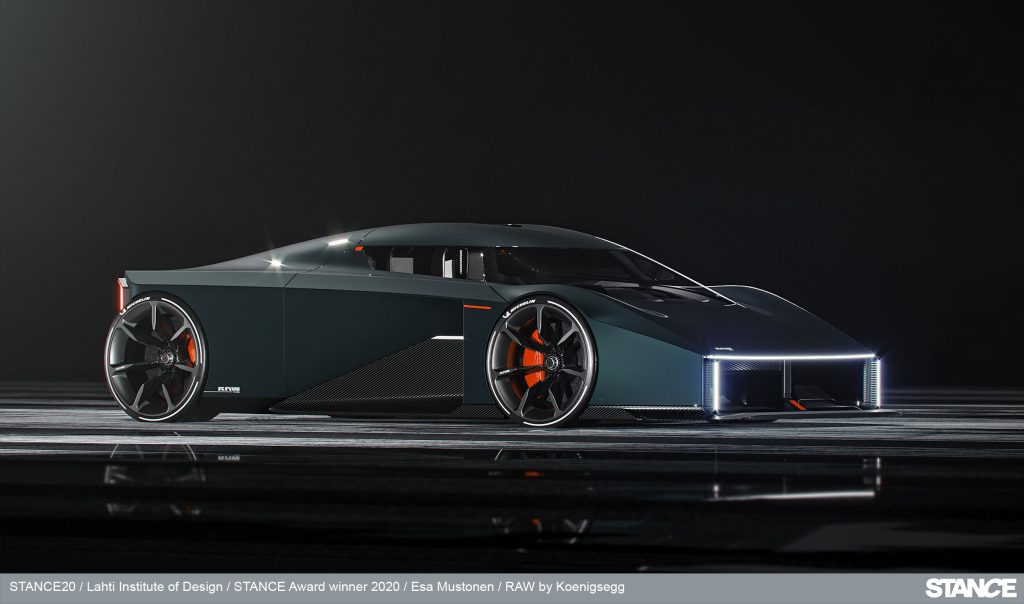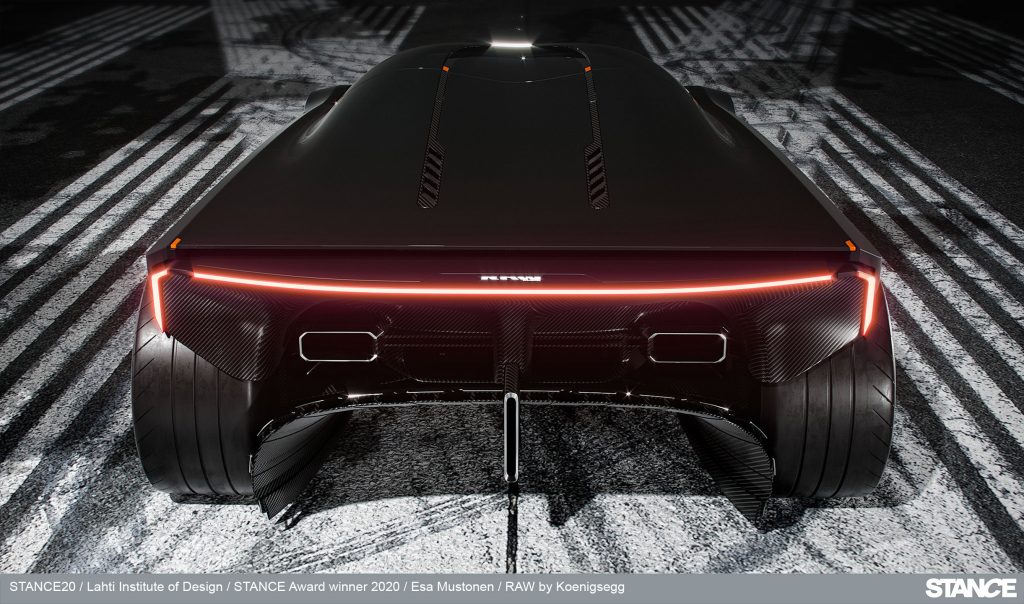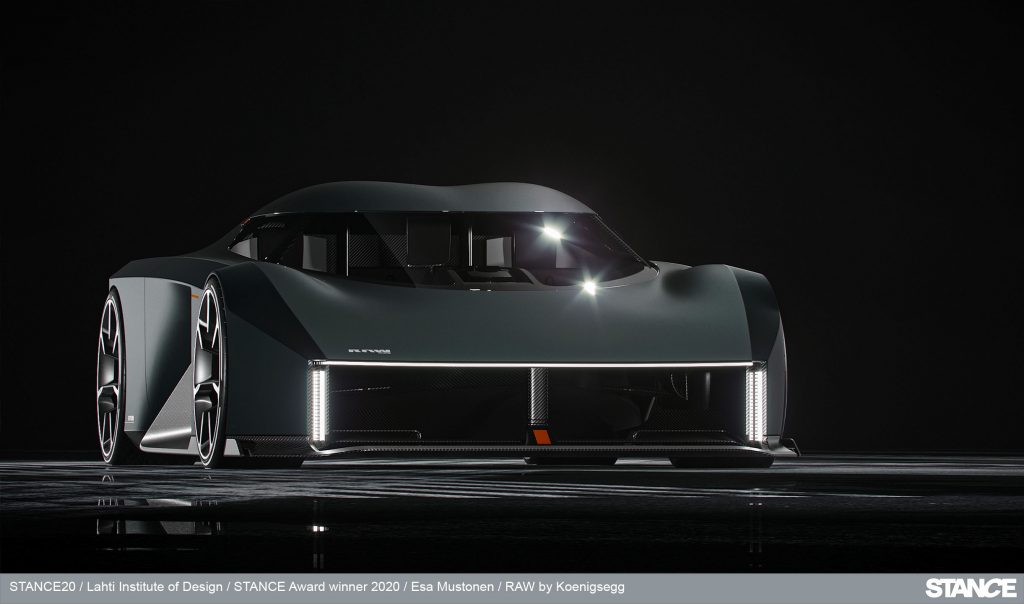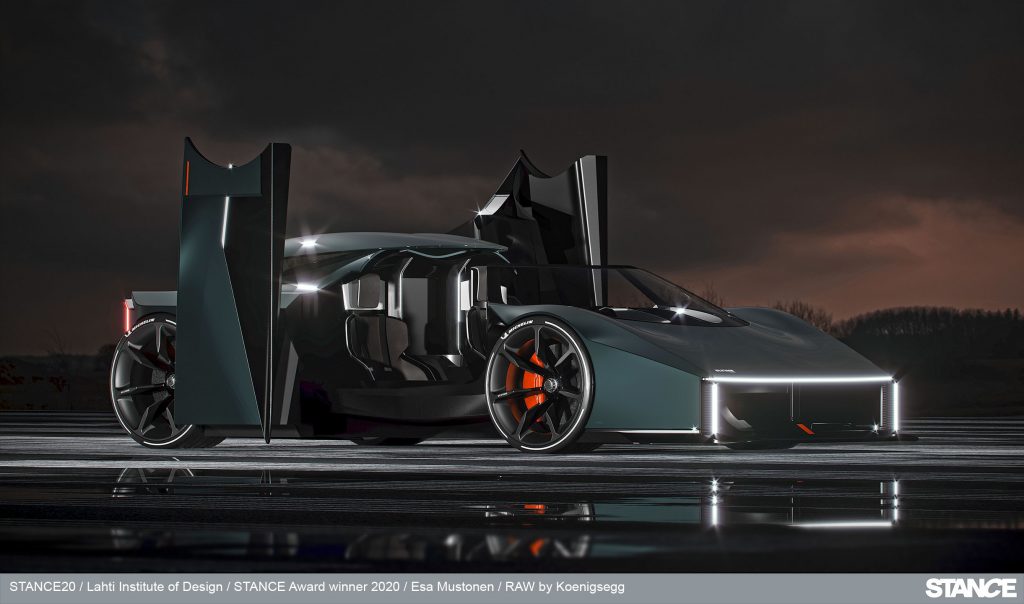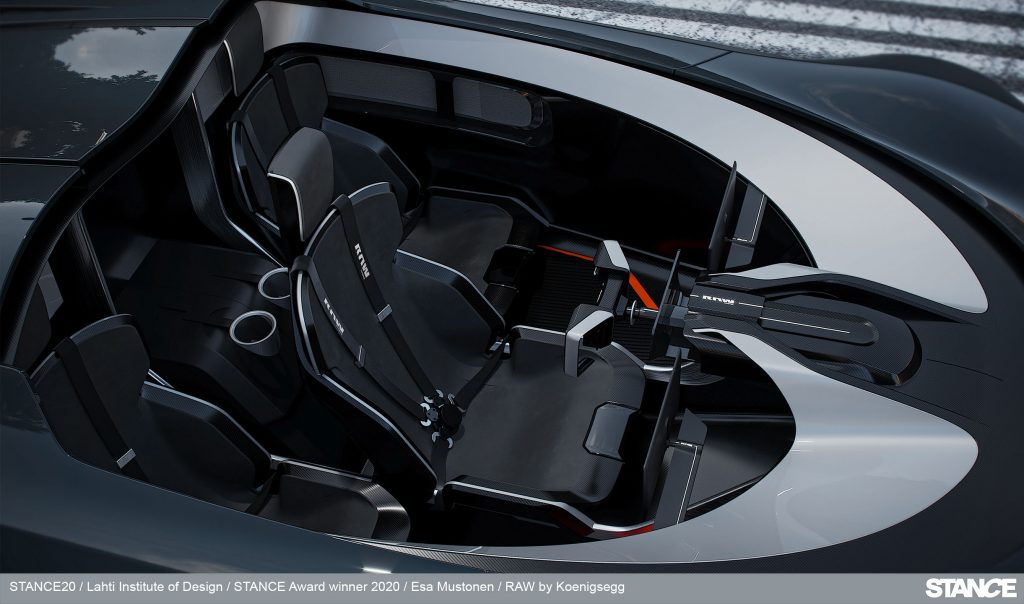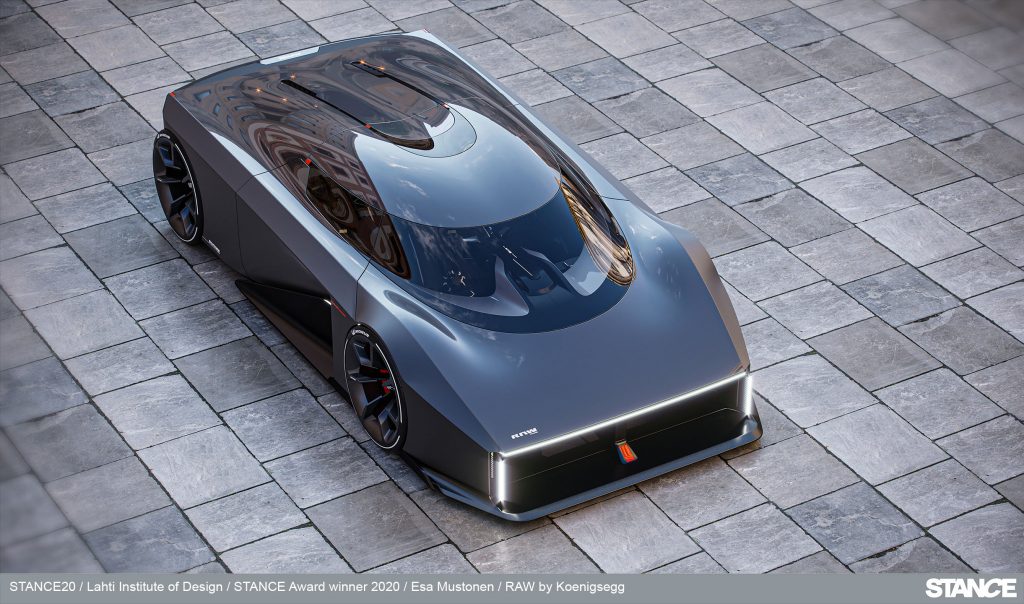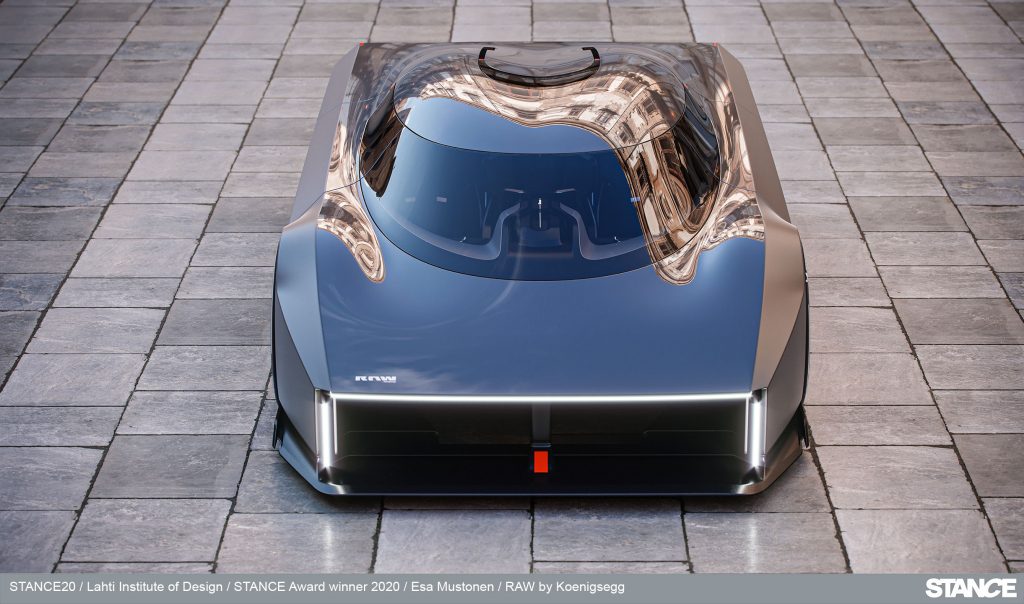 The 2020 Stance Award is awarded to Esa Mustonen for his outstanding entry-level super car project at Koenigsegg.