May 2019. The Institute of Design held a degree show again. Reminiscent of previous joint exhibitions, not held since 2016, this show was conceptually a rebirth (too many rumours of our untimely death). The title was REBUILT.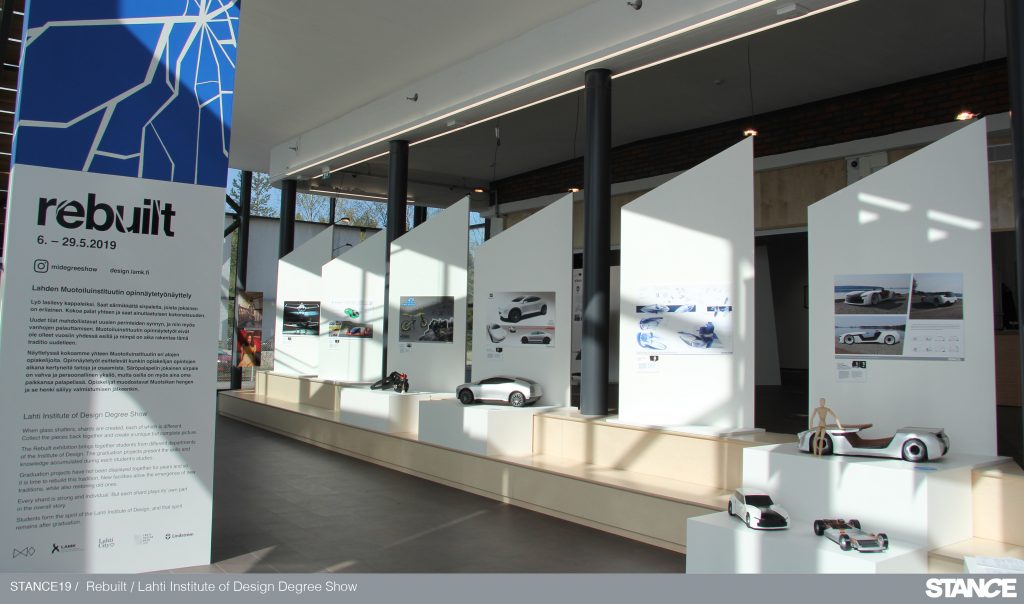 All graduating students of 2019 were invited to display their final design projects – and the location was our new campus at ISKU. We wanted to attract visitors curious about our new place, and we wanted to show our own friends that we share this new joint campus with, just what we do in the Design Institute. STANCE19 was integrated with this main exhibition. The event was curated and designed by a large team of talented staff and students. Vehicle Design graduates exhibited 7 graduation projects and one very special production vehicle. Let us start by explaining that one in the words of RMK themselves!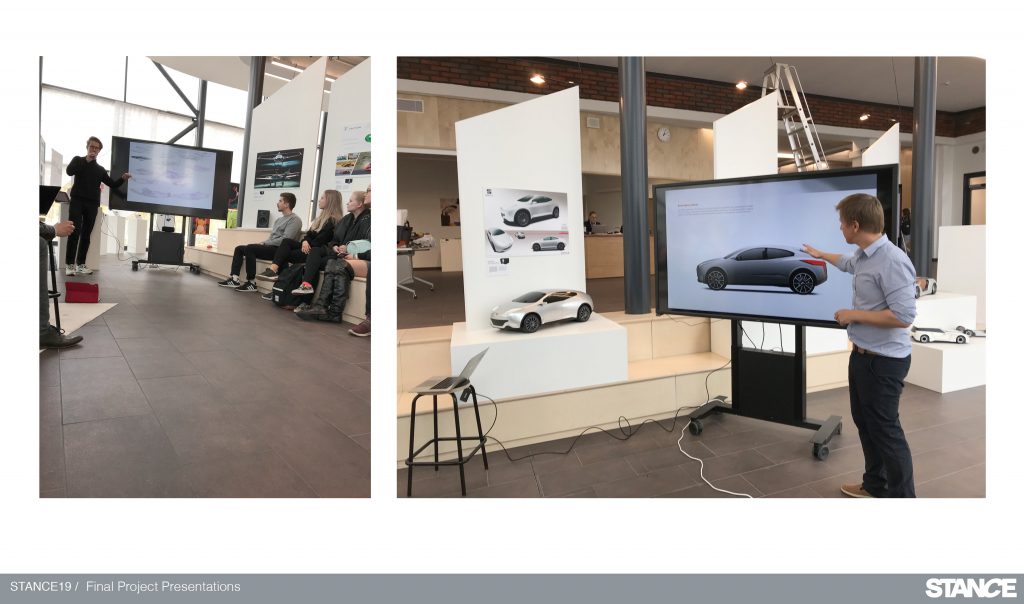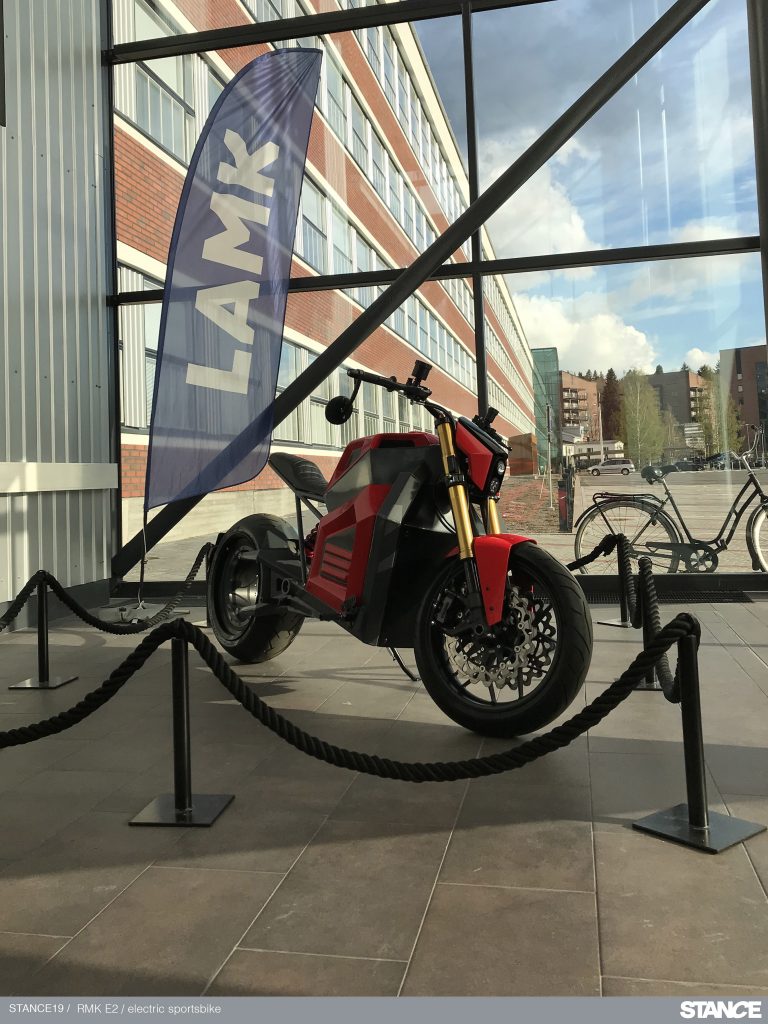 On 1st of February 2019, RMK Vehicle Corporation unveiled their first electric motorcycle, the RMK E2 at the MP19 Motorcycle Show in Helsinki, Finland. The E2 will be manufactured in Finland and production is slated to begin in late 2019.
The E2 packs a punch. 50 kW of power and an instant torque of 320 Nm will guarantee great performance with a limited top speed of 160 km/h. The unconventional motor setup offers a smaller rotational mass and unsprung weight that is comparable to traditional motor setups. The battery gives a range of 200 – 300 km depending on driving style.
You can pre-order your E2 now.
The RMK E2 was designed by RMK with the help of our student Miikka Salovaara. Miikka contributed concept sketches and graphic design, working closely with the small RMK design team to create this bike. RMK are a lean start-up company so all hands were needed to create this radical design. The engineering of the hubless rear wheel and motor is particularly unique. We were very happy that RMK agree to display the bike for a few days at our STANCE/Rebuilt exhibition at Lahti University of Applied Sciences. It is very imposing in the metal.
Aukusti Mokkala
Vision for 2050 Megacity Law Enforcement
This is a VTOL -aircraft designed for rapid deployment of up to four Law Enforcement officers. It takes the manoeuvrability of a helicopter and com­bines it with the structure of a car. The compact design allows it to manoeu­vre and land in within the narrowest spaces of a megacity. It features twin rotors for vertical lift and two auxiliary rotors for thrust, as well as a wide variety of short to long range -sensors for monitoring its surroundings. The bright colours ensure visibility and bolster a strong but friendly presence. My goal was to create a unique, yet believable design that is suitable for movies and games.
Atte Nurminen
Lamborghini Raton, Autonomous Supercar

Lamborghini Raton is an autonomous supercar for the future, featuring advantages of next generation automotive technologies. The goal is to replace the pleasure of driving by new kind of user experience. The low sitting position at the front brings a sense of speed.
The in-turned wheels create a new kind of connection between user and machine. Raton is designed to look like a true Lamborghini with the classic design features of their supercars.
Jukka Ossi
The next D-segment SEAT passenger car
The Spanish car brand SEAT does not currently have a passenger car model in the D-segment. The goal of the graduation work was to design a proposal for a car of that segment based on the research work done. The D-segment includes car models such as: Volkswagen Passat, Opel Insignia and Volvo V60.
Kristian Talvitie
Bugatti AOS
Our world is faster and more connected than ever. The line between the real world and virtual is thinner than ever. This
world has many changing effects on human life and thinking. From an evolutionary perspective point we are at the beginning of drastic change. In this work my intention is to study what kind of experience the future customer of Bugatti needs and to develop concept based on that.
Iiro Laine and Antti Paakari
Northern Multifunction Vehicle
In this graduation project we designed fully electric multifunctional vehicle for Northern environment. In this project we discuss about Northern circumstances and its challenges for vehicles. Our vehicle is designed around electric powertrain and adaptability for weather conditions and needs of the user. In our design process we discuss ideation, sketching by drawing, clay modelling, 3D-scanning and 3D-modeling.
Samuli Maliniemi
Keletric – Design research for Finnish small electric motorcycle.
In my Bachelor's Thesis I have designed a houseboat for private use. It is suitable for year-round living in Finland's varied weather conditions. The houseboat strives to solve the challenges of urban living in the future. Urbanization and rising sea levels resulting from climate change can affect the emergence of new forms of living in Finland as well as in the rest of the world. The houseboat I have designed is environmentally friendly and it is also suitable for going at the high seas.
Janne Mustonen
Piaggio P107
As a graduation project I researched the near future of aviation and created a flying boat concept. This project does not reshape the aviation infrastructure but helps to understand it and its challenges. A result is a realistic concept that offers private transportation to remote locations in and outside of the infrastructure.
2019 Stance Award winner was announced later that week, at the Ace Corner venue. We really like our friends at Ace Corner and once again we met for an informal beer & burger chat with our outgoing students. That sunny evening the award for best project was presented to Janne Mustonen for his outstanding work on an electric aircraft project. Janne has a deep passion for aviation, and this project was a true labour of love for him- and the result was quite spectacular and unique.