Welcome to the 2022 graduating season of Vehicle Design projects from Lahti Institute of Design in Finland. Here are some brief details about each student project. This year was a quiet one, I'm sure none of you on planet earth will forget the years between 2019 and 2022… and we definitely saw a knock-on effect from that situation. A really difficult time for all of us, and here are LAB University we are also seeing the results of reintegrating our Vehicle Design specification into our regular and highly regarded Industrial Design course. For example, there was a superb Electric Mountain/Urban bike project presented this year- by Riku Kinnunen who was officially part of Industrial Design studies. In future- students at our Institute will be fully integrated as one group- all aiming to be the best hardware/mobility/material object designers in the world – as always!
Enjoy the projects. Descriptions by the students: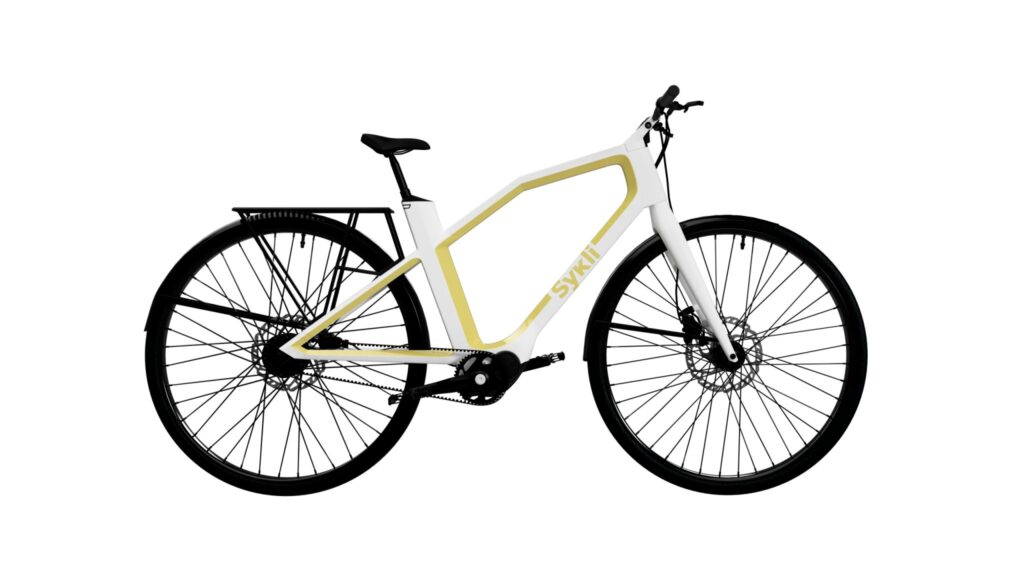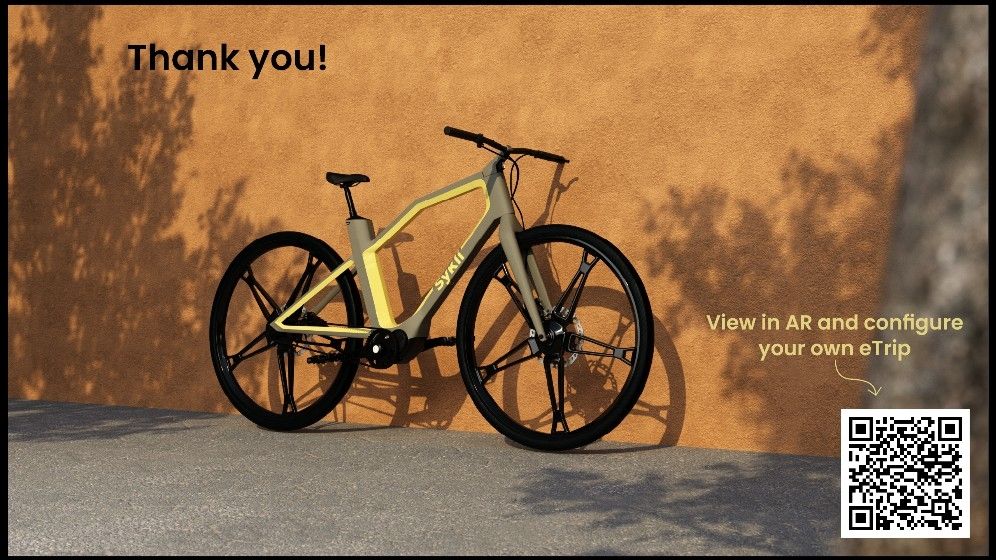 STANCE Award Winner 2022: eHGV by Niko Pekkarinen
Concept semi-truck for the year 2030.
The goal of this graduation project was to design a concept of a semi-truck, for the year 2030, that utilises an alternative source of power. This project compared two of the most promising substitutes of fossil fuels and also sought to find solutions in the selected power sources problem areas. As a result of the design process, a 3D-model of a semi-truck was created.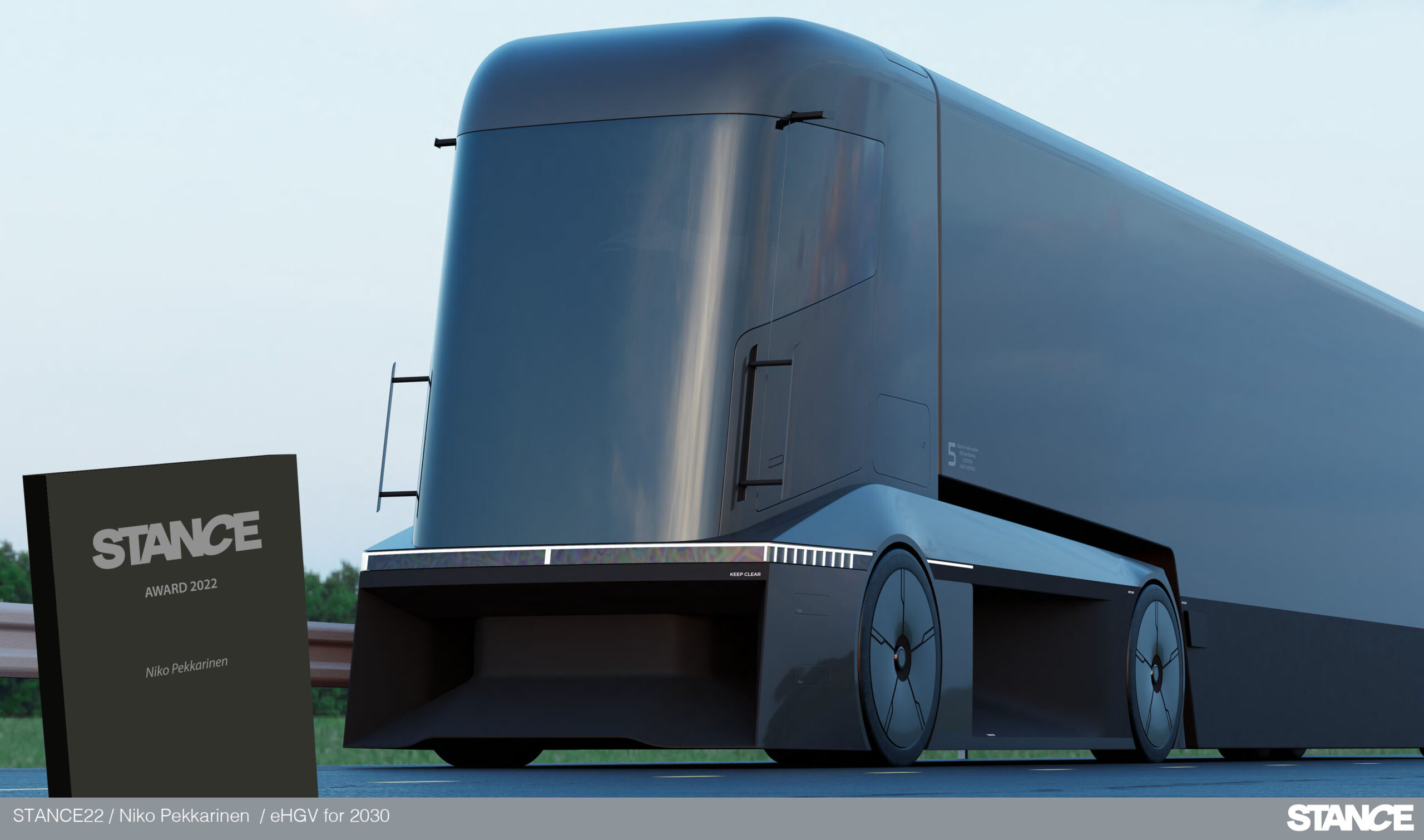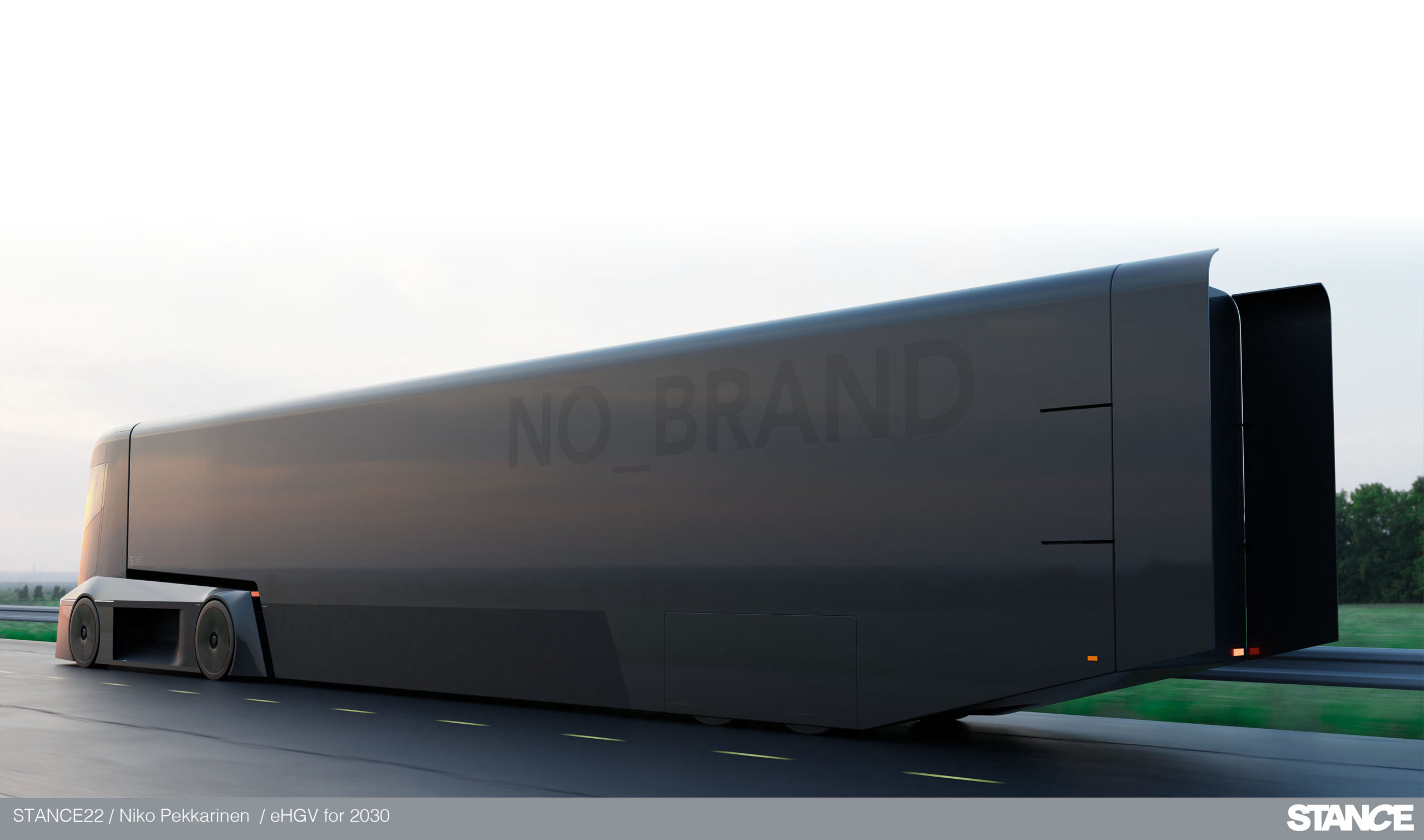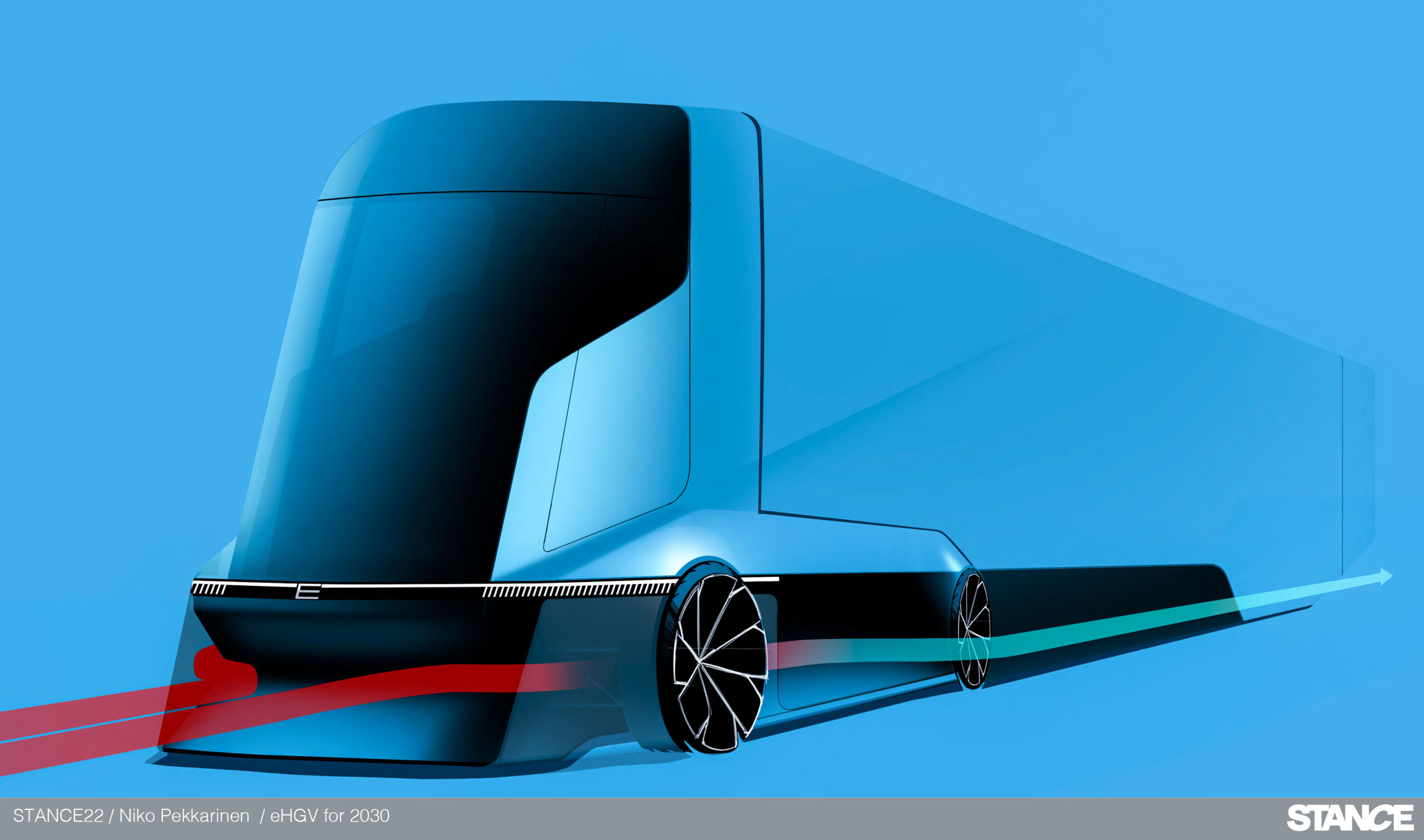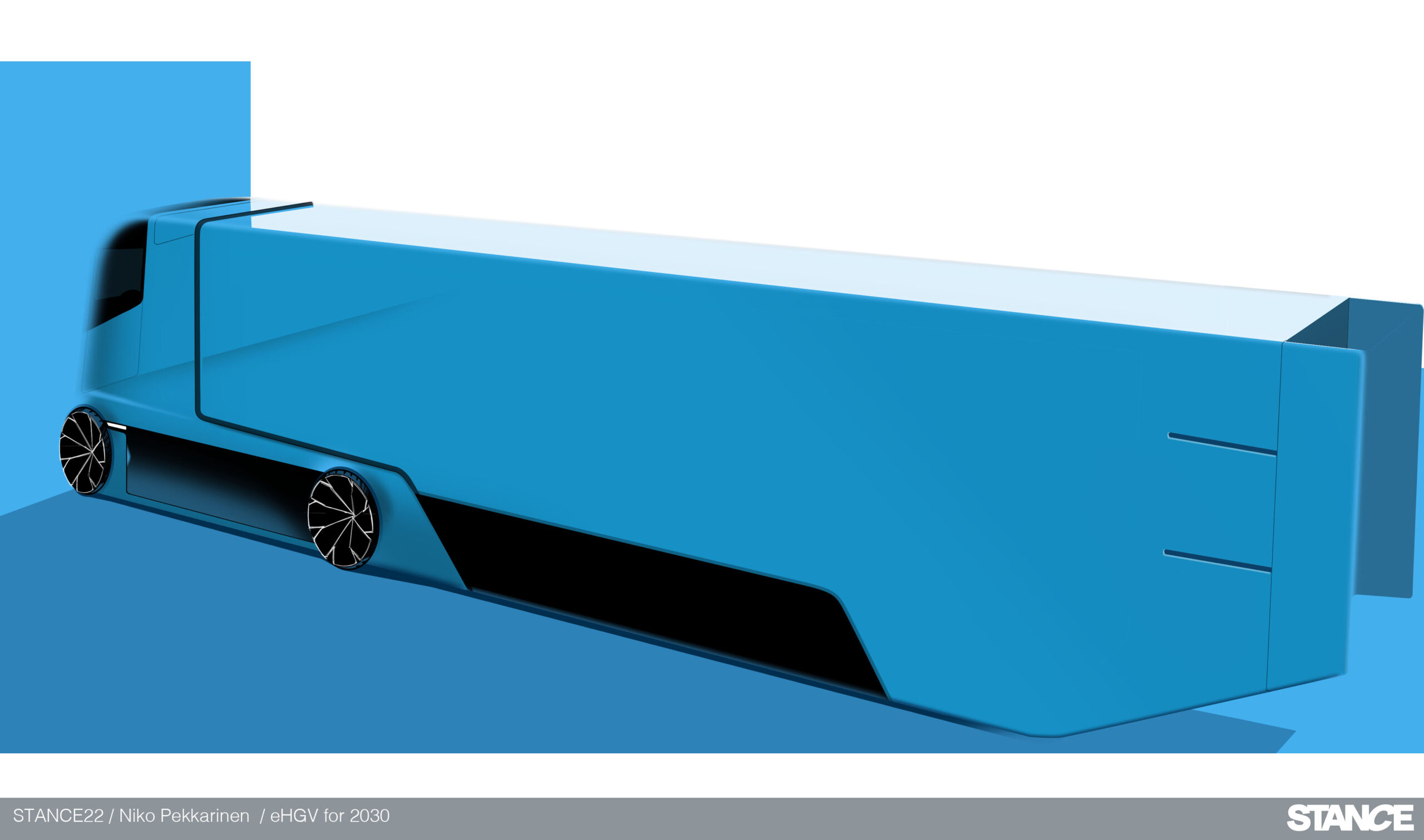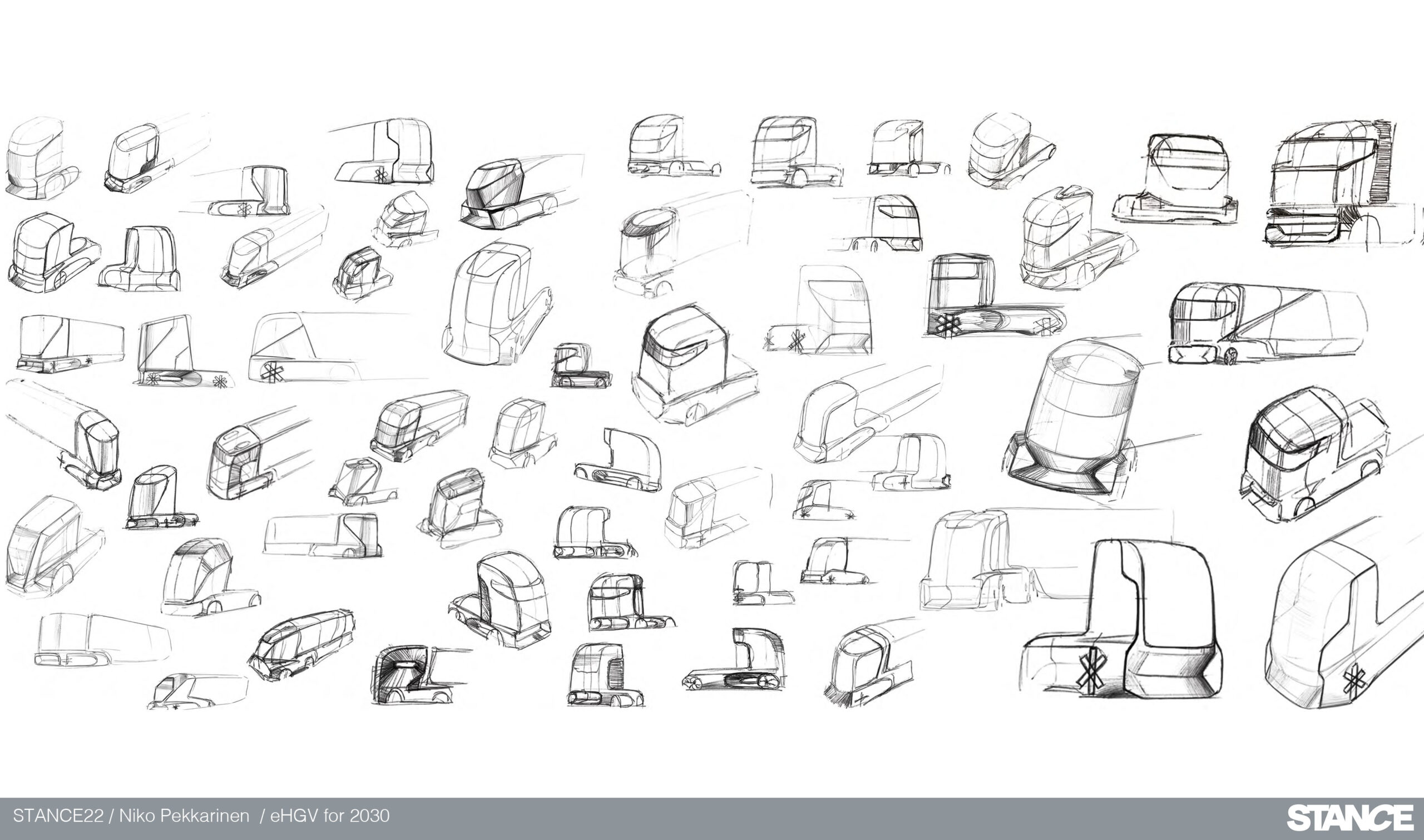 The Last Mile – by Eveangerlien Blears
Folding e-Motorbike concept.
Extend your adventure. The last mile starts here.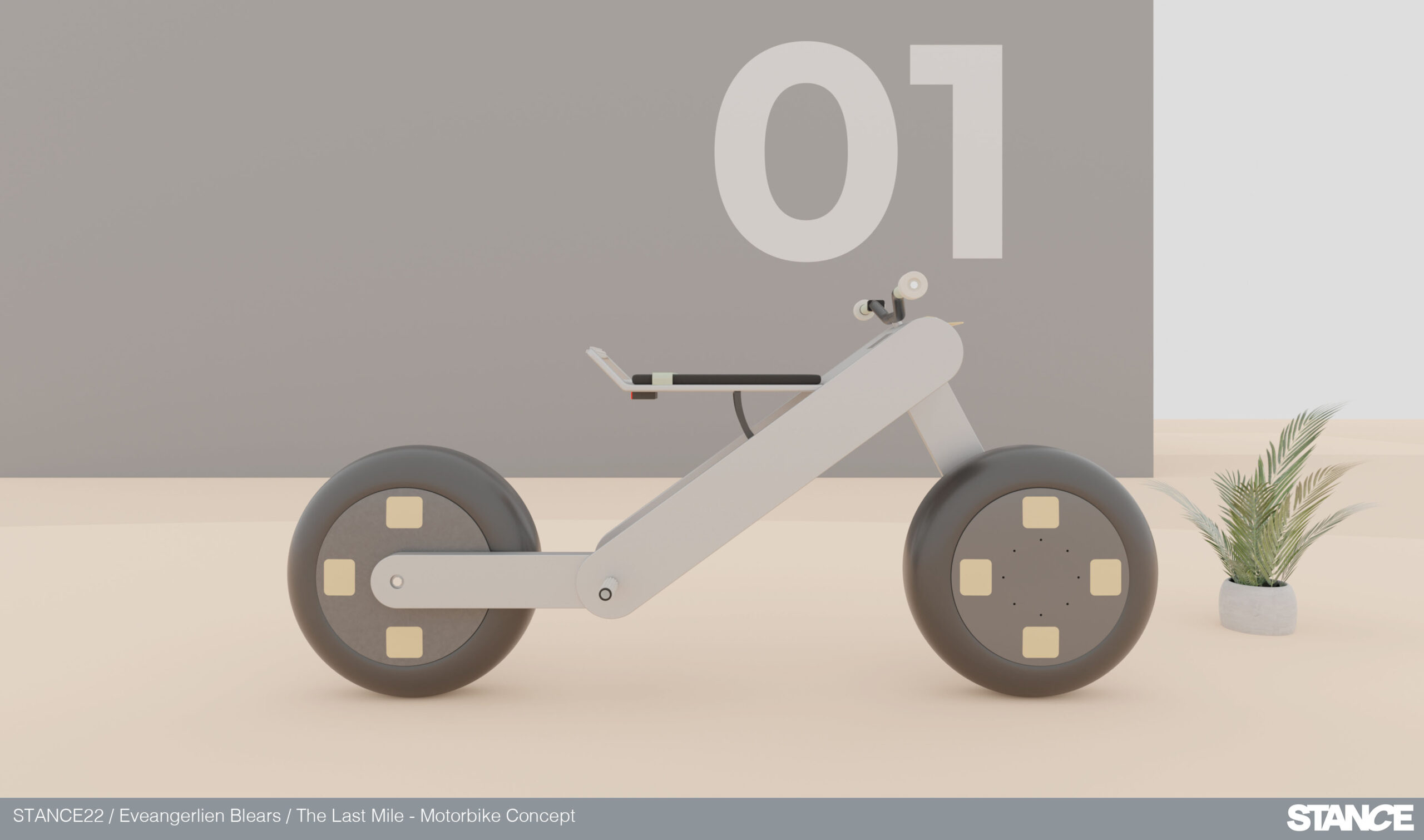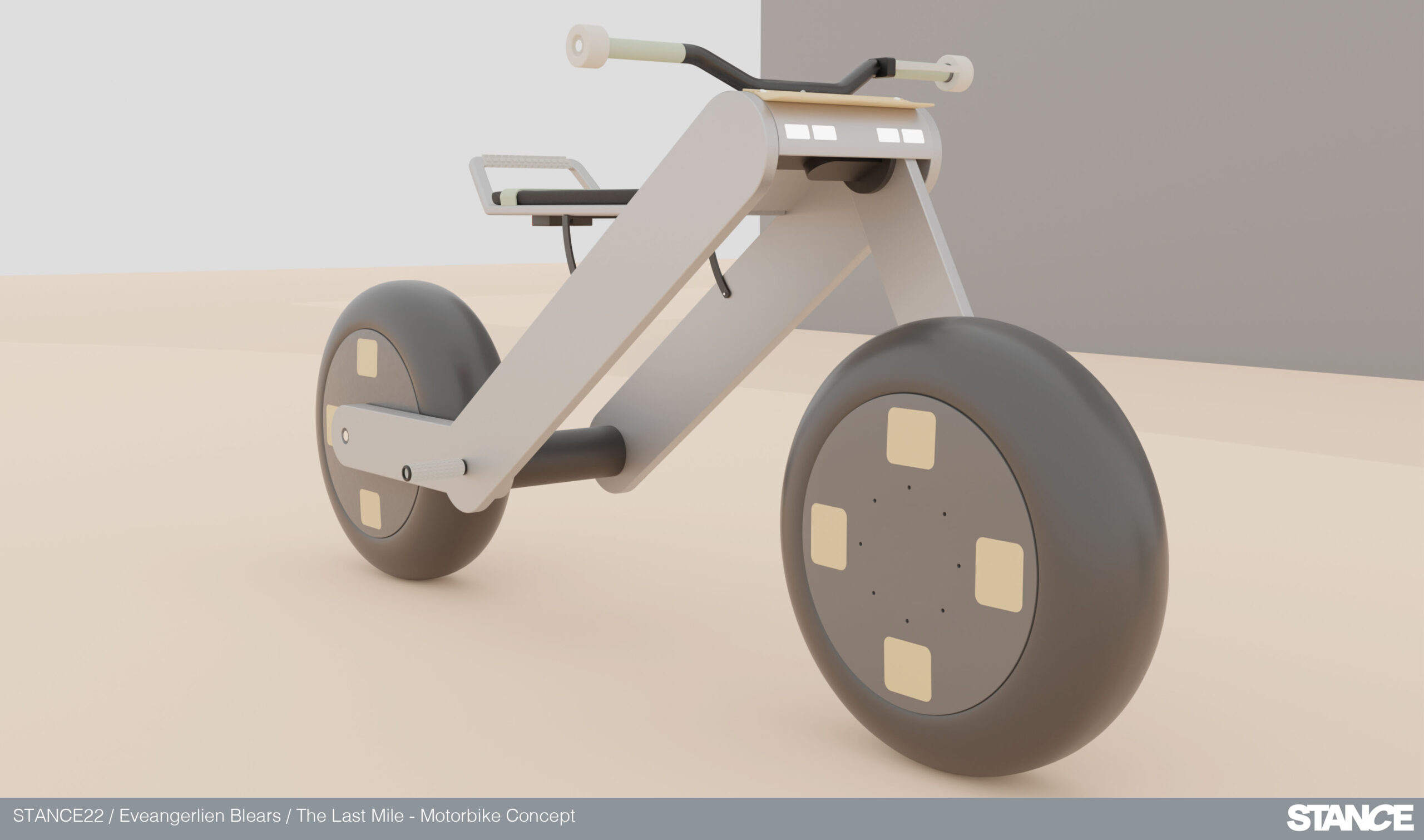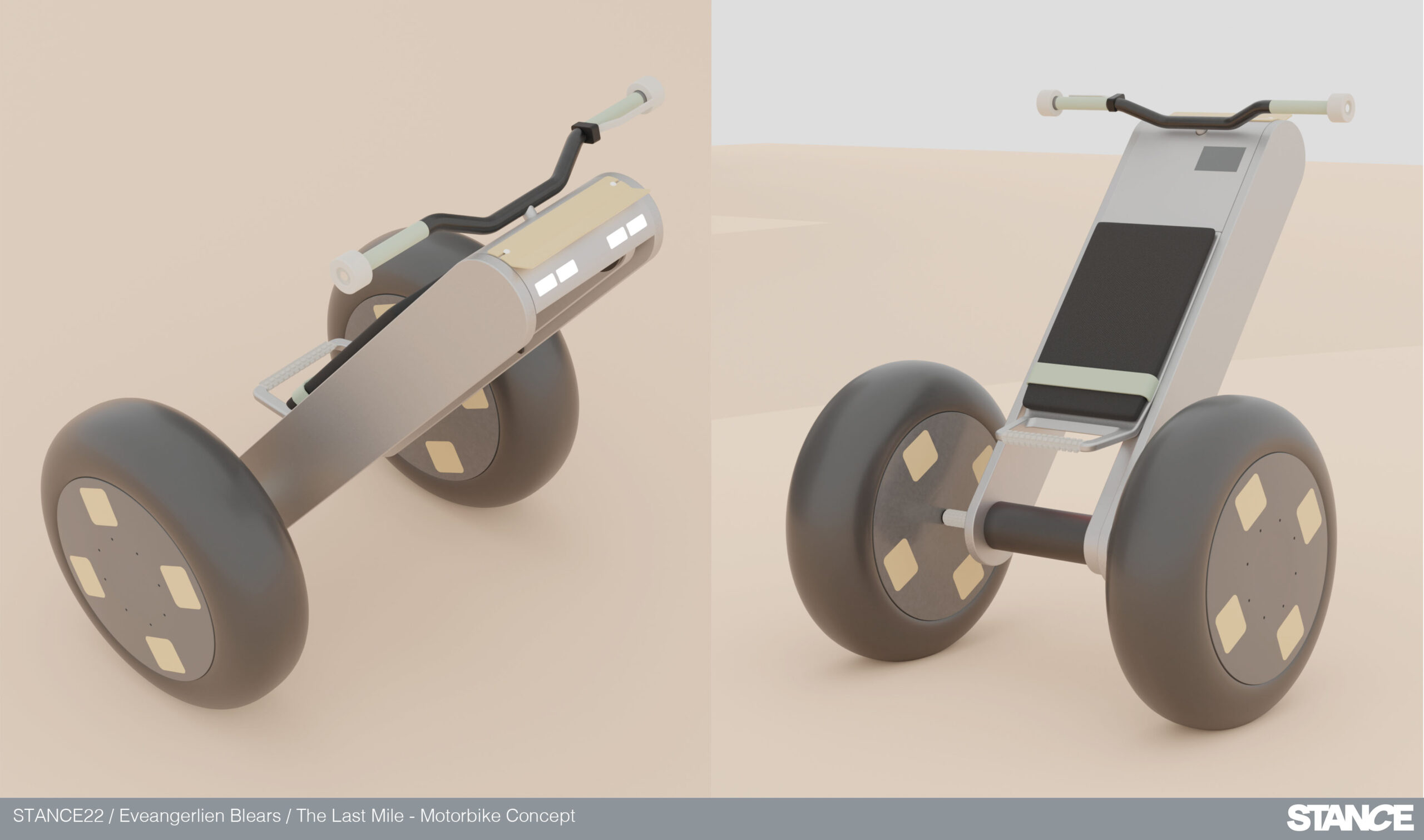 Automated Parking Robot by Kim Tapio
Automated Parking Robot concept.
The project's goal was to develop service idea for automated parking in the form of a parking robot for 2030. The assignment also included searching for and identifying current parking-related issues. Artificial intelligence and robotics are also explored for their possibilities.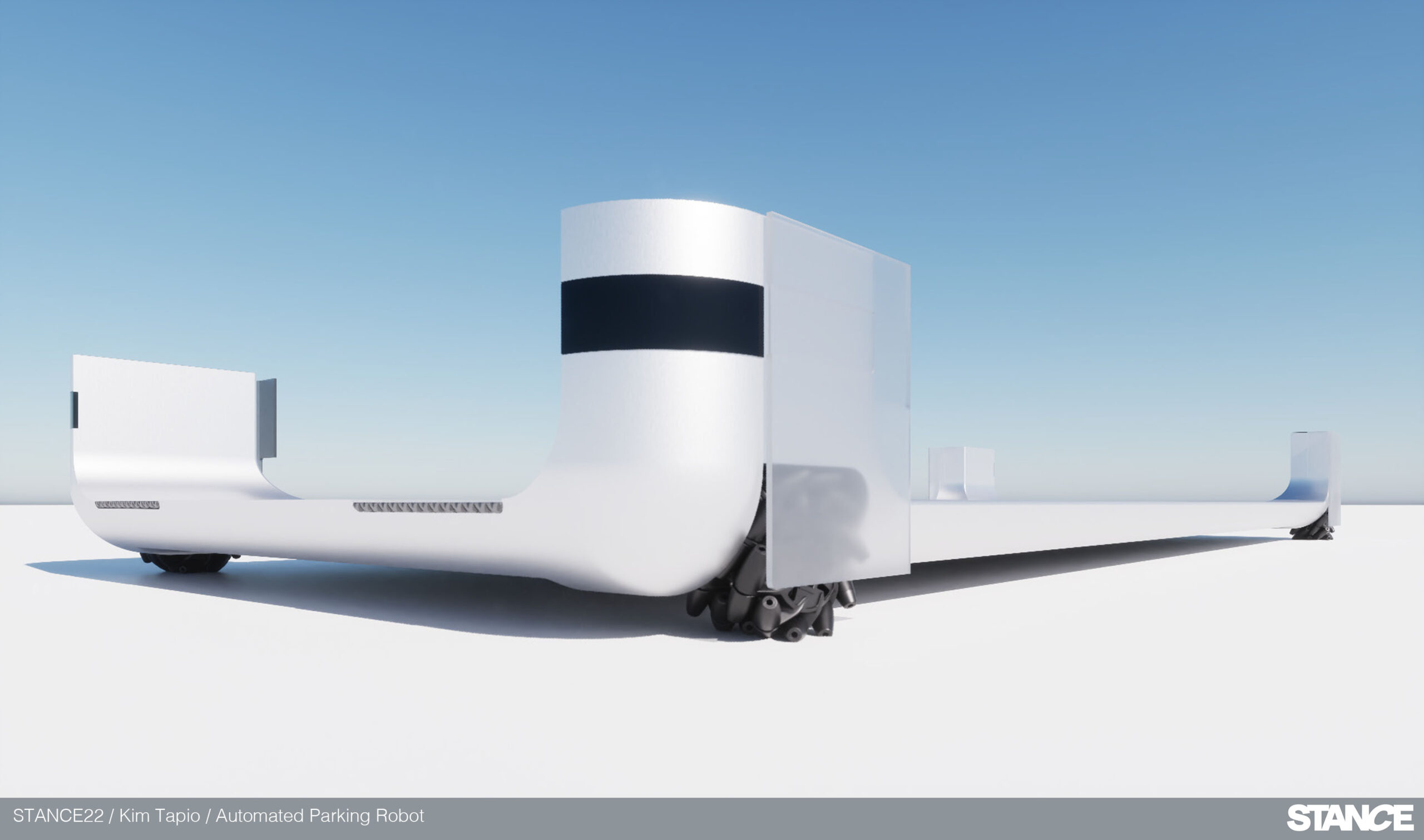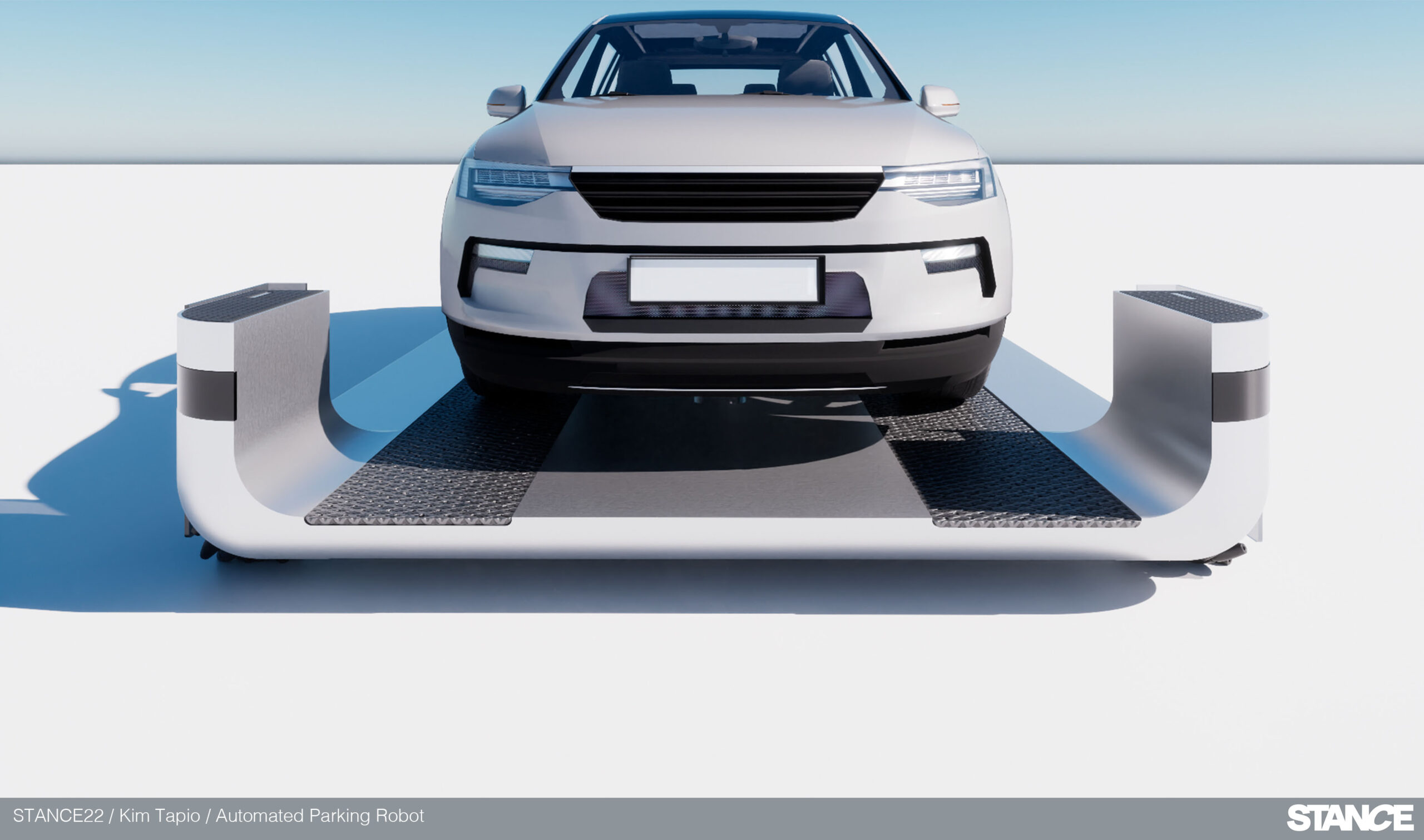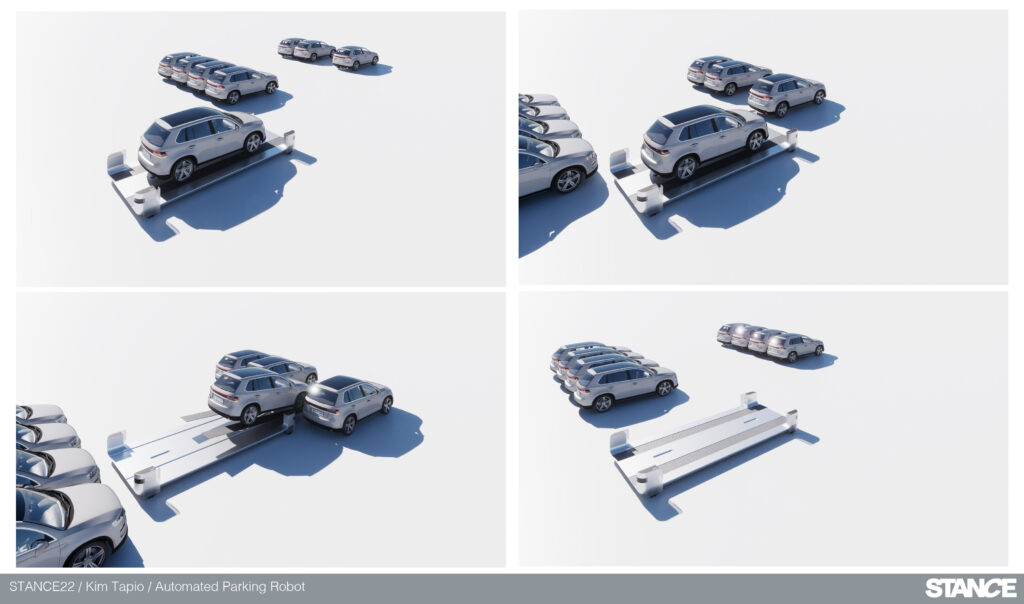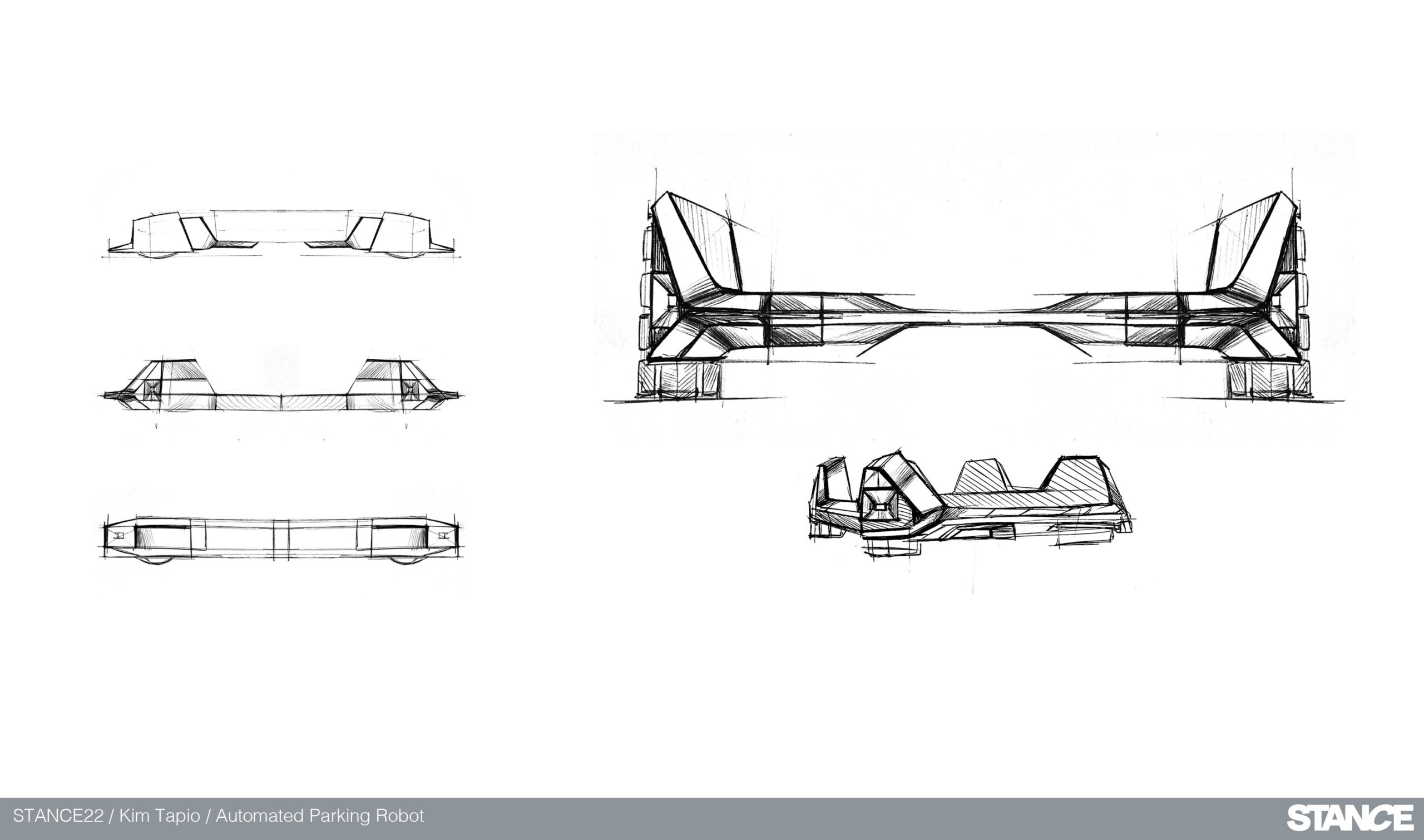 Environmentally friendly and ethical materials in vehicle design by Mette Stubb
This graduation project discusses materials used in vehicle
interiors from an environmental and ethical perspective. Currently, fully renewable, and ethical materials are limited to concept vehicles. The aim is to explore what alternatives exist and how to make the consumer more aware of them. The project also explores the production methods, lifetime, drawbacks, costs, properties of different materials and how they could be used in vehicle interior design.
The goal is to create a public discussion on the use of environmentally friendly and ethical materials in vehicle interiors today and in the future. As different types of plastics are the most used material in vehicle interior design, which is of concern as the climate crisis progresses, it is important to identify renewable and ethical materials that could be used in the future for vehicle interior design. From an ethical point of view, the use of leather in vehicles is particularly questionable, as the production of leather produces huge carbon emissions, not forgetting the rights of animals. The demand for leather is constantly increasing and it is therefore important to find alternatives, such as artificial leather made from mycelium, mushrooms, and pineapple leaves. From an environmental point of view, materials should be as recyclable, biodegradable and carbon neutral as possible.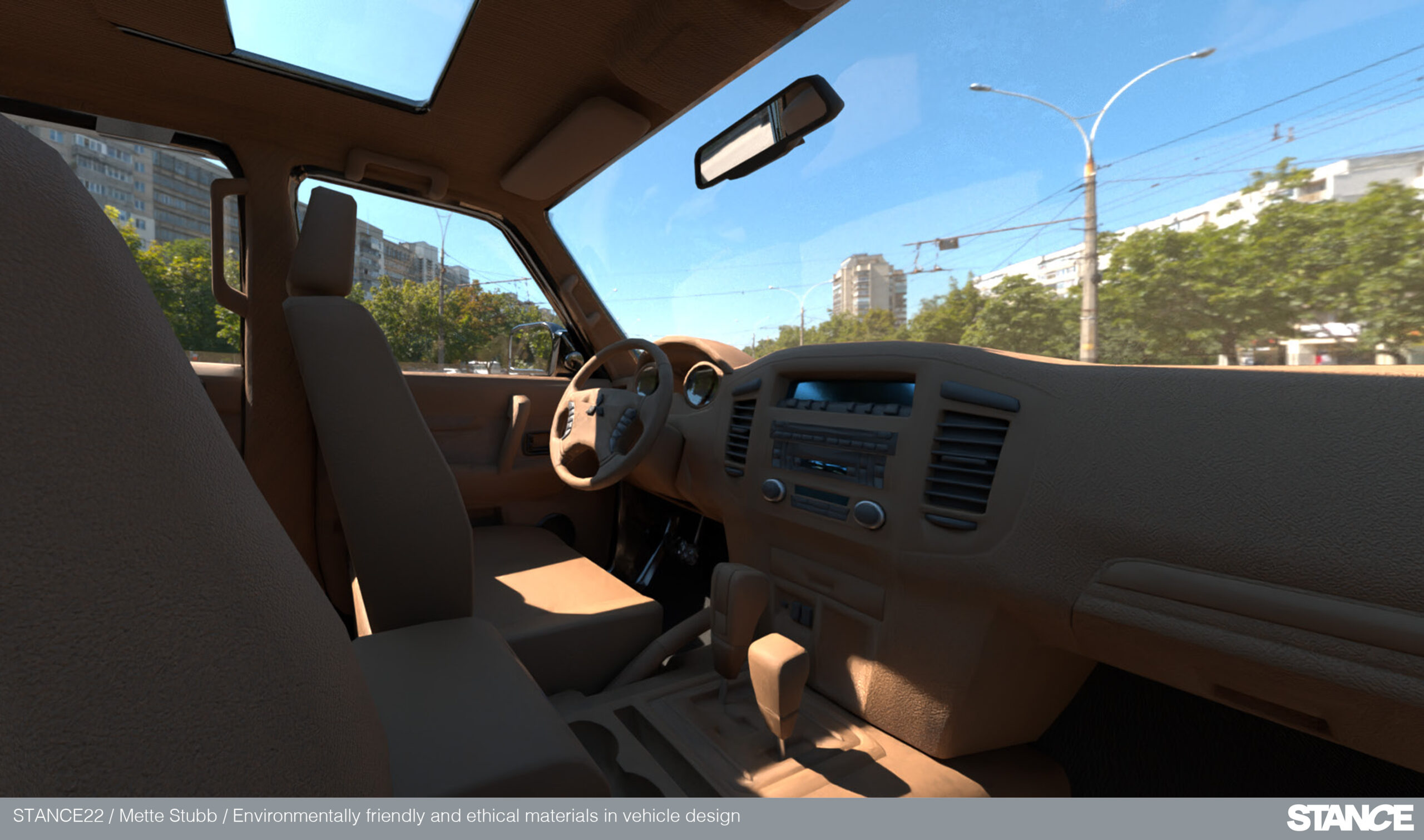 eMAD
Special thanks go to Peter Beliaev and Mariia Kozlova for creation of this promotional video. Thanks also to Lauri Haiko and our friends at LUT University for the amazing work on eMAD technology. This is a world leading electric motor cooling technology that all of us in vehicle design wanted to incorporate into our projects, and so should you! Get in touch with Lauri if you are interested- but here's a showcase video to promote the tech, modelled and rendered by Peter. Just one of the services that our in house design studio Muotola, can offer external, or in this case internal clients.
One final thank you to Eeli Ravea, who's work you can also see in STANCE21 blog post- but this year he contributed an excellent project – once again intended to promote the eMAD motor technology from our partners at LUT University. This unofficial SISU branded 4×4 ULTIMATE Utility Vehicle (UUV) Concept began as a design brief to make use of the extreme torque characteristics of the patented eMAD motor system. The design brief also called on students to showcase the best of Finnish design and technology. All aspects of this project were conceived to be designed, and manufactured right here in Finland. eMAD motors were designed and engineered 100% at LUT University here, and that inspired us to take the Finnish theme as far as we could to feasible locally produced vehicle ideas. This is just one of the projects. The classic and dependable utility and military vehicle brand of SISU was chosen by Eeli to represent this design brief.