2017 marks our third ever graduation year, and our graduates displayed wide-ranging vehicle proposals based on their own independent research and collaboration with industry clients. We still like to use our unofficial name and brand STANCE here at Finland's first and only full-time Vehicle Design study programme. This year we wanted to emphasise that we are from Lahti (not Helsinki!) and that we are based in the small but world famous Lahti Institute of Design. Lahti is something of a motor-city in Finland, with a strong automotive culture. There's also a bus factory based here. That particular place was part of a project to design and build Saunabussi (yes, a bus with a sauna inside) which two of our students were involved with. We were very grateful to have Saunabussi visiting our STANCE17 event! Interestingly, the first franchise of London's Ace Corner Cafe is right here in Lahti Finland. We teamed up with Ace Corner Finland to host our degree show. Ace Corner is also the location for Finland's largest motorcycle museum. Our event gave VIP visitors access to the motorcycle museum for free- and we thank the owners of Ace Cafe for that privilege. On the evening of 24th we presented our STANCE award, sponsored by our good friends at Rightware (one of Finland's top vehicle industry partners). The award for best project this year, was given to Ilja Oikarinen for his innovative plastic concept vehicle. The Pod-Vehicle concept is an autonomous vehicle that owners can sleep inside- and can be owned, or even rented like a Japanese pod-hotel – for mega-city workers to sleep near their place of work. Other commendable projects included Waltter Holm's Patria armoured vehicle concept. A very comprehensive and detailed design project, with the most accurate and detailed model we have ever seen at our institute. Two students, Antti Vahtola and Antti Alasalmi, returned just in time from Turin Italy, where they had been working at the Changan Automotive Europe design studio. They completed the Chagan Serenity visual identity concept thesis work at that studio. This type of collaboration with industry is a vital part of our learning process and we are incredibly grateful to Changan Automotive for all their help. We would like to thank Patria, Covestro, Lada Moscow, Changan Automotive, Rightware and of course Ace Corner for all their help contributing to this years successful projects and exhibition.
Mikael Kosonen
Police Multi Terrain Vehicle
The subject of this graduation project is to create a concept for a new kind of police vehicle for finding missing people in off-road environments. This thesis examines missing person search operations and associated problems and tries to find answers to these questions. At this moment a searching process is usually too complicated and public authorities don`t have any vehicles made for this use. Also the resources are limited, because effective search operations need so many people to join them.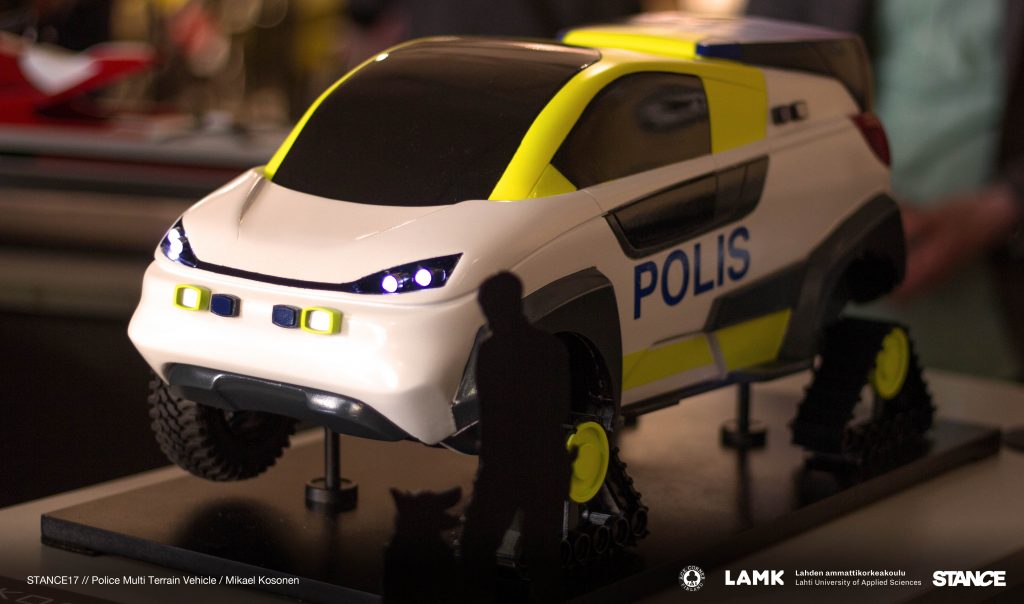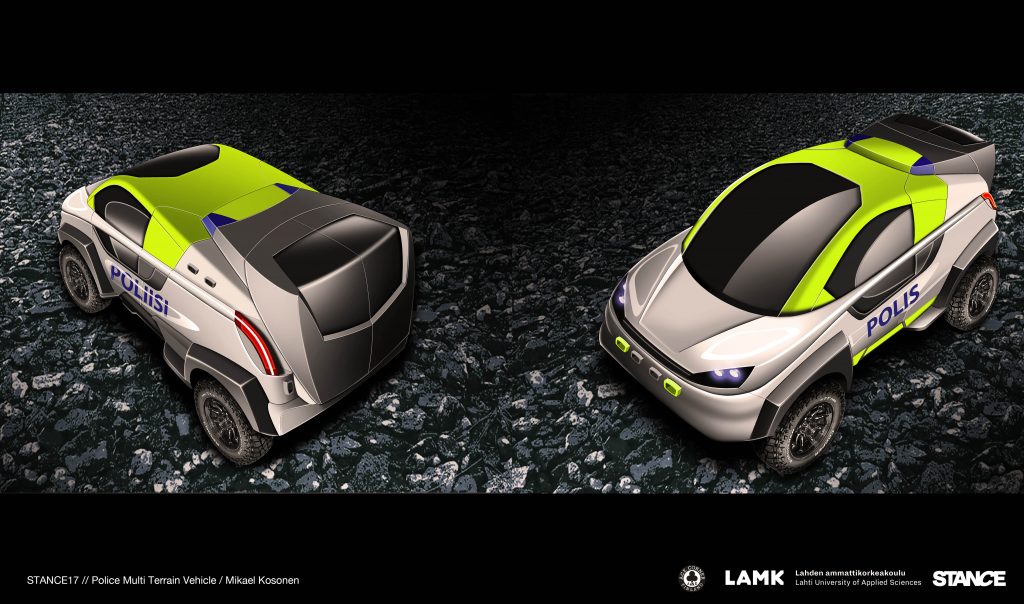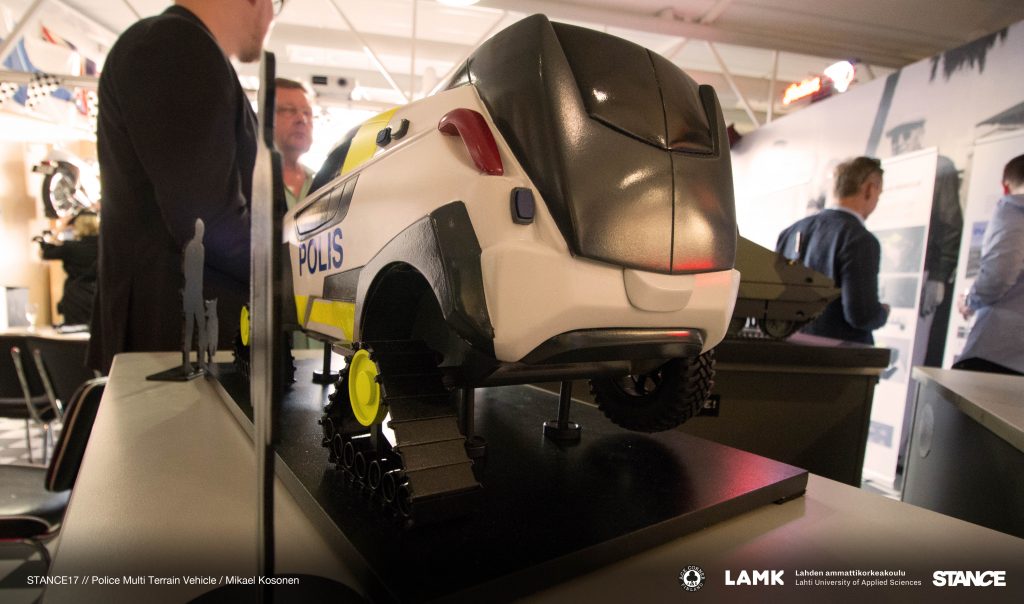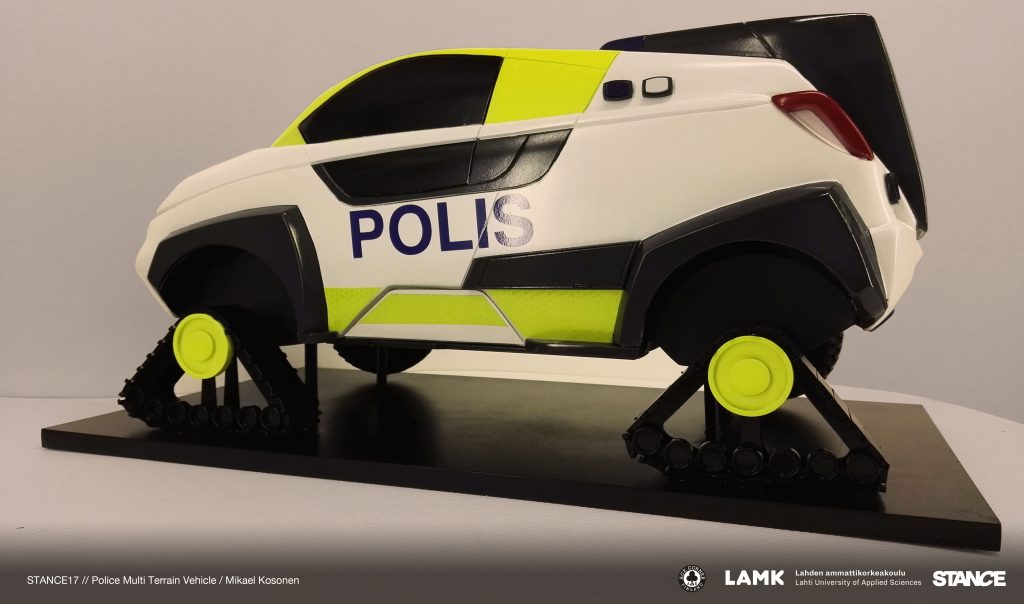 Henri Helvilä
ORCA
This graduation project is about designing a marine rescue vehicle. I try to find the issues surrounding current rescue vehicles and concentrated on finding solutions to the problems that complicate the operations of the current rescue boats. The final product is purely conceptual vehicle and also my vision of the ideal small marine rescue vehicle. The vehicle is operated by one person, and it's capable of transporting another person along with the driver.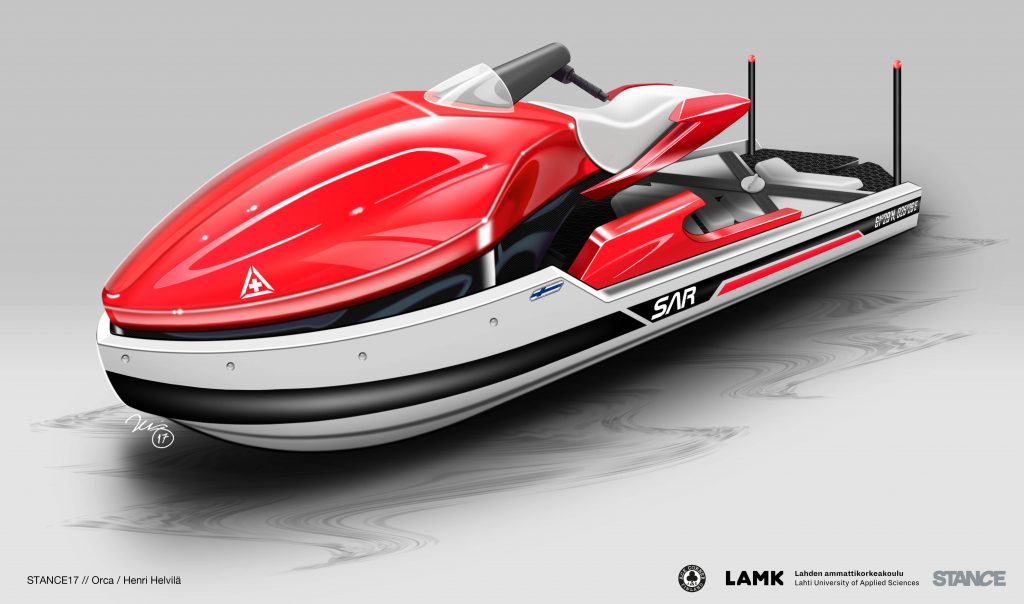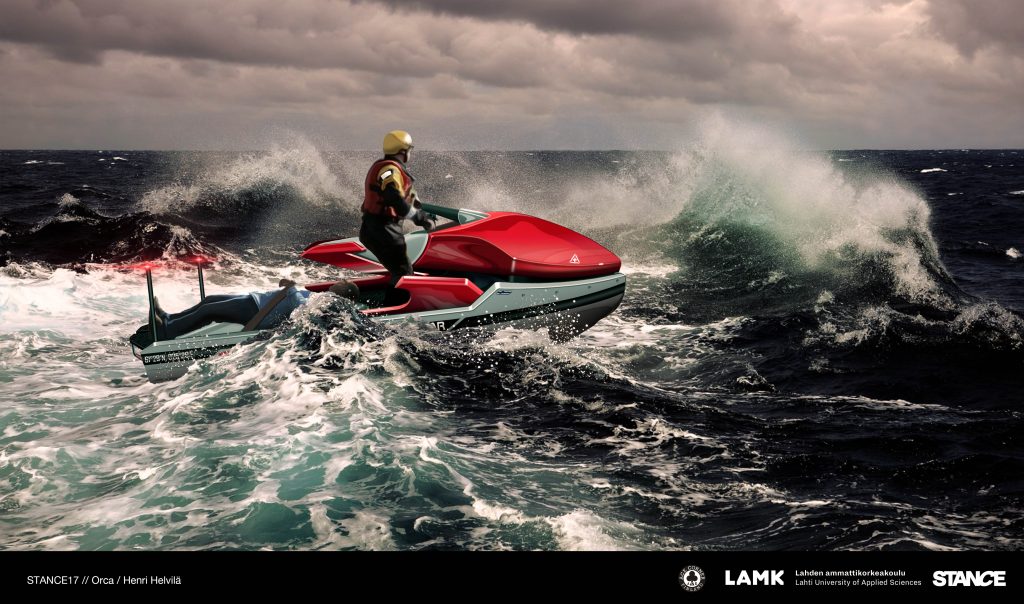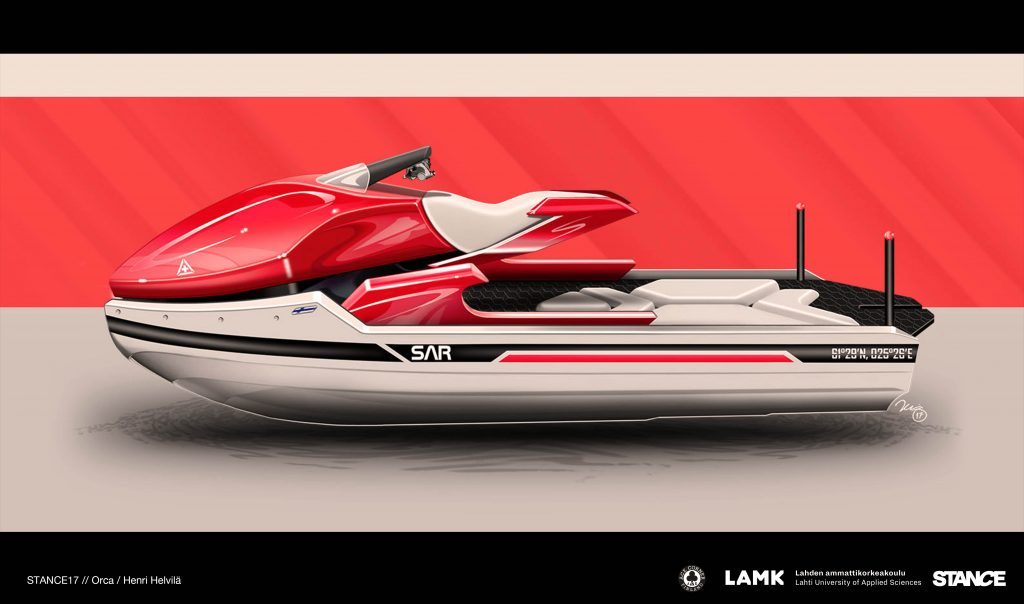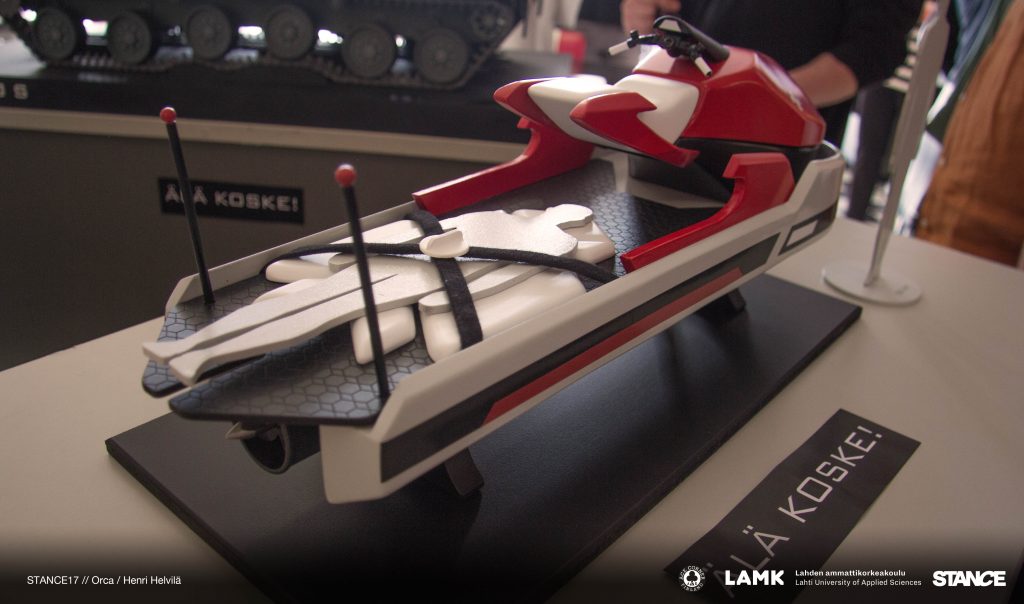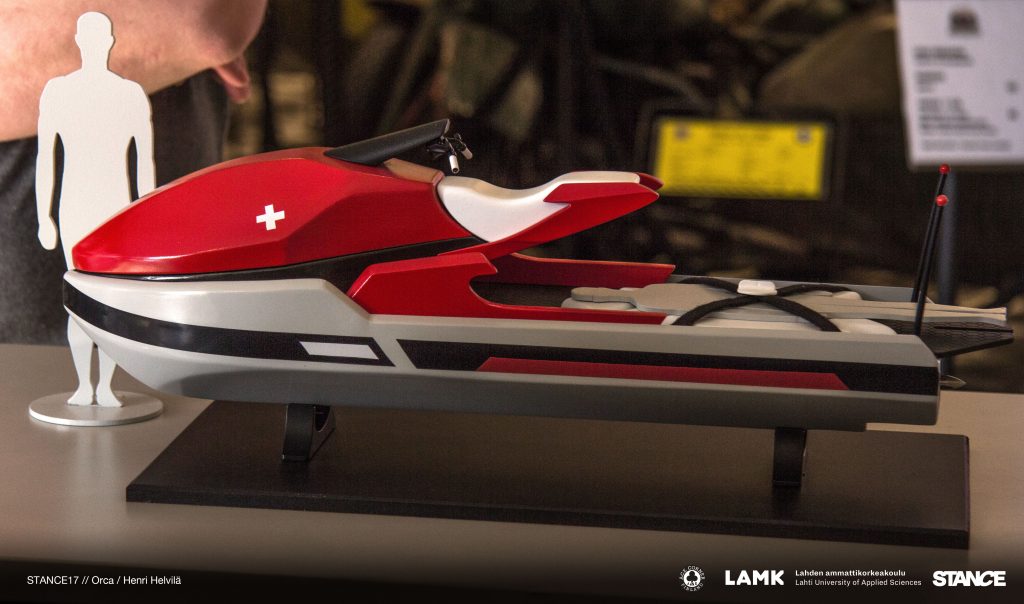 Joonas Peitsara
Militia Phantom
This thesis and the visual aspect of the project focused on the walking combat vehicles of Titanfall. These vehicles are called Titans.
The goal of this project was to design a new type of Titan for the Frontier Militia unit that is in the science-fiction universe of Titanfall.
The design process of this project includes a wide range of fine detailed digital and traditional drawings.
The end result is a super heavy stealth camouflaged assault and ambush Titan, Phantom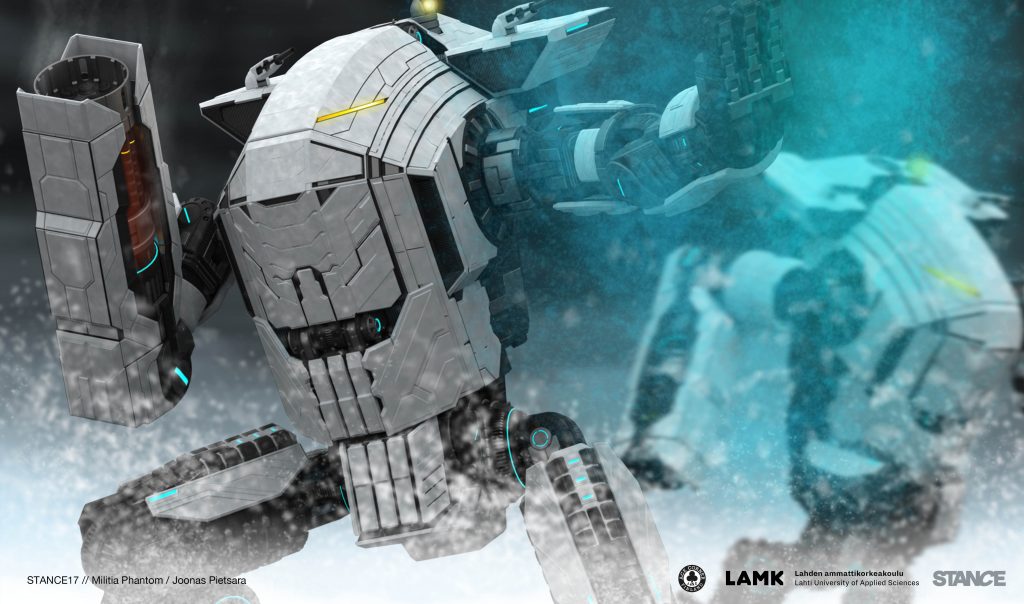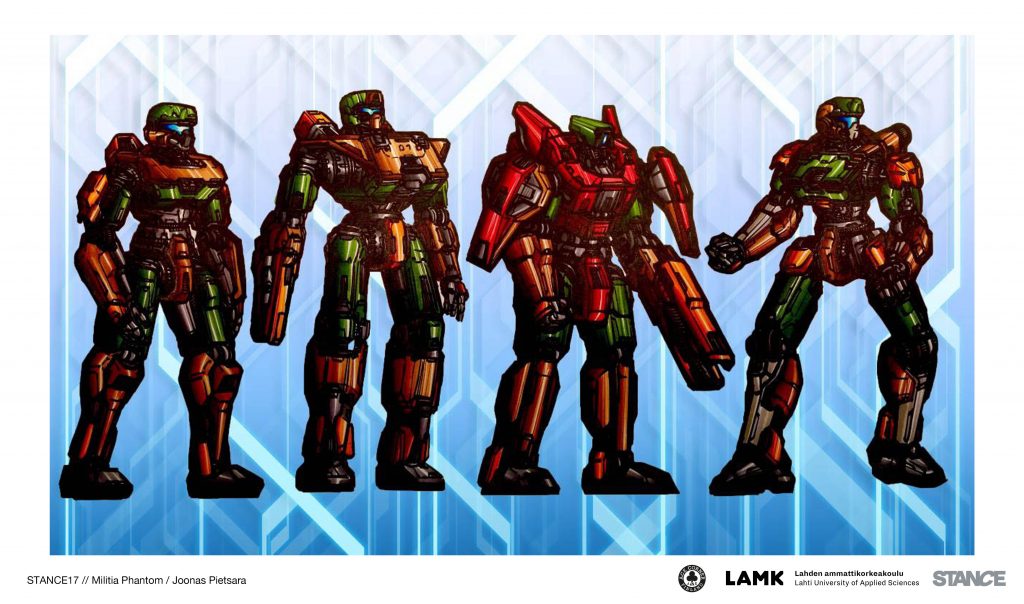 Teppo Antolla
Sampo from Kalevala
My thesis project was to focus on the world of Kalevala and bring the mythical machine named Sampo into today's world in the form of a motorcycle. For those who don't know, Sampo is a magical device of indeterminate form. It has been proposed to be knowledge, power, skill as well as material things, such as a magical mill, a counterfeit device, and a machine for minting coins.
My aim was to build a rugged machine, visiting the past and picking up key elements from days gone by. My project features a hardtail frame to make it low and to keep a retro feel to it. For example, Harley-Davidson fat boy wheels are used, because they give an impression of historic style, when wheels were riveted by blacksmiths. In Kalevala, Blacksmith Ilmarinen forged the Sampo.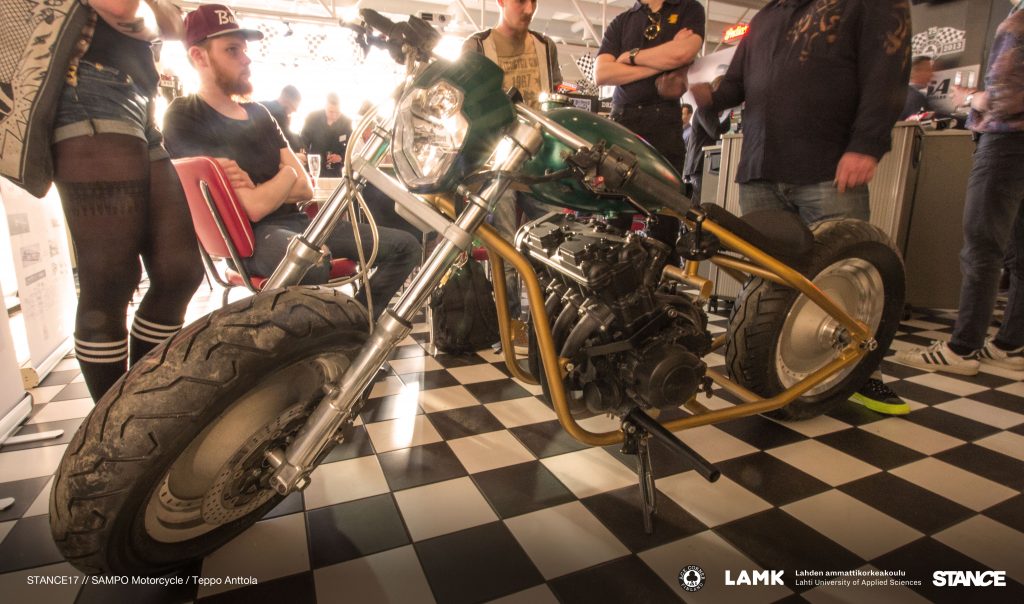 Waltter Holm
ARCTOS
The aim of the bachelor's thesis was to design an innovative armoured personnel carrier. This bachelor's thesis is made in cooperation with Patria Land Systems. An armoured personnel carrier is an armoured vehicle which run on tracks, in which the crew can be transported. My Bachelor's thesis presents a novel solution to armoured personnel carriers which can easily be adapted to other purposes. Purpose is possible by switching the integrated function module into the another function module. Function module options may include the evacuation, reconnaissance, maintenance and in-service module. Armoured personnel carrier is completely unarmed.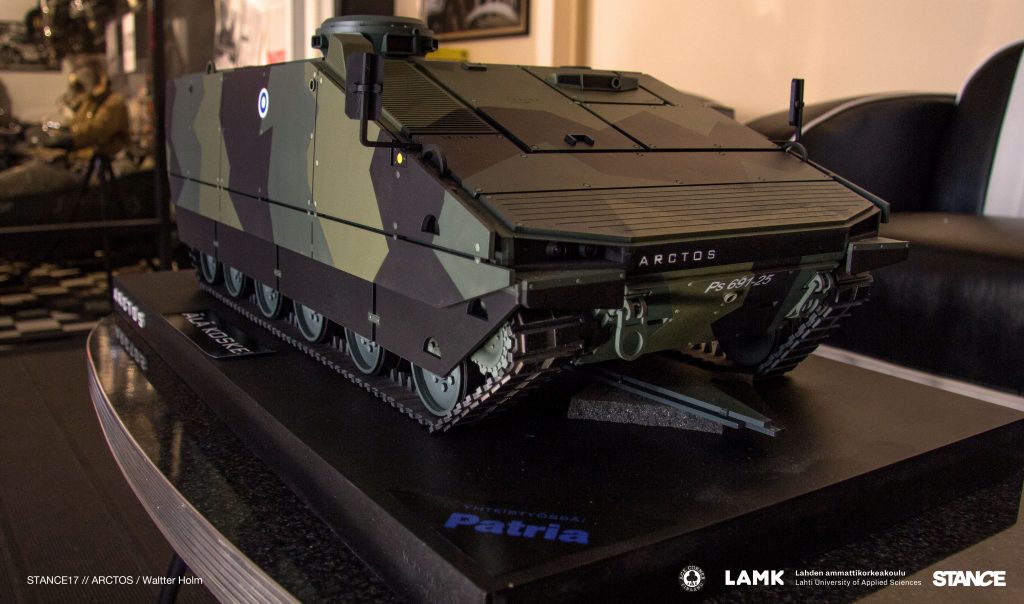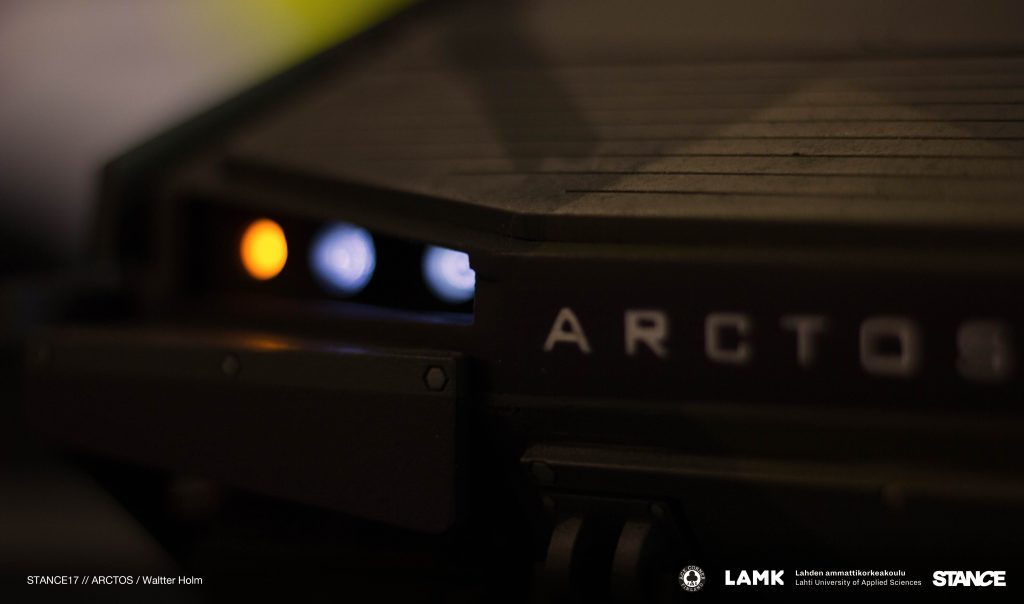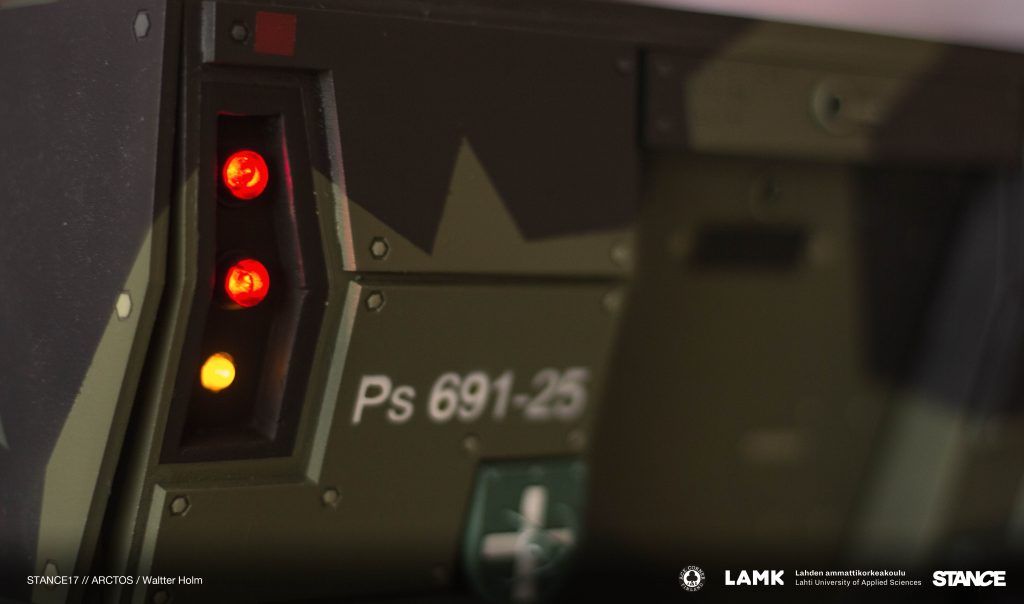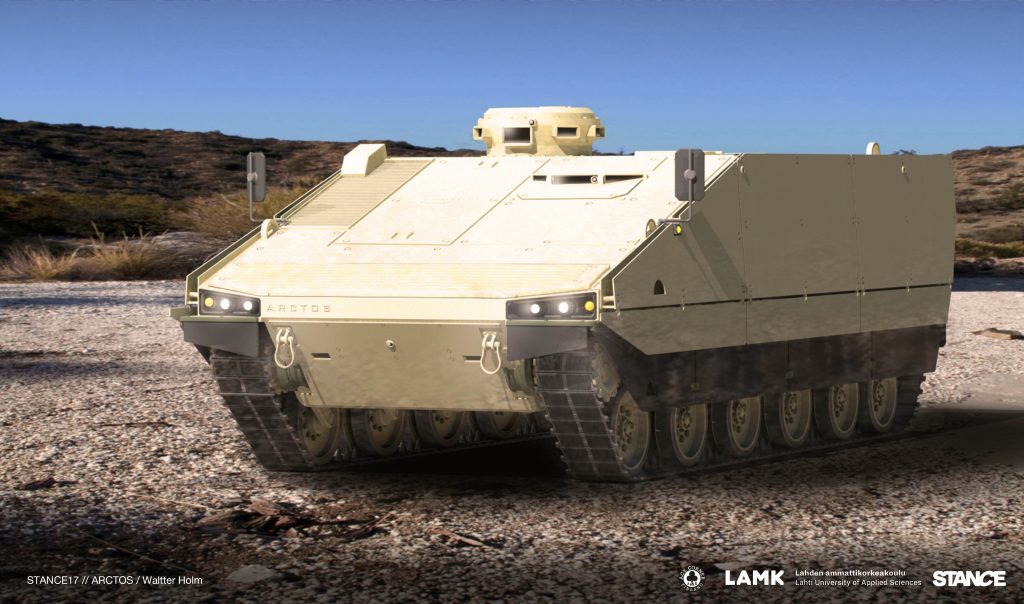 Hilja Kaitila
Algorithms as designers
The topic of this graduation project is to create a design process that benefits from computing science by using algorithms and artificial intelligence as part of the process. The focus is on how designers can exploit existing programs that have a large volume of users (big data) and how research results can be applied to Lada's renewed brand image.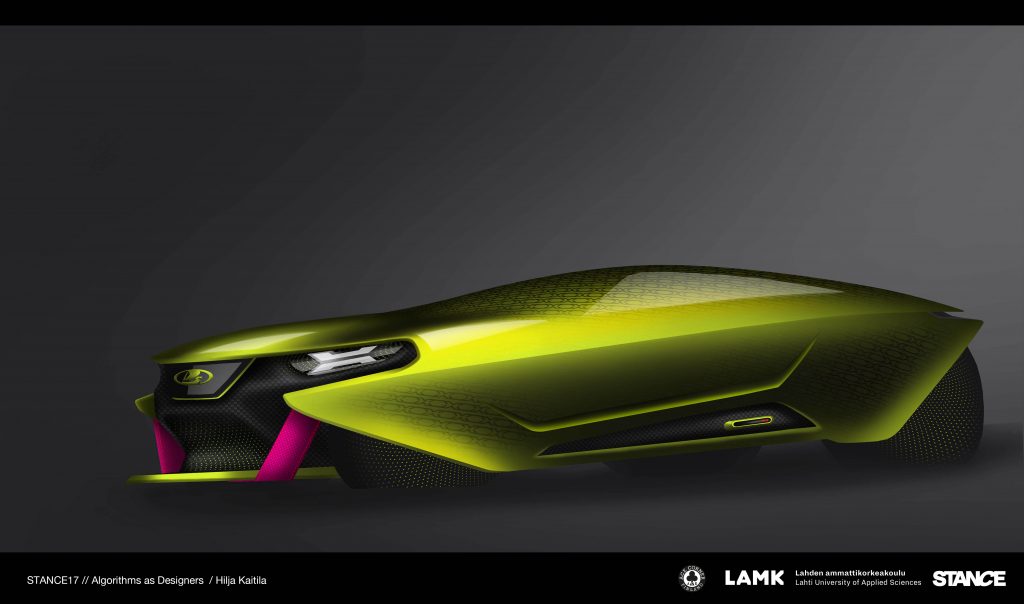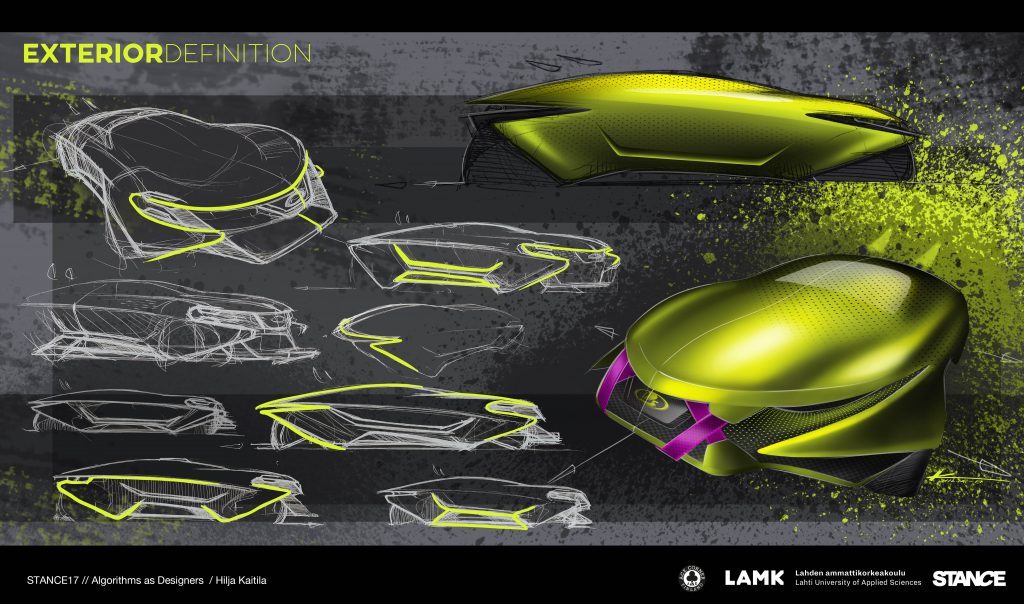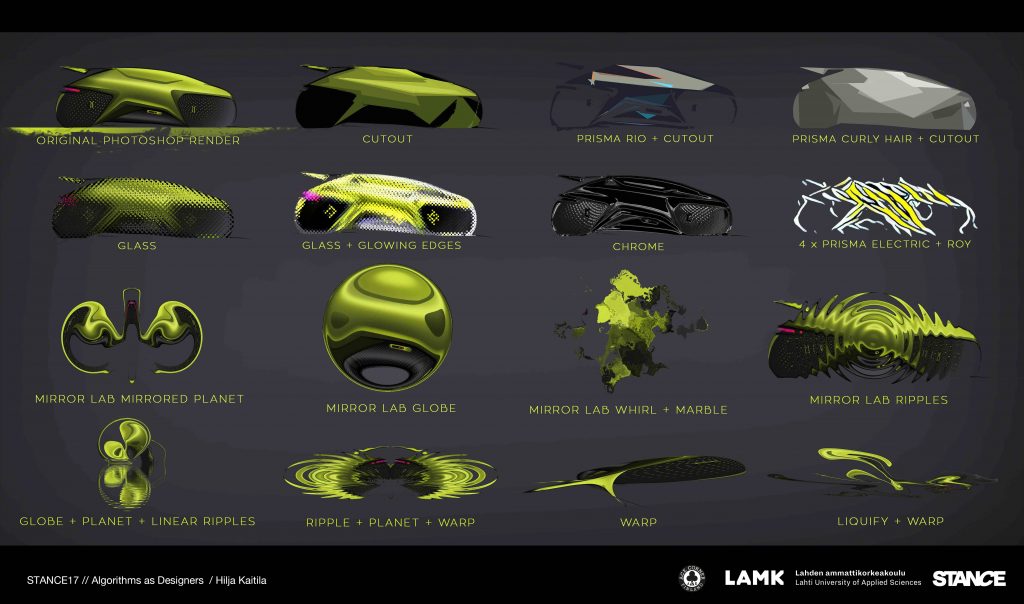 Antti Vahtola and Antti Alasalmi
Changan Serenity
This graduation project was created for Chinese car manufacturer Changan. The brief was to create a visual identity for the brand and to form the key elements of their design. Our mission was to build a vision which presents Changan's identity, giving the guidelines for the global design language. Our concept is built around safety and clarity. Changan means "lasting safety" as a name, so the story for the vehicle reflects the brand. The main theme of the concept was the interaction with water, having strong inspiration from a boating world combined with a Scandinavian touch. The vehicle is designed for the autonomous era. The user experience will be highlighted when there's no need to drive.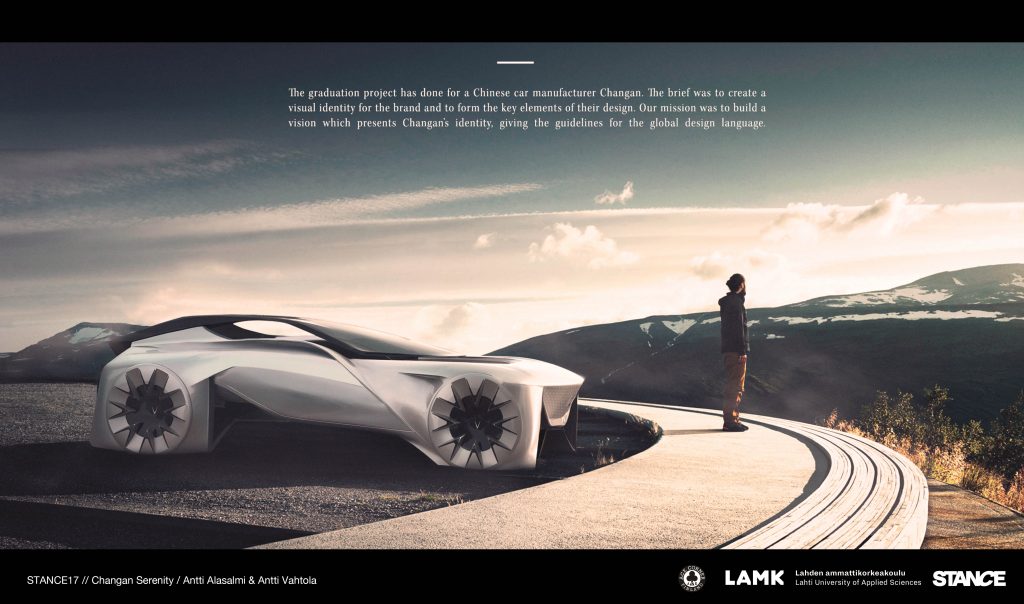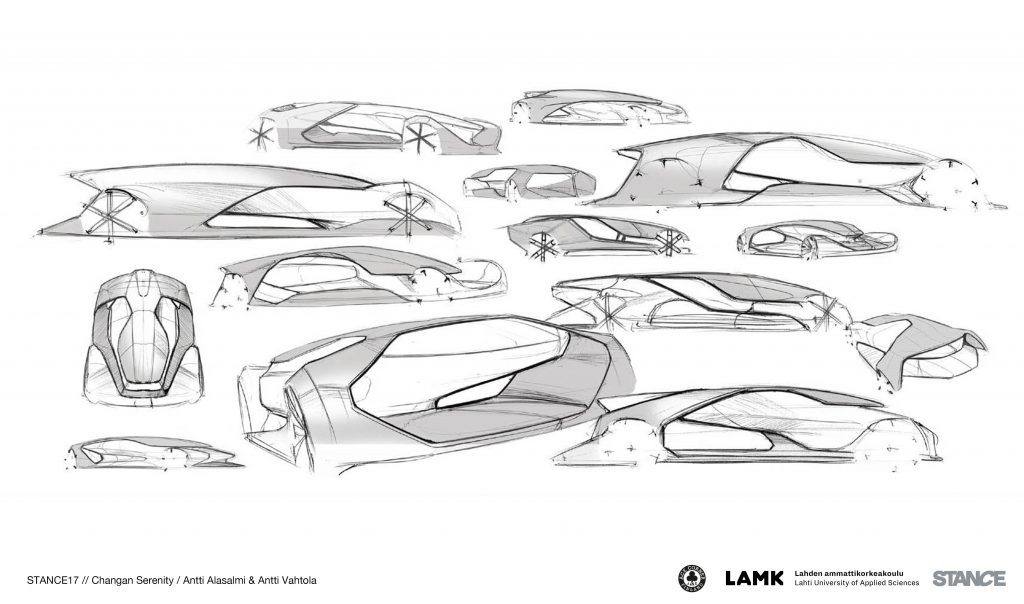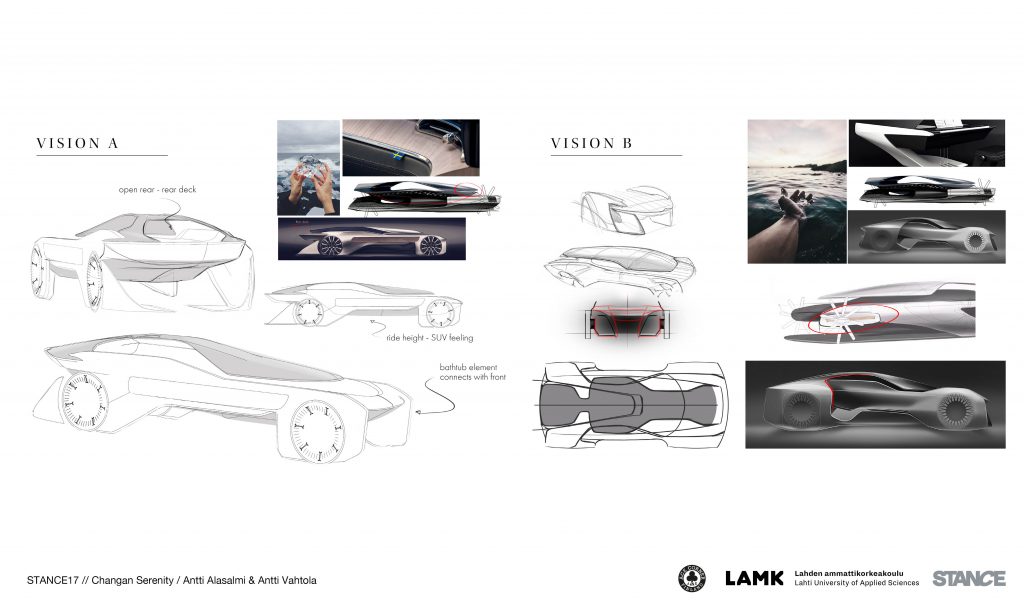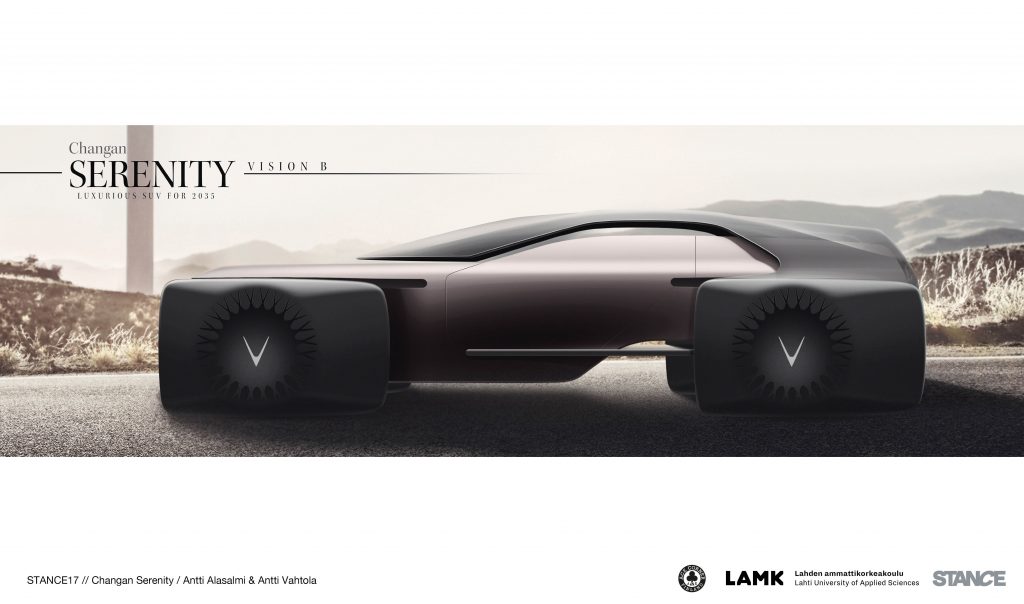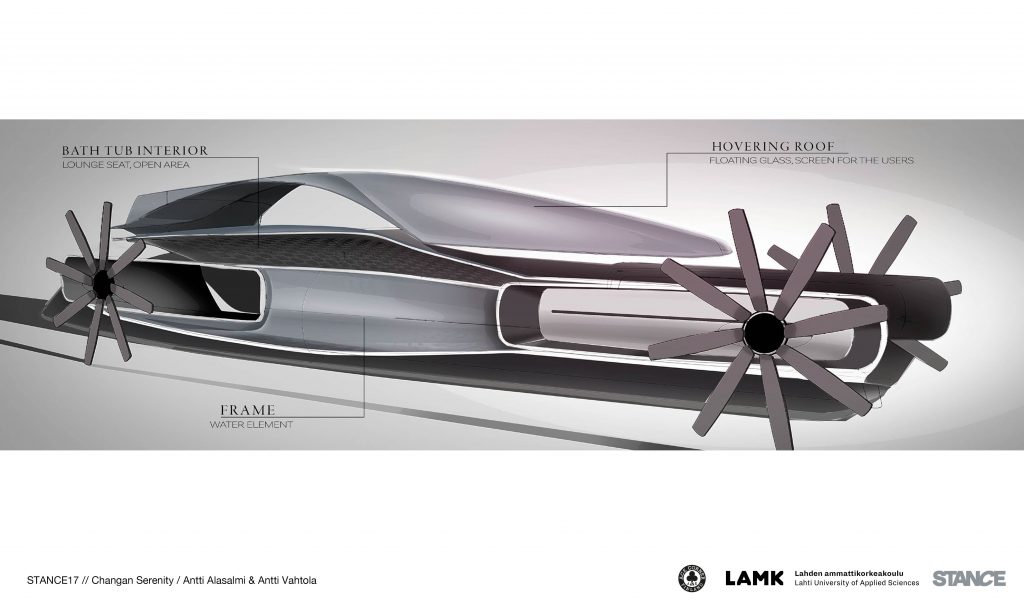 Ilja Oikarinen
Pod-car Concept
My graduation project was created with the collaboration of Covestro, a company that produces plastics. This project is aimed at finding a way to merchandise Covestro's materials in a new and exciting way. To do that I have chosen a future scenario which will address the issue of high density of people and unavailability of housing.
To solve these problems, I have created a vehicle interior concept which will provocatively highlight a solution and proposal for the year 2030. In this concept the interior is used like a Swiss army knife. It is multipurpose, where you can sleep, rest, hang out or drive the vehicle, depending on your need. The car can be rented or bought.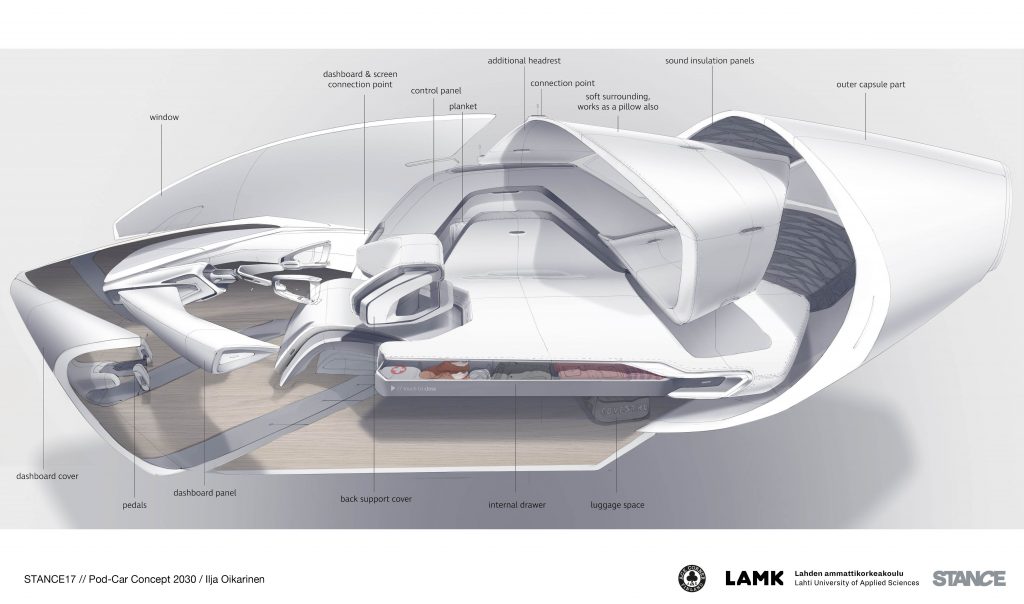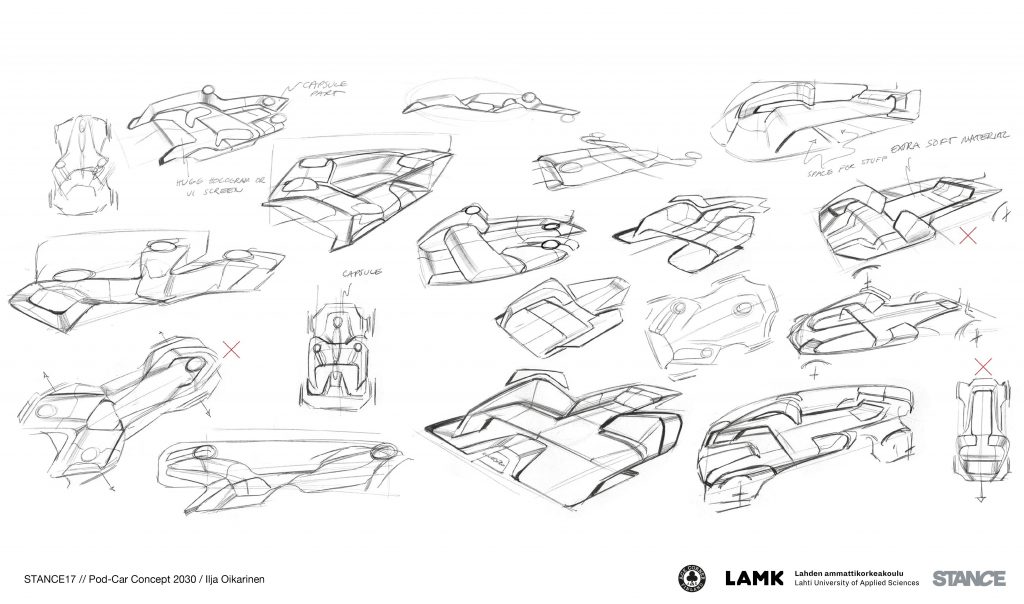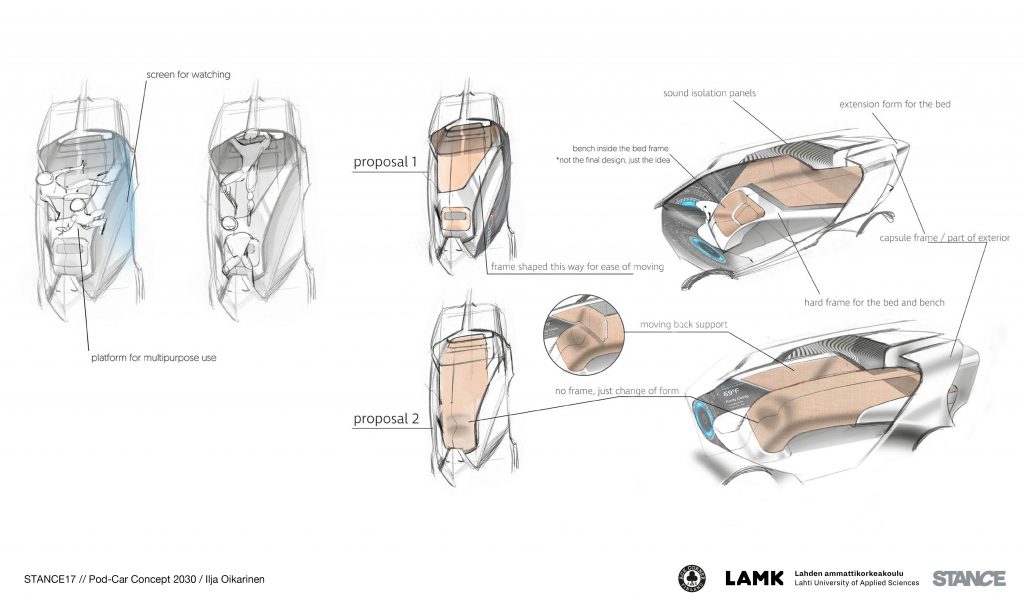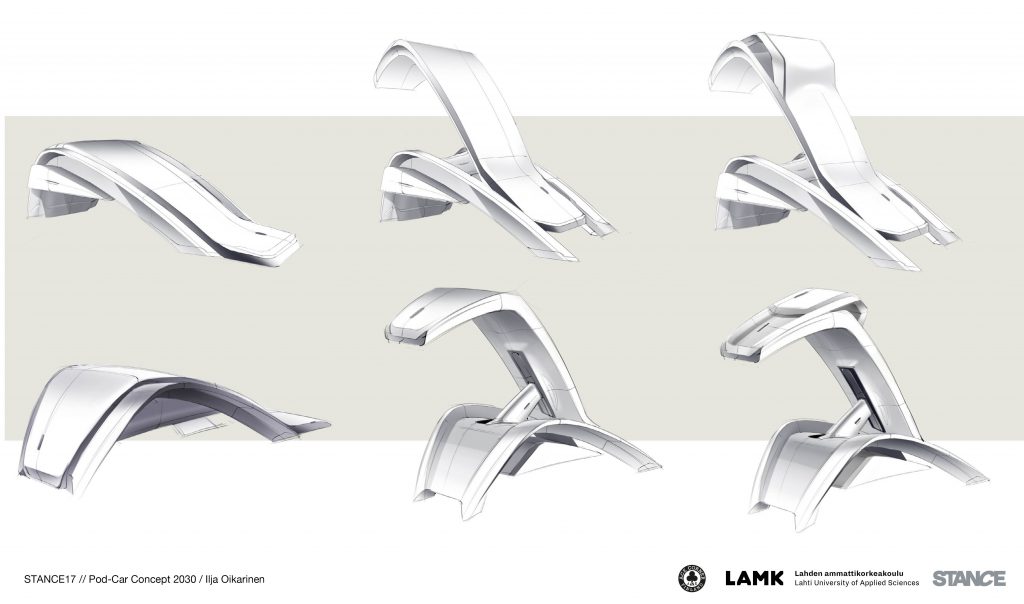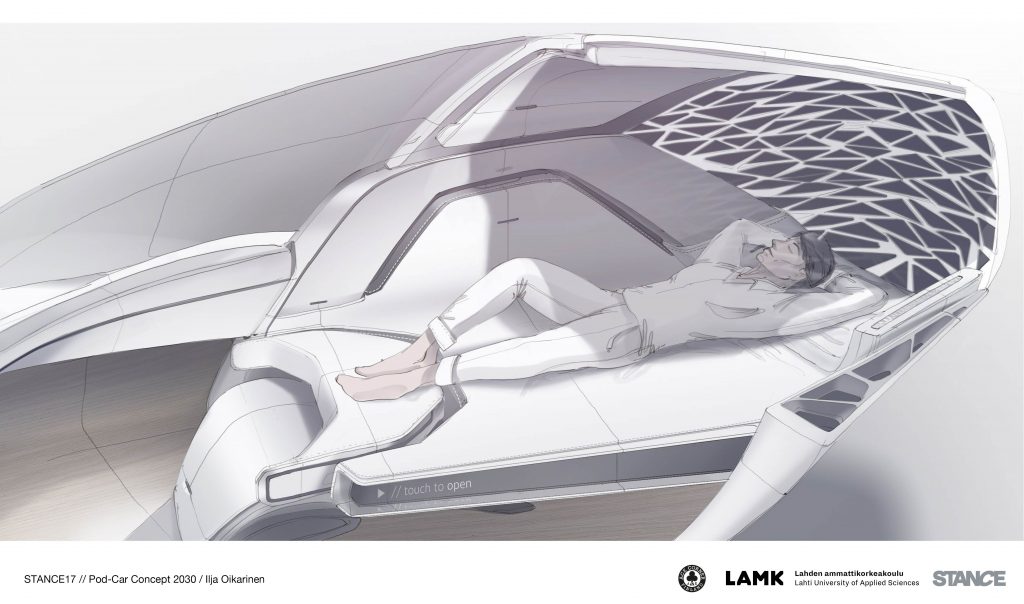 http://www.ace-corner-finland.fi
http://www.moottoripyoramuseo.fi