A few weeks ago STANCE18 happened. This blog post is running late, thanks to our exciting process of moving our entire Design Institute to a new campus facility! More news on this soon, but by coincidence we are moving to become very close neighbours of Ace Corner and the Motorcycle Museum. This was again our chosen venue for STANCE18 and once we are based nearby perhaps we will be more frequent visitors? Ace Corner is a friendly place that always makes us feel welcome. This year our exhibition was quite small – more projects will actually be unveiled later this year – but we had awesome Ace Burgers and a few beers and celebrated another group of talented Finnish designers leaving us for the wider world!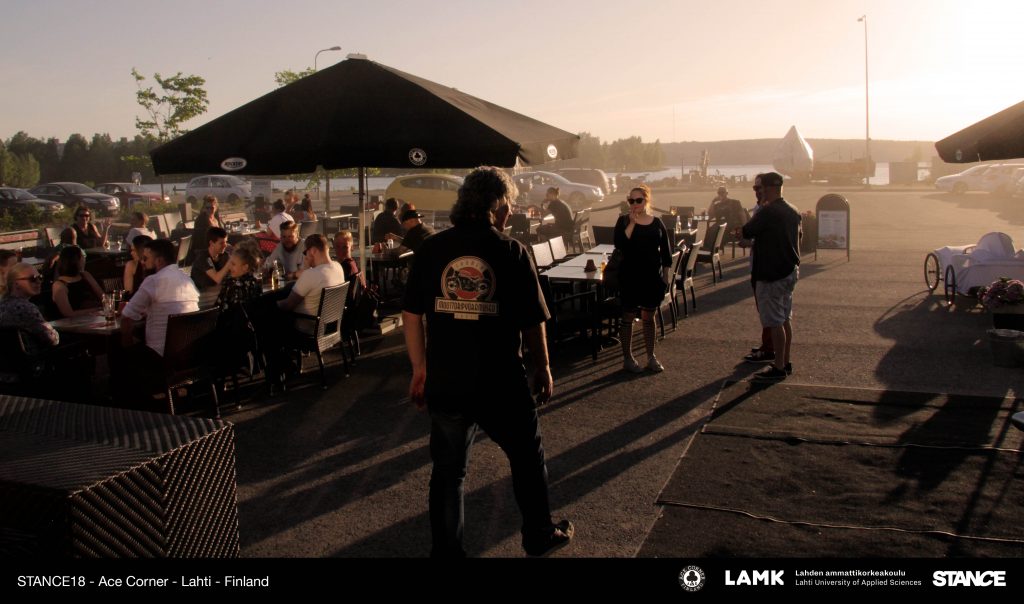 The weather this May was truly exceptional. The hottest for 30 years in Finland and we enjoyed the evening looking out across the vast lake we have here in Lahti. STANCE is about networking, it is about making sure that students, alumni, staff, businesses or anyone in Finland interested in transportation and vehicle design can get together socially. I will waste no more blog space and will let our students explain their own graduation projects (useful to have abstracts written in English), and you can see there were one or two other interesting things we exhibited. Finally we brought back our Suzuki 750cc motorbike that the museum had donated to us! Our students had transformed it into a Cafe Racer.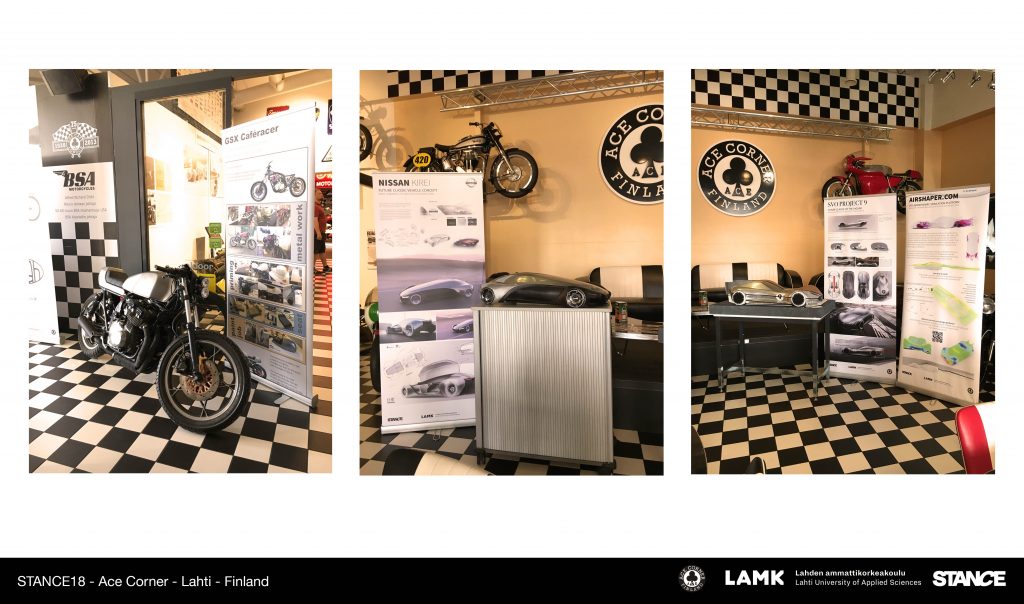 We also partnered with our usual sponsors Rightware (of Kanzi UI software fame), plus a newcomer called AirShaper! Rightware helped us present our annual STANCE Award- given for our favourite project of the exhibition. There have only been 4 winners of STANCE awards previously, and 2 of those are working in OEM vehicle design studios right now! In 2016 we also awarded a special online version, just that once. This year a project stood out at the show- for exhibiting a 1:5 scale clay model. Ivo Mukkulainen received the 2018 Rightware STANCE Award for his tireless dedication to creating a beautiful Jaguar branded design. His reward this year, was a 4 month internship at Rightware design office in Helsinki. We wish him the best of luck with his career. An exciting part of Ivo's project was aerodynamic testing of his model, in a wind tunnel. How did we achieve this? Well it wasn't a real wind tunnel, just a digital simulation thanks to a new online service created by AirShaper.com. A special offer of €500 simulation time (using their digital wind tunnel costs less than a real one!) was created just for us at STANCE, and you simply have to follow this link and sign up to their newsletter (it'll cost you your email address) and they could pick you to receive the €500! This offer is only for STANCE followers, and your chances are VERY high!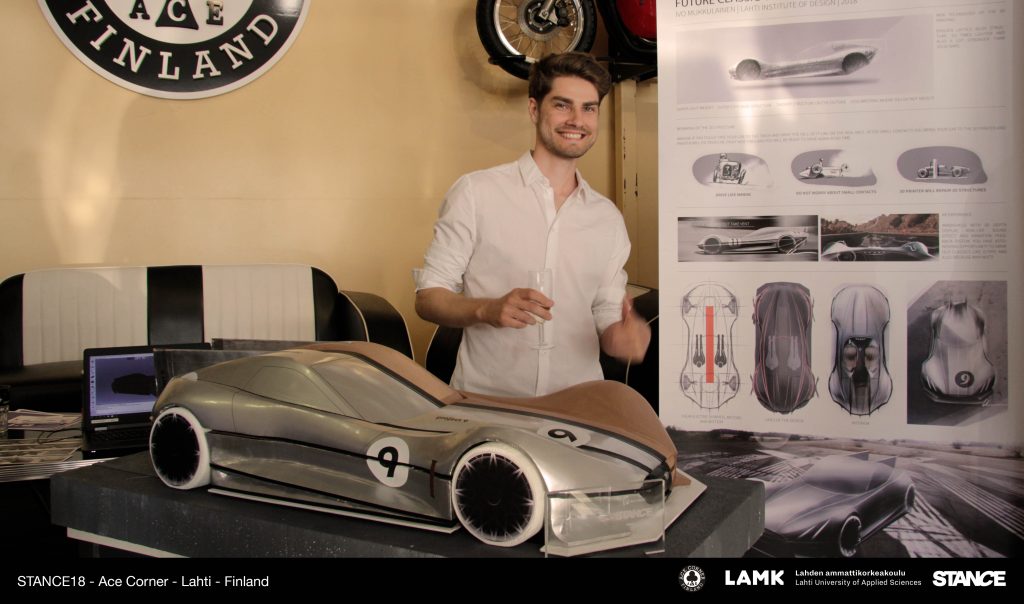 Ivo can explain his project topic himself:
Ivo Mukkulainen
Jaguar SVO Project 9 – Future Classic
The subject is a classic car of the future.
I want to show how driver's passion can continue in the future, considering future technology and standards.
New possibility to drive on the race track and not to be scared about consequences.
How Jaguar heritage and design DNA will continue in the future.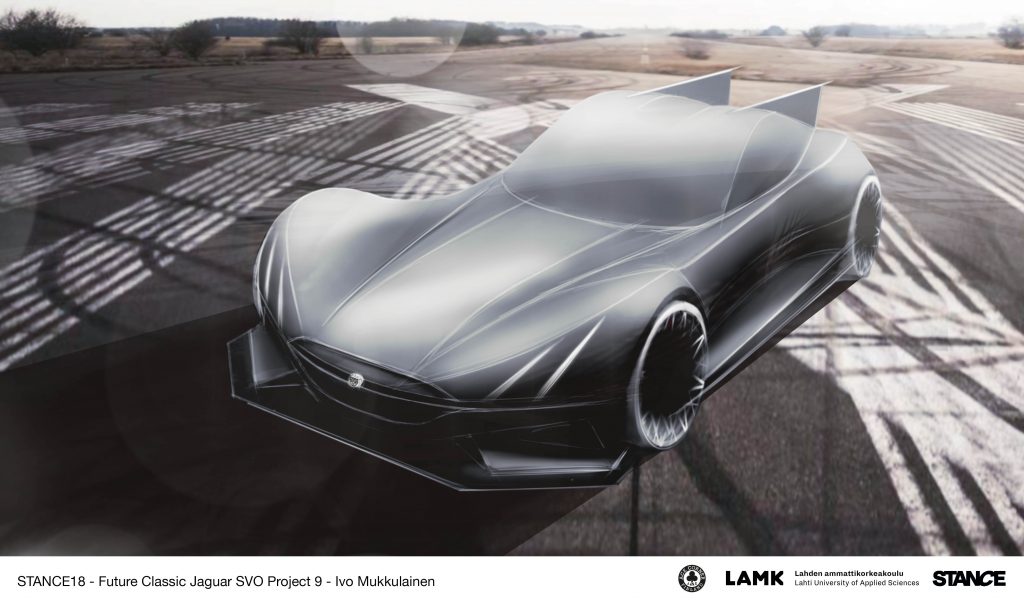 Heidi Yli-Suvanto
The North Face Exploration Vehicle
This graduation project is a conceptual exploration vehicle that is branded for The North Face and is suitable for both urban and natural environments. A major goal of this project is to encourage peo­ple who have spent most of their lives in the city to explore and feel comfortable going to areas outside of the urban environment. The inspiration, and overarching goal of this project, is to facilitate eye-opening experiences in nature and inspire people to take better care of their surroundings.
Mika Niskavaara
KTM 360 Electric Motorcycle Concept
My graduation project is an electric motorcycle concept for freeriding and exploring urban environments. With this concept l'm going to explore solutions and possibilities for urban freeriding. l'm aiming to introduce new ideas to the motorcycle industry inspired by bmx and freestyle mountain biking.
Mikke Leinonen
Nissan Kirei – Future Classic
My final project is the future classic vehicle concept. The car is designed for the year 2025 and vehicle should win the Concours d'Elegance competition in 2050.
The main focus of the project concentrates on the exterior design of the vehicle.The car should stand out from the mass and awaken great emotions.The car has to be futuristic and there should be elements that make it a classic in the future. I have chosen Nissan for the brand, because I'm not so familiar with Nissan. I also wanted to choose a brand that does not have a classic car so far. The purpose of my project is to be a Vanguard for the Nissan and help the brand to create a classic car in the future.
I've tried to find elements and issues for the project that make products classic and iconic. The written part of the thesis consists of the steps of the project's progress, brand history and Concours d'Elegance competition.
Peppi-Emilia Salmi
Trimoto – Endurance Motorcycle Trailer
The thesis focuses on designing a motorcycle transport trailer. With the market research, I strive to create a potential and useful concept for the market.
The result should be an affordable, lightweight and functional entity for fluctuations a Finnish weather conditions. The trailer should be able to carry two or three full size enduro motorcycles and their drivers' accessories.
The thesis is perceived with a 3D model made by the Autodesk Fusion 360 modeling program and the physical 1:6 model.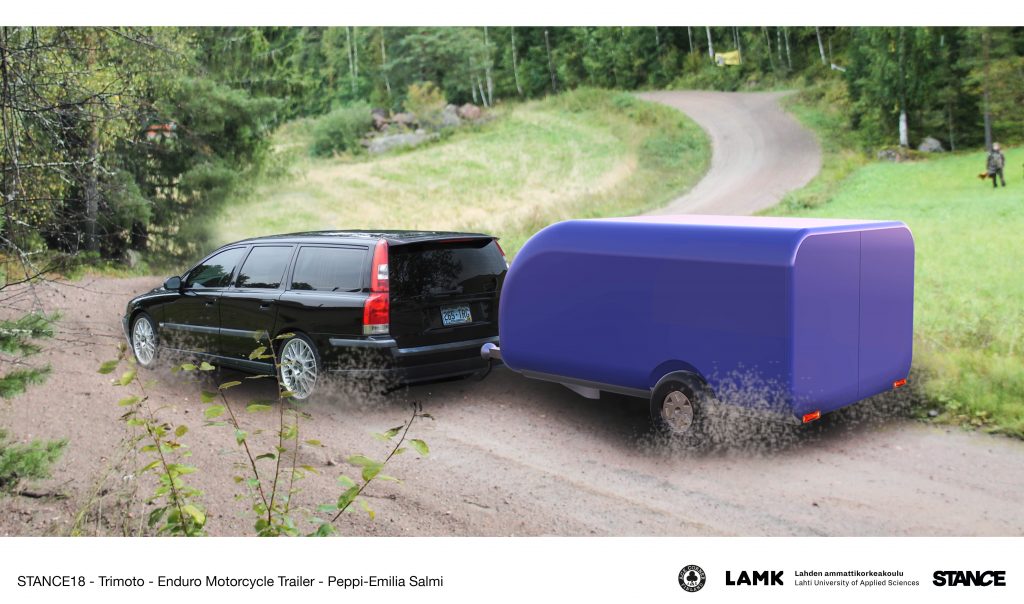 Perttu Susi
Hukka Houseboat
In my Bachelor's Thesis I have designed a houseboat for private use. It is suitable for year-round living in Finland's varied weather conditions. The houseboat strives to solve the challenges of urban living in the future. Urbanization and rising sea levels resulting from climate change can affect the emergence of new forms of living in Finland as well as in the rest of the world. The houseboat I have designed is environmentally friendly and it is also suitable for going at the high seas.
Tatu Konttinen
Vator 27DC – Reviving a Finnish Boat Brand
The subject of this thesis is a study and a concept of reviving Vator boats with a new model and development of a businessmodel. Vator is a dead brand which used to be one of the biggest boat companies in Finland.
The procecution of the idea required research about contemporary boating and how it should evolve in the future.
The idea of owning things is changing and since boating is concidered as an expencive hobby there is no doubt that it wont affect the boating culture aswell. Major part of the process is to focus on customer needs and demands in the near future without forgetting a boat that suits multiple purposes.
Teemu Paavola
Mega Yacht Concept for 2040
This thesis is about future possibilities of yachting and new younger generation users.
Focus on this thesis is on future technologies and younger users. What is possible in the future and what do the younger generation want from their yachts. A fictional user has been created for this thesis to get more realistic end result. User is based on a future research. The design of this yacht came from the futures pos­sibilities and functions that user needs. There is no companies or any other contractors.
Thesis is fully based on a research and fictional user needs. Design is created based on research and sketching all the way to the final 3d model.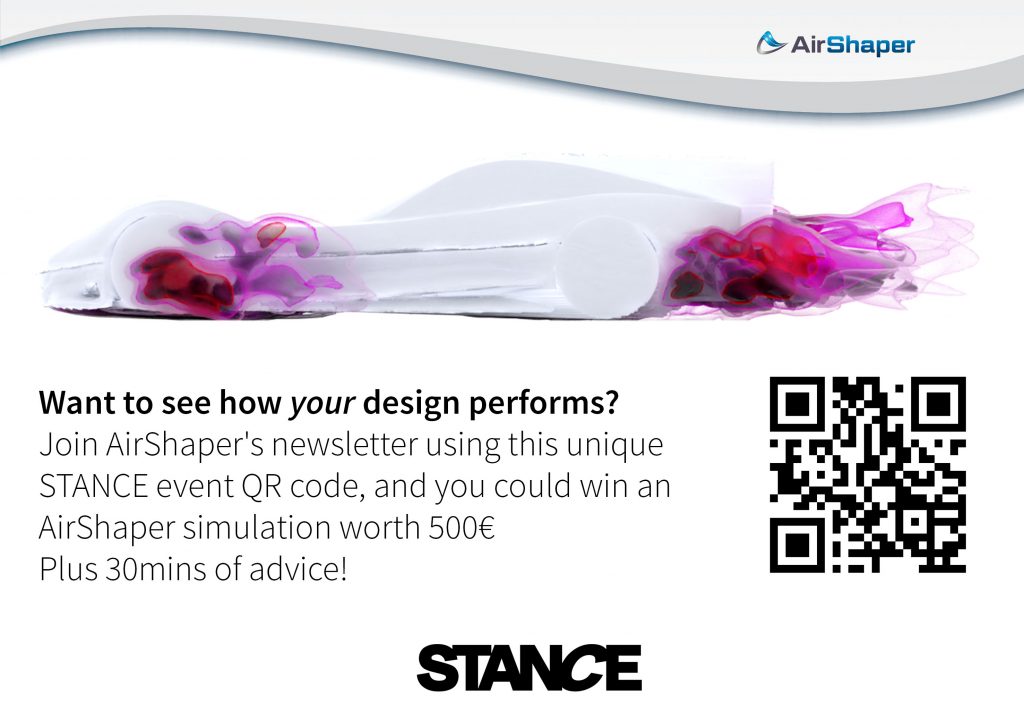 SaveSave